Last Updated on
We started out with Urns Northwest, our premier cremation urn store which has been providing high quality urns and memorials to the public since 2000. We specialize in custom engraving and personalization on our cremation urns.  Our goal is to have satisfied customers every sale, since each sale reflects a great loss to a family, which adds much stress and the last thing the family needs is to be unsatisfied with the quality of an urn or the service of a provider.
US Urns Online began as a resource page for our customers, and has grown to include hundreds of articles on funeral planning, memorial service ideas, cremation urn video demonstrations and photos essays, plus unique product highlights and funeral industry trends. We also curate a monthly newsletter, showcasing great funeral products and highlighting interesting industry news and inspirational ideas for celebration of life events and much more.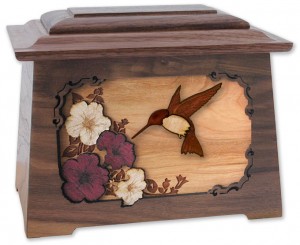 US Urns Online and Urns Northwest is a family run business based in Medford Oregon, but we service all of the United States, U.S. Territories, Canada and a few other regions. Please allow us to serve you and we will provide the old fashioned American service that is being lost in today's marketplace.
We have been offering great urns since 2000 and have been a leader in personalization and custom engraving in the inurnment industry. Most of our cremation urns are made in the USA, and our quality reflects that. All imported urns are noted as such on the product page and are fully guaranteed to be of the highest quality.
We offer a wide variety of cremation urns and personalization options. Our specialty is in wood urns and custom laser engraving, including the engraving of photographs, directly onto the wood. We also offer other types of adult urns, including ceramic, metal, granite, marble, and biodegradable urns. We also carry a wide selection of urns for couples, known as companion urns, child and infant urns, military memorials, flag cases, burial vaults, keepsake urns, and pet urns.
Browse our blog to see all the resources and help articles available!