Last Updated on July 15, 2020
You have a one-of-a-kind personality, a unique twist on life, and a truly eclectic array of niche interests and creative passions. This is how you will be remembered, and this is how you would like your life to be celebrated at your funeral.
If you're smart (and no doubt you are, *wink*), you are planning ahead for your final arrangements. Let's start to shape your memorial service by looking at the five best creative personalized accents for your funeral.
Our website is supported by our users. We sometimes earn a commission when you click through the affiliate links on our website. Learn more here.
5 Best Creative Personalized Accents for Your Funeral
You can personalize a funeral in a number of ways. Set the tone by choosing the music, Scriptures and other readings, or prescribing the order of service. Indicate your favorite flowers, or a color theme for decorations.
Ask your closest friend or sibling to deliver a eulogy, and ask a pastor who made an impact on your life to conduct the service. Send cousin Joey a note reminding him of a favorite story about the trouble you two got into as kids. Choose a caterer or request a favorite dish for the reception, and set aside the funds to cover the costs.
In all these ways and more you can have a hand in customizing your funeral to your tastes and personality. Here are some specific ways you personalize your funeral with unique and creative accents.
1. CREATIVE CREMATION URN
If you have chosen cremation you'll be amazed at the incredible array of options available to personalize the urn. (Also: if you are going with traditional burial, there are also many options for a creative casket, but those quickly get very expensive.
The choices are nearly endless; you can start by choosing what type of material you would like. These include granite, wood, ceramic, glass, eco-friendly and biodegradable options, and more. Then, with many types of urns, you can choose the design. Some urns are shaped like a golf bag, others feature a brilliant wood etched 3-dimensional golf links art scene. It just depends on what it is you are looking for.
On top of that, you can get many things laser engraved. Whether it is a photograph, a theme such as a lighthouse or motorcycle, a famous Bible passage like Psalm 23, or an epitaph of name and dates, just about anything can be carved onto a wooden, metal, or marble urn. Another way to "personalize" an urn is to get one handmade just for you. Check out these one-of-a-kind ceramic raku and hand-turned wood urns.
Here are a few additional categories to explore for creative cremation urn ideas:
Choose your urn in advance and not only will it save your family the stress of trying to pick out the right one, you'll know that you will forever rest in the urn that is exactly right for you.
2. CREATIVE MUSIC PLAYLIST
Few things are as personal as music. Every person has their own special musical tastes, favorite songs and bands, and catchy tunes that get stuck on repeat in your head. Music is common at funerals, so this is a great way to shape the tenor of your memorial service.
Make a list of your all-time favorite songs. The ones you always have and always will love; try not to include anything from this year so that you can ensure your playlist will stand the test of time. From that list, select some that are "appropriate" for a funeral.
Of course, these days, just about anything is permissible at a funeral. But keep in mind the mood you want to create in combination of what people will already be feeling and experiencing. You may love The Village People, and you might find the idea of everyone at your funeral making the "YMCA" hand motions, but when you consider the frame of mind in which your friends and loved ones will be, you'll probably realize that's not really what you want.
You'll want to choose meaningful, enjoyable, and deep songs. The ones that tell a story or describe a feeling. "Somewhere Over the Rainbow" is a beautiful choice, as is Leonard Cohen's (or Jeff Buckley's) "Hallelujah." For Christians, "Amazing Grace," "Be Still My Soul," and "Abide with Me" are all brilliant choices. If you are from another religious or cultural tradition, choose the songs that carry deep meaning for your relatives and loved ones.
But you don't have to stick with just the classic or traditional songs! This is where you get to personalize it, and let your creativity shine. You'll know the perfect Miles Davis standard to play over a photo montage, or the operatic bel canto with the heartrending lyrics that you can put in English in the funeral program.
3. CREATIVE GUEST BOOK IDEAS
Along with the cremation urn, the guest book is one of the easiest accessories to get and personalize ahead of time. Here are 18 totally unique and creative guest book ideas; you can easily adapt these to your own preferences.
A few additional tips:
Pre-fill the guest book with your favorite quotes or Scripture verses
Write little notes to your loved ones who will be writing in the guest book
Have the attendees create the guest book by writing down their favorite memory of you
Create a collage by pasting in your favorite photos, pages from books, music liner notes, ticket stubs, and more
Include little-known facts about yourself
Draw accents and decorations throughout the guest book
4. CREATIVE PHOTO DISPLAY IDEAS
There are many ways to display photos at your funeral. Now is the time to pick out your favorite ones, or hire a professional photographer to take some new portraits. A photograph is one of the best personalized accents for your funeral, so take some time and consider well which photos to feature and how to do so.
Here are some further ideas for a creative and personalized photo display at your funeral:
5. CREATIVE RITUALS
Rituals can be soothing and comforting for those you leave behind. Incorporate some familiar rituals into your memorial service plans, but feel free to add your own touch or twist. Take a favorite tradition from your family and have it done at your funeral. For instance, if your family loved to frost and decorative sugar cookies around Christmas time, why not have cookies and decorations be part of your memorial reception?
Here are some further ideas that may inspire you to create or adapt your own rituals in a special way to personalize your funeral.
Have a funeral procession with a jazz band
Invite friends and family to wear Star Wars costumes, a la Halloween. Make sure the ushers pass out candy to all who attend
Put the lyrics to your favorite song on a screen or in the program, and invite everyone to sing along
Have a responsive reading, for instance Psalm 136
Provide note cards and stamped envelopes to everyone, and instruct them to write a letter to their future selves, reflecting on life and death and perhaps their memories of you. Then have a family member drop them in the mail a year later
If your family had a special tradition such as bowling or pancakes at Denny's, end the service by inviting everyone over to the bowling alley or restaurant
Have a tree planting ritual (here are 5 ways to plant a memory tree)
Ask for donations to a special cause instead of gifts or flowers
If you're still looking for more creative ideas for the funeral, read our guide to 100 Inspirational Memorial Ideas for a Celebration of Life.
Pin It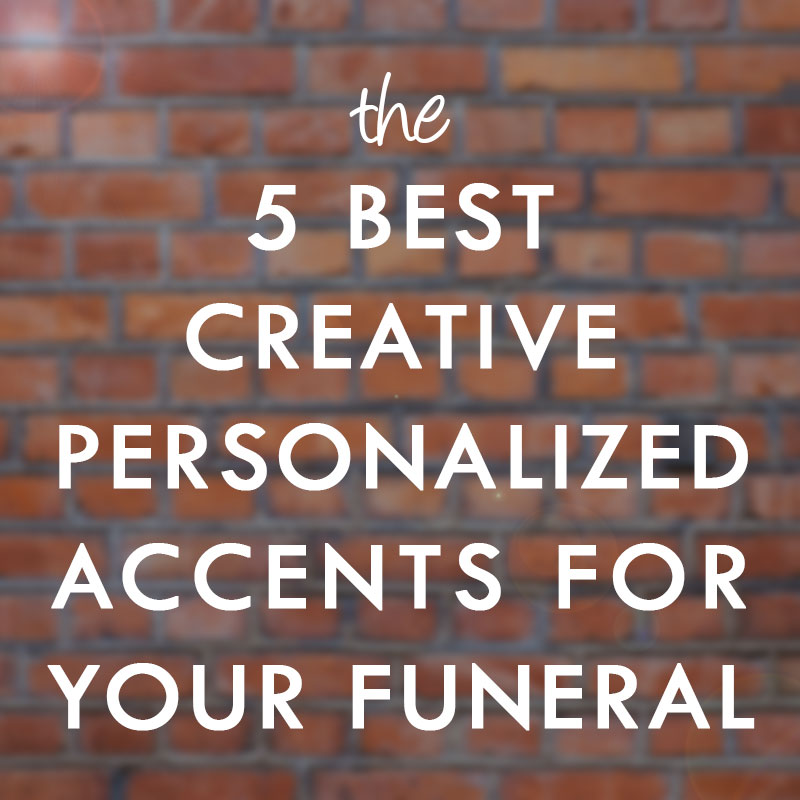 What are some creative funeral rituals, traditions, accents, or other personalized features that you have seen or experienced?