Last Updated on October 24, 2016
Here is a full 360° view of our gorgeous walnut wood cremation urn, which we call "the Boxwood." Crafted in the USA using only the finest premium dark walnut wood, the Boxwood Cremation Urn is available in Walnut (as pictured here), Oak, or in the larger Companion Urn size.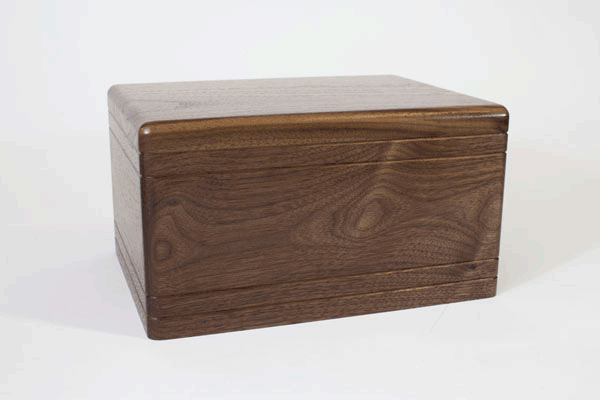 This urn brings together American-made quality and premium hardwood to result in the perfect combination of rustic wood elegance and simple affordability. The simple design ensures that this urn will conveniently fit into most funeral home niches or vaults, leaving your family with plenty of options for a final resting place.
The top and bottom of the urn is surrounded by a double engraved line, which adds focus to the memorial without taking away from the beauty of the wood grain. The Boxwood cremation urn, in standard or companion size, is a fitting choice as a memorial urn for your loved one's remains.
Like most of our wood urns, the Boxwood opens from the bottom. To access the interior, all that is needed is to remove the four screws which hold in the base panel, insert the plastic bag housing the remains, and re-attach the base panel.
More info and videos for opening a wood urn are available here.
Here are some close-up images displaying the detail of the wood and craftsmanship you'll find in this wood cremation urn:
And finally, here is a 360° view of this walnut wood cremation urn which you can leisurely take at your own pace: