Last Updated on August 23, 2013
With cremation on the rise as an inexpensive alternative to traditional burial, couples making end-of-life arrangements in the current economy can explore companion urns as a simple and budget-friendly option in lieu of purchasing two separate urns.
Companion urns simplify the storage and display of the couple's cremains by holding both in a single cremation container. This double urn box, while larger than a standard urn, is significantly smaller than two urns side-by-side. This makes for a simpler burial process, a smaller niche in a mausoleum, or easier storage, transportation, and display of the urn. Smaller space, in many cases, translates to lower costs.
Companion urns, also known as double urns or urns for two, are generally cheaper than two of their standard-sized counterparts. Companion urns are made using a variety of materials, including metal, marble, plastic, wood, and biodegradable materials. Within a given medium, style and designs will vary significantly.
 Shop Companion Urns
For instance, at Urns Northwest, we offer a wide selection of wood companion urns, such as a wood urn with a photo frame on the front, a book- or Bible-shaped urn with doves on the "cover", or a rectangular urn box with three-dimensional inlay art scenes. But the options don't end there.
The various scenes for the Companion Urn with 3 Dimensional Scene are crafted using various exotic and domestic hardwoods in their natural colors, cut and laser engraved then inlaid like a 3-D jigsaw puzzle to produce an intricately detailed image with a real sense of depth.
The available scenes for this double wood urn are extensive, including: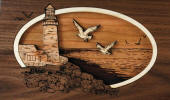 Idyllic outdoor scenes: a lighthouse against a rocky seacoast, a cowboy riding his trusty horse through the desert towards the setting sun, a farmer riding his tractor home to the farm one last time.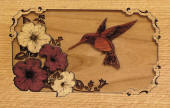 Animal scenes: an elk in the woods, dolphins leaping through the crest of a wave, a hummingbird or butterfly fluttering near lush flowers, a wolf howling at the lonely moon, ducks descending upon a rippling pond.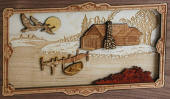 Bucolic pastime scenes: a rustic cabin nestled against a lake, a golfer finishing his final round, a sailboat rounding the final bend toward shore, a fisherman reeling in the big one.
Many wooden companion urns can be designed with or without an interior divider. This option allows the couple to choose to have their remains co-mingled inside the urn as a symbol of their unity in life and in death, or, alternately, to keep their ashes separated to represent their individuality while still being united forever in a beautiful companion urn as a token of the depth of their love.
The simplicity, economy, and nearly endless stylistic options make companion urns an affordable choice for the budget shopper, and the symbolism of two united as one makes companion urns the romantic choice.