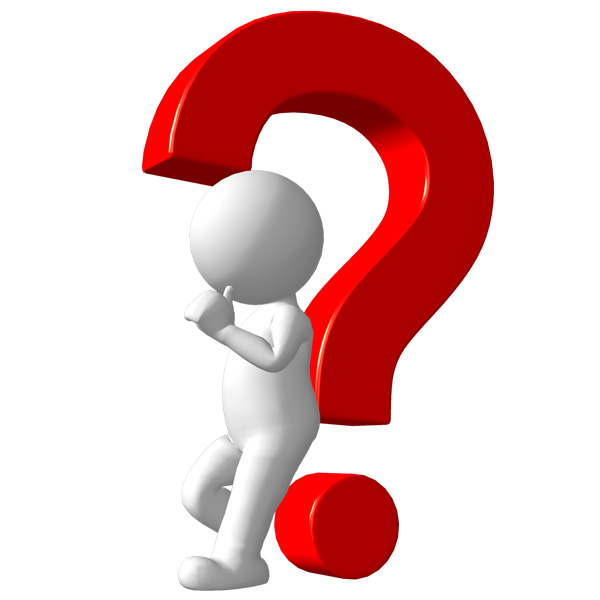 Last Updated on August 19, 2016
1. What size is the urn? Cremation containers vary widely in size, due to shape and design features. When buying a cremation urn, be sure to consider the size in relation to how it will be used. If you are placing the urn in a niche in a columbarium, you will definitely need to make sure it will fit into the niche. If you plan on displaying the memorial in your home, think about where you would like it to be placed and pay attention to the measurements accordingly. If you are going to bury the remains, check with your local funeral home for their specific policies and size limitations.
2. How much does the urn hold? Cremation urns vary in the volume of cremains (cremated remains) they can hold, depending on the purpose and style of the cremation box. For an average adult, the industry standard is 200 cubic inches (figure 1 cubic inch = 1 lbs. of the individual's healthy body weight), and for a companion urn (meant for two individuals, usually a husband and wife) the standard is 400 cubic inches. When purchasing for an infant, child, pet, or large or small individual, be sure to calculate what size you need.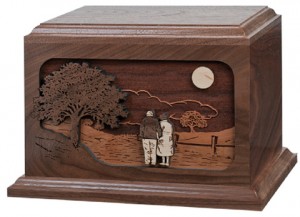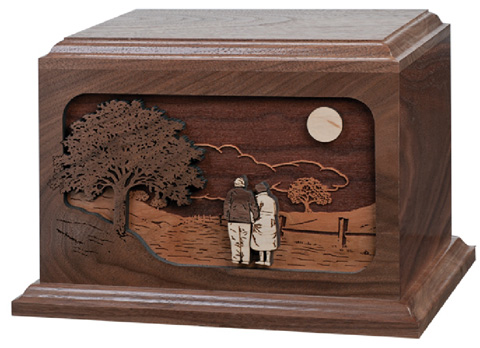 3. What material is the urn? When buying a cremation urn, choose the material of the item depending on what you intend to do with the individual's ashes. If you are scattering, a biodegradable urn is often an affordable and eco-friendly choice; if you are burying the container, decide whether you would like to have the urn preserved as long as possible (in which case we recommend a metal or ceramic urn enclosed in a burial vault), or if you would like the individual's remains to be quickly joined with the earth (in which case we recommend a wood urn, such as one of our eco-friendly bamboo urns). If you plan on keeping and displaying the urn, as an heirloom memorial, select a beautifully crafted urn with a personal inscription or a gorgeous scene which reminds you of the departed loved one.
4. When will the urn ship? While many online retailers keep urns in stock and ready to ship, other more intricate products need to be built to order. The ship-from location is important to note, and even if a company's headquarters is in one state they may have multiple distribution centers. Also plan according to the time of day you are ordering – even if the item is in stock, it may actually ship the next business day if the order is processed after the company's daily shipment. If in doubt, or if you need it by a specific date, call.
5. Is it made in the USA, or is it an import? When buying a cremation urn, make sure you check out where it was made and how others reviewed the item. Often imports can be cheaper imitations of domestically produced products. Be sure to not be fooled by a cheap import! However, many quality urns are made elsewhere and imported, and can be comparable in quality while more affordable in cost.
6. Do I need to travel with the remains? If you need to travel by air with cremated remains, you must use a cremation container that can be scanned by the airport's security systems. Most wood and ceramic urns can be scanned, and we carry a line of plastic silk-covered urns which are TSA approved. Metal and stone/granite urns cannot pass through the security systems. See here for more information.
7. How can I personalize the urn? Some cremation urns can have an engraved metal plate affixed, while others can be laser engraved directly onto the surface of the urn. There are many cremation urn appliques with a variety of themes and styles (U.S. Air Force, fishing, lovebirds, etc.) – just be sure there is enough of a flat surface on the urn for the applique to fit! Also, some urns can even be engraved with a photograph of your loved one.
8. How are the remains put into the container? Most wood cremation urns have a bottom or back opening panel which is attached with screws. Metal and stone/granite urns will often have a threaded stopper through which the remains are poured into the interior. Many ceramic cremation vases have a removable lid. Once the ashes are placed into the container (if you are not comfortable doing this, ask the funeral home), you can optionally add some sort of sealant to secure the lid or panel.
9.  Can I get a matching keepsake? If you are burying, scattering, or placing the remains in a niche, you can often find a standard sized urn which can also be made in a smaller keepsake size for you to keep a small amount of remains as a remembrance token. Or, sometimes one family member will keep the urn while several other family members get matching keepsakes. Most websites will list whether or not a particular item has a matching keepsake.
10. Can I return the urn? When buying a cremation urn, be sure to check each website's return policies. At Urns Northwest, as with many other leading cremation urn websites, you can return all non-personalized items within 30 days for a full refund. We cannot refund expedited shipping charges.
Please contact us if you have any of these questions (or others) about our products – we will be happy to help!