Last Updated on March 25, 2020
For bird watchers, nature lovers, or fans of various sports teams, the Cardinal Cremation Urn is the perfect urn. This heirloom-quality memorial will suit your family's needs and provide a fitting symbol of their life and passions.
This urn for ashes has wood inlay art of a cardinal bird as the centerpiece. The bird is laser engraved in detail using rosewood, walnut, and oak. These woods are set into the front of a gorgeous maple wood urn, creating a lovely memorial.
Cardinal Urn Video
Here is a video showcasing this attractive, American-made urn:
Urn Details
Each memorial is crafted in an Oregon wood shop from premium solid white maple wood. The urn boasts a hearty 3/4″ thickness all around, a sturdy base which removes to provide access to the inside of the urn, beveled edges, and the lovely cardinal inlay art design.
The wildlife bird scene depicts a red cardinal (stained rosewood), complete with a bright yellow beak (a tiny inlay of oak wood). The cardinal sits on a leafy branch of brown walnut wood. Our engravers laser-etch each element into the wood, providing a sense of richly detailed and lifelike realism.
Optionally, we can engrave the top or back of the urn with an inscription of name and dates. We will laser etch the personalization directly into the wood surface of the urn.
Of course, this urn is perfect to engrave with the famous cardinal memorial quote. One variation reads, "Cardinals appear when angels are near." You can also get that personalized on a memorial bird feeder, which makes a great sympathy gift.
Since our craftsmen product the cardinal urn from natural materials, the grain pattern and specific hue of the woods will vary with each piece. This is a desirable effect of using real wood, ensuring that your loved one receives a completely unique memorial urn.
Cardinal Cremation Urn Photos
Here are some images we've taken of this gorgeous Cardinal Urn, showcasing various aspects of the design, shape, and craftsmanship: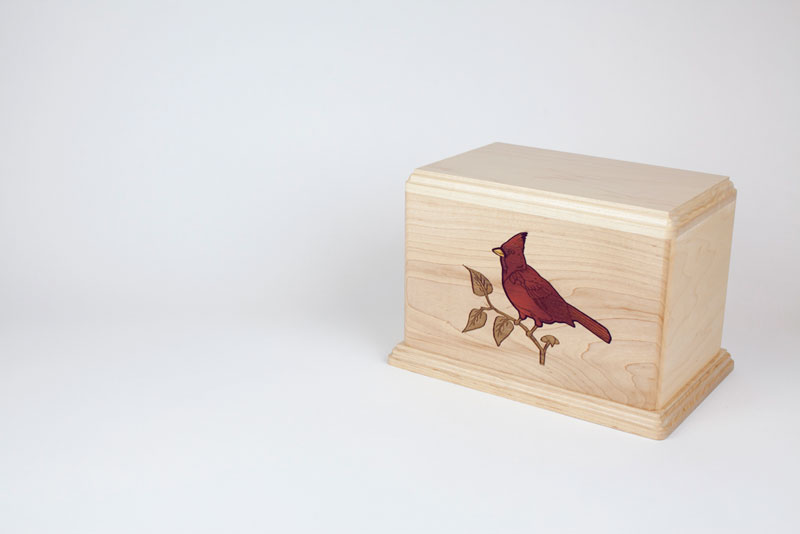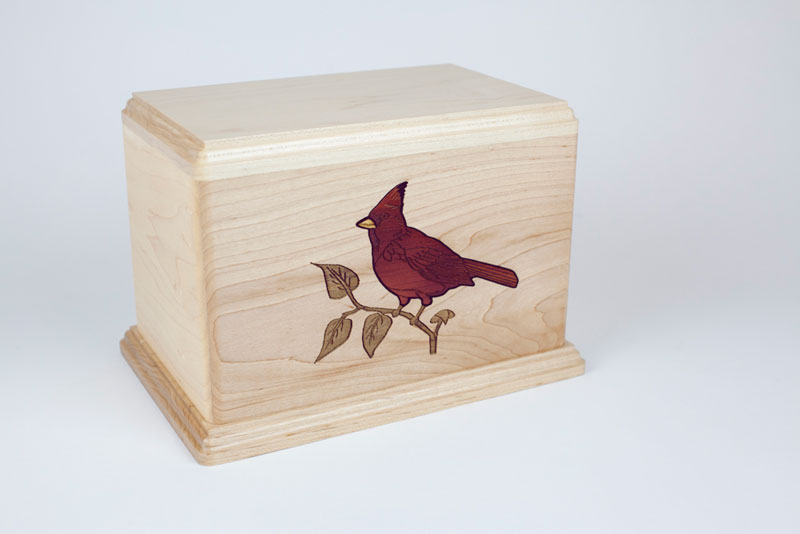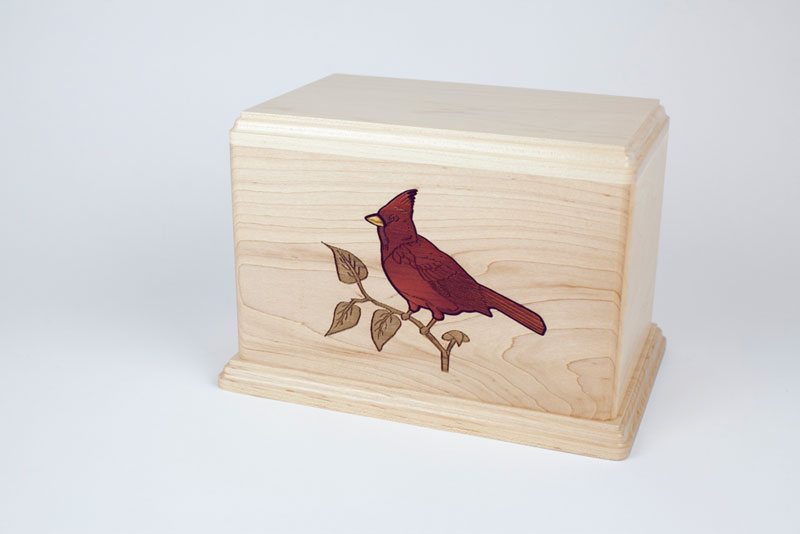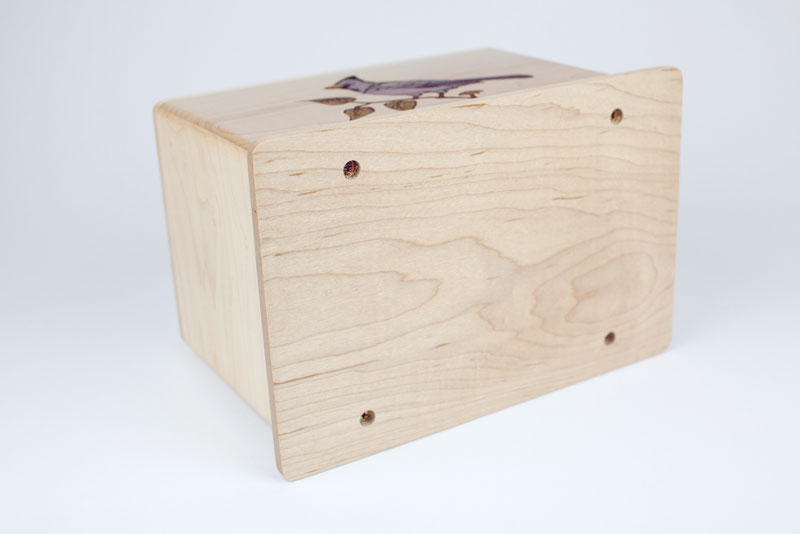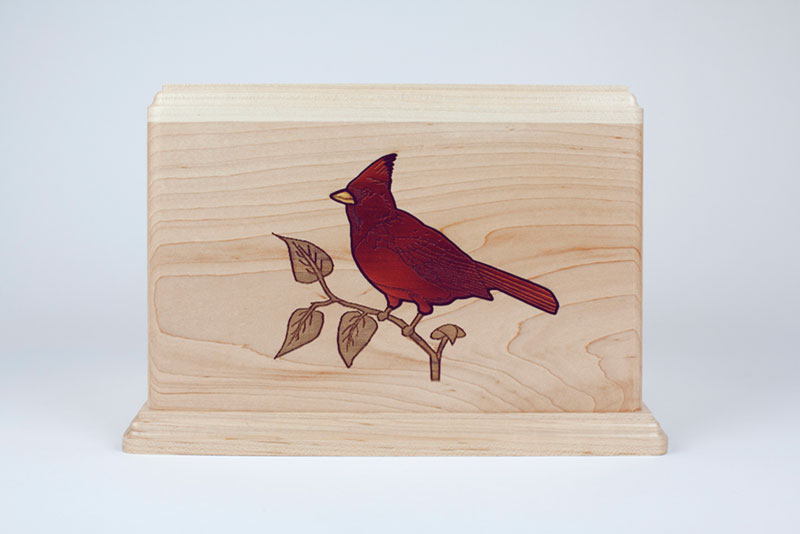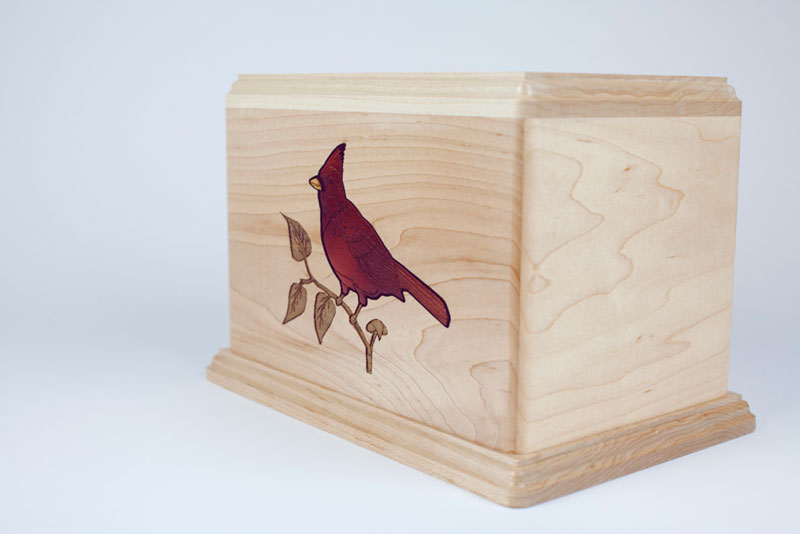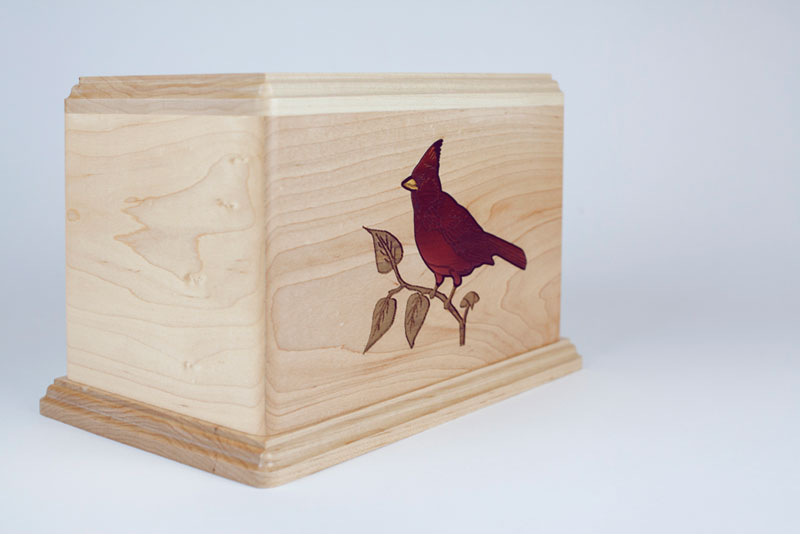 The Cardinal Cremation Urn is just one of many premium wood cremation urns available from Urns Northwest.