Our Cherry Blossoms Wood Cremation Urns feature gorgeous inlay art, laser cut from solid wood, engraved in fine detail, stained pink for color, and inlaid by artisan craftsmen right here in the USA. Check out videos showing two of the design choises for this lovely wood memorial art scene.
Cherry Blossoms: Ambassador Urn
The "Ambassador" shape is by far the most popular for our line of 3-dimensional wood inlay art urns. At its core, this is a simple wooden box (as mentioned in the video, it's available in white Maple, honey-yellow Oak, dark brown Walnut, or classically rich Mahogany).
The accents on the base and top are what make it a standout piece. The top boats 3-tiered layering of wood beveled with a pleasing symmetry. The base waves up and down all the way around in a way that creates a sense of movement and energy.
The inlay art scene itself features an ornately etched border, an inset cherry wood panel engraved with the flowers' stems and leaves. The cherry blossoms pink stained Maple wood, set on top of the backing panel to achieve a sense of 3-dimensional realism. These Cherry Blossoms Wood Cremation Urns with Inlay Art are very beautiful works of art, fitting as a memorial for a flower lover.
Cherry Blossoms: Astoria Urn
The "Astoria" shape is another popular urn design in our 3-dimensional inlay art series. In the video above, you can see the Cherry Blossoms floral design (in Maple wood) as we put the urn on display at all angles.
Cherry Blossoms Wood Cremation Urns: More Options
Here is the Ambassador shape again, this time in dark Walnut wood: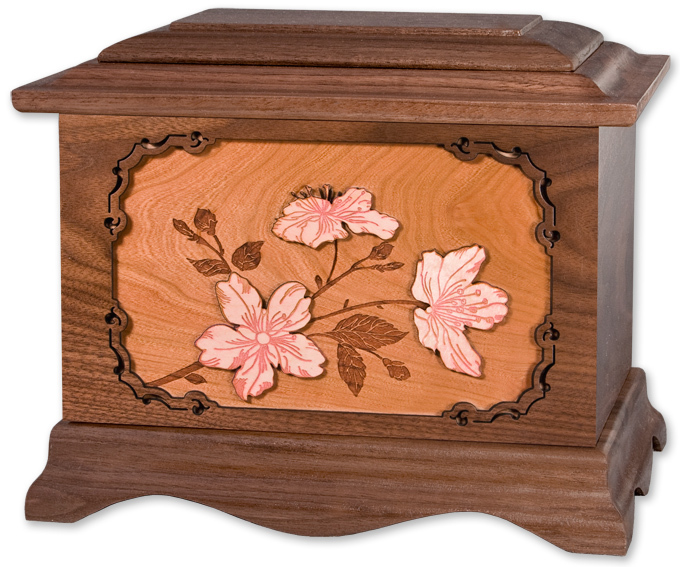 We also have other urn box shapes, such as the "Octagon" design, shown below with the "Carnations" floral art: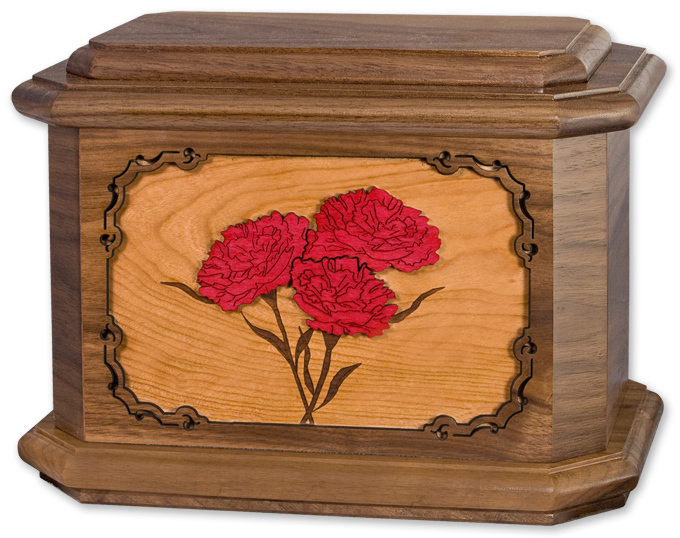 Each flower art scene (Lilies, Dogwood, Mums, and more) are made in any of four box shapes and four wood types. Here are the options available:
FLOWER ART
URN BOX SHAPES
WOOD TYPES