Last Updated on October 24, 2016
We offer a premium line of beautiful wood art urns which are made in the USA and crafted with incredibly detailed and beautiful wood art scenes on the front. Each of these scenes depicts idyllic scenes of nature, sea life, country lanes, and more. Using state-of-the-art laser carving technology, the scenes are cut and carved onto various types of woods in their natural colors, then assembled by hand in layers to create a 3-dimensional work of art.
Wood Types
Each of these cremation urns are available in your choice of real, solid wood: oak, walnut, or maple.

Above, the Hummingbird scene is shown in the three wood options for the urn: oak, walnut, and maple. As you can see, the scene itself is unchanged but the surrounding box is a different type of wood. No matter what your choice is for the urn box, the scene will still have a hummingbird made from stained rosewood and cherry, flowers in matching rosewood and white maple, and a background of cherry wood. Each piece if individually laser carved for detail and assembled into the scene in layers.
Cremation Urn Shapes
The box for our dimensional art urns can be built in several different shapes. These are the Hampton, Astoria (select scenes), Ambassador, and Octagon.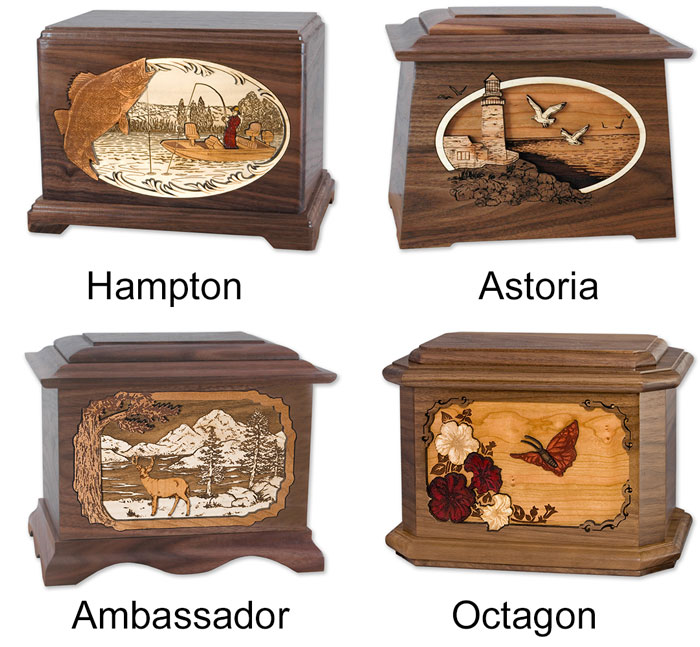 Each of the urns pictured above is in Walnut wood; note the variations in the wood coloring. This is normal for real wood products, so expect each Oak, Walnut, or Maple urn to vary in actual color as well as grain pattern. Minor imperfections such as knots and grainy patches are also to be expected; these add to the authenticity and uniqueness of the piece. Each of these urn box shapes open from the bottom, with a removable panel that attaches with screws.
Note that the Astoria shapecan only accomodate certain scenes with an oval shape. This is due to the tapered edges, which get narrower towards the top. Many of the wood art scenes are designed in a rectangular shape, with sharp edges, and will not fit on the Astoria shape.
Additional Styles
Memory Chest
Any of our wood art designs can be made in a memory chest style, with a separate, lift-off lid. This allows for easy access to the interior, which is ideal for scattering remains, and can be used as a keepsake memory chest for small memorabilia items such as letters, photographs, jewelry, and more.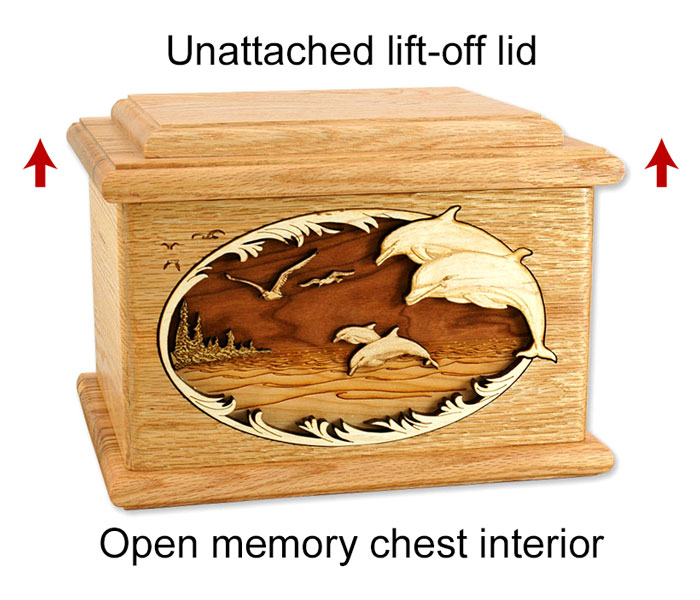 Memory Chest & Urn Combo
Similar to the memory chest, the combination Memory Chest & Urn has an unattached lift-off lid which opens to reveal a keepsake area. The keepsake area is only 1-1/2″ deep, lined with felt on the bottom to store special photos, letters, and small jewelry items. The lower portion of the box is a separate compartment, accessed through a bottom-opening panel and is designed to hold remains and keep them separate from the personal mementos. As with all our dimensional urns, the memory chest as well as the memory chest & urn combo are available with any scene and in your choice of wood.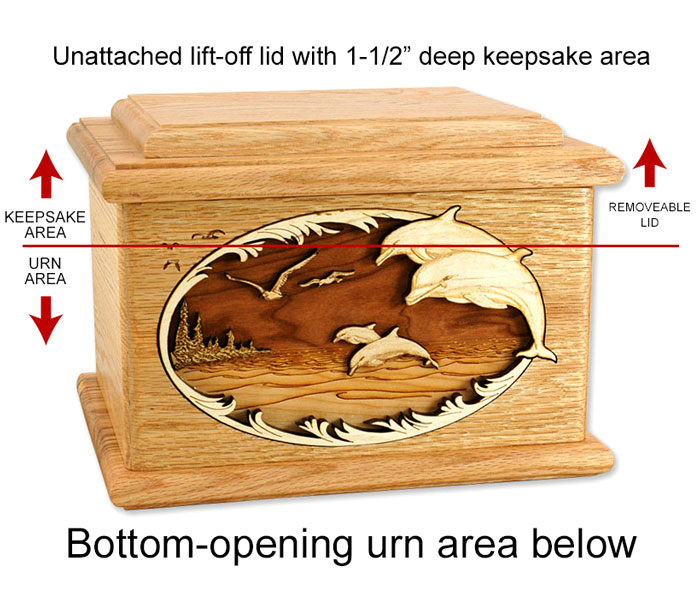 Companion Urn
Companion urns are meant to hold the remains of two people, usually a couple. These urns hold 400 cubic inches of remains, and are available only in the Hampton shape. The urn box itself is 3-1/2″ deeper than the standard sized Hampton shape, to make room for the additional volume. As with any other dimensional wood art urn, the companion size can be made with any scene and in your choice of Oak, Walnut, or Maple wood.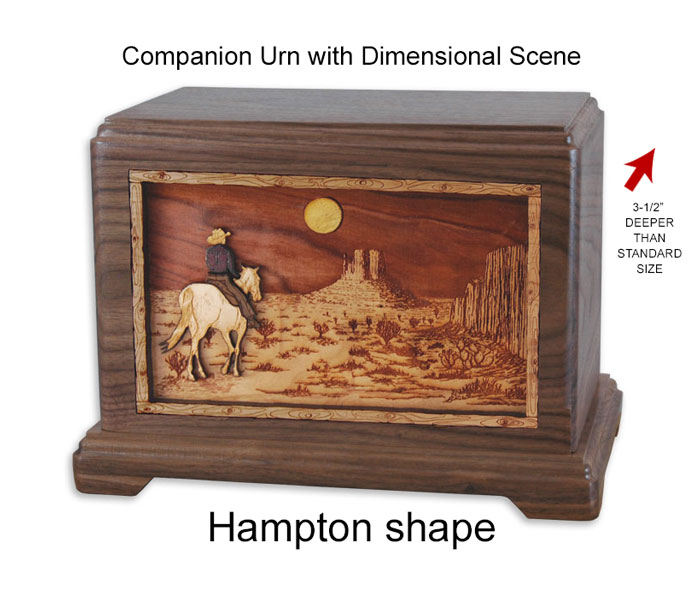 Keepsake Urn
The keepsake urn is for a very small amount of remains (10 cubic inches). The top panel features the wood art scene of your choice, and the base is a bottom-opening urn area which holds the remains. Ideal for an attractive memorial keepsake to match a full size urn. Many families get a keepsake when the remains are shared among family members, or to keep a small portion of remains at home when the full size urn is buried or stored in a columbarium niche. Made in Oak, Walnut, or Maple wood.