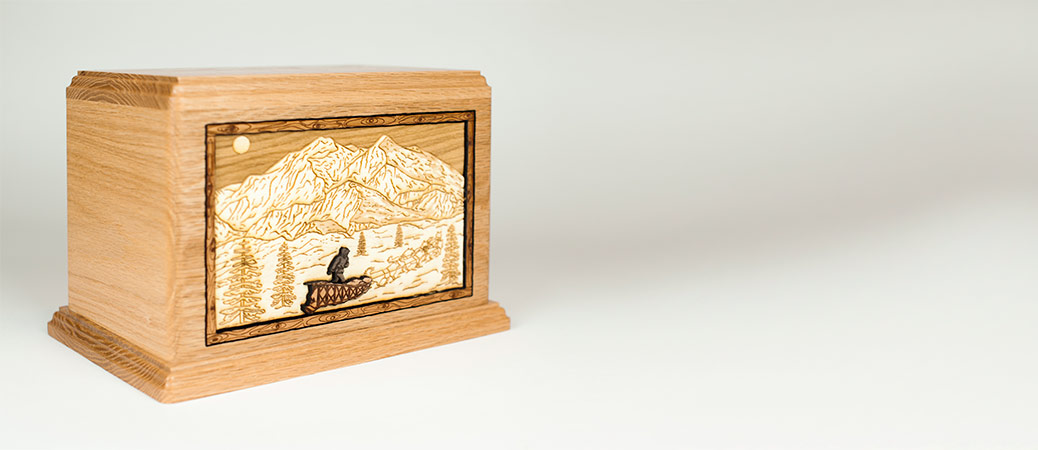 Last Updated on October 24, 2016
Dogsledding is big in Alaska. In fact, according to Alaska.org, dog sled races are "not only an Alaskan tradition, but also a state obsession." Your experience with Alaskan dogsleds may come from a cruise excursion, as a fan of the Iditarod race, as a movie buff or Jack London fan, or from actual daily life in the North to the Future state… whatever your interest in a Dog Sled Cremation Urn may be, if you're looking for a gorgeous, earthy, sledding-themed wooden memorial urn, this is the design for you.
Dog Sled Cremation Urn with Alaska's Mount McKinley
A solid wood cremation urn, crafted in the Pacific Northwest from Oak wood (as pictured) or lovely dark Walnut. The Alaskan art scene is an inlay panel of maple wood, etched in fine detail from artwork based on the the famous Mount McKinley, but also suitable to represent any snow-covered mountain terrain.
The dogsled team is engraved onto the inlay panel, with the sled and driver carved from a separate piece of walnut wood which gives the Dog Sled Cremation Urn a life-like 3-dimensional effect. This is a standard sized cremation urn, suitable for an average sized adult. Urn holds up to 220 cubic inches of remains.