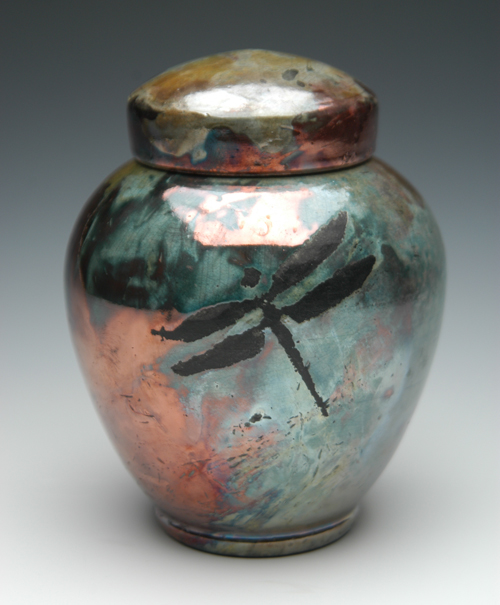 Last Updated on June 28, 2013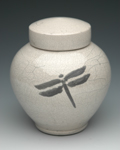 The newest addition to our line of Ceramic Cremation Urns is the beautiful Raku-fired Dragonfly Urn.
Rakue firing is an ancient pottery firing process, invented in Japan, in which each piece of red-hot pottery is taken from the kiln and placed in a bed of straw or leaves in an air-tight container. The dry plant material  immediately bursts into flame and the "reduction chamber" is sealed. The flame and the smoking, oxygen starved atmosphere transform the glaze surface creating the unique, seemingly ancient, colors and textures of raku.
This firing process ensures that each Raku urn is completely unique, with patterns and characteristics only found on that individual cremation urn.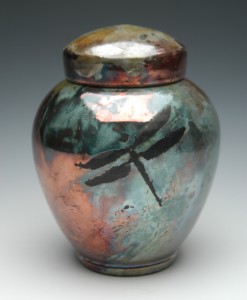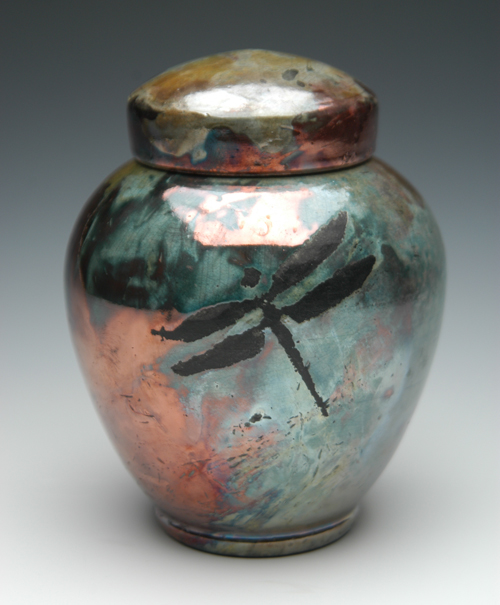 These ceramic urns are available in multiple sizes, Standard (180 cubic inches), Large (220 c.i.), and Companion or Double Urn (375 c.i.), as well as a sharing keepsake size that holds 45 cubic inches of cremains.
These handmade ceramic urns usually take 5-10 business days to produce, but expedited shipping can often be arranged. We offer free ground shipping, and there are three finish options are available as well: Lemon Luster, Aqua Luster, and White Crackle.
(Visited 1,668 times, 1 visits today)