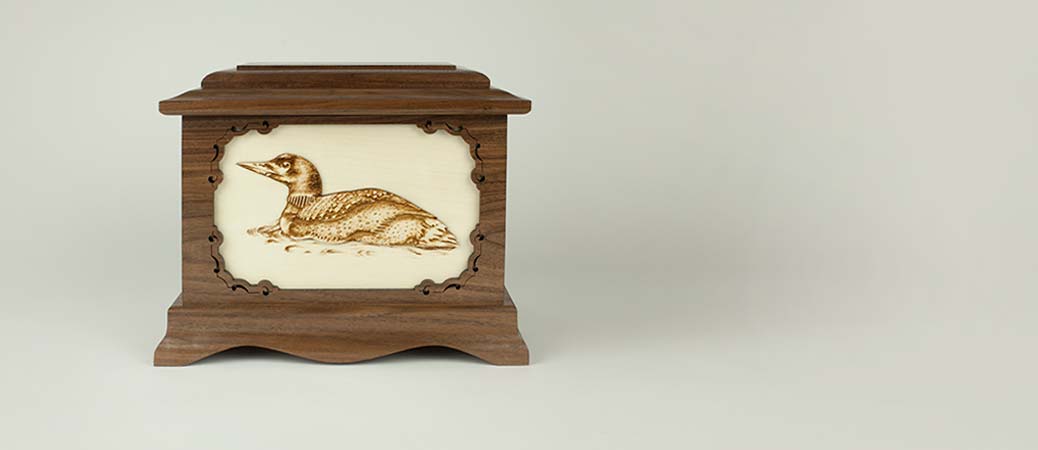 Last Updated on August 30, 2019
Our newest 3-dimensional inlay wood art memorial urn design is the Loon Bird Wood Urn, our rustic take on this gorgeous waterfowl found throughout the midwest and especially popular in the lake regions of Minnesota, Wisconsin, Michigan, and Ontario Canada.
Please note that this post contains affiliate links, which means that if you purchase something you see on our site we may receive a commission at no cost to you. See our full disclosure here for more details.
Here are some key facts and trivia items about the loon bird and the midwest region:
State bird of Minnesota
Provincial bird of Ontario
Depicted on the Canadian dollar coin, which is nicknamed "the loonie"
The "loon capital of the world" is Mercer, Wisconsin
Mascot of the Major League Soccer club in Minnesota (United FC)
Appears in several movies including Finding Dory and On Golden Pond
Also called "divers", the loon can dive up to 200 feet below the water's surface in pursuit of fish
The loon's eye color will change with the seasons, gray in colder months and a bright crimson in warmer weather
If you are an outdoors enthusiast in Minnesota, Wisconsin, Michigan, or other midwest lake regions, you may be interested in a loon memorial urn. Let's take a look at this beautiful new rustic wood funeral urn.
Loon Bird Wood Urn
Made in the USA from solid wood, this urn is available in your choice of Oak, Maple, Mahogany, or Walnut.
Shown in the video above and the photos below in Walnut wood. The craftsmanship and detailed art etchings are clearly evident, beautifully completed in a way that doesn't detract from the exquisite appearance of the loon bird as the centerpiece.
We can also laser engrave name and dates into the wood on the top or back of the urn to personalize. The urn opens from the bottom with a removeable panel that attaches with screws. These urns are made using genuine and hearty solid wood. The vivid and lifelike 3-dimensional realism is accomplished with a multilayer inlay and detailed laser engraving of the bird.
A truly lovely memorial tribute to your loved one. Lastly, the urn has a standard adult capacity, holding a little over 200 cubic inches of cremated remains or "ashes." We can also make it in companion size with a capacity of 400 cubic inches upon request. The Loon Bird Wood Urn is available from Urns Northwest, made to order for you within 3 business days.
(Visited 358 times, 1 visits today)