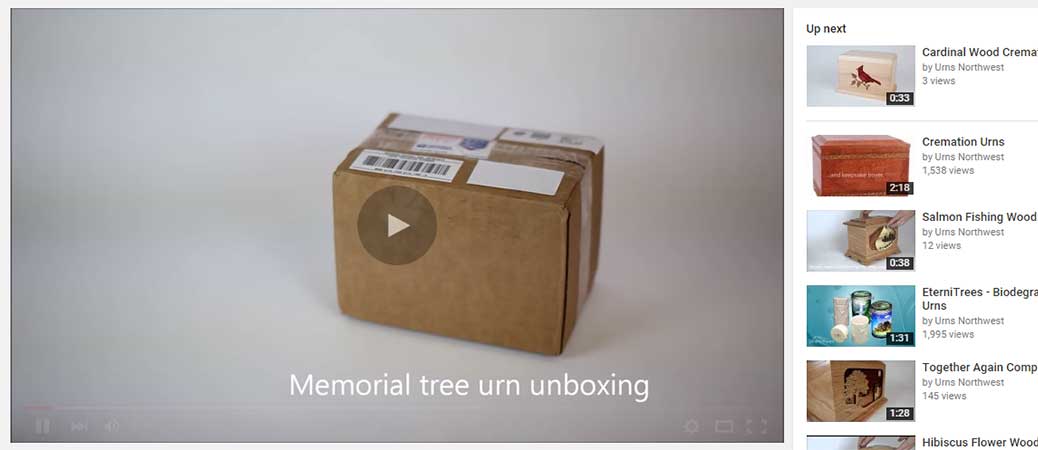 Last Updated on October 24, 2016
Our memorial tree urns are an increasingly popular choice for family and friends to honor their loved one in an unique way. These aren't simply trees that are planted in memory of a loved one; the cremated remains (or "ashes") are planted in the ground inside the urn, which includes the tree seeds and biodegrades over time. This causes the remains to be mixed with the clay-based, nutrient-enriched urn to actually provide nutrients for the tree from the ashes, helping the memorial tree grow healthy and strong.
More information on our memorial tree urns is available here, and you can browse the collection of tree types here. We also have a guide to help you find The Best Memorial Tree Urns for Your State.
We're mentioning all this to introduce today's topic, which is a video showing an actual unboxing of a memorial tree urn. When ordering online, it's nice to know as much as possible about what you're going to recieve in advance. So here is a sampling of what your own memorial tree urn unboxing will look like:
Memorial Tree Urn Unboxing
Small, sturdy shipping box
Cut box seals with knife
Info on your order and our contact info is included
Urn is securely packaged in multiple layers
Urn arrives in metal keepsake tin
Tree type is clearly labeled on top
Instructions and seed packet are included

Some types of seeds come already embedded into lid of urn
Other types need simple preparation prior to planting
All instructions are included

Ceramic urn is well protected
The seeds go into the lid
The remains go into the main urn opening
Includes general instructions for urn
Includes specific instructions for seed(s)
More information is available for each tree type on the individual product pages, which you can see here: