Last Updated on January 23, 2021
Here are 17 tips to help you in your quest to find the right cremation urn – the perfect personalized urn that will be ideal for your loved one.
Make sure you get something you like.
You can get an urn and beautify your home at the same time.
You can change your decor, but you probably won't want to change the urn.
What the urn is made from communicates something.
What you see doesn't have to be what you get.
Urns come in many shapes.
Think about how you want the name and dates displayed.
Consider using a photograph.
Everything doesn't have to fit on the urn.
Look for significant themes.
Almost anything can be laser engraved.
Custom handcrafted urns can be very personal.
You don't have to have the urn at the time of the memorial service.
3D printing means the options are limitless.
Simplicity is good.
Extravagance can be restorative.
Meaning is in the eye of the beholder.
Commentary on each point below.
Personalized Urns: 17 tips to find the right cremation urn
1. MAKE SURE YOU GET SOMETHING YOU LIKE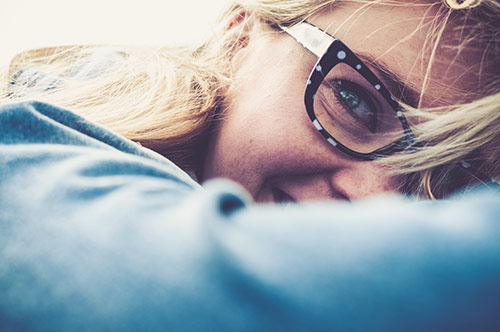 This may seem obvious, but it's a very important point which can easily be lost as you browse through thousands of options. Spending a ton of money, having it engraved on all four sides, getting something custom made from a highly sought-after artist – those kinds of things won't matter at all if you find that you simply don't like the memorial urn.
TIP: Take a moment, pause, and ask yourself – do I like this urn?
2. YOU CAN GET AN URN AND BEAUTIFY YOUR HOME AT THE SAME TIME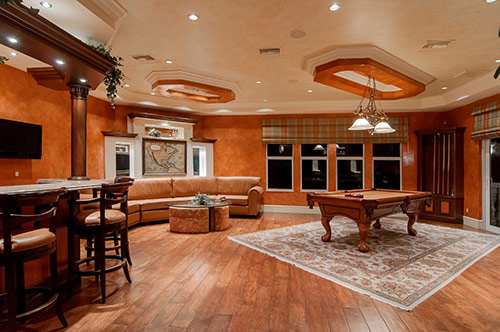 Along the same lines as point #1, if you are planning on displaying this personalized urn in your home, it might as well make the place look great. If you can choose the wood type, get something that complements the furniture or picture frames. If you can choose the color, have it accentuate the colors already in your home. You get the idea.
TIP: Think about where the urn is going to be displayed, and consider whether it will enrich or detract from the surroundings.
3. YOU CAN CHANGE YOUR DECOR, BUT NOT THE URN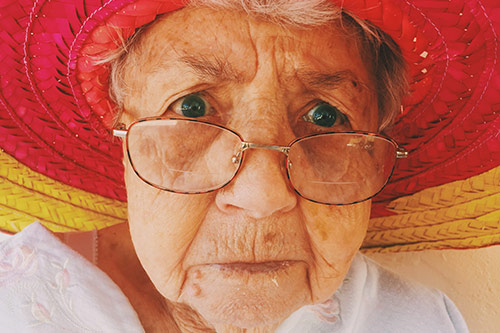 While you can always change your decor, you probably won't want to change the urn. If you tend to redecorate regularly, you may want to consider an urn that is simple, classy, and timeless, rather than trying to match the current style of your living room. A simple wood urn (like this one), an elegant ceramic vessel (like this one), or a dignified granite urn (like this one) have each proven to be enduring classics throughout the years.
TIP: Consider how often you have redecorated, and how likely you are to do so in the future. What type of urn will be able to work with a variety of styles?
4. WHAT THE URN IS MADE FROM COMMUNICATES SOMETHING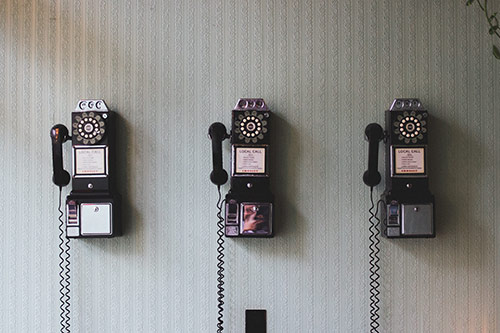 The material of the urn is most likely the first step you'll take towards creating a personalized urn. Deciding on what the urn should be made from will be a prominent piece of what the memorial communicates.
For instance, wood can convey a sense of rustic earthiness, or stately elegance. Here are two examples: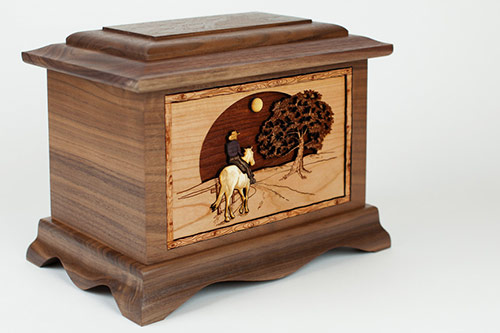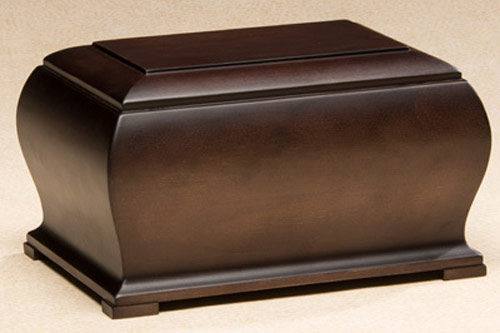 Compare the natural, organic sensibilities of those wooden urns with the enduring timeless qualities conveyed by these two, made from brushed bronze metal and cultured marble respectively: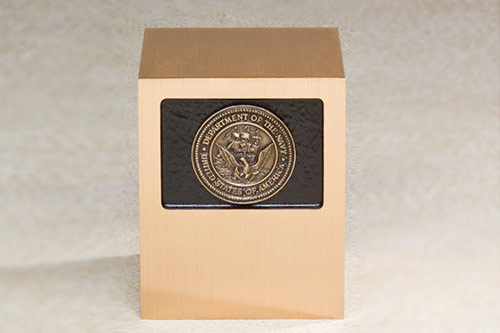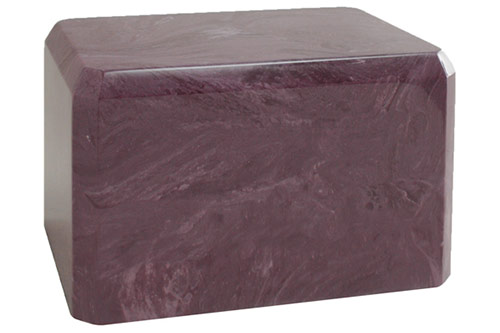 So the choice of material begins the personalization process. Was she delicate and whimsical? Maybe a hand-thrown ceramic urn with a dragonfly would capture her personality. Did he spend hours in his workshop, creating beautiful wooden furniture or trinkets? You might be interested in a hand-turned wood urn that would bring his woodworking hobby to mind.
TIP: You can use this to narrow down your search by figuring out what type of material you want or by deciding what materials you definitely don't want. Both are helpful.
5. WHAT YOU SEE DOESN'T HAVE TO BE WHAT YOU GET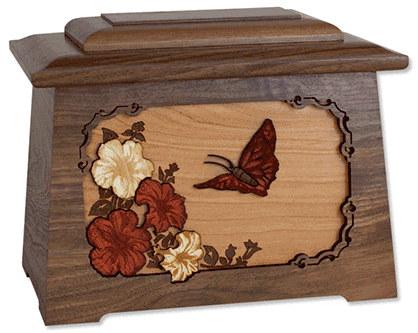 When you see an urn in one color, wood type, finish style, or engraved scene, you'll often find that what is pictured is just one in a variety of other options. The Butterfly Urn, for example, is shown above in dark Walnut and white Maple. It's also available in honey-yellow Oak.
But the options don't end there – the shape of the urn is one of four in which our Dimensional Art Urns come in, and the Butterfly is just one of many scenes. We offer the same floral imagery with a Hummingbird flitting above, and there are dozens more with themes like hunting, lighthouses, and even surfing.
On top of that, we can make it with a clock, as a hinged-lid memory chest, or as a combination memory chest and urn with a compartment for each.
And that was just one collection of wood urns! Many ceramic and marble urns come in an array of beautiful colors, and most urns are made in several sizes (standard, tiny keepsake, double-sized companion urn).
TIP: If you see something you like but it's not exactly what you want, just ask about it!
6. URNS COME IN MANY SHAPES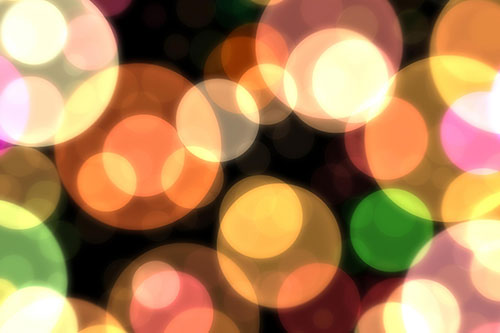 From the classic vase contours of many metal and ceramic urns to the simple rectangular designs of wood and metal urns, there are a wide variety of shapes available for your ideal urn.
Many of the shape choices are practical; for example, if you would like something etched with a photo, a boat fishing scene, or coastal lighthouse imagery, a flat surface is required and the urn's shape will look best in a rectangular shape.
But each design will vary. Some are tall and vertical rectangles with a wider base, while others are wider and horizontally oriented with decorative tops that overhang the edges. You can find wood urns that are handcarved in flowing, uncharacteristic shapes, such as our Woodsculpt Collection.
Sometimes we can alter a design or custom build something to a particular shape. This is most often done in order to fit an urn into a columbarium niche, which has fixed dimensions. By leaving off the overhanging base, or having the ceramic artist shape the vase urn a little shorter and wider, we can often accomodate the niche dimensions.
TIP: If you require a particular shape to fit into a niche, let us know so we can help you find or customize an urn with the ideal dimensions.
7. THINK ABOUT HOW YOU WANT NAME & DATES DISPLAYED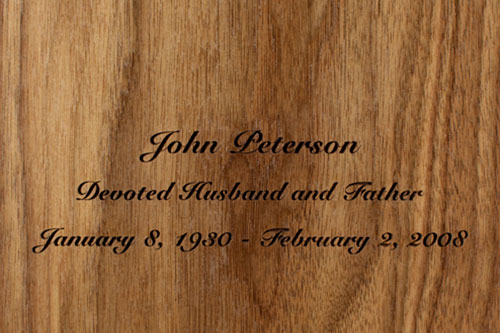 We specialize in laser engraving a memorial inscription directly into the surface of our wooden, metal, and stone urns. This is a great feature because it ensures that the urn will always be identifiable. There are also nameplates, hanging pendants, and stands, as well as alternative ways to separately display name and dates, such as an engraved plaque or name card.
TIP: We advise having the name and dates engraved (or fired on, with ceramic urns) directly onto the surface of the urn when possible. That way the urn containing your loved one's remains can always be identified with them.
8. CONSIDER USING A PHOTOGRAPH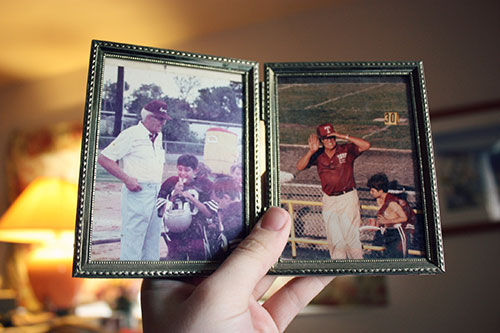 There are many ways to incorporate a photo of your loved one into the memorial. You can have a photograph engraved onto wood and granite urns, or fired onto a ceramic urn. We have a complete line of urns with picture frames, into which you can insert 4×6 or 5×7 photo prints, and change the photo out at your leisure.
You can also choose a simple urn, perhaps engraved with name and dates, that will be displayed next to or near an engraved photo plaque or picture frame (see next point for more on this).
TIP: Check out our guide to getting a photo engraved on an urn for ideas and options for the photo, urn, and other personalization.
9. EVERYTHING DOESN'T HAVE TO FIT ON THE URN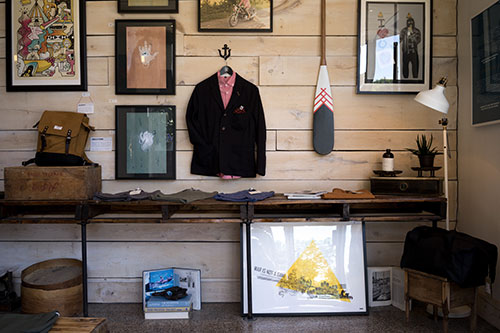 As mentioned above, there are alternate ways to include all the various interest, hobbies, and passions of your loved one's life. You can certainly get a personalized urn designed around a prominent theme, such as flowers or fishing, but you can also go with something a little simpler and then display other important references around the urn.
One mom took this idea and created a "sacred space" that included a memory board filled with cards, photos, ribbons, and quotes to remember her child. A memorial space can be a shelf, a corner, a wall, or an entire room. This gives you freedom to personalize while not going overboard on the urn.
TIP: Here are some ideas and inspiration for Creating a Memorial Space in Your Home.
10. LOOK FOR SIGNIFICANT THEMES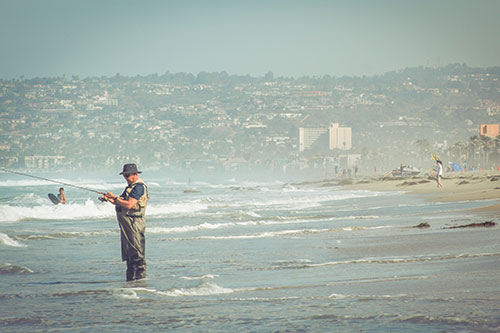 Fishing has long been one of our most popular themes for cremation urns. For the family of an avid fisherman, sometimes their loved one is best represented and remembered by a beautifully carved wood memorial urn with a leaping bass fish being reeled in by the fisherman.
Or perhaps a floral scene with a hummingbird flitting above is the perfect image. Maybe it's an eagle soaring high in the air with snow-capped peaks in the background, representative of a military service member or a mountain climber/hiking enthusiast.
The point is, sometimes a simple and pointed image that portrays a significant theme in their life will be ideal for your loved one. Whether it's lighthouses, horses, dragons, dolphins, motorcycles, or anything else, significant themes can be a beautiful way to honor him or her for who they were while remembering them at their best.
TIP: If you don't see the theme you're looking for already made, we can often laser carve the emblem or artwork of your choice onto a lovely wooden urn.
11. ALMOST ANYTHING CAN BE LASER ENGRAVED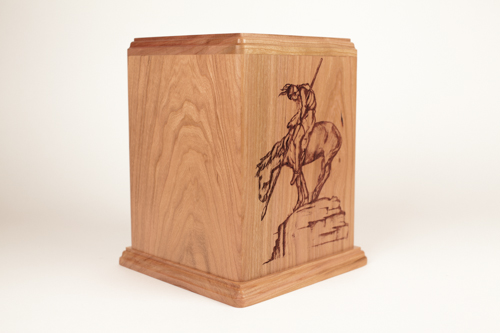 Themes, photos, art, clip art, and other imagery can often be laser engraved onto wood and stone cremation urns. The availability will depend on 1) the quality of the photo or image, and 2) the design of the urn itself.
We can almost always engrave a simple maple, cherry, or alder wood urn with good-quality artwork, and just about anything can be laser etched onto a cultured granite, marble, or onyx urn.
TIP: Be wary of copyright; logos and sports team names (such as those of football teams) cannot be reproduced without the copyright owner's permission.
12. HANDCRAFTED URNS CAN BE VERY PERSONAL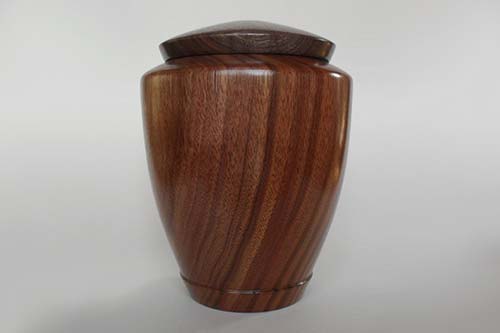 Above we've mentioned photos, themes, and artwork engraved onto cremation urns. But your personalized urn doesn't have to have any imagery at all for it to be a fitting, intimate, personal memorial. The craftsmanship of a hand-turned wood urn, for example, can provide a one-of-a-kind tribute that emphasizes the urn's unique woodgrain patterns in a way that makes sense with your loved one's one-of-a-kind personality.
Wood and ceramic are wonderful materials for this type of personal memorial. When you choose a natural material such as wood from a tree or clay from the earth, there can be a very comforting sense of peace and unity knowing that your loved one's remains are inurned in something made by human hands specifically for your family.
TIP: Hand crafted urns can take a while to make, so consider renting an urn from the funeral home for the memorial service, or scheduling the service at a later date.
13. YOU DON'T HAVE TO HAVE THE URN AT THE TIME OF THE SERVICE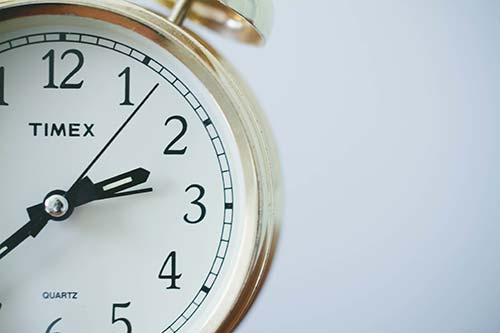 Having the urn on hand for the memorial service is generally preferred by the family. Many of our cremation urns can be made and/or personalized within a few days, then shipped to the destination using an upgraded delivery method such as 2nd Day Air via FedEx or UPS, making this a viable option for many instances.
However, if you're looking in to getting something custom made (see #12, above), or personalized in a unique way (see #14, below), it may not work for you to have the urn at the memorial service. While perhaps disappointing, there are many alternatives for use at the service and most people tend to agree that it's worth the wait to get the perfect personalized urn.
You can discuss options with your funeral director; usually, funeral homes will have a selection of urns available to rent for the service. Sometimes it takes a while to arrange when family will be available to converge in the same city for a memorial, in this case you may have time to wait for a custom made urn but be aware that custom orders can sometimes take longer than expected to get everything just right.
TIP: Always have a back-up plan in place if you find you are waiting for an urn to be made for you.
14. 3D PRINTING MEANS THE OPTIONS ARE LIMITLESS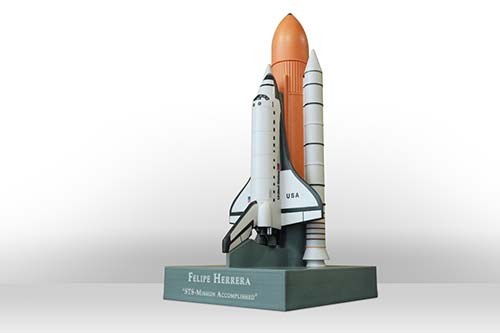 Motorcycle engine? Stetson hat? 1961 Lincoln Continental? Ballet slippers? 1972 Fender Stratocaster? Whatever it is that best represents a passion, hobby, or love, it can be re-created as a memorial urn using 3D printing technology.
TIP: Click here to learn more.
15. SIMPLICITY IS GOOD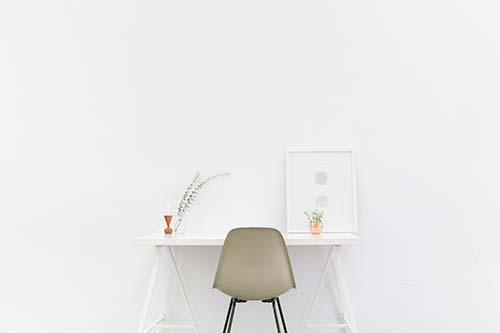 Allow yourself the freedom from trying to capture every element of a person in a single memorial urn. It can't be done, because people are far more nuanced, interesting, and deep than any single object can convey. So one way you can honor their memory is to not try to use an urn to sum up their entire life and personality.
An example: When thinking about what to engrave on an inscription, sometimes our customers are tempted to fill up every inch of available space with text. Compare these two texts:
Inscription #1
In Loving Memory of the Most Wonderful Husband, Father, and Friend
LeRoy Martin ("Buddy") Andrews
Born: September 4, 1954, Baptized: July 11, 1977, Died: November 30, 2014
Beloved by his wife of 39 years, Melinda, and their children David, Meagan, and Allysa
Inscription #2
In Loving Memory
LeRoy M. Andrews
September 4, 1954 – November 30, 2014
Faithful husband, father, and friend.
The first inscription is cramped, crowded with information, and will have to be etched in a smaller font to fit. The second is simple, pointed, clear, and when engraved will look balanced and classy. We recommend, in instances like this, going with simplicity.
The same idea goes for personalization in other ways. While you can have each side of a wood urn engraved (a hunting scene on the front, the Marine Corps symbol on one side, a bucking bronco on the other, a long Bible verse on the back, and a detailed inscription on the top) it can look crowded and awkward.
Sometimes it can be better to choose one theme and a brief inscription, then add the other themes and thoughts in a creative memorial space (see #9, above).
TIP: Here is a list of standards, formats, and ideas for urn inscriptions.
16. EXTRAVAGANCE CAN BE RESTORATIVE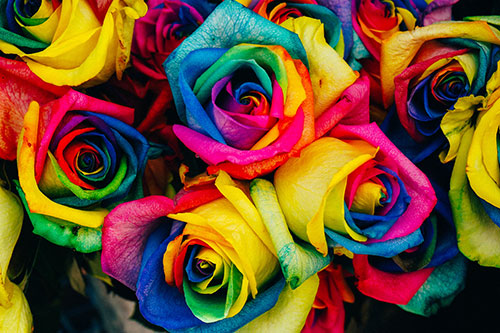 The flip side of #15 is that there can be a sense of restoration and healthy grieving through creating a completely unique, extravagant, personalized memorial urn.
Taking the time to create artwork to be engraved on an urn, for instance, or working with a ceramic artist to re-create your favorite stop on a lighthouse tour, or having an urn hand-crafted from a choice piece of Pecan wood – any of these projects can help you express your love and grief through a beautifully extravagant memorial.
17. MEANING IS IN THE EYE OF THE BEHOLDER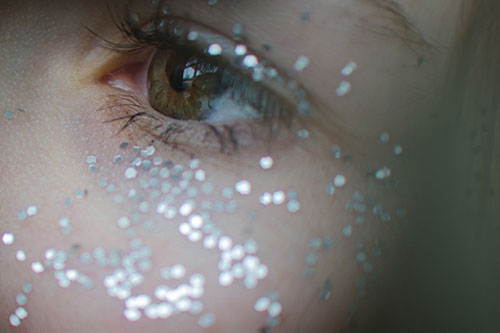 Lastly, our take on a proven proverb: Meaning, like beauty, is in the eye of the beholder. Is it meaningful to you? Then it's worth it.