Last Updated on October 24, 2016
Riding home on that last journey, the cyclist pedals up the country lane towards the setting sun. Pushing aside weariness, the true cycling enthusiast adores the feel of the open air breeze, the strain of muscles tightening for another push, the beautiful view.
For the avid cyclist, we present the Bicycle Cremation Urn with Inlay Art:
Our "Road Home" memorial urn series uses wood inlay art, laser engraved in fine detail, to depict an old-fashioned country lane, complete with dirt road, a healthy oak tree, and well-worn wooden fence. This wood memorial urn includes a cyclist (in your choice of bike style: Road Rider or Off-Road Rider) on that final journey towards home.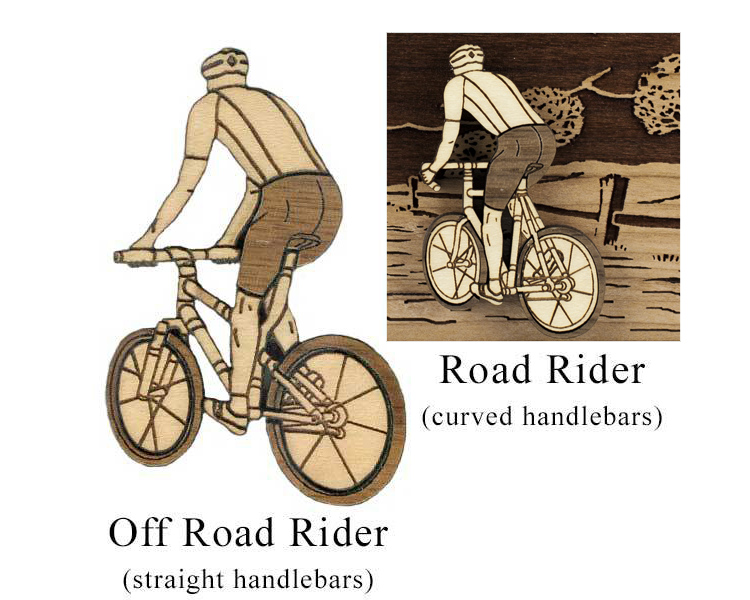 Each element is carved and inlaid using real wood in their natural colors. The cyclist and sun use white maple, while the background is alder wood carved for detail.
To add a touch of permanent personalization to the memorial, optional laser engraved inscription is available on the top or back of the urn. Our engravers will etch the custom text of your choice directly into the wood surface of the bicycle urn, ensuring that the identity of your beloved will always remain clear.
Like most wooden cremation urns, the base panel is attached with four standard screws. Removing the screws will allow access to the interior of the urn. We have a video showing how this is done, but the process is simple: remove the screws and the bottom panel, place the plastic bag holding the remains into the urn, and then re-attach the base panel. No glue or sealant is necessary.
The Bicycle Cremation Urn is shown in the video above and the pictures below in solid black Walnut wood, but we can also make it in a lovely lighter Oak, which creates a nice contrast with the background. The small keepsake version is pictured here in Oak; for the keepsake size, the scene is scaled down but you'll get a good idea of what the standard size will look like in Oak wood.
Here are some different angles on this gorgeous wood memorial urn for a cyclist: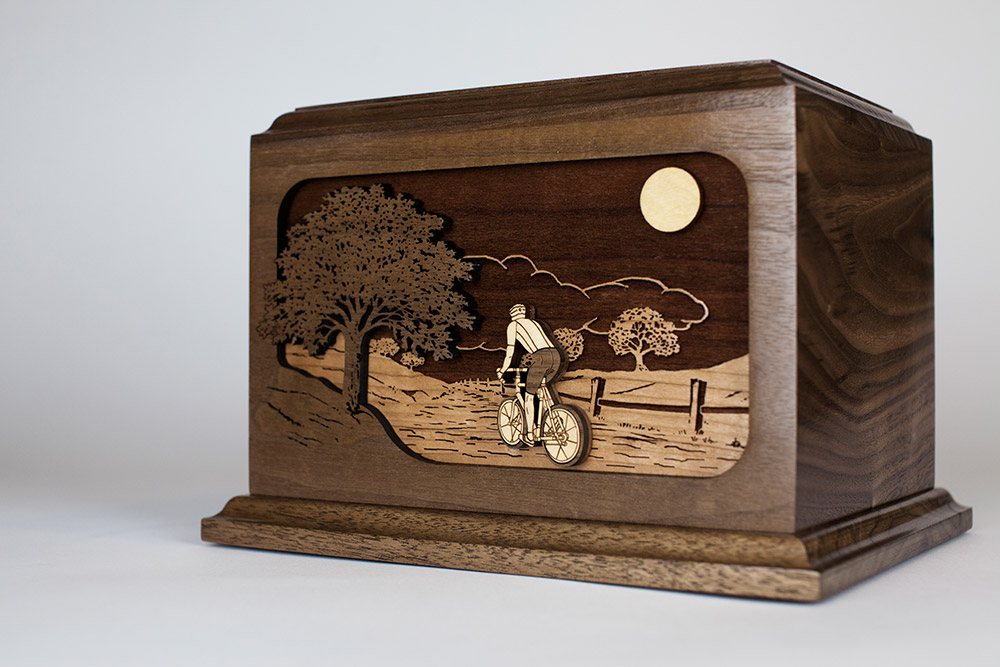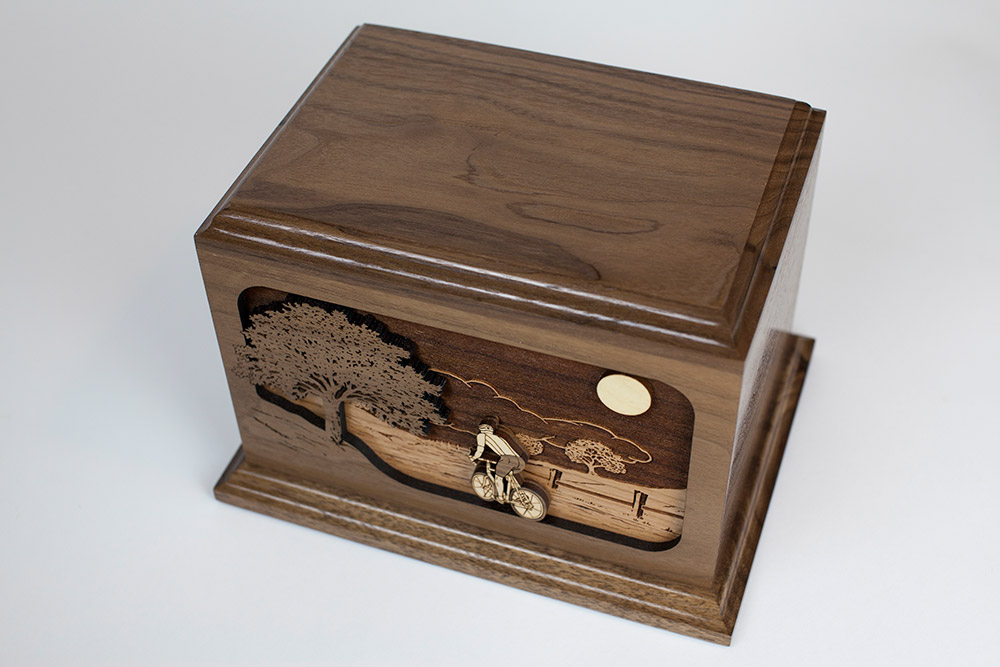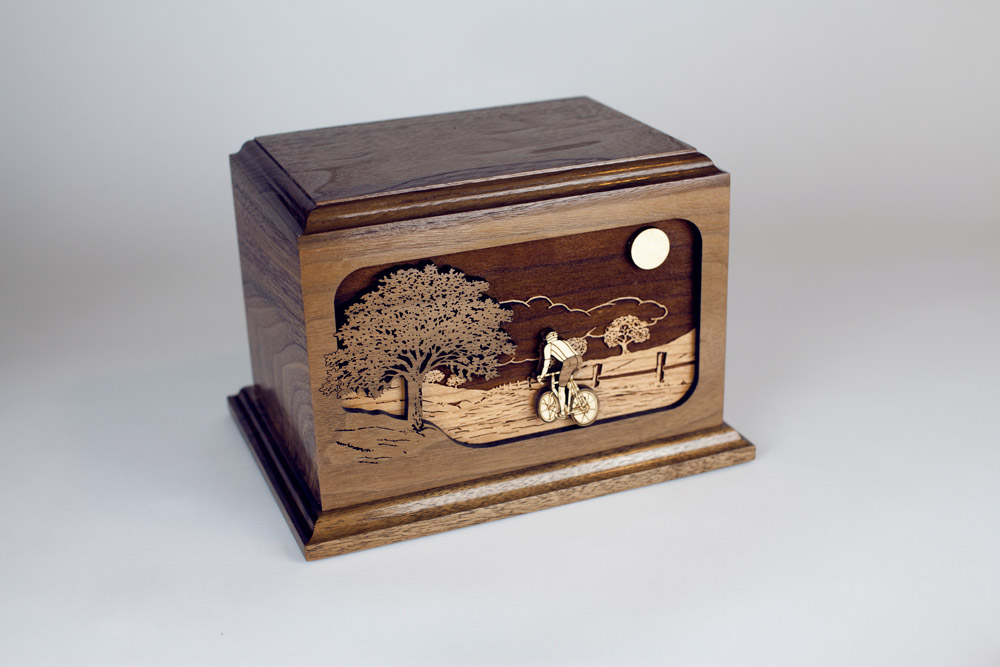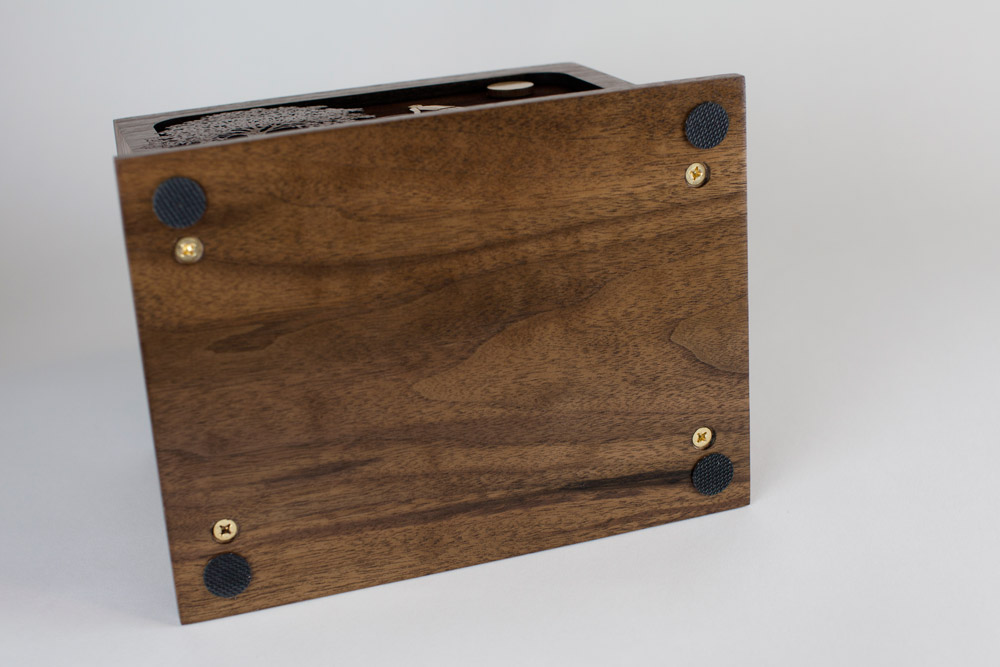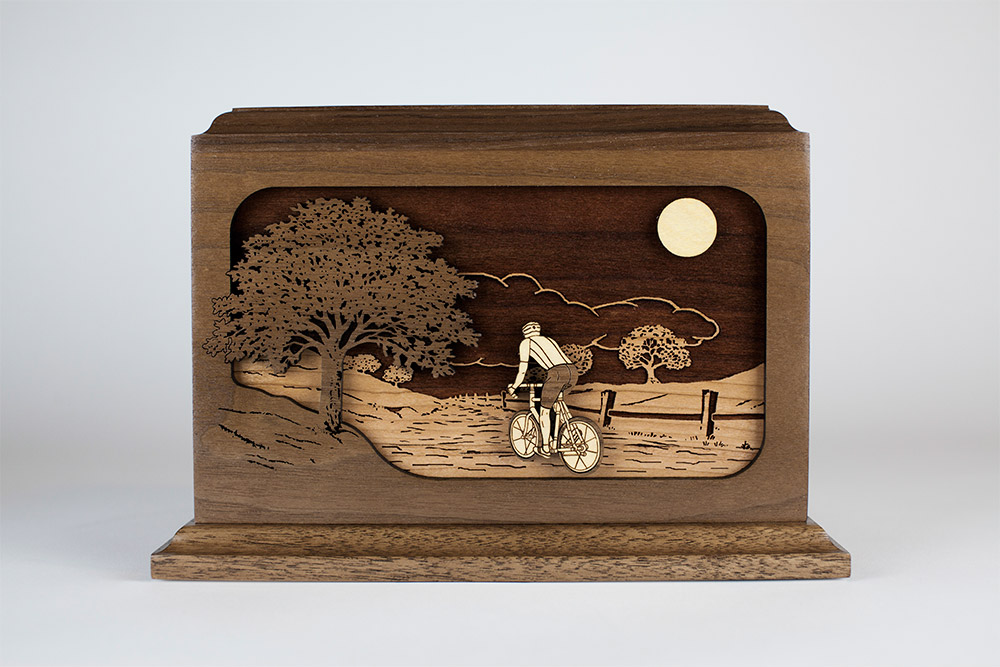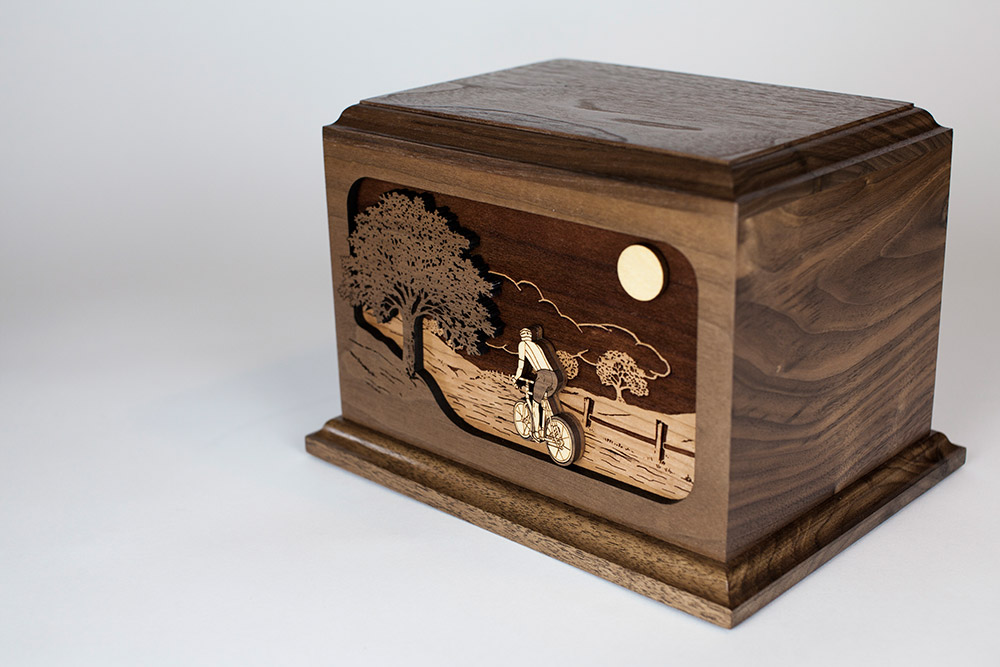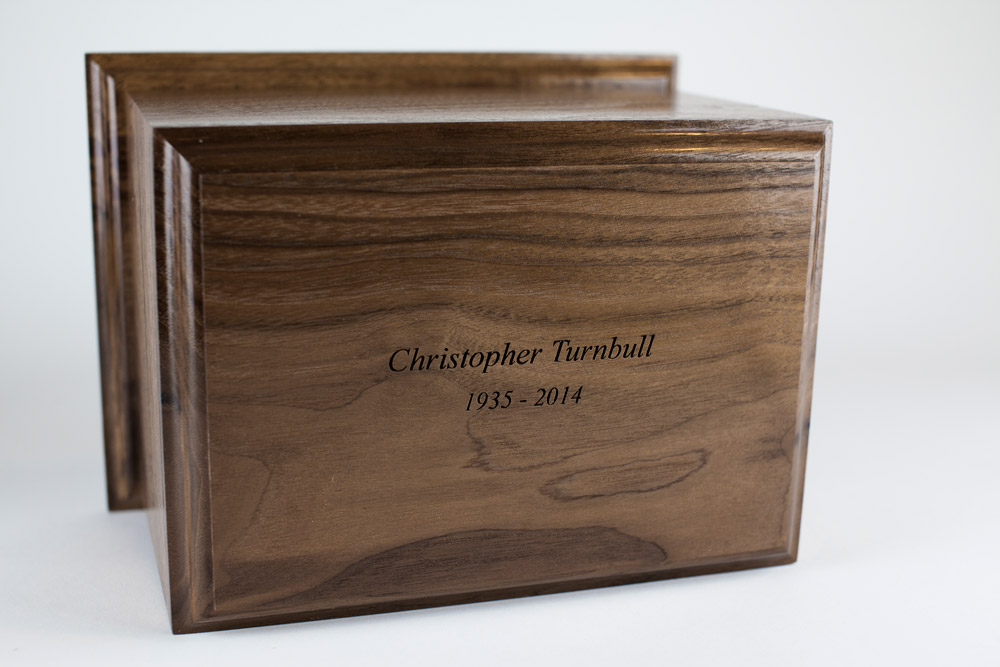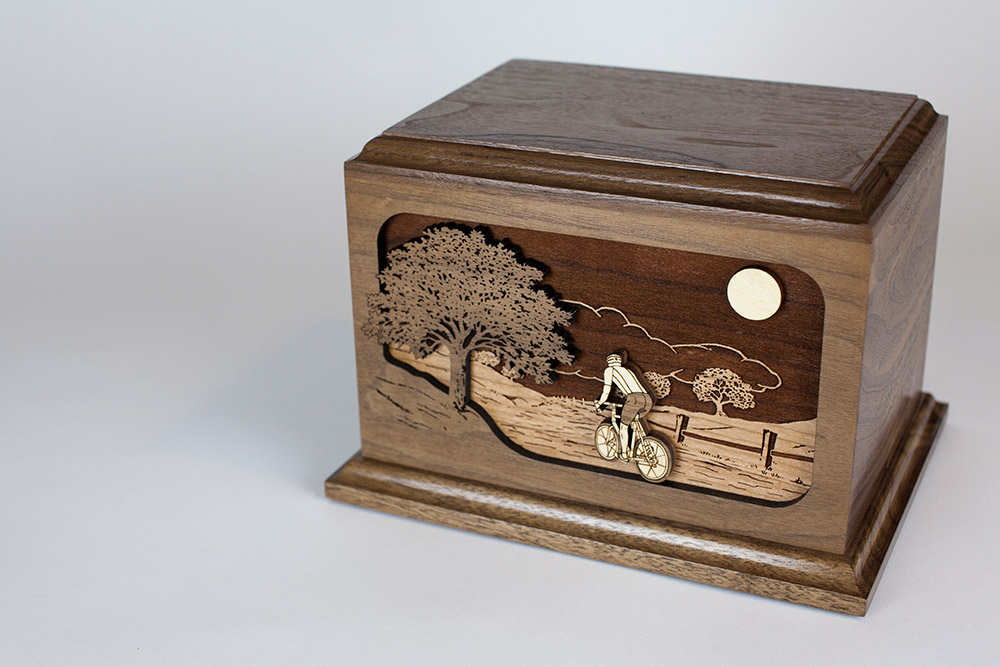 See the complete details for this bicycle cremation urn here. For more cycling urns, see here.