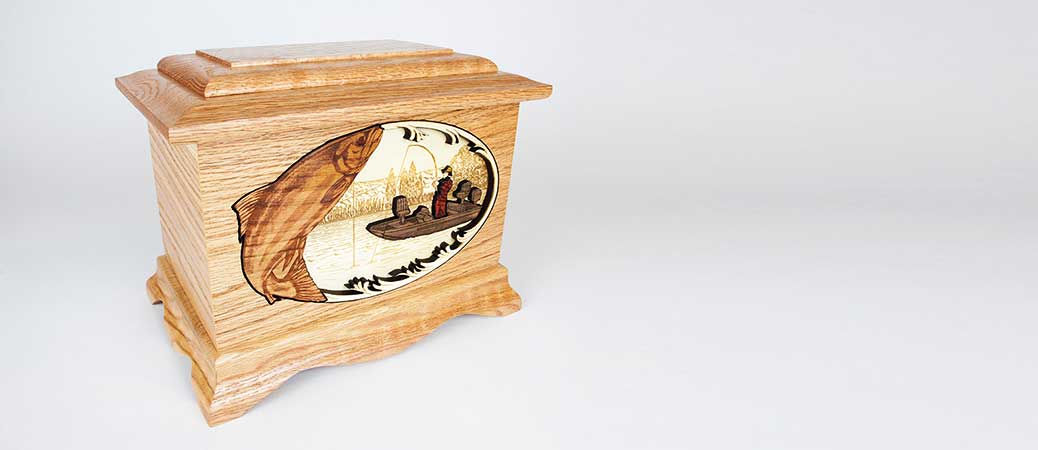 Last Updated on March 30, 2017
The Salmon Fishing Cremation Urn is the newest design in our series of 3-dimensional wood art urns crafted in the Pacific Northwest. The wood art inlay scene is perfect as a memorial tribute for an avid fisherman, built in layers of wood inlays using different wood types in their natural colors. Each piece is engraved in lovely detail and assembled by hand.
Check out the Salmon Fishing Cremation Urn in detail, shown in this video and the following photos in gorgeous Oak wood:
As you can see, the woodworking and artistry exhibited in this wood urn is exquisite. The 3/4″ thick urn box ensures that this memorial will endure as a long-lasting family heirloom. Made in your choice of Oak (as shown), Walnut, or Maple wood, the urn boasts a simple clear coat finish that will age gracefully and provide a safe and beautiful resting place for the remains of your beloved fishing enthusiast.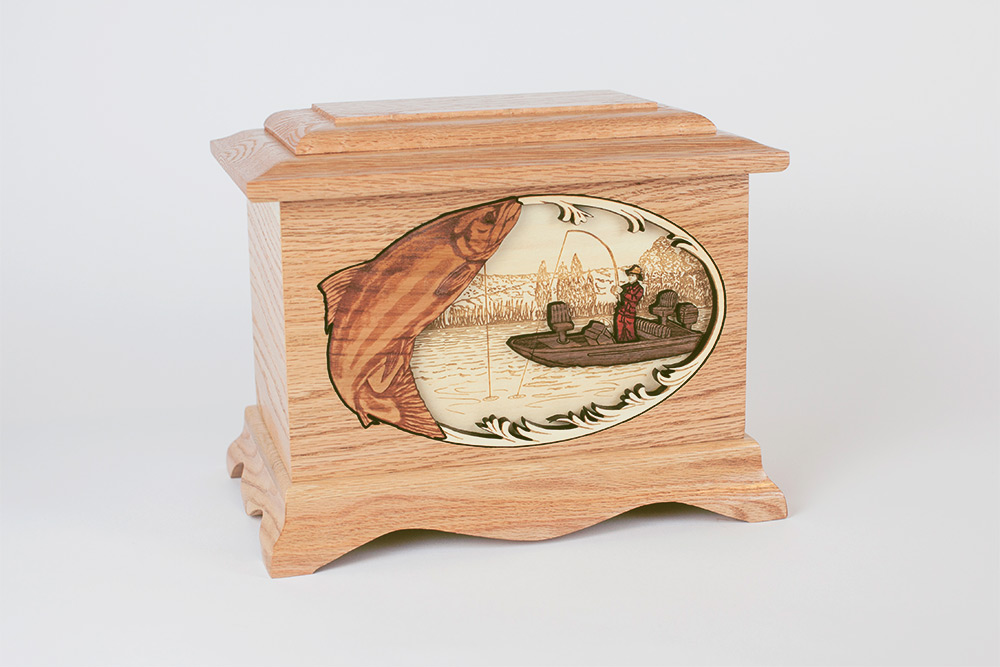 The oak wood urn box is accented with a curvy base, which perfectly balances the tiered layers of beveled wood which configure the top of the urn.
The inlay art scene is set into a well-composed oval in the face of the oak wood urn front. The salmon fish, leaping in the foreground as it struggles against the fisherman's line and reel, takes up the left portion of the oval fishing art scene and is a finely engraved piece of cherry wood.
The salmon is set over a background and border of white maple wood, etched with a splashing water design and detailed Pacific Northwest outdoor scene. The river fishing boat is walnut wood, with rosewood for the fisherman's coveralls and another small piece of cherry wood for the hat.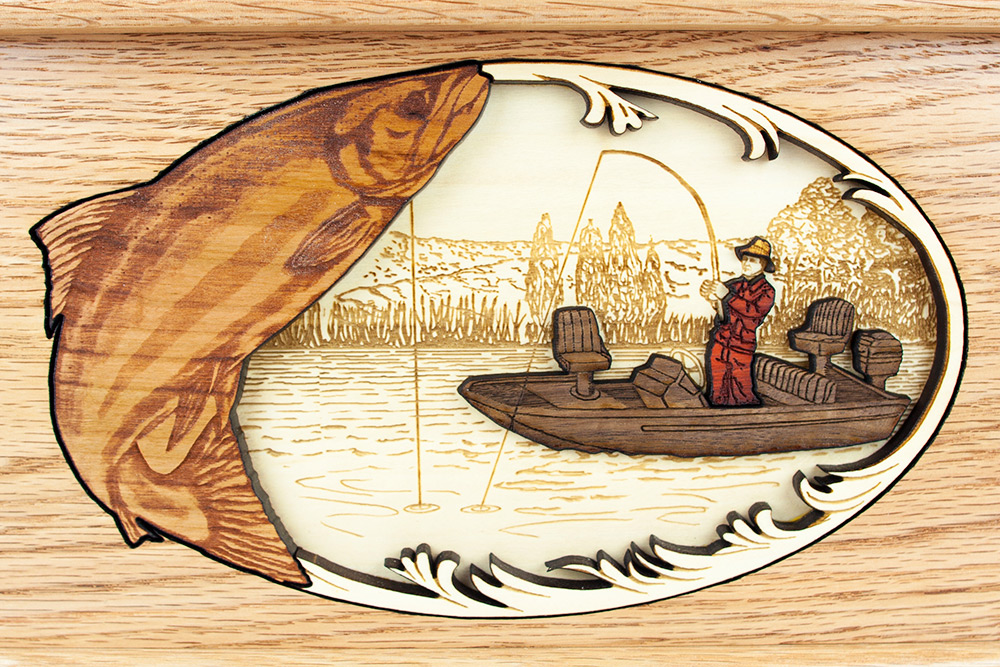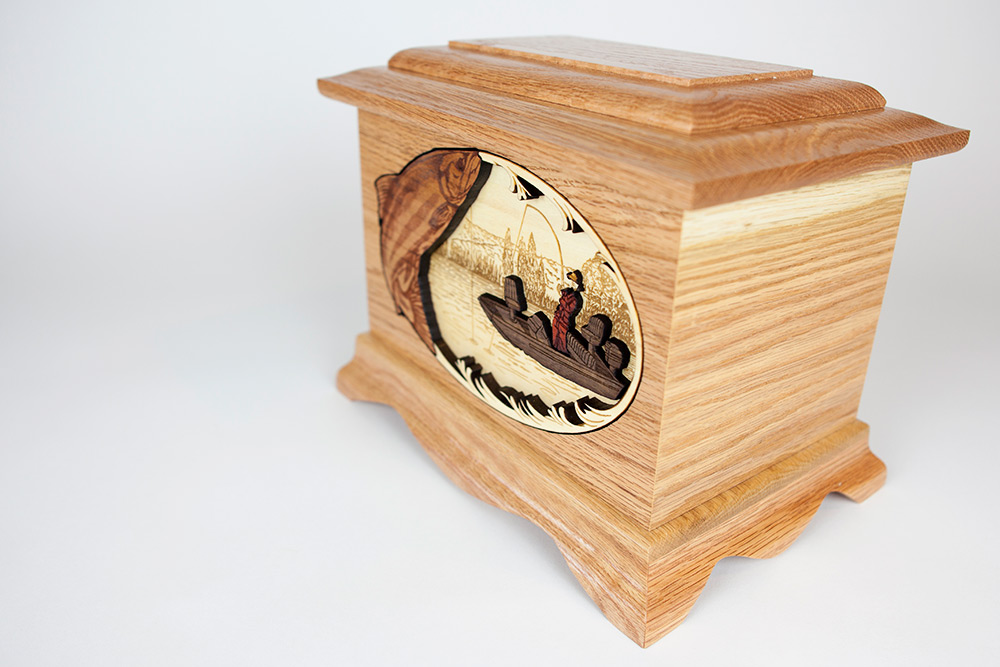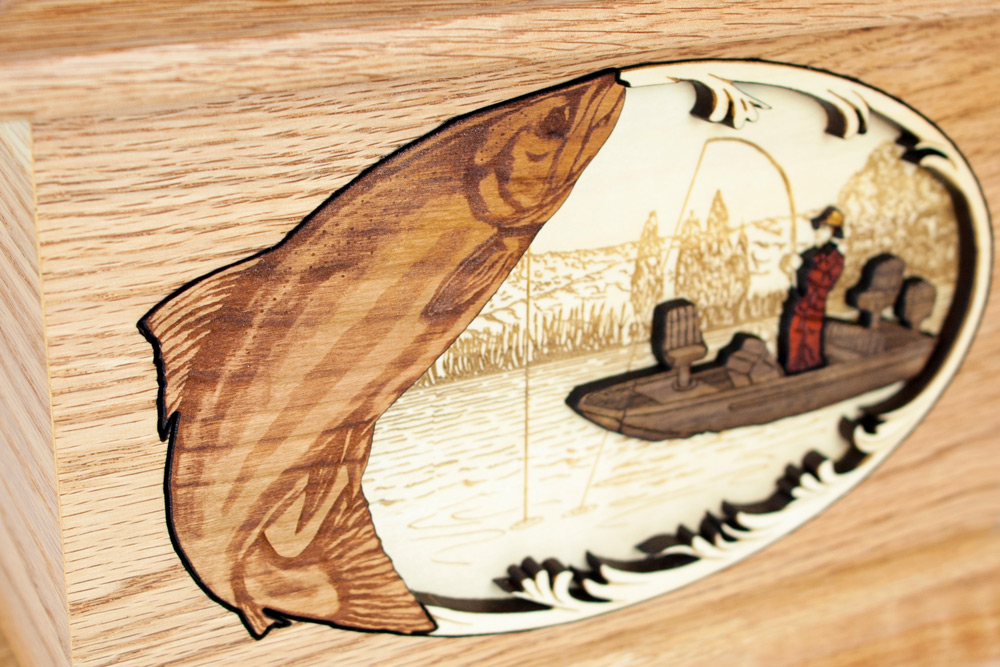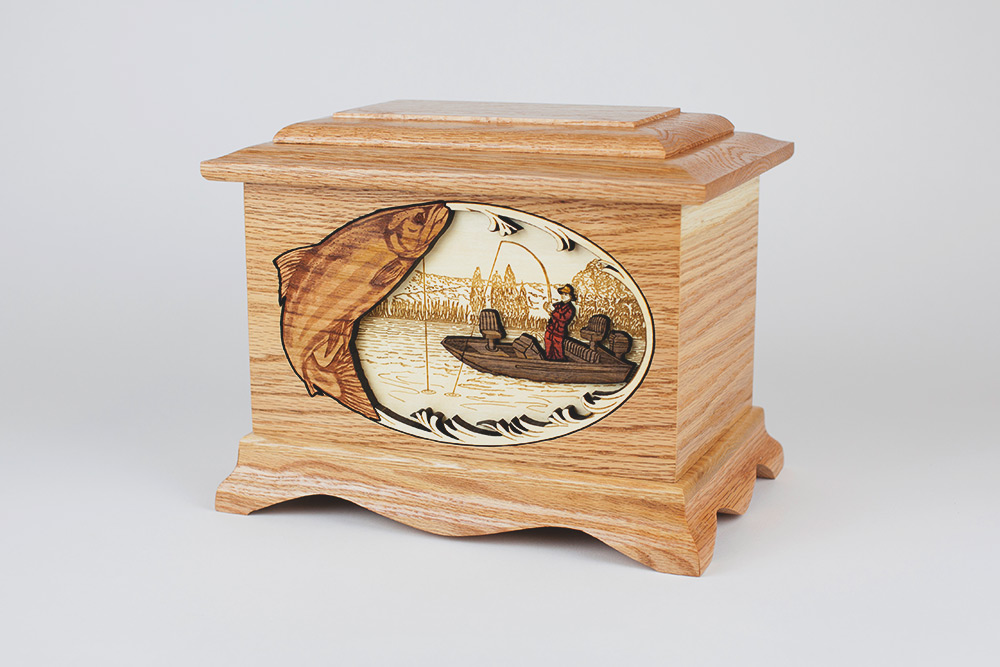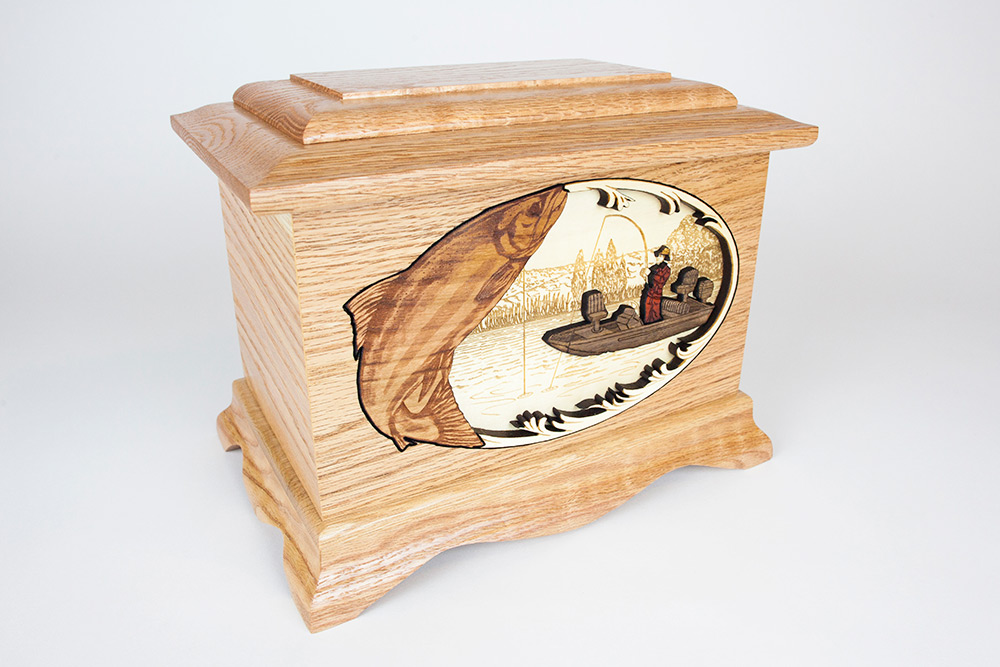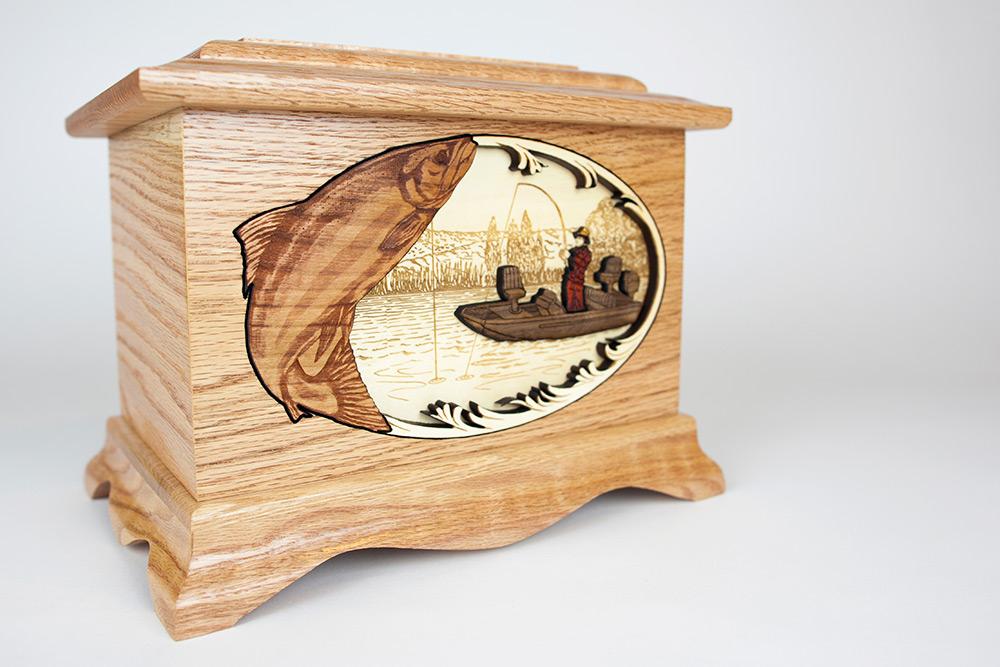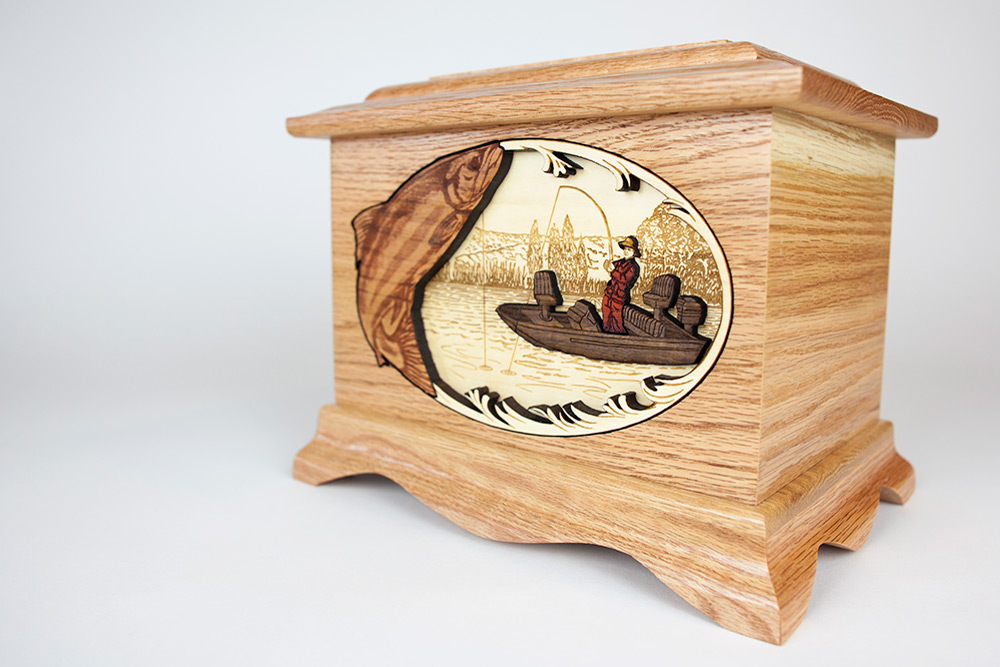 Due to the design of the top of the urn, many people's initial perception is that the urn opens from the top like a memory chest. Like most of our wood urns, the Salmon Fishing Cremation Urn opens from the bottom.
The wood panel comes off easily by taking out the four standard screws. To fill the urn, all that is neccessary is to remove the bottom inset panel, place the plastic bag of cremated remains into the urn, and re-attach the panel.
The Salmon Fishing Wood Cremation Urn is available from Urns Northwest, where you'll find many more 3D wood art urns and fishing memorial designs.
Product details:
Crafted start to finish in Oregon
Made to order within 1-3 business days
Available in solid Oak, Walnut, or Maple
Optional engraved personalized inscription
Interior capacity of 230 cubic inches
Dimensions: 11″L x 7-1/2″W x 9″H