Last Updated on September 23, 2020
Our new "Soulmates" cremation urn presents a timeless memorial for a devoted couple. It's the perfect picture of your life and love together.
Using elegantly constructed and engraved inlay hardwoods, this memorial art urn features a serene mountain lake with a couple sitting together on a personalized bench.
The Soulmates Cremation Urn
This wood cremation urn is crafted in the USA from genuine, solid wood.
Below, we'll show photos and videos of this "Soulmates" art scene in both Walnut and Oak wood cremation urn boxes. It's also available in Maple and Mahogany woods – your choice. We offer it in a standard adult urn size plus a larger, 400 cubic inch companion urn size which can hold the cremated ashes of two people.
Additionally, the scene includes personalization on the back of the raised bench. We'll laser etch the couple's first names and wedding date, included with the order at no additional charge. Let's check out this memorial.
Related: The Layman's Guide to Urns
Video
Let's first look at a video showing all sides and angles of the Soulmates Cremation Urn. You'll see this memorial in standard adult size, in dark Walnut wood, and also in companion size in lovely Oak wood.
Photos
Here are some more angles of this urn and the detailed art scene.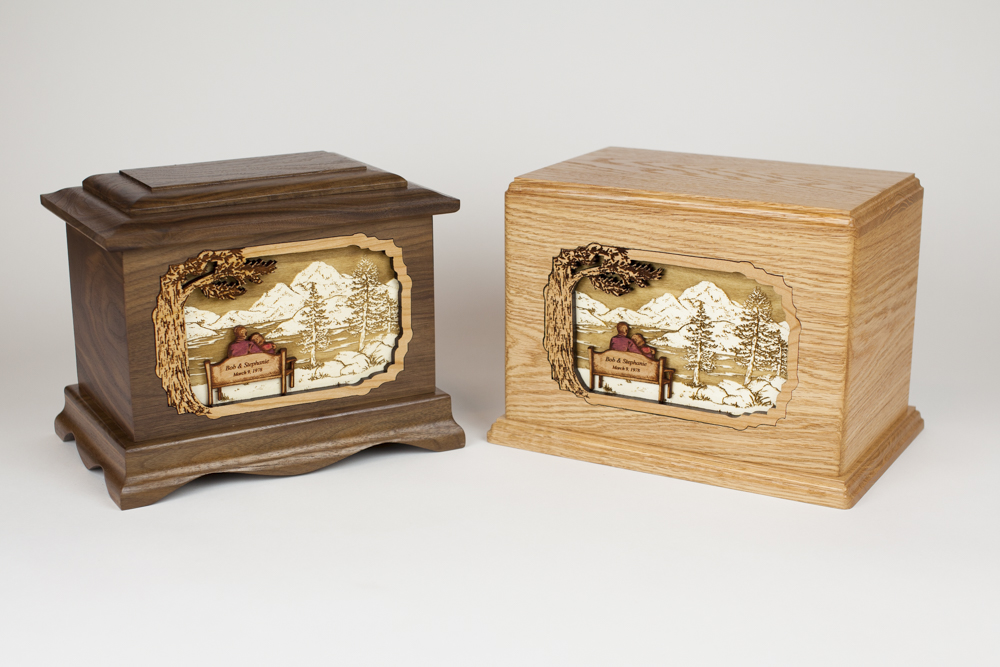 Companion Urn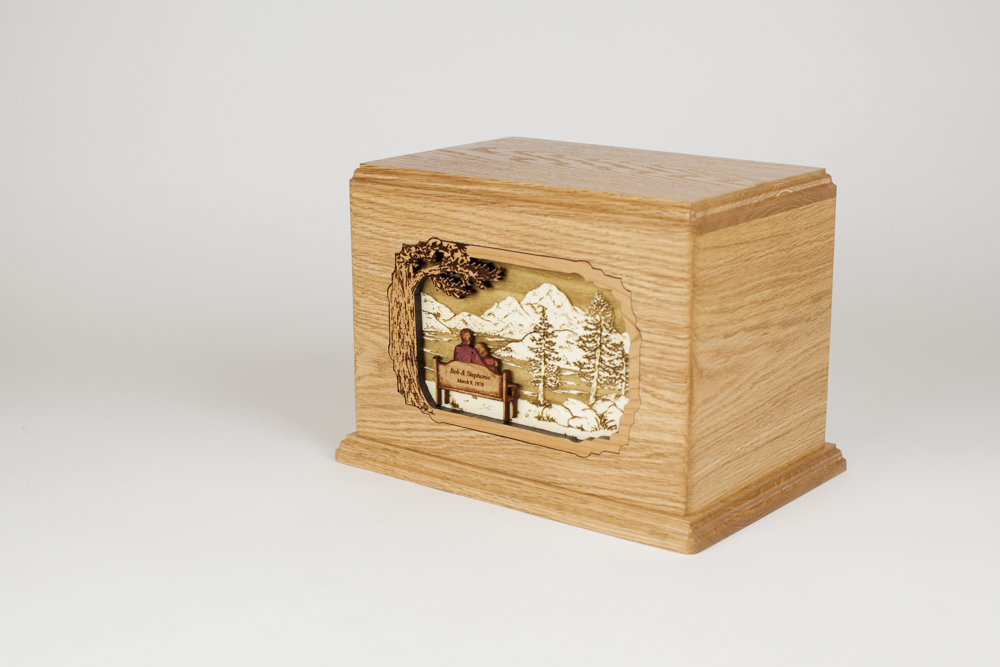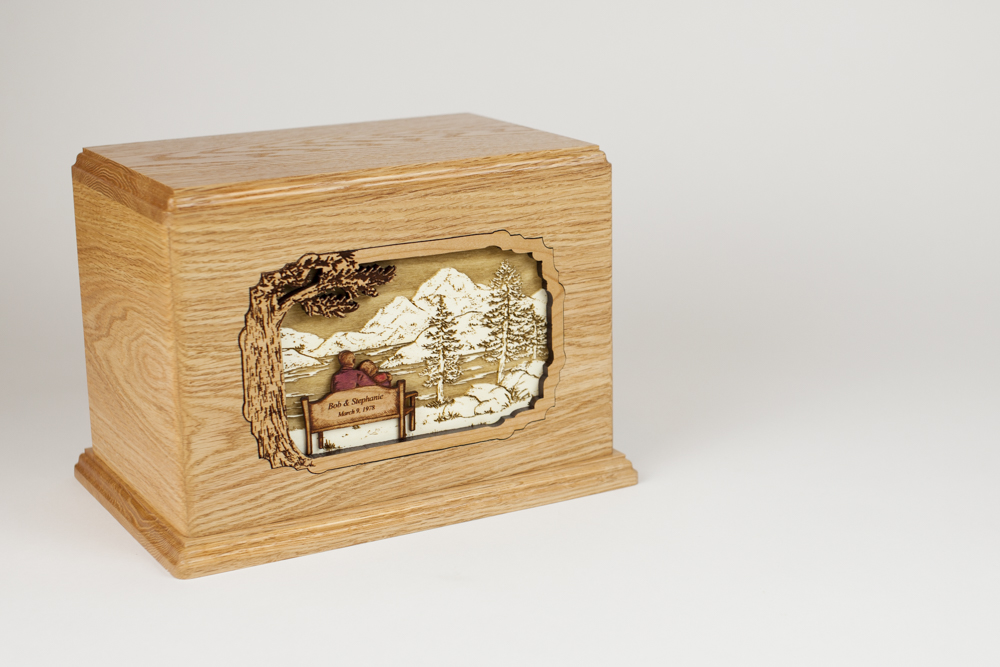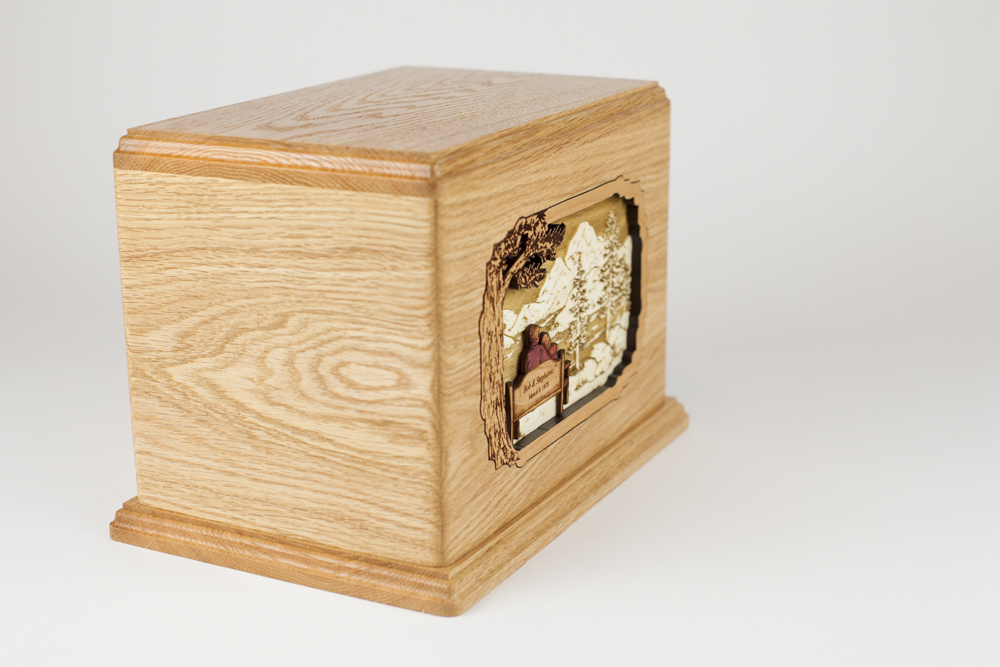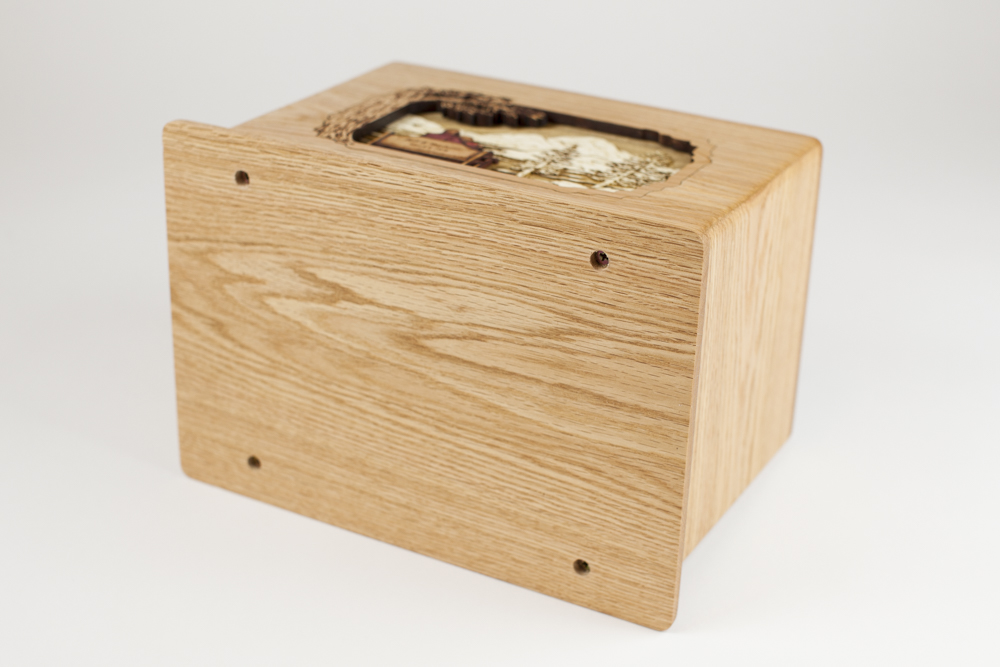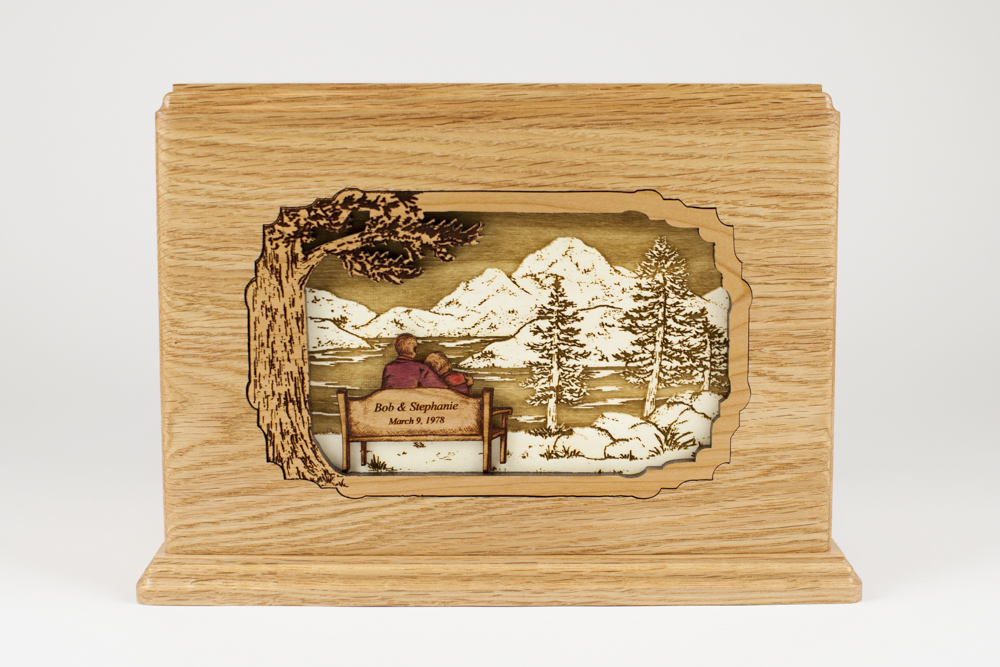 That was the larger companion urn size.
Standard Adult Urn
Below, we showcase the standard adult urn size: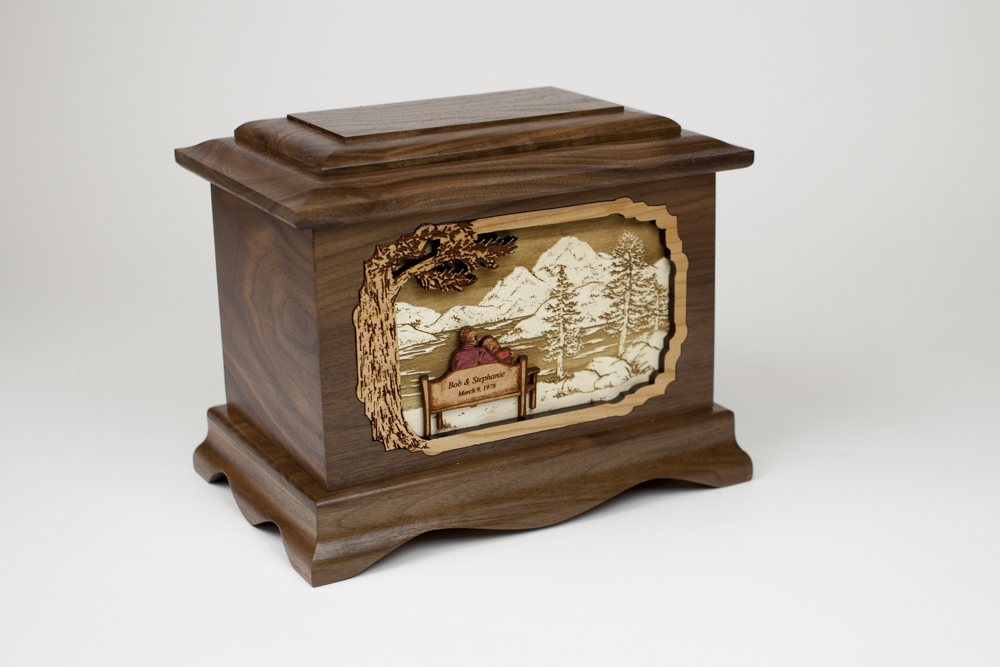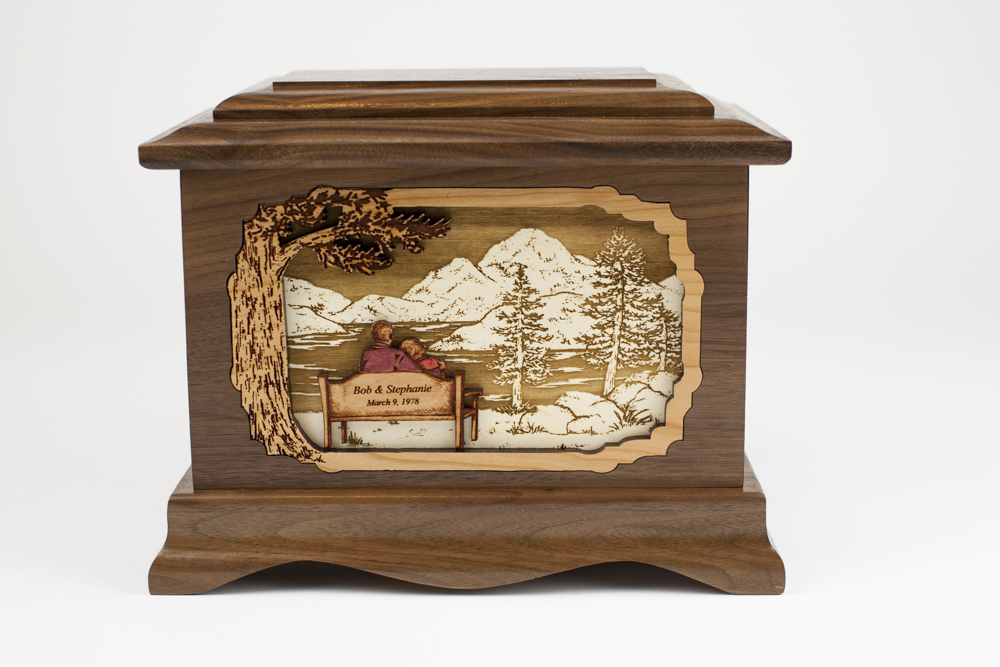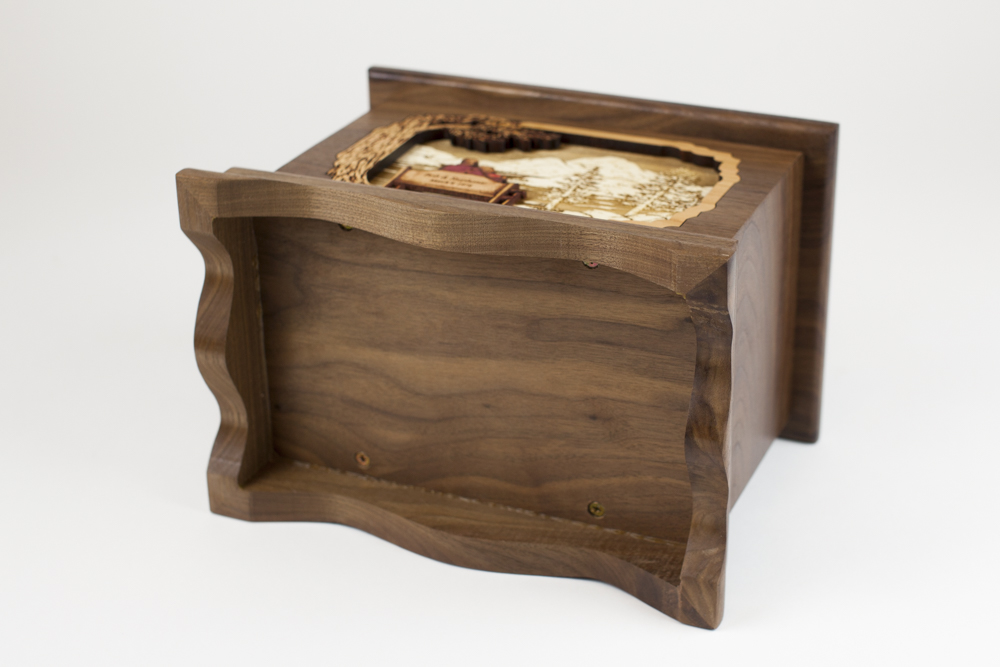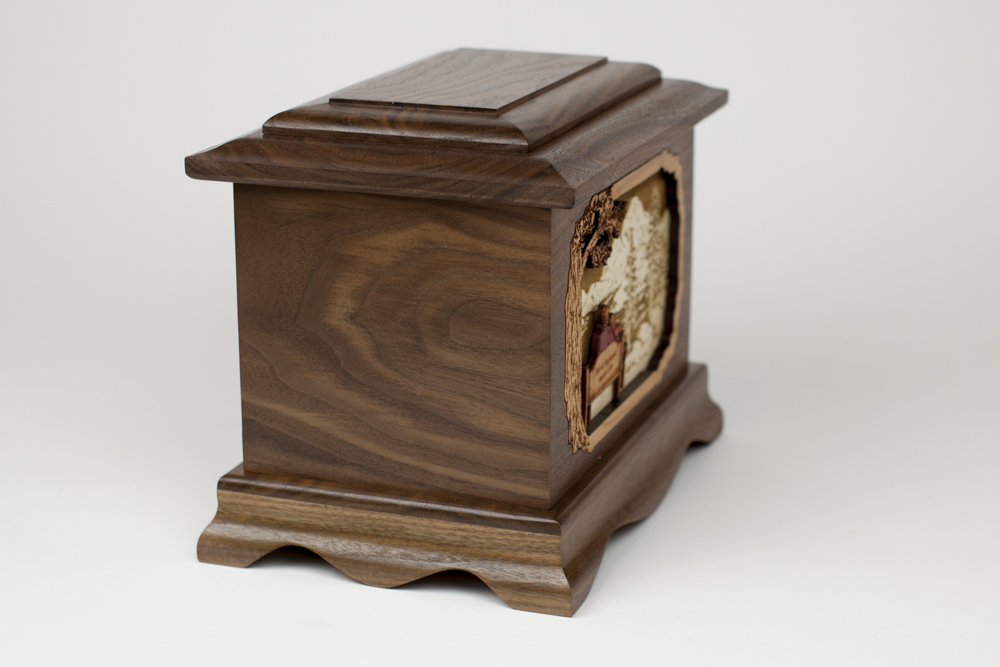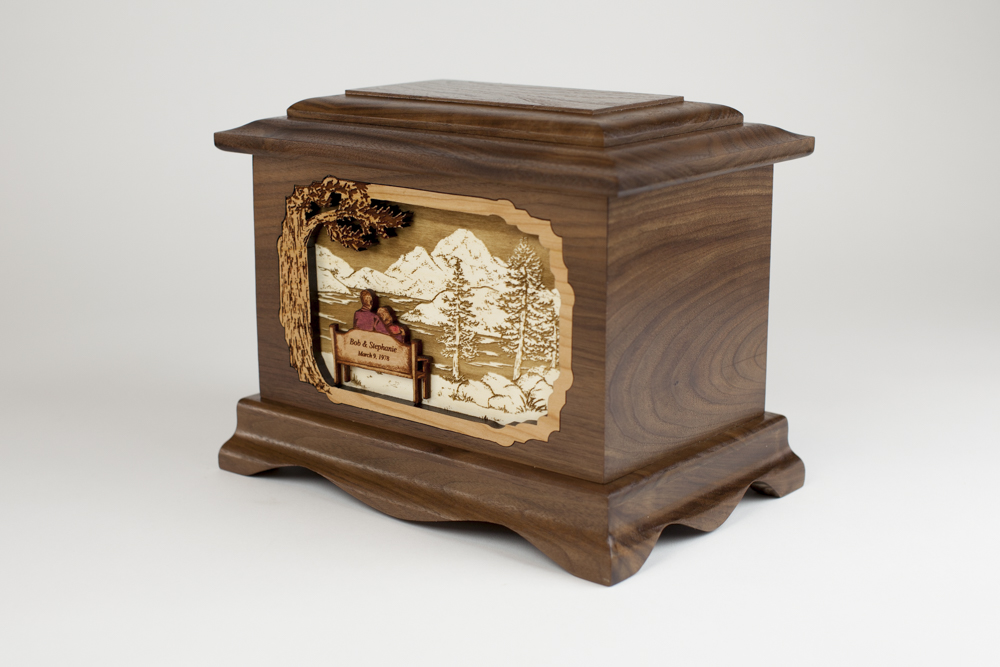 Soulmates Cremation Urn: Features & Options
Now that you've had a detailed look at this wood art memorial urn, here is a rundown of the most important details.
OPTIONS
Standard or Companion size
Standard urn comes in four shapes, available upon request
Includes personalization of bench with names and wedding date
Optional additional engraved inscription on top or back of urn
Your choice of Oak, Maple, Mahogany, or Walnut wood
FEATURES
Made in the USA to order
Crafted with 100% premium hardwood – no veneers
Inlay art scene comprised of various hardwoods in their natural colors
3-dimensional inlay scene gives vibrant, lifelike effect
Built to order within 1-3 business days
Rush shipping & production can be arranged
Free standard ground shipping is included
These two urns are available here; you can also browse our extensive collection of inlay art designs here.
Read next: 12 Rustic Cremation Urns with Surprising Elegance
Soulmates Quote
Here's a little bonus soulmates quote – from Emily Bronte – for you to bookmark, order a print, pin to a Pinterest board, or simply enjoy. Quote prints are available with His and also Hers editions.