Last Updated on July 15, 2020
We've recently updated some of our most popular and beautiful floral cremation urns, and the results are stunning.
Made in the USA, in a small Oregon wood shop, using premium maple wood for the box with laser etched and stained inlays for the flowers, these wooden floral cremation urns are the purest synthesis of natural earthiness and graceful beauty. Just like her. Let's take a look.
Please note that this post contains affiliate links, which means that if you purchase something you see on our site we may receive a commission at no cost to you. See our full disclosure here for more details.
Floral Cremation Urns
1. Red Roses Floral Inlay Wood Cremation Urn
Available from: Urns Northwest
First off we have the Red Roses Floral Inlay Cremation Urn, which is made using solid white maple wood in an attractive design featuring an elegant top inlaid with red roses. The pattern of the inlay is designed so that you can personalize the memorial with laser etching of the name and dates in the open area to the upper right. This allows the red flower inlay to wrap around the text, celebrating your beautiful beloved's life and memory in a special way.
Details include beveled edges, laser carved leaves, richly stained wood inlays depicting the red roses, and a spacious overhanging top. Note that these floral cremation urns, like nearly all wooden urns, open from the bottom. Due to the shape of the urn, many often think that this is a memory chest-style piece, opening from the top with hinges. We can make it that way upon request, but typically cremation urns are made with a bottom panel that screws in so that the remains are secured and relatively inaccessible. You can see more details and purchase this item here.
Here are some additional photos of this gorgeous, earthy memorial.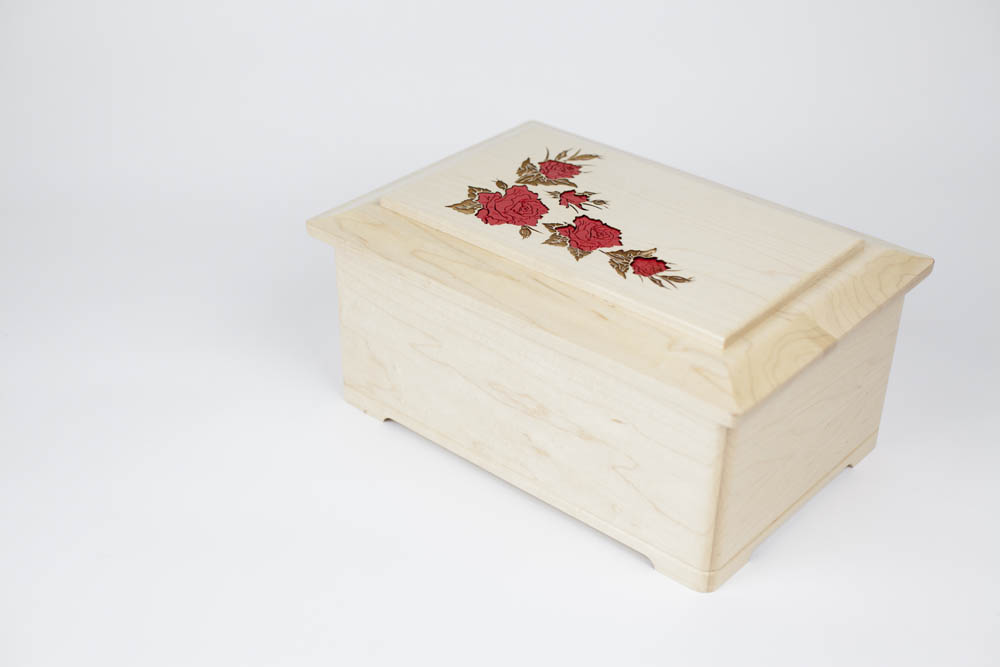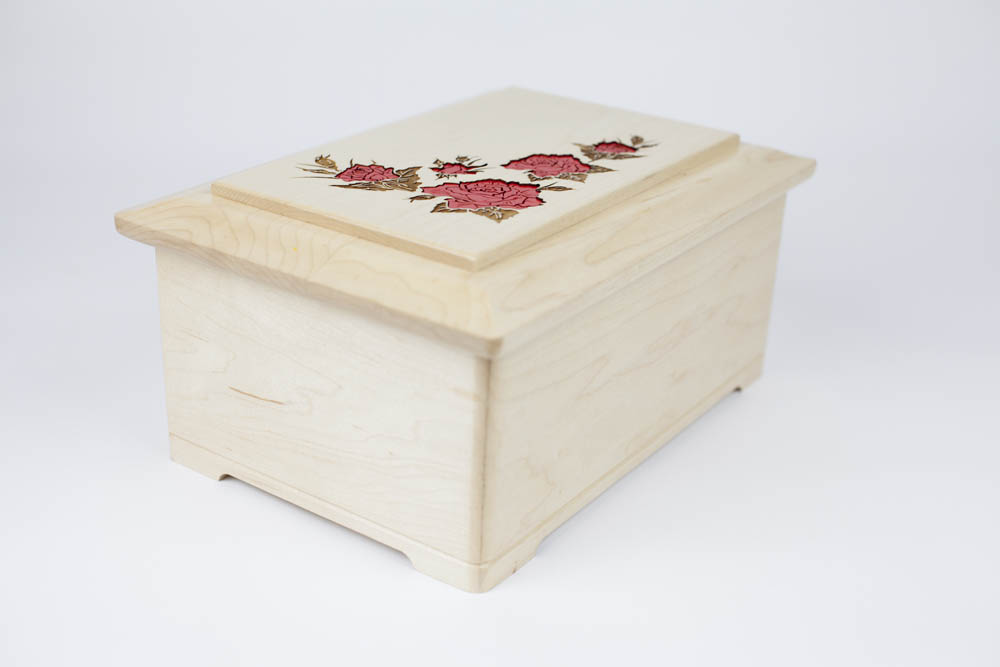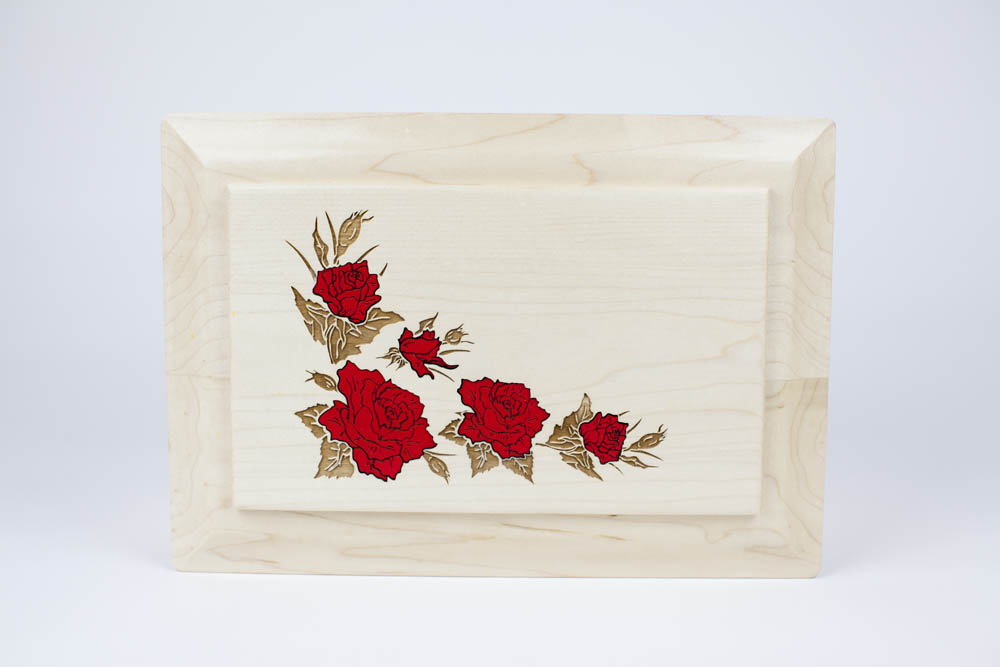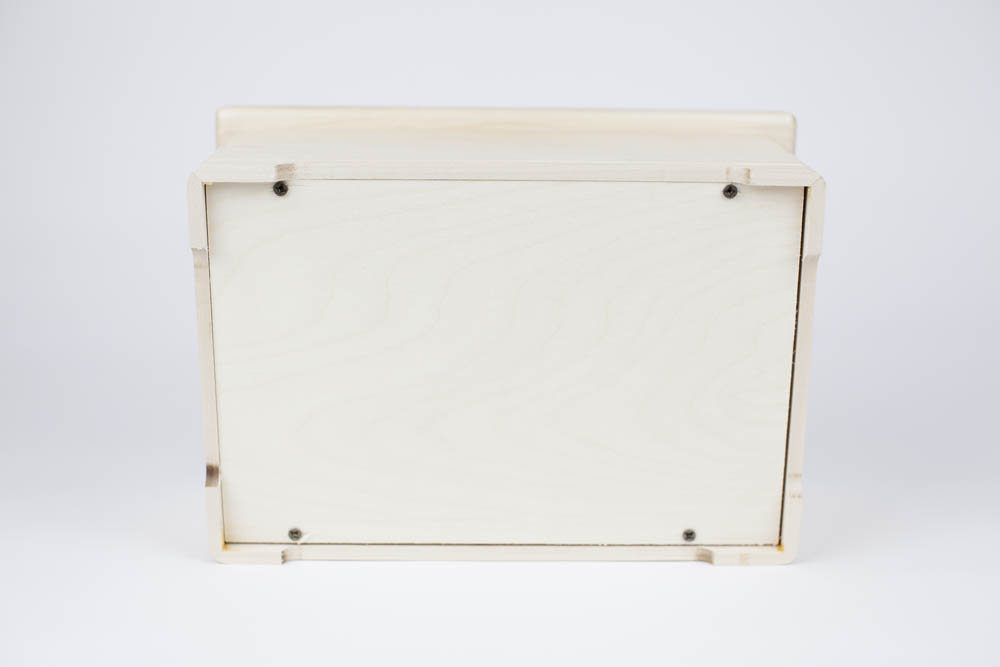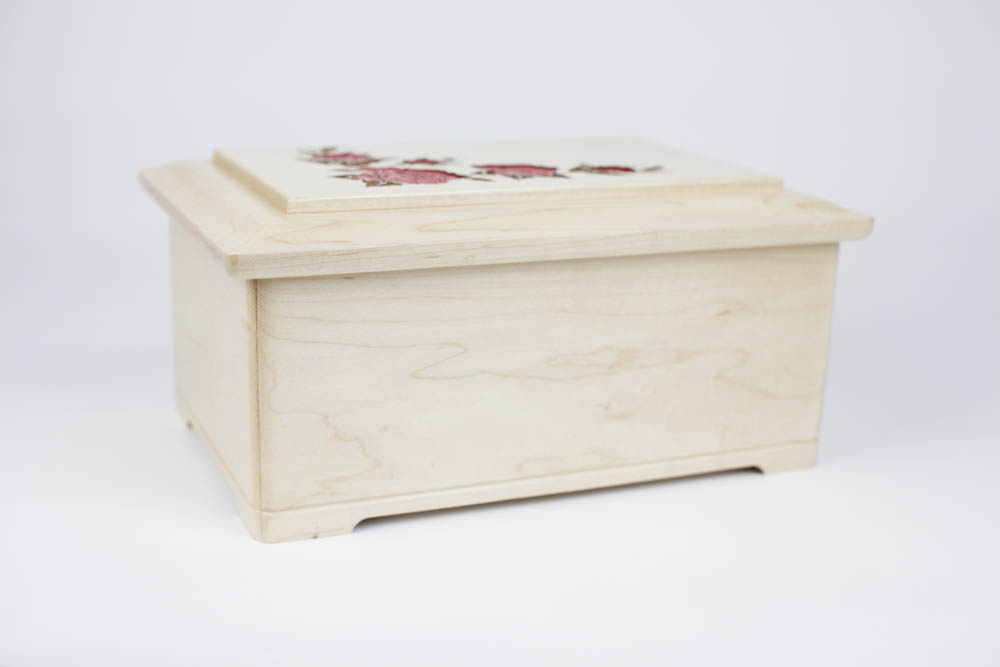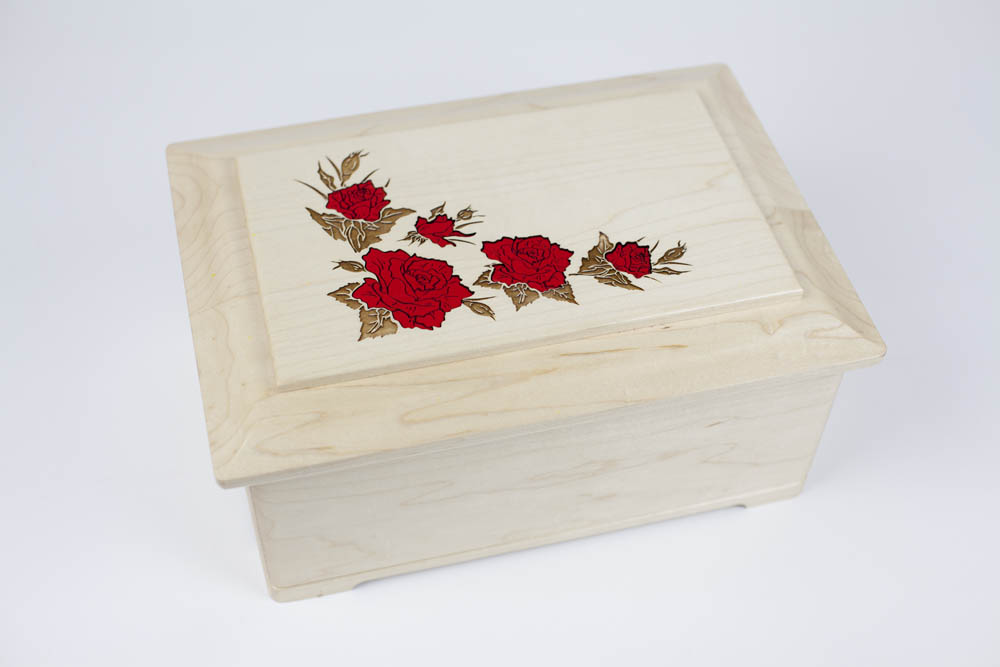 Order/more info: Urns Northwest
2. Walnut Wood Cremation Urn with Flower Inlay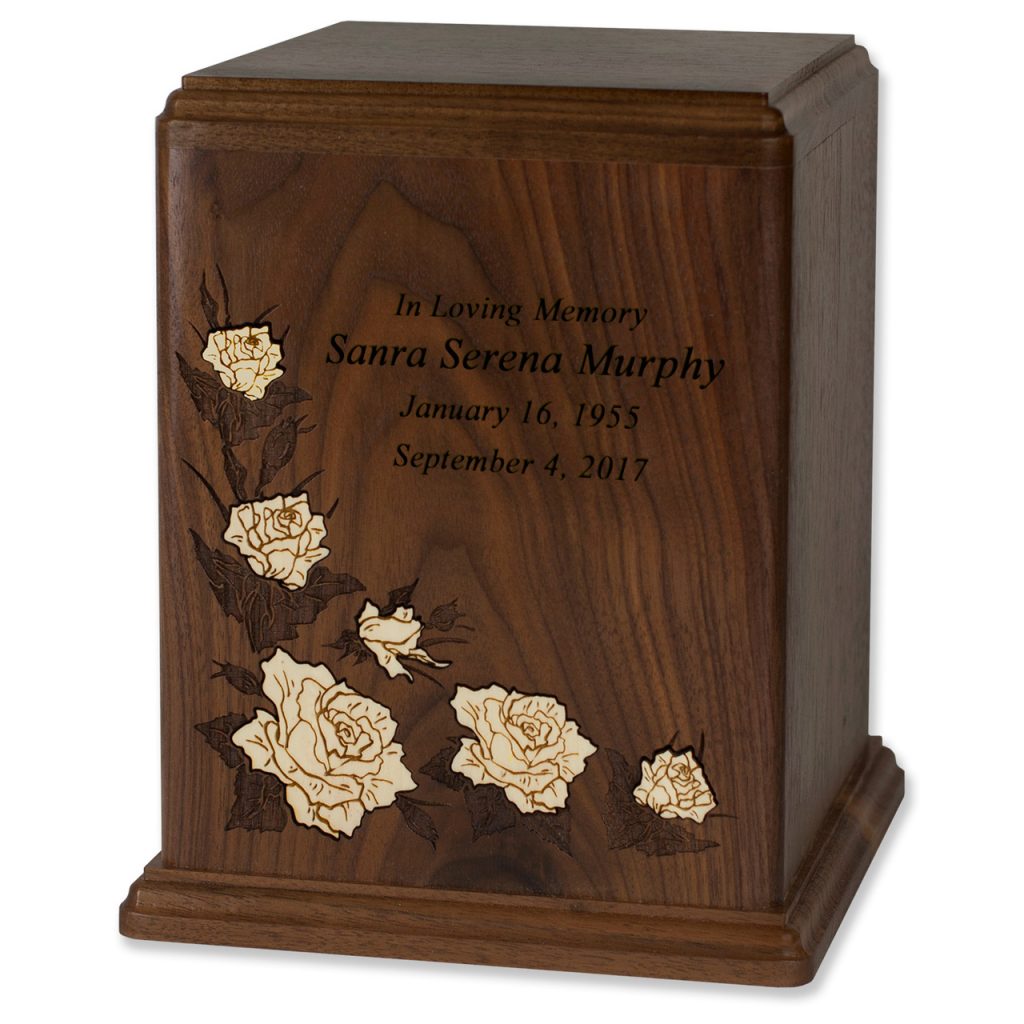 Available from: Urns Northwest
This one spectacularly combines the raw earthiness of walnut woodgrain with the elegance and sophistication of white roses. Also available with yellow or red floral inlays, the Walnut Wood Cremation Urn with Flower Inlay is an authentic and enduring made-in-America memorial urn that will truly honor your loved one's beauty.
3. Hummingbird & Flowers Inlay Art Cremation Urn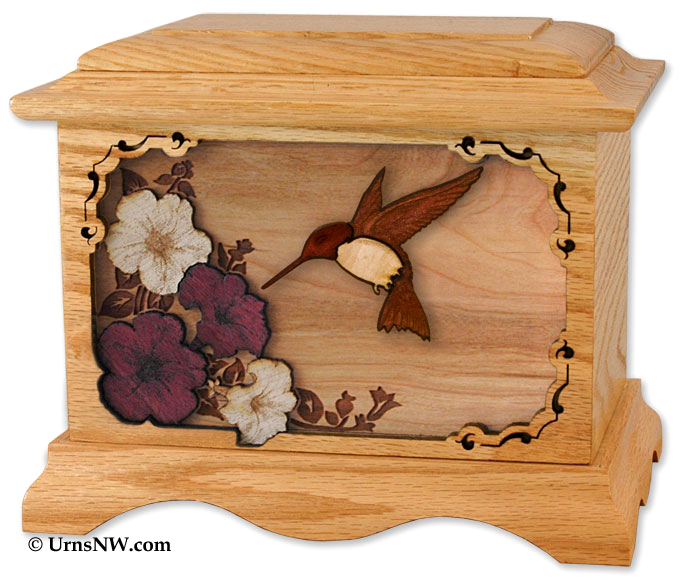 Available from: Urns Northwest
Shown above in Oak, the Hummingbird & Flowers Inlay Art Cremation Urn can also be made for your beloved using rich Mahogany, dark espresso-brown Walnut, or light and bright Maple wood. The inlay artwork is in 3-dimensions, with laser carved inlays set against a Cherry wood background in a way that gives the memorial a lifelike sense of vitality. Perfect for the one who loved nature, hummingbirds, and flowers.
4. Tranquility Wood Cremation Urn in Radiata with White Roses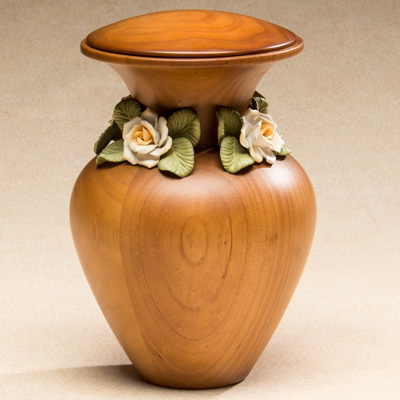 Available from Urns Northwest
Here is a stunning art piece that combines brilliant woodcraft with ceramic floral artistry. Using Radiata (aka Pine) wood, turned by hand and adorned with handcrafted white roses in ceramic, this memorial is made in a family-owned woodshop in the heart of Spain from locally grown hardwoods.
More similar items…
Pin this article to your memorial board: