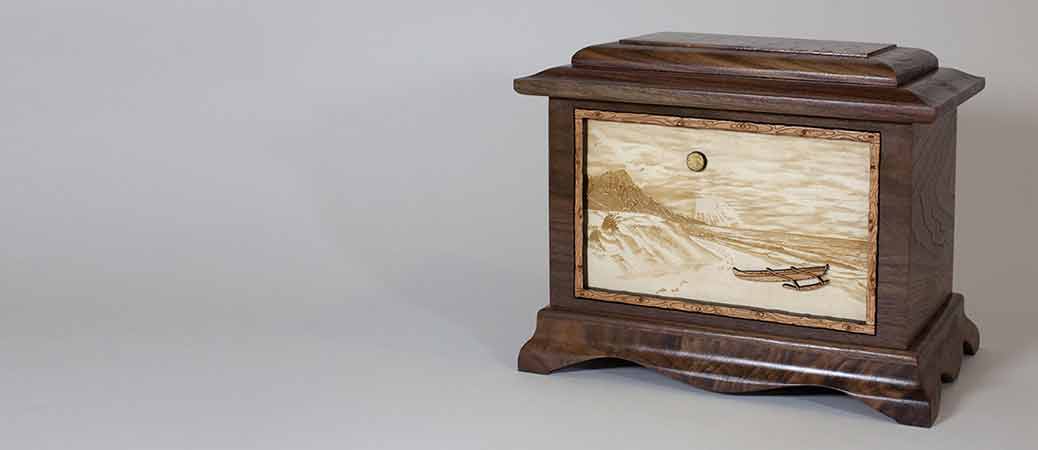 Last Updated on October 24, 2016
This video showcases our Hawaii Cremation Urn. Crafted in the USA from real wood with a simple, clear finish, the gorgeous grain our premium hardwood is clearly visible in each piece. Shown here in solid Walnut, we also offer this memorial urn in honey-yellow Oak or soft white Maple wood.
SHIPPING TO HAWAII: This urn is made in Oregon, so shipping to Hawaii can be pretty expensive. Here is a coupon code for $50 off shipping via 2nd Day Air to the Hawaiian Islands: HAWAII

Simply copy and paste the coupon into the coupon code box during checkout. Valid only for 2nd Day Air shipping. Does not expire.
The urn box is done in our popular Ambassador shape, with its signature wavy trim base and layers of beveled wood on top. We offer many engraved art scenes in the Ambassador shape, of which this Hawaiian Beach Cremation Urn is our latest addition to the collection. Optionally, we can personalize this memorial for you by laser engraving an inscription onto the top or back of the urn.
The inlay panel is a lovely light Alder wood, surrounded by a Cherry border, and is engraved in fine detail with a Hawaiian beach scene depicting the Diamond Head cliffs on O'ahu Island. An outrigger canoe, popular among tourists, rests on the sandy beach as the ocean waves lap the shore. The sun sets in the distance, shining through the clouds as a subtle metaphor in honor of your loved one's life.
Here are some detailed closeups of this gorgeous wood cremation urn:
As you can see from the image of the base of this urn, the interior is accessed by removing the four screws which hold the bottom panel. To see a demnonstration of how to remove the base and access the inside of the box, see our video How to Open a Wooden Urn.
(Visited 929 times, 1 visits today)