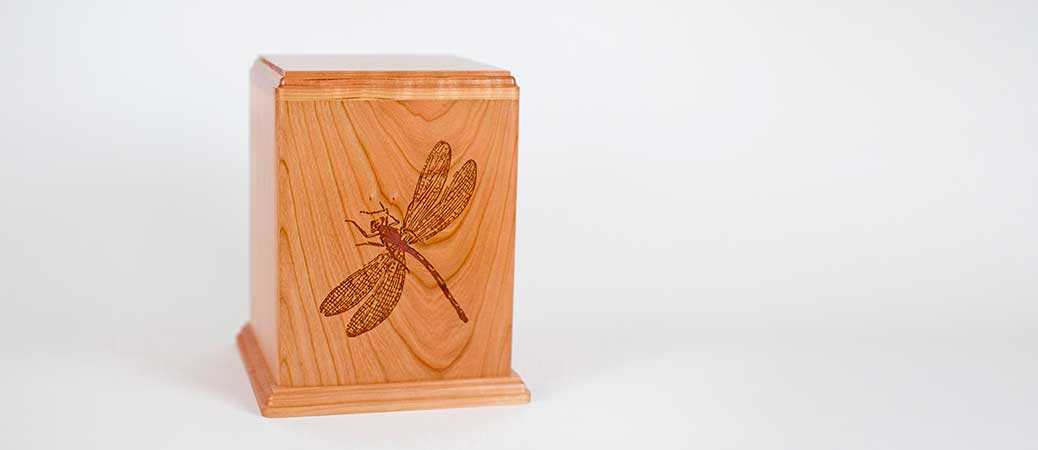 Last Updated on October 24, 2016
The silky streams of woodgrain running through the cherry wood evoke a sense of natural movement and organic beauty. That's one of the reasons why the aesthetic of solid wood is a popular choice for an heirloom memorial urn – crafted with care and precision from real wood, wood cremation urns convey the idea of life in a poignant, understated way.
Our Wooden Dragonfly Cremation Urn is the latest design we've etched into our series of premium laser carved wood urns. Available in natural cherry as pictured here, or in a lovely lighter white maple, each urn is handcrafted in the USA and laser engraved in fine detail. Here are a few photos which show the elegant wood grain of the cherry wood along with the detailed art carving of the dragonfly:
Now for a 360-degree video view of the urn, showing the top as well as the bottom-opening panel, which attaches with standard screws:
The Dragonfly Cremation Urn is just one of many designs in our "Laser Carved" series. Each urn in the series is affordably priced and available in natural Cherry or white Maple wood.
(Visited 635 times, 1 visits today)