Last Updated on October 24, 2016
The Boston II Companion Urn has been a customer favorite in our Companion Urn Collection for many years. This 'double urn', which is built to hold the remains of two people, is available in both dark Walnut wood and a gorgeous red-hued Stained Cherry. Between these two wood types, the Boston II has proven to be most popular in Stained Cherry wood, as we've found that customers generally tend to favor the type of wood in which the urn is pictured on the product page. For the Boston II, for quite some time that has been Stained Cherry.
But we'd like to challenge that convention by showcasing the lovely, richly-textured Walnut Wood, with its dark, espresso-brown wood grain patterns which contrast nicely with the lighter latte-colored highlights. When you observe the walnut wood companion urn in the photos and videos below, we think you'll agree that the simple, classical design  of the Boston II is perfectly suited for walnut wood.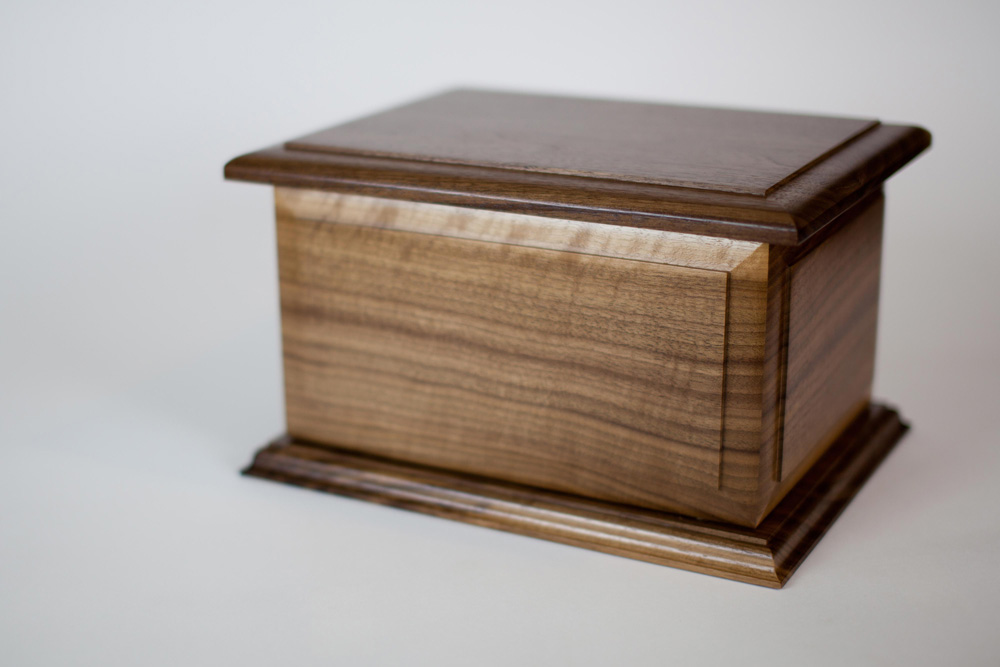 Crafted in an Oregon woodshop, the Boston II is a large, spacious companion urn for two. Available, as mentioned above, in dark Walnut wood or elegant Stained Cherry, the wood is cut and constructed using a hearty 3/4″ thickness all around. With such sturdy composition, combining with a simple stain, classical beveled-edge design, and made-in-America craftsmanship, the Boston II Wood Companion Cremation Urn is a beautiful choice for a devoted couple.
Here's an all-around look at the Boston II:
The gorgeous walnut wood mixes together chocolate and coffee swirls of supple wood grain which will gracefully age into an heirloom piece. Because the Boston II Companion Urn is crafted from real wood, each piece will have different woodgrain patterns and a unique (but similar) color palette.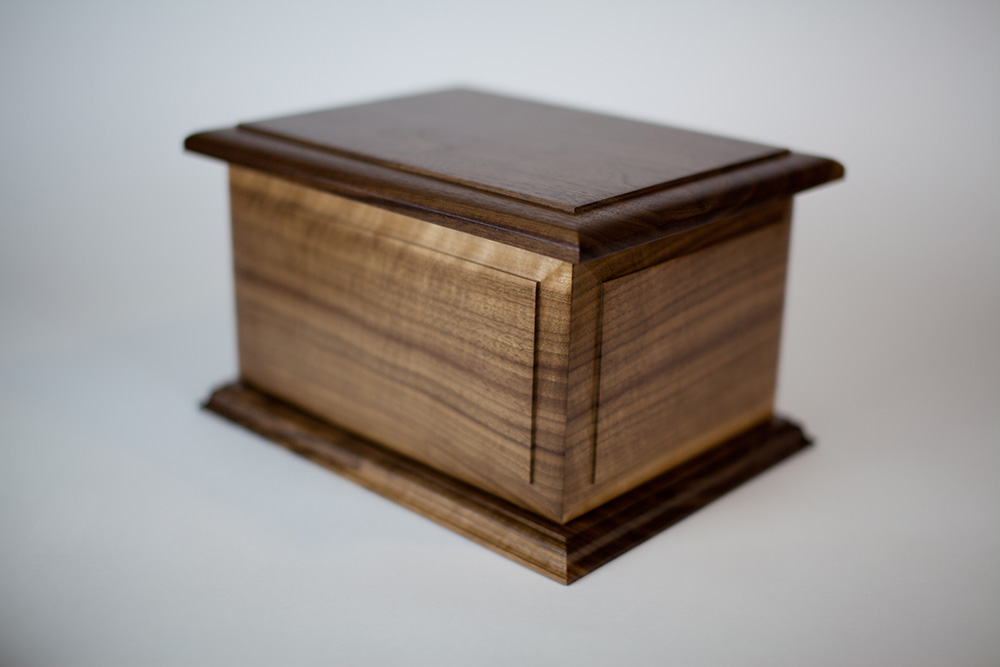 Optionally, we can add a laser engraved inscription, carved directly into the hardwood surface, of name and dates onto the top or front of the wood companion urn. This enables you to personalize the memorial, perhaps indicating how many years the couple was married. For engraving options and ideas, especially for when one individual is still living, see our Complete Guide to Companion Urns, point #6.
The interior is accessed by removing the four screws which attache the bottom panel. Inside, you'll find a removeable wooden divider panel, allowing you to choose whether you would like to keep the remains separate, or mix and commingle.
If you're like most people, you'll find it helpful to get a clear visual on how this is done. Here's a brief demonstration video showing exactly how to open this walnut wood companion urn along with some additional helpful tips:
We are proud to offer the Boston II Companion Urn in both Dark Walnut and Stained Cherry. With excellent production values, premium materials, and a timeless design, we're confident you and your loved ones will cherish this wood companion urn as it honors the memories of a devoted and loving couple.