Last Updated on February 25, 2020
Companion Urns Series Intro: Deciding on a disposition method for the remains of two individuals can be a difficult and confusing process. In this series, drawn from our article "Companion Urns: The Complete Guide", you will find helpful tips, simple explanations for relevant funeral industry terms, a wide array of options for storing and disposing of a couple's cremated remains, and answers to common questions about companion cremation urns.
What is a "Companion Urn"?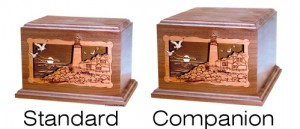 A companion urn is a cremation container which is intended to hold the remains (i.e., ashes) of two people, usually a couple such as a husband and wife. Companion urns generally hold twice the capacity of a standard adult urn, which is why they are also sometimes referred to as "double urns", meaning that they are double the size of a standard adult funeral urn.
Companion urns can be made from the same materials as any standard cremation urn; the only difference is that the companion urn is larger in size and may, depending on construction and design, contain a divider. Dividers segment the container so that each individual's ashes can be placed in a separate compartment.
Please note: Not all urn designs are available in companion size.
An alternate use for a companion urn is to hold the remains of a larger individual. See the next post for sizing information.
Shopping for companion urns? Here's what our customers are saying: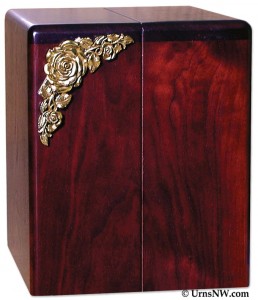 Within a few days of placing the order on-line, I received a call to discuss our selected inscription. We chose to go without the inscribed vertical line so that the inscription would be centered on the face. The urn arrived a short time later and it is indeed a lovely and very dignified resting place for my parents. We are very pleased.

 

-Stephen B.

 

Customer review on Roses Companion Urn
To learn more about companion, see The 11 Types of Companion Cremation Urns You Need to Know About.