Last Updated on February 28, 2020
Companion Urns Series Intro: Deciding on a disposition method for the remains of two individuals can be a difficult and confusing process. In this series, drawn from our article "Companion Urns: The Complete Guide", you will find helpful tips, simple explanations for relevant funeral industry terms, a wide array of options for storing and disposing of a couple's cremated remains, and answers to common questions about companion cremation urns.

What size companion urn do we need?
Calculating the potential needed capacity of a double urn in advance might seem like a daunting task, but it is actually quite simple. To figure the size needed for a companion urn, take the total pre-cremated body weight of the two individuals and convert it straight to cubic inches at a 1:1 ratio.
Thus, for a 200 lb man (roughly 200 cubic inches of remains) and a 140 lb woman (roughly 140 cubic inches of remains), the total capacity you will need in a companion urn is 340 cubic inches (200 + 140 = 340).
The industry standard capacity for a single adult cremation urn is 200 cubic inches, and so most companion urns are built with a 400 cubic inch capacity. However, depending on the details of each individual design, companion urns will vary in size, dimensions, and capacity. At Urns Northwest, some of our companion urns are as small as 350 cubic inches, while others hold up to 500 cubic inches. But generally the capacity for most of our "double urns" is right around the industry standard of 400 cubic inches.
If you have the cremains already, the calculation is approximately 14.44 cubic inches per cup
On our retail website, the dimensions and capacity of each cremation urn are listed in the "product details" section on each product page.
Shopping for companion urns? Here's what our customers are saying: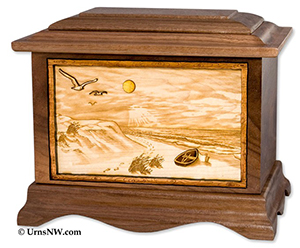 I found this product to be exactly what I expected it to be…What I didn't expect is the extra care and concern that was put into the process of ordering and delivering of what I can only say is the last momento I will have of a person I hold dearest in my heart….The personal care and extra steps taken with the engraving and personal care with delivery, all at a price of almost half that of the memorial home's….I can only say thank you…you helped me in ways I didn't know someone could…

– Ken S.

Customer review of A Walk on the Beach Urn, available in companion design and size here (select scene).