Last Updated on September 23, 2020
Each and every region of these great United States have their own particular – and sometime peculiar – beauty. The land surrounding the Great Lakes is no different. Whether you live in Michigan, Minnesota, Wisconsin, Ohio, or across the border in Ontario, you know and love the Great Lakes for the way these lakes represent home.

If you and your loved ones treasure the Great Lakes – whether it be Lake Superior, Lake Michigan, Lake Huron, Lake Erie, or Lake Ontario – we would be proud to craft the cremation urn that honors their memory. That's why we've introduced the Great Lakes Art Cremation Urn, a gorgeous woodcrafted urn made in the USA from premium solid hardwoods and featuring a one-of-a-kind laser etched inlay art scene.
Great Lakes Inlay Art Cremation Urn
This memorial urn is available in the wood type of your choice: Dark Walnut, which we're featuring in most the pictures below, along with rich Mahogany, savory honey Oak, or elegant white Maple wood.
Additionally, you can choose the 3-dimensional wood art carved centerpiece that best suits you.
We have:
Soulmates (a couple sitting on a bench overlooking the lake)
Boat (perhaps not too different from the one at your lake house)
Horse and rider (for those with connections to farming, ranching, or who just love horses)
Deer (ideal for hunters and other outdoors types)
Let's take a closer look at this inlay art cremation urn. First, a video that will show you all around the urn.
Great Lakes Urn Video
You can see the details of this urn along with production and shipping times, dimensions, capacity, and all the available options on the product page here.
More Images
Next, let's look at the actual inlay art scene.
Shown below in a Walnut urn box, the Great Lakes scene is framed with cherry wood carved in detail. The frame incorporates a tree into the design on the left side.
A panel of alder provides the background, and an oak wood boat rests on the shore in the foreground.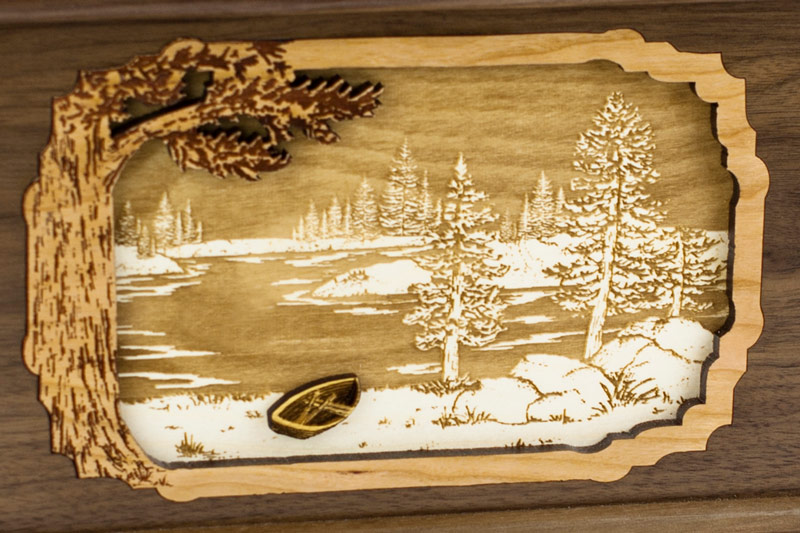 The boat, as mentioned above, can be replaced with a couple on a bench, a deer, or a horse and rider. The espresso-brown Walnut wood can be switched at your preference for Oak, Maple, or Mahogany.
Here are all four designs: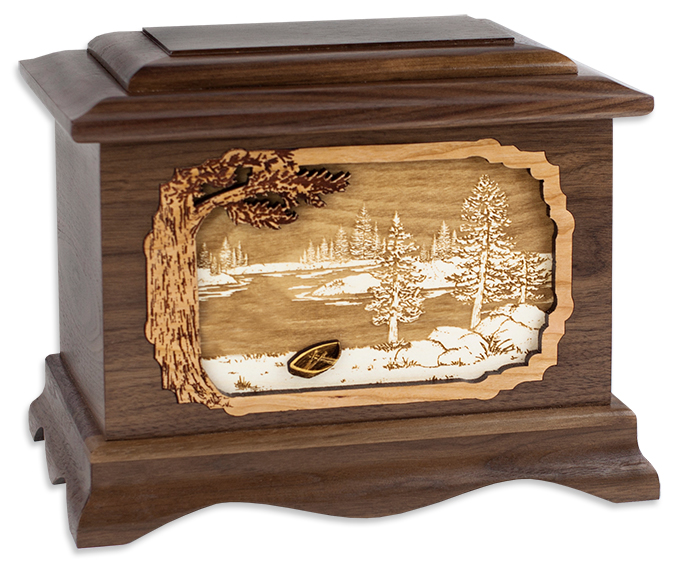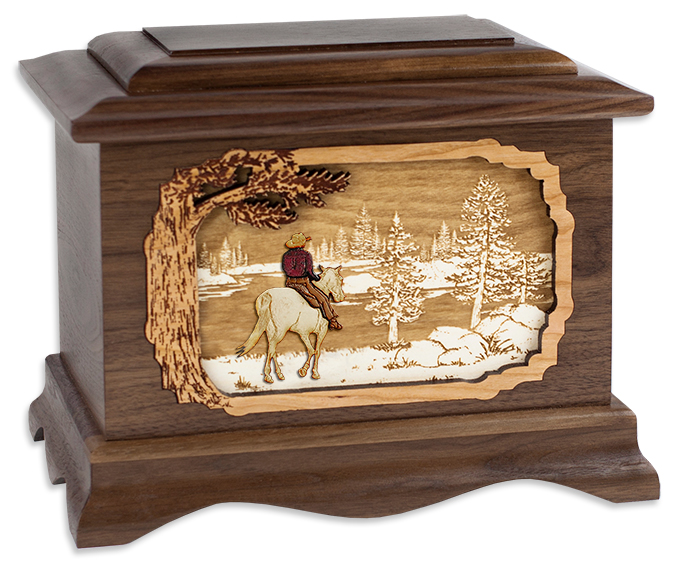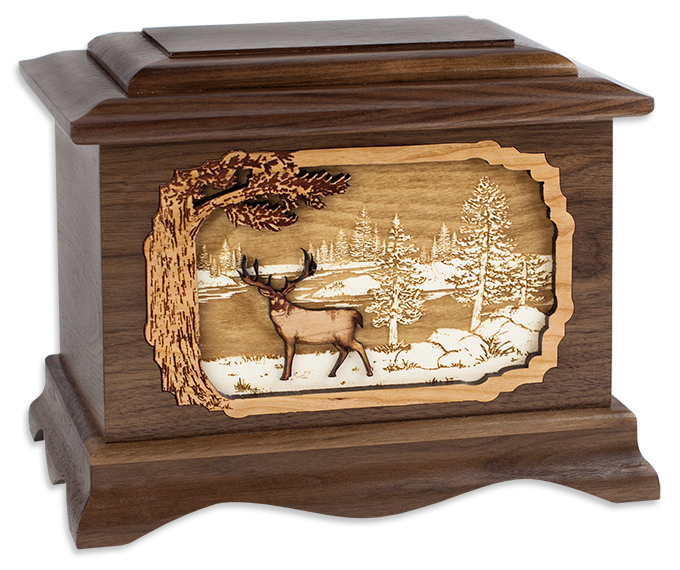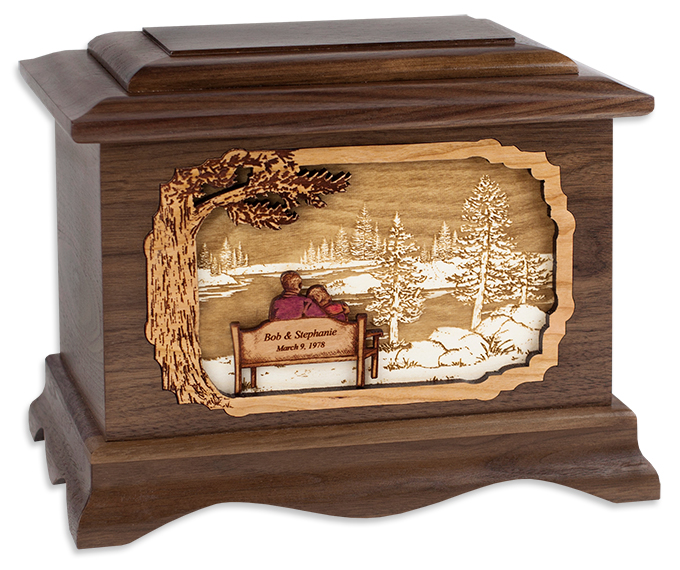 Here are a few more angles on this beautiful cremation urn: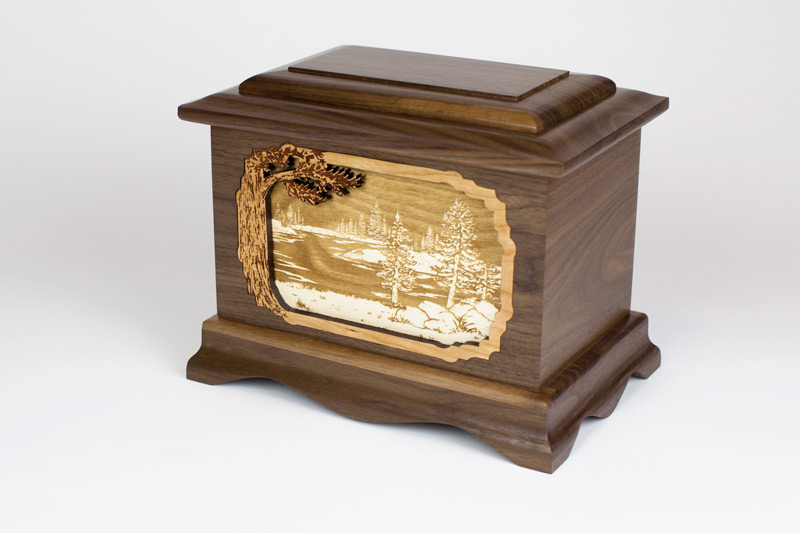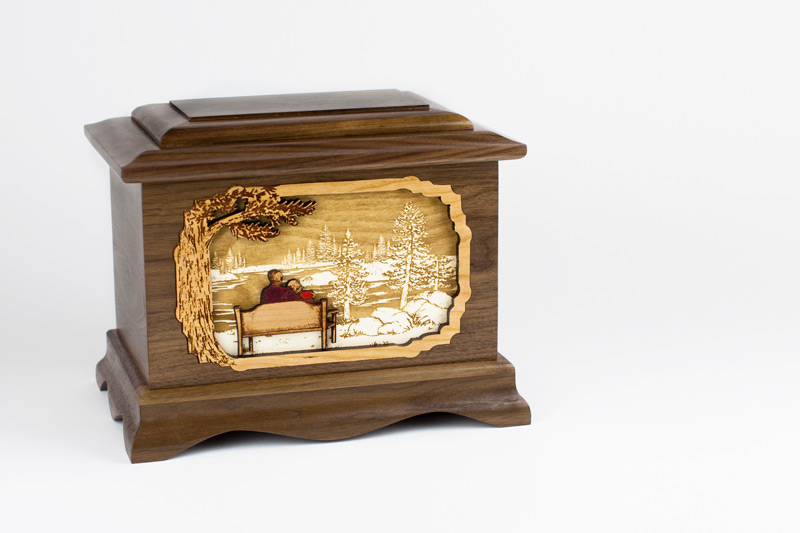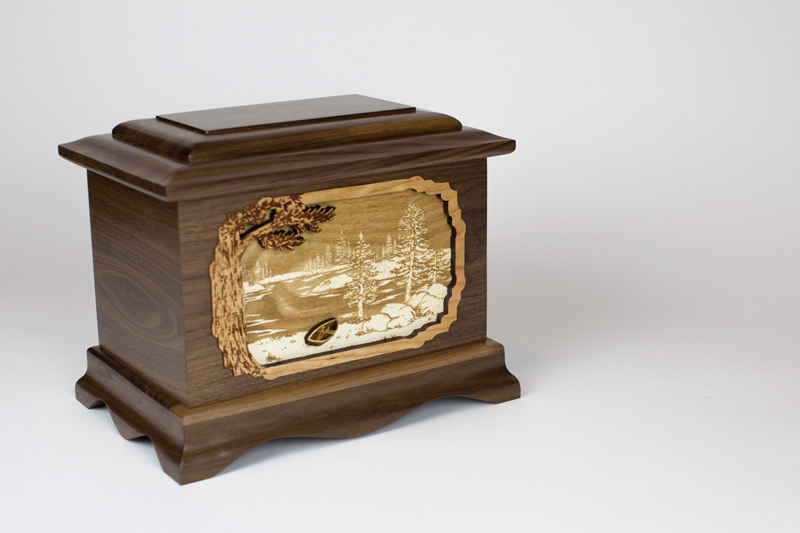 The Great Lakes Urn is available here. You can choose from a variety of options, and also add personalized laser engraving of name and dates on the top or back of the urn.
Great Lakes Quote
We'll close this post with words from naturalist John Lubbock. A fitting quote for anyone who loves the Great Lakes and the great outdoors:
"Earth and sky, woods and fields, lakes and rivers, the mountain and the sea, are excellent schoolmasters, and teach some of us more than we can ever learn from books."