We have been getting regular requests for some of our most popular wood cremation urns shipped to Australia. It appears that the funeral urn market in AU is rather saturated with medium-to-poor-quality foreign imports.
Reports we have had from customers tell the same story again and again: they have a very tough time finding durable, premium, and lasting hardwood cremation urns crafted individually with precision and skill.
Fortunately, we have many lovely memorial urns that exhibit beautiful craftsmanship with meaningful designs. Our selection of engraved photo urns and our flagship line of 3-dimensional wood inlay art cremation urns have proven to be very welcome to our customers in Australia.
Here is one review:
I am very happy with the urn I ordered. The customization was done exactly as I asked and the laser photo on the wood looks amazing. I am from Australia and could not find anyone in Oz that would do this for me, Daniel was in touch constantly and I have no hesitation in highly recommending this company.

– Tracie Dickenson, Old Bar NSW Australia

Referring to our customized maple wood Photo Engraved Cremation Urn
Below we highlight some of our most popular wood cremation urns shipped to Australia. These are all crafted right here in the United States, made to order within about a week. We use the finest materials, building each urn in your choice of solid wood.
Options include Oak and Walnut for all 3-dimensional inlay art urns, as well as Maple and Mahogany for many of them with other urn designs available in Stained Cherry, Natural Cherry, Cedar, Rosewood, and other varieties. We can personalize with laser etched name and dates, and of course there are also the engraved photo urns available.
Here are some of the more popular urns we've shipped to Australia so far.
Wood Cremation Urns Shipped to Australia
1. TOGETHER AGAIN COMPANION URN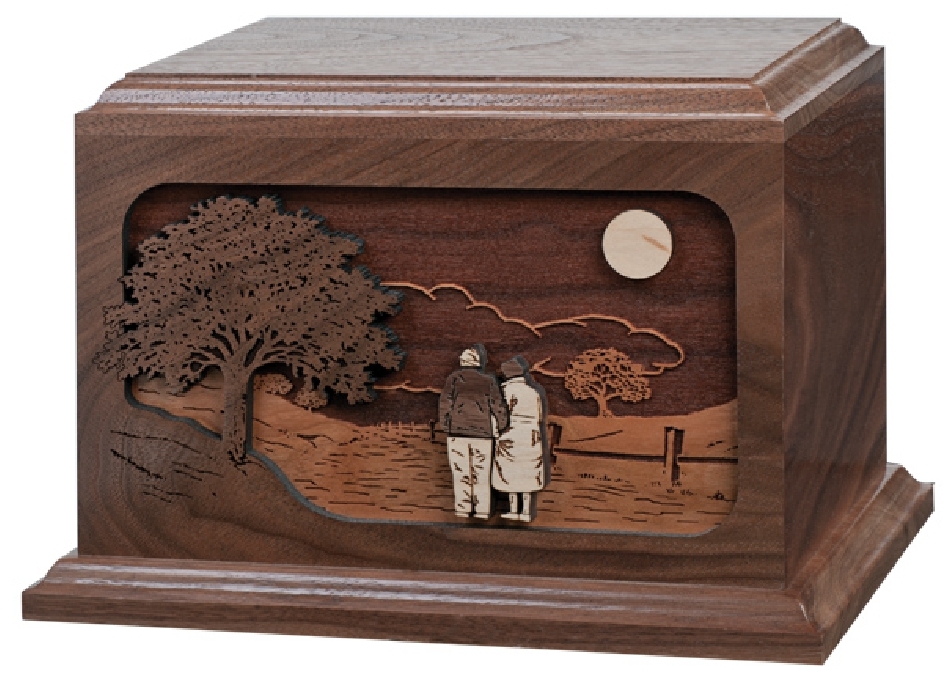 Our most popular urn shipped outside the States. The Together Again is a lovely companion sized urn is large enough to hold the remains of two adults, and pictures a couple walking arm in arm down a weathered country lane – together again at last. Available in honey-yellow Oak wood or dark brown Walnut.
2. BICYCLE ROAD HOME URN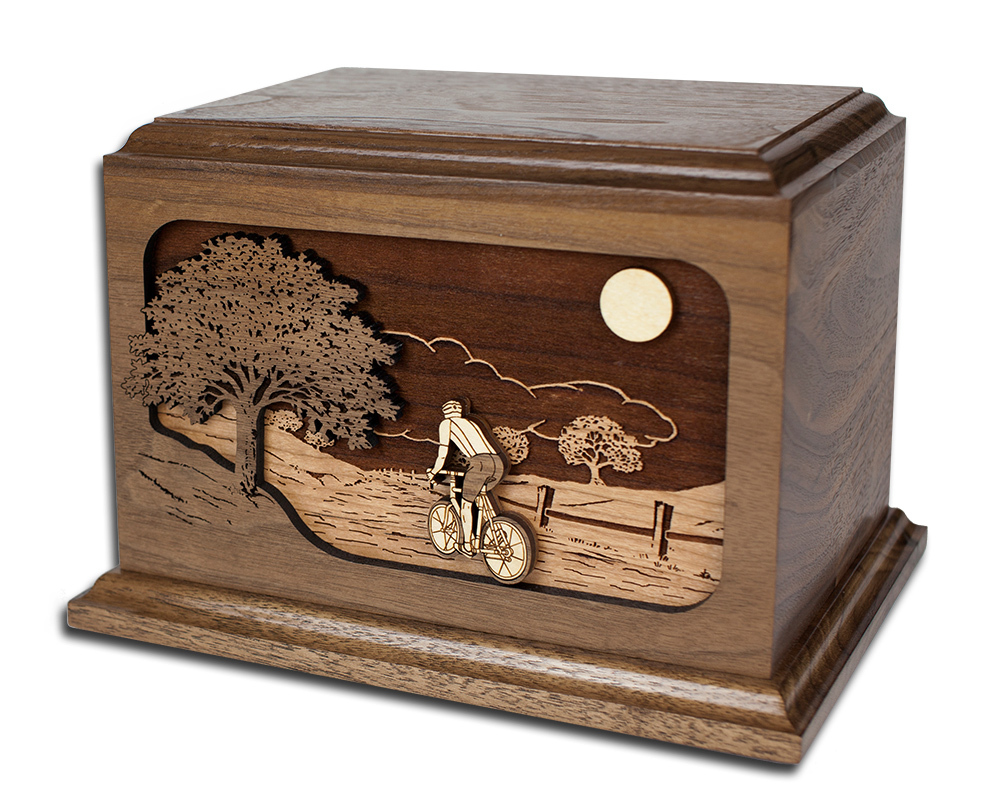 Just like the Together Again above, but in standard adult size and with a cyclist in place of the couple. The Bicycle Road Home Wood Cremation Urn is made in Walnut (pictured) or Oak, layered in 3 dimensions with maple, cherry, and more. The cyclist is available as a Road or Street bike.
3. ASTORIA HUMMINGBIRD CLOCK URN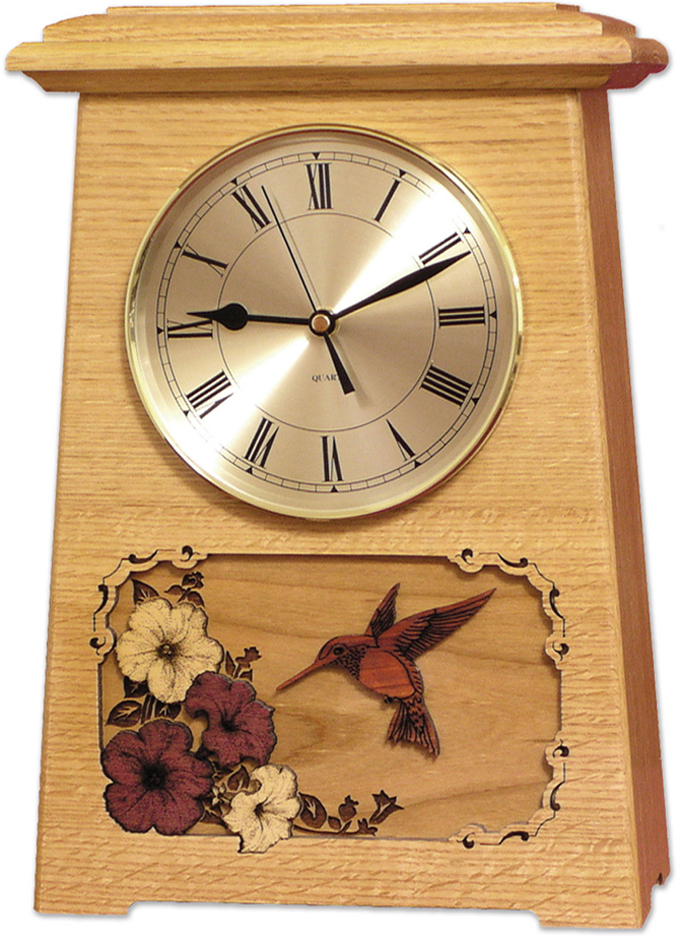 Just about any of our 3-dimensional inlay art urns can be made as a clock. The Astoria Hummingbird Clock Urn features all the premium features of our 3D Inlay Art Urns, plus a working heirloom clock. More about this clock urn here, and we also have some handy instructions on how to set the time on a clock urn. More clock urns are available here.
4. STREAM FISHING CREMATION URN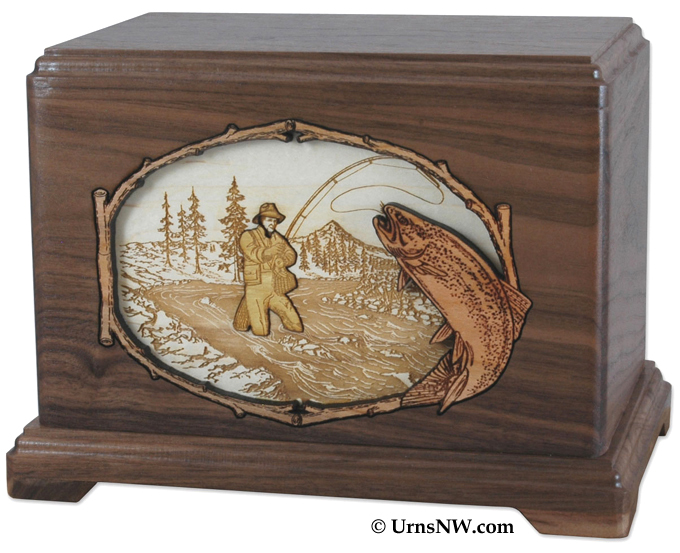 An elegantly framed scene, carved from maple with cherry and oak inlays, the Stream Fishing Cremation Urn depicts a man fishing in the stream and reeling in a big one. One of many popular designs for fishing enthusiasts.
5. COWBOY W/ HEARTLAND HORSE CREMATION URN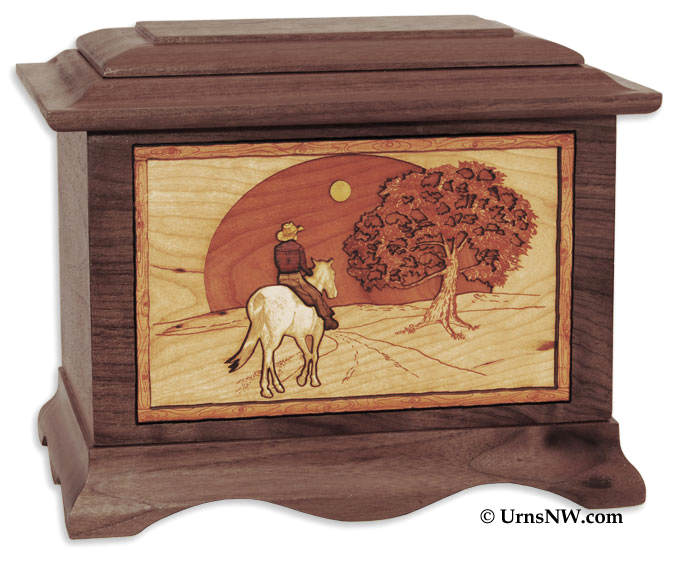 The iconic scene of a cowboy on his beloved horse, riding through the heartland toward the setting sun, has resonated with many of our Australian customers. The Cowboy with Heartland Horse Cremation Urn is perfect for the Aussie Cowboy (also sometimes known as a Jackaroo or Jillaroo), or anyone who loved horses.
6. PHOTO ENGRAVED CREMATION URN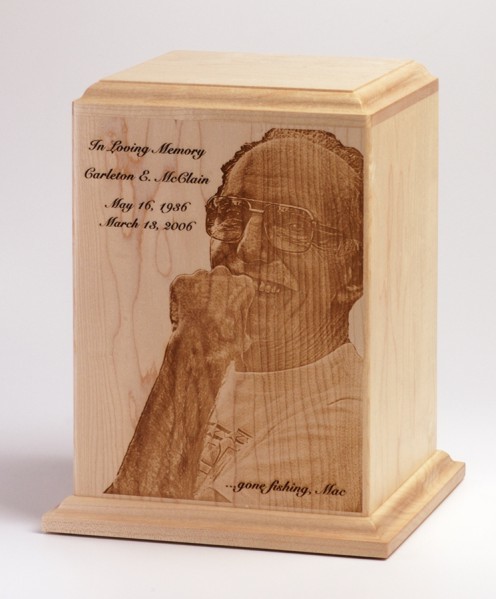 Gorgeous maple wood, laser engraved in fine detail with the photo of your loved one. The Photo Engraved Cremation Urn is available in vertical "portrait" orientation as pictured above, and also in horizontal "landscape" orientation.
7. SURFING CREMATION URN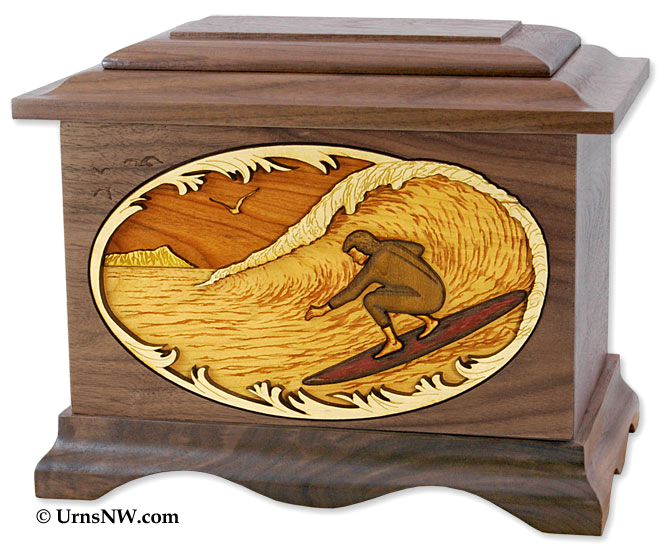 Surfing is a popular sport all over the world, and Australia has no shortage of brilliant surfing beaches. The Surfing Cremation Urn will be an ideal memorial for any avid surfer, and is available in Walnut wood as pictured as well as Oak, Mahogany, and Maple.
8. LIGHTHOUSE CREMATION URN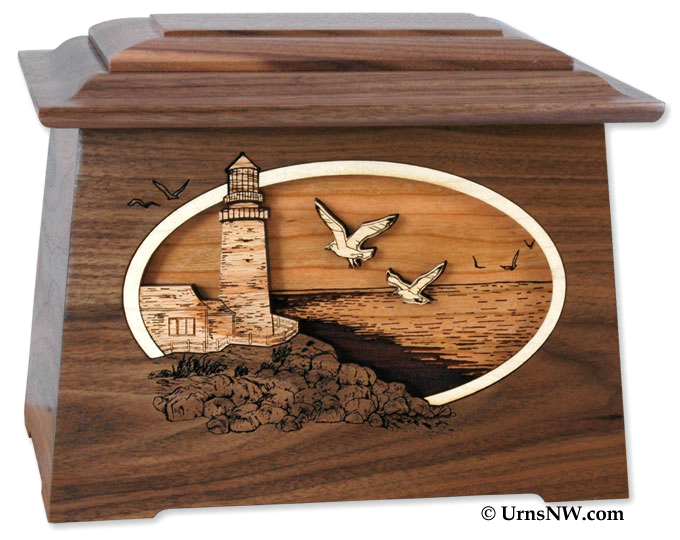 The Lighthouse Cremation Urn is made in the popular Astoria urn shape. Shown in Walnut, also made in Mahogany, Oak, or Maple.
9. SOFT BREEZES SAILING URN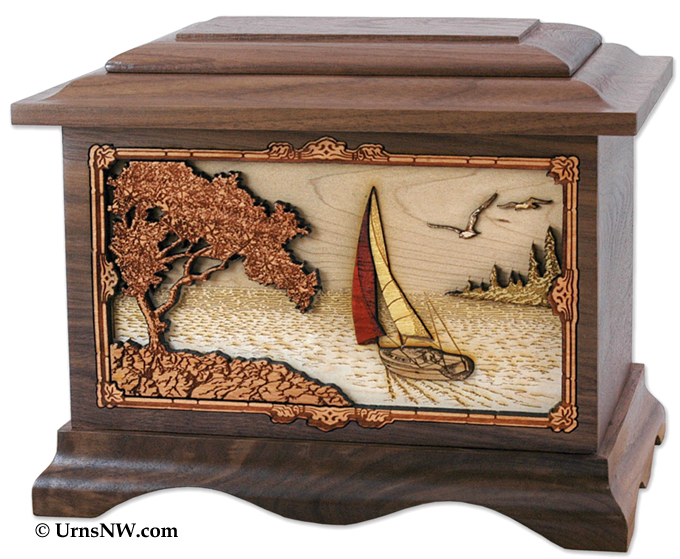 Another popular water activity, in addition to surfing and lighthouse touring, is sailing. The Soft Breezes Sailing Urn is perfect for the sailing or sailboat enthusiast.
While we're on sports, we can't go without mention of our incredibly popular Golf Cremation Urn. This one hasn't made the top 10 in Australia urns yet (it's long been a top-seller here in the US), but we understand that golf is a favorite hobby down under and we think that it will prove to be a winner once the word gets out about it.
10. DEER WOOD URN WITH INLAY ART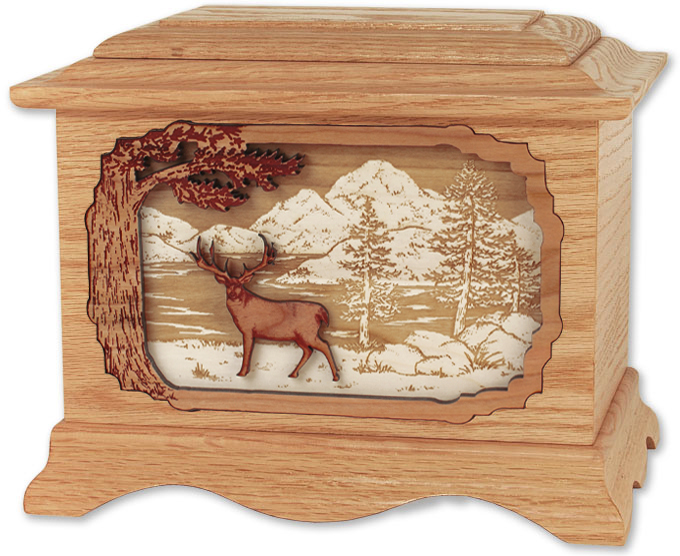 The Deer Wood Urn with Inlay Art is shown here with the Whitetail Deer in Oak wood. You can also choose a Mule Deer, as well as Walnut, Maple, or Mahogany wood for the urn box.
More Urns for Australia
Those are some of the more popular urns we ship to Australia to date. As more Australian web visitors find our products, there has been more and more interest in what we can offer.
A few additional notes of interest… we have two designs, the Howling Wolves and the Coyote Cactus & Desert scenes that depict those animals howling at the moon. Because the designs are detailed yet minimalist, either could pass for a dingo.
Our horse designs could pass as a brumby, and several of our fishing, ocean, and wildlife scenes can serve as representations of Australian wildlife and scenery. Be sure to check out our extensive categories of themes!
Australia Shipping Details
Again, all of these memorial urns are made in the USA using solid wood construction. Production time is 3-10 business days for most items (realistically that means about a week). We then ship the item to you in Australia using USPS, which we've found to be the shipping option that minimizes shipping and import costs as much as possible.
Shipping to Australia (and New Zealand) is a flat rate of $120, and it will take about 1-3 weeks in transit to reach you "down under" from our location in the Pacific Northwest of the United States. Check our shipping & returns page for more general information, and feel free to contact us with any questions.
Shipping rates are subject to change, please check the shopping cart and calculate shipping to view current correct rates.