Last Updated on August 30, 2019
Do you want to "Wow!" your funeral home customers? Of course you do. In an appropriately soothing way, of course. What could be better to show care and compassion to the families who come through your funeral home than to help serve their basic needs of nourishment and sustenance? This is why we are proposing that a great way to wow your clients is to create a cozy cafe corner filled with refreshments.
It won't take too much to set up, it won't cost much to maintain, and the benefits will far outpace the small costs of keeping some basic beverage and food items on hand. This is written with funeral homes in mind, but will also serve the same purpose in many client-based environments including offices, churches, volunteer organizations, and more. Let's look at what is involved in creating a cafe corner in your funeral home or other place of business.
Please note that this post contains affiliate links, which means that if you purchase something you see on our site we may receive a commission at no cost to you. See our full disclosure here for more details.
How to Wow Your Funeral Home Customers with a Cafe Corner
1. CHOOSE A SUITABLE SPACE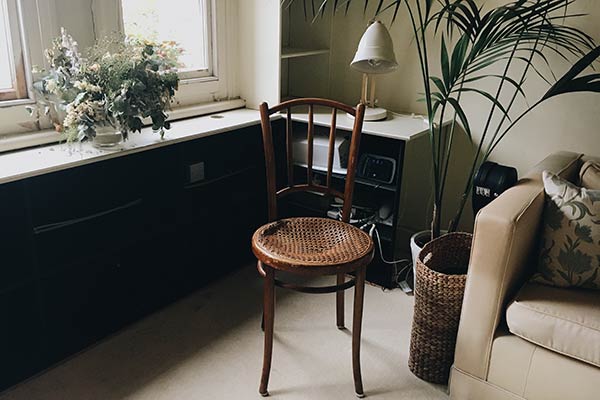 This can be a corner in the waiting room, the entry way outside of the chapel, the reception area, your office, or anywhere else you can comfortably place a small-to-medium sized table and/or buffet.
2. CHOOSE YOUR SERVING STATION
We recommend a nice buffet hutch, which provides ample counter space and will also have enough storage for supplies. Here are some choice options.
Low-price:
Mid-range:
High-end:
3. ADD A CAFE TABLE & CHAIRS
You'll probably already have reception area seating, so you can cut costs by skipping this step. However, if you aim to create an effective "environment" that draws in people to your cafe corner and makes them feel welcome, it's a good idea to have a bistro table or two with seating. Combined with the buffet table and some attractive coffee-themed decor (see below) this will let the family know that they are "at home" in your funeral home.
Some suggestions:
4. GET A HOT BEVERAGE MAKER
This is the keystone to creating your funeral home's cafe corner. You can skip all the other options if you just have the hot beverage maker. The individual K-cup or pod coffee/tea maker is the best option for this; you can stock your coffee corner with espresso options, tea, and hot chocolate or cider for the kiddos. Single serving also allows for consistency of quality, a huge variety of options, and simplicity in maintaining cleanliness.
Here are some of the best options for K-cup hot beverage makers. We'd advise going with the higher-end commercial version (pictured above), as it will stand up better for repeated usage.
5. KEEP COLD BEVERAGES ON HAND
For those hot summer months, you'll want to keep some fresh and cold beverages on hand. You can get an affordable mini-fridge to stock with sparkling water, sodas, and juice boxes for the kids. The next step up might be a retail-style mini fridge with clear glass door, which has a more welcoming feel to visitors.
Another nice touch is a cold beverage dispenser or two, one for water and another for iced tea or lemonade. Refill it every four hours and not only will your customers appreciate it, but your staff will stay hydrated and happy to boot.
6. ADD SOME DECORATIVE ACCENTS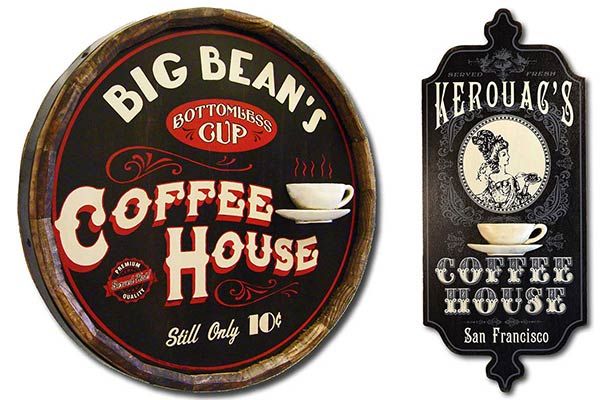 Next, you'll want to make the cafe corner inviting and comfortable. Cute framed chalkboards for any instructions (maybe one personalized with your funeral home's name?), some potted plants, a vintage customized coffee house sign, framed art or photography, a bookshelf with some interesting reading material, and any other decorative accents that compliment your decor.
This is also a great setting for some of your best-selling and most popular products. Incorporate a popular cremation urn, an attractive memory chest, some memorial service guest book options, or other attractive items into your cafe corner decor. By doing so, you will showcase some of your best items in a natural environment that helps your clients envision them in their own home.
7. STOCK IT WITH PREMIUM DRINKS & SNACKS
Get a selection of coffee K cups, some bottled water and the super-hipster LaCroix sparkling waters, a selection of teas, and keep those cold beverage dispensers filled with filtered water, iced tea, and/or lemonade.
Additionally, if you really want to up your game, include something to eat. Families will be running around town and exhausted, and will appreciate and remember a healthy granola or energy bar at the ready in their time of need. If you go with the mini fridge, stock it with some yogurts and single-serving cheeses.
Depending on how busy your location is, and whether you would like to offer these little perks to your employees as well, you can also arrange for daily bagel, muffin, or doughnut deliveries. These little luxuries are comparatively low-cost, but will turn into warm, positive reviews for your funeral home – and that will bring in additional clientele, keeping you in business and serving your customers.
8. OTHER ODDS & ENDS YOU'LL NEED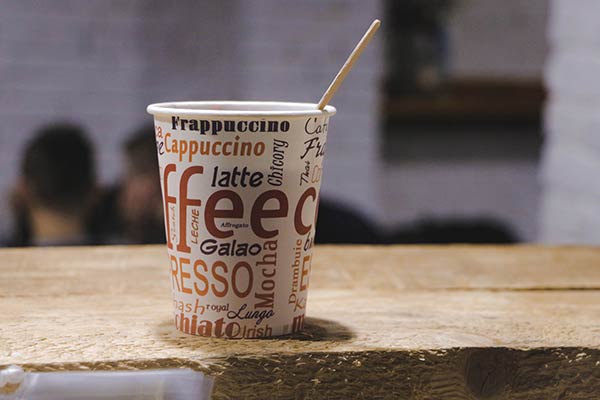 Finally, don't forget all the other little odds and ends. Cups, lids, napkins, and straws. Maybe you'll want ceramic cups and saucers, but then you'll have to deal with cleanup. You'll certainly want to-go cups with lids. Sugar and cream packets. A basket to hold these items. Stirring sticks and/or straws. Towels and such for spills. A waste basket and liners. Tablecloths, decorative flower vases, a nicely framed note that lets clients know these items are free to them with instructions for use.
Wrapping Up
So there you have it! A great way to impress your funeral home customers by creating a cafe corner. If you think creatively and make use of what you already have, you can start something nice for a couple hundred dollars, and $20-30 per month for beverages and supplies.
Or you could pull all the stops and create a truly cozy and welcoming space that invites your clients into a few moments of comfort and refreshment – something that is truly priceless. A great way to make a positive impression, truly serve your funeral home customers, and build up some enthusiastic online reviews.