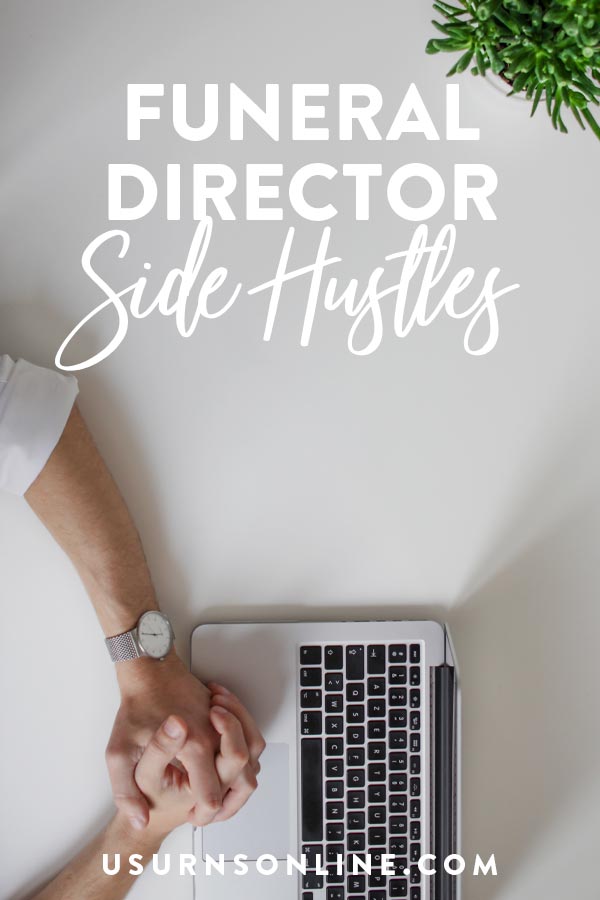 So you're a funeral director looking for a side hustle.
What does the savvy mortician with free time and an entrepreneurial spirit do?
Here are some ideas.
Funeral Director Side Hustles
Rent out the facilities as a venue for weddings and other events.
Use the hearse as a courier or delivery service. (For those of you who don't know, nowadays most hearses don't look like the old-school hearses)
Drive for Uber or Lyft.
Print funeral programs.
Make your own cremation urns.
Import cremation jewelry.
Write a book.
Start a blog.
Start a podcast or YouTube channel
Offer a class on Outschool.
Grow a garden around the funeral home.
Start a catering business.
Use the cemetery landscaping equipment to do side gigs.
Buy and sell on Craigslist.
Set up your funeral home for livestreaming, then offer livestreaming as a side gig for concerts, weddings, conferences, etc.
Rent out extra rooms in the funeral home.
Start a side gig as a wedding or other event coordinator.
Party planner. After all, you put the fun in funeral.
Of course there are tons of ideas for part time jobs and side hustles that aren't related at all to your profession, but these ones tie in with what you're already doing, already have access to, or already know.
Take stock in your skills, interests, knowledge, and resources.
For example, you might be able to use any of these in profitable ways:
Funeral home building, offices, chapel
Exterior grounds
Hearse/vehicle
Landscaping equipment for cemetery grounds
Your education/certification/training/inside knowledge
(We're assuming that you own the funeral home and equipment, or at least have permission to use them for your side gig.)
How can you use those in a way that is helpful to those around you, and profitable in comparison to how much time and effort you put into it?
With some creativity and ingenuity, the sky is the limit. You can use a semi-related gig to draw attention to and grow your funeral home business, or have a side hustle that provides a steady stream of revenue on the side.
What are some other funeral director side hustles? Have you done any of these, or other ones not listed here? What works, what is not worth the effort? Leave a comment below!
Read next: 21 Classy Funeral Director Gifts
(Visited 106 times, 1 visits today)