Last Updated on January 31, 2020
Over the last few years, social media sites like MySpace, Facebook, Twitter, YouTube and many others have become a part of our everyday lives. We use these sites to share some of the major moments in our lives with our friends and the world. But what happens to those accounts after someone dies? How are they remembered? What should you know about death and social networking?

Facebook
Facebook is the world's largest social networking site, with well over a billion active users. With so many people using the site, it is important to know what happens to a user's acount after their death. First, someone has to report the death of an account member to Facebook. Once certain criteria are met, Facebook will set up a user's profile as a memorial.  And after the page has been memorialized:
No one can log into a memorialized account and no new friends can be accepted

Depending on the privacy settings of the deceased person's account, friends can share memories on the memorialized timeline

Anyone can send private messages to the deceased person

Content the deceased person shared (ex: photos, posts) remains on Facebook and is visible to the audience it was shared with

Memorialized timelines don't appear in People You May Know and other suggestions
If you have a friend or family member who has a Facebook Profile that needs to be memorialized, you can contact Facebook here.
Twitter
Twitter user profiles are similarly protected like a Facebook page. Nobody will be granted access to the deceased's account.  Once the request has been submitted and processed, the account can be either deleted or archived on Twitters servers. (Digital Beyond) When an account is archived it will no longer be able to be tweeted from, but all past public tweets will be view-able to the public.
If you need to contact Twitter about a deceased persons account you can do so here.
Google
Google has introduced a more proactive stance for final wishes. Google allows you to set up multiple inactive users.  Users that will be notified of their access to your account after a pre-decided number of months that your account has been inactive.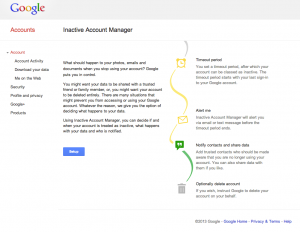 I just set mine up and it was very easy to do. I could set it up to allow certain people to access different services Google+, Gmail, Youtube…  It was somewhat cathartic to create the email she would receive after my account became inactive.
Should your account not be setup for an inactive user, Google has a process similar to the other networks, but it does seem much more stringent. Here is a link to the process.
Other Social Networks
There are a large number of networks out there i.e. Instagram, MySpace, LinkedIn, tumblr…
If you can't find out by going through their company policies how they deal with memorializing user profiles, shoot them a quick email. Memorializing user profiles is something that networks will be needing to deal with as more and more of us who grew up with them as a part of our lives pass on and leave a trove of beautiful memories on the web.
---