Last Updated on August 4, 2017
Welcome to our March 2017 funeral links and resources page. In this monthly feature, you'll find out about Facebook notifications and grief, a beautiful "Soulmates" memorial, The Death Cafe, funeral home decor inspiration, scattering of ashes by drone, famous last words. and much more.
March 2017 Funeral Links
Funeral Home Decor: 20 Accents to Breathe Life into a Dreary Mortuary
Your funeral home needs an update; here are the latest and greatest ideas, ranging from simple budget-friendly decor upgrades to advanced ideas such as a dedicated game room or BBQ patio.
Death Cafes represent a popular trend in which participants gather to share a meal with strangers and talk about death. Here's what you want to know about it.
New: Soulmates Cremation Urn, available in standard and companion urn sizes
This gorgeous new wood inlay art design features a couple sitting together on a bench, looking out over a serene lake. Personalization on back of bench is included. Check it out: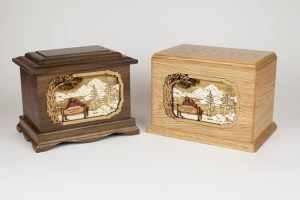 6 Truths You Learn When a Loved One Dies
You know those oft-repeated, pithy sayings people have about life and death? They're oft-repeated because they're true.
Featured Video: FAQ #3 – What size urn do I need?
An Australian entrepreneur becomes the first in the region licensed to scatter cremated remains via drone.
Drop Top Hearts Memorial Service "Guest Book" Alternative
This drop-top "Hearts" guest book is a beautiful guest book alternative for the funeral or memorial service. Display it in your home afterwards as a reminder of all those whose lives were touched by your loved one.
18 Totally Unique Memorial Service Guest Book Ideas
While we're on the subject of memorial service guest books, these 18 creative ideas can be used to add a bit of flair to the funeral or life celebration event.
Pandora-style cremation bead jewelry
Here's a contemporary twist on the memorial cremation jewelry trend: Pandora-style cremation beads, made in premium sterling silver with a variety of chain and bracelet options. These each hold a small amount of cremated ashes.
Facebook Notifications and Grief
Ilana and Aaron are celebrating 9 years of friendship on Facebook! Thing is, Aaron is dead. Modern Loss reflects on the simple things that take on new meaning when a loved one dies.
NPR commentary essay from Deirdre Sullivan on the lesson taught to her by her father: Always go to the funeral.
This collection of memes can only truly be appreciated by those in the funeral industry. And maybe some of us with a bizarre sense of humor.
3D Inlay Wood Art Cremation Urn Photo Gallery
This photo montage highlights some of the most popular (and most beloved) wood cremation urns in the industry. Here is an extensive image gallery that goes beyond the traditional product photo.
Famous Last Words of 19 Famous People
As Karl Marx said, "Last words are for fools who haven't said enough." Fittingly, those were his last recorded words.
March 2017 Resource: The Complete Guide to Sympathy Meals After A Funeral
Our ultimate guide regarding sympathy meals: how to arrange, what to make, what to bring, and plenty of recipes.
Funeral Director Gift Idea: Personalized Executive Putter Set
The golf-enthusiast funeral director will love this custom office gift set, which includes heirloom personalized box, putter, golf balls, and office-friendly target.
New: Handcrafted Circular Wood Inlay Cremation Urns
New to our cremation urn selection: handcrafted wood inlay urns in an elegant circular shape. You'll be surprised at how many families are looking for this shape.
15 Funeral Homes That Really Need to Change Their Names
Butcher Family Funeral Home? Slaughter & Son Funeral Directors? Come on, people!
How to Create an ICE (In Case of Emergency) Book
A handy little guide to help you prepare for life's emergencies.
New memorial products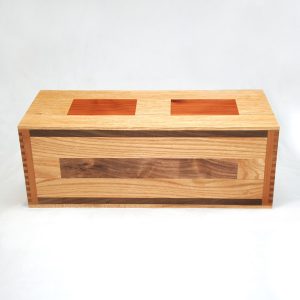 Handmade Wood Cremation Urn in Oak with Cedar & Mahogany Inlays
Thanks for browsing our March 2017 Funeral Links! Make sure that you enter your email below to subscribe for our newsletter. That way you'll get all the latest on funeral & cremation industry news, memorial products, interesting insights, off-the-beaten-plot perspectives and more delivered right to your inbox.