Last Updated on August 29, 2019
Funeral Planning Basics, A Step-By-Step Guide to Funeral Planning is part of the Estate Planning Series by Enodare. These books are from a legal resource publisher with the aim "to provide access to quality legal information and products at an affordable price."
The books in the series include titles such as Estate Planning Essentials, Make Your Own Living Will, and more. The series is in large paperback format with about ~200 pages and a consumer-friendly price.
Here's our review of Funeral Planning Basics.
Please note that this post contains affiliate links, which means that if you purchase something you see on our site we may receive a commission at no cost to you. See our full disclosure here for more details.
Funeral Planning Basics, A Step-By-Step Guide by Enodare
Our Rating: 4.5/5 stars
The Gist: Funeral Planning Basics is a helpful introductory work that will give you the tools you need to plan a funeral. While it doesn't detail p
Our Recommendation: This is the perfect resource for anyone looking to pre-plan a funeral and expenses, and for those with a loved one who is approaching the end of their life. It will inform you of your options, keep you from getting scammed, and will help you save money while preparing a funeral just the way you want it.

Funeral Planning Basics: A Review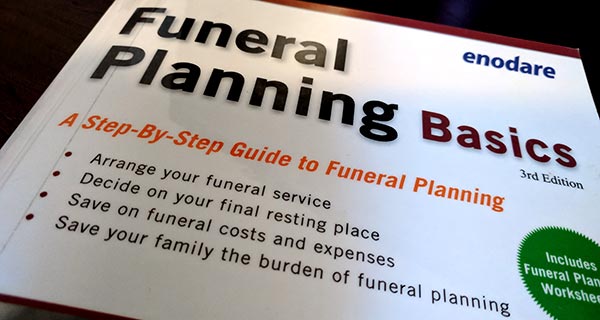 The 3rd Edition of Funeral Planning Basics (2017) is 212 pages and includes a CD-ROM (and access to the same downloads online) of helpful forms. The work is readable and arranged topically, with short sections on particular subjects that provide the basics of what you need to know to make informed decisions.
Strengths
FPB does well in presenting each topic, basic info, and options. In most cases this will be all you need to feel like you are making the right choice for yourself or your family member's funeral. For the few instances where you would like more details or want an alternative choice, you will at least know how to begin your deeper research.
An example of this is the section on Memorial Services. FBP defines what this is (a service "held without the body") and lists some reasons families arrange it this way:
A memorial service is held without the body, so it can be scheduled days, weeks, or even months after your death occurs. This will give time for family, friends, and loved ones to gather together… Memorials are increasing in popularity in tandem with the increase in cremations… If you have opted for cremation, you should also give some thought as to whether you would like to have your urn present at the ceremony.
The section then goes on to talk about how a memorial service can be as simple or as elaborate as you want, with your choice of location, music, readings, decoration, food, flowers, etc. This gives you some basic ideas of what a memorial service can be, without getting bogged down in specific instructions or ideas for how you might choose for yourself or your loved one.
We help with this sort of thing… for example, here are 34 Unique Memorial Service Ideas
Limitations
As an introductory guide, Funeral Planning Basics does not go into detail on every possible topic related to funerals. That would be both impossible and unnecessary. FPB gives you just enough to know where you need more research, most of which can be done online, by calling around to local funeral homes and cemeteries, or by discussing it with your family members, doctor, lawyer, or funeral director.
Outline
Here is an abbreviated outline that will give you an idea of what is in store for you within Funeral Planning Basics.
Chapter 1: Why Funeral Planning?
Why Plan My Funeral?
Advantages of Funeral Planning
What Is Included in a Funeral Plan
Chapter 2: Making Final Arrangements – First Steps
Formulating a Plan
Who Should Be Notified
Organ Donation (and other options)
Transportation of the Body
Preparation of the Body (i.e., embalming and alternatives)
Chapter 3: Notifying People of Your Death
Notification of Death
Obituaries (options, how to write, etc)
Identity Theft
Chapter 4: Preparing for the Funeral Service
Types of Ceremonies
Funeral Service
Memorial Service
Committal Service
Memorial Ideas
Chapter 5: Final Disposition
Burial Info (caskets, cemeteries, grave liners, markers, etc)
Cremation
Disposal Options After Cremation
Chapter 6: Choosing Your Funeral Provider
Comparing Costs
Memorial Societies
Chapter 7: Financing the Cost of Your Funeral
Funeral Trusts
Benefits (Social Securty, Veterans', etc)
Chapter 8: The Importance of Estate Planning
What Is Estate Planning?
How to Plan Your Estate
Children and Guardians
Choosing Beneficiaries
Last Will and Testament
Revocable Living Trusts
Planning for Incapacity
Reducing Taxes on Your Estate
Appendices
Funeral Planning Checklist
Pre-Planning – Funeral
Funeral Arrangement Form
Funeral Cost Planner
Info Required for Registration of a Death
Conclusion
Funeral Planning Basics: A Step-By-Step Guide to Funeral Planning is a valuable resource for anyone looking to pre-plan a funeral and the associated expenses. It's also ideal for those with a loved one who is approaching the end of their life, or for couples approaching retirement.
The guide helpfully informs readers of all the main topics surrounding funerals by listing advantages and disadvantages of the various subjects and options. Read it with a highlighter and a notepad, and you will avoid getting scammed, save money, and plan a funeral just the way you want it.