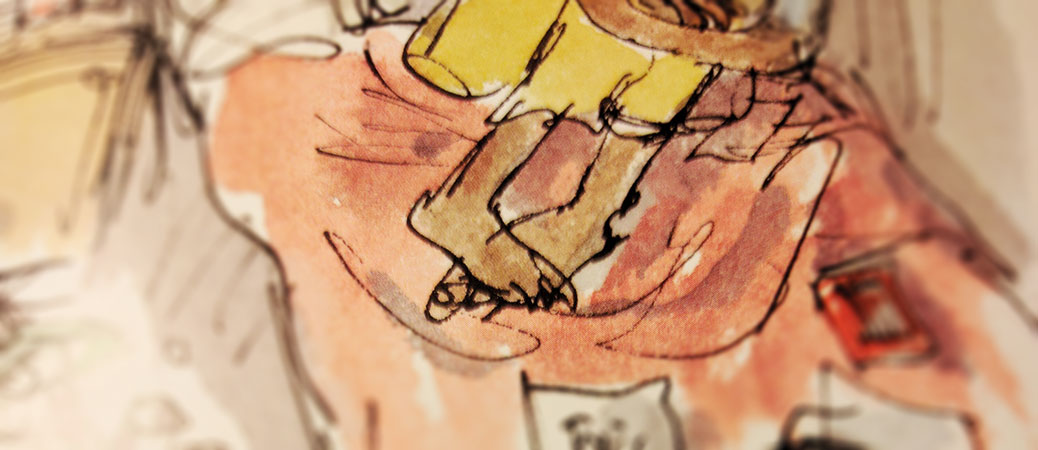 Last Updated on
Michael Rosen's Sad Book is a beautifully bleak picture book that deals honestly with grief. Here is our review.
Please note that this post contains affiliate links, which means that if you purchase something you see on our site we may receive a commission at no cost to you. See our full disclosure here for more details.
Michael Rosen's Sad Book (Review)
The picture book opens with a cheery drawing of a smiling man.
"This is me being sad."
A colorful illustration by Quentin Blake is marked with bright yellows and reds. The smile on his face is large and slightly goofy.
"Maybe you think I'm happy in this picture.
Really I'm sad but pretending I'm happy.
I'm doing that because I think people won't like me if I look sad."
Turn the page and you see the same man, this time drawn in gloomy grays.
"What makes me most sad is when I think about my son Eddie.
He died. I loved him very, very much but he died anyway."
So begins Michael Rosen's Sad Book. It is a simple yet haunting book for children that deals with grief straight on.
Michael Rosen and His Sad Book
Author of the classic board book We're Going on a Bear Hunt, Rosen lost his son Eddie at age 18. Along with illustrator Quentin Blake, most recognized for supplying artwork to many Roald Dahl books, the two artists have created a masterpiece that explores the depth of sadness and the importance of remembering those we have lost.
Rosen talks about his grief in simple, childlike language, but addresses very deep topics. He talks about being angry at the loss of his son, not wanting to talk to others about his sadness, shouting in the shower, and this:
"Sometimes because I'm sad I do bad things.
I can't tell you what they are. They're too bad.
And it's not fair to the cat."
It's clear from the drawing that the last line is black humor, which kids will understand. Still, this is very heavy stuff. So if you are considering this book for a family with little ones who have lost someone, you may want to preview the book to make sure it matches the sensibilities and values of the parents and children. The publisher recommends ages 9 and up, depending on the child ages 6-8 could also be appropriate.
However, with that said, the Sad Book talks about sadness and grief in a way that can open up a conversation with little ones who have suffered a loss. Children will be experiencing these things – sadness, depression, anger, frustration, questioning – and this book provides a way for an adult to initiate some healthy conversation about it.
Conclusion: 5 out of 5 stars. Highly recommended.
Candlewick Press, 2005
Hardcover, 32 pages
Size: 8.9 x 0.4 x 11.9 inches
Read-aloud time: 10 minutes
Age range: 9 & up
(Visited 514 times, 1 visits today)