Last Updated on November 4, 2021
What should I write in a sympathy card? If you're carefully thinking about sympathy card messages as you try to console a grieving loved one, well, this is a good thing!
It is very wise and loving to be thoughtful about what you say or write to someone who has suffered a loss.
For anyone who has lost a loved one, you know that there are many things people say with good intentions that are still insensitive and even hurtful.
For those who have not lost a loved one, you cannot fathom what it is like. So it is doubly important to be considerate in how you express your love and sympathy to those who are grieving as you write your sympathy card messages.
Here is our guide on what to say and what not to say in a sympathy card.
Our website is supported by our users. We sometimes earn a commission when you click through the affiliate links on our website. Learn more here.
Sympathy Card Messages
Table of Contents
What to Write in a Sympathy Card

General Tips

Say something
Hand write a note
Say the decedent's name
Include a photograph
Tell a story or memory

25 Sympathy Quotes for Loss of a Loved One
Fill-in-the-blank Sympathy Card Messages
What NOT to Say (and What to Say Instead)

I know how you feel
They were so young
Everything happens for a reason
It was God's will / their time to go
Call me if you need anything
Nothing
Sappy sentimental phrases
Anything that begins with "At least…"

We didn't make it to the funeral because…

Final Thoughts (More Tips)
What to Write in a Sympathy Card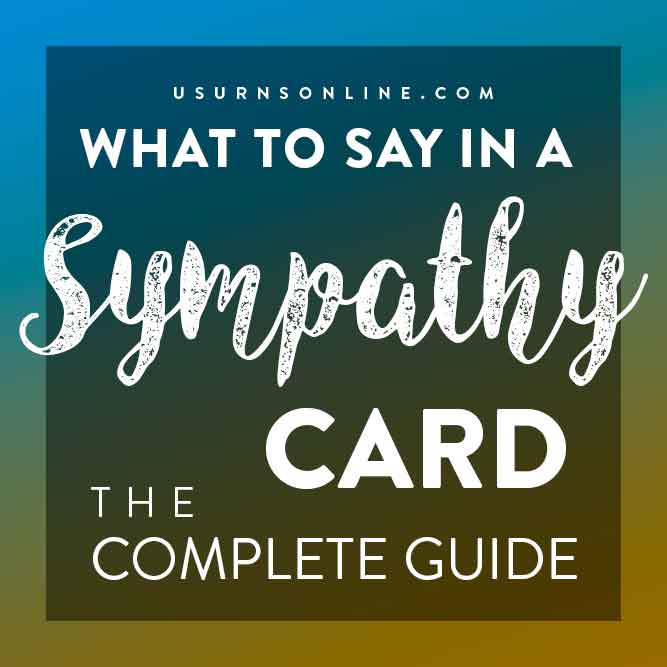 GENERAL TIPS
Say something. You need to acknowledge their loss. Writing a sympathy card is a great start, and you can also call and leave a voicemail, send a text, talk to them the next time you see them in person. At the very least, taking the effort to acknowledge their loss tells the grieving person that the person they loved so deeply matters to you.
Hand-write a note. Go beyond whatever sentiment is on the card and put in the effort to say something in your own words. It can be a very brief line expressing love and sympathy or you can fill up the card. Pick up a pen and write something, it shows that you care.
Say the decedent's name. For some reason, people can be hesitant to say the deceased person's name around mourners. Perhaps it is an effort to avoid stirring up unpleasant memories or bringing up intense emotions. But there are few things better to a grieving person's ears than to hear their loved one's name. And there are few things better than to see their loved one's name written out on a card.
Include a photograph. One of the few things that might be better than hearing the decedent's name is to receive a previously unseen photograph of their loved one. It is a great gift, which some describe as almost like getting one extra moment of their life. A new photograph is a treasure. If you have a photo of the departed loved one, print it out and include it in the card with a note that says "I thought you might like this photo of [name]."
Tell a story or memory. If you have shared special times with the deceased, write out a brief memory or story. A funny story, or something that illustrates the person's kindness, creativity, or passion. Perhaps include it on a separate sheet of paper if it is longer than a few lines. This is another way that you can share an "extra moment" of their life, and it will be treasured more than you know.
Related: How to Sign a Sympathy Card
25 SYMPATHY QUOTES FOR LOSS OF A LOVED ONE
Do not try to reinvent the wheel, and keep in mind that there is no magical phrase that you can say that will make it all better. The best thing you can do is simply say something. Acknowledge the loss, say their name, acknowledge the grief and pain, and let them know you care.
Here are some brief sympathy card messages you should totally steal, tweak, mix, and match to hand-write into your sympathy card.
---
I don't know what to say.
I miss [name] too.
[Name] was a wonderful person. My condolences to you and your family.
We are so deeply sorry for your loss.
Our hearts go out to you and your family in this difficult time.
Sending this card along with our prayers for you.
Words cannot express the sorrow and sadness we feel at the loss of your [parent, spouse, etc], [name]. Please accept our condolences and know that we are thinking of you.
I am so sorry to hear about the loss of [name]. As you mourn [him/her], please know that we are grieving with you while at the same time honoring [his/her] memory.
It was a gift to know [name].
I'll always remember how [name] would [insert story or characteristic here].
There are no words. Just know that I love you and will also miss [name].
I just want you to know that I am going to be there for you, no matter what.
I just wanted to let you know that it's ok to cry, it's ok to be sad, it's ok to remember [name] and love and miss [her/him]. I love you and am here for you.
May the memories of your beloved [father, brother, wife, etc] provide you with comfort during this difficult time.
We are grieving [name's] death and celebrating [his/her] life with you.
We are missing [name] along with you.
I didn't know [name] very well, but my thoughts and prayers are with you in this difficult time.
Our hearts ache for you. We all miss [name] very much.
[Name] will be greatly missed. Our most tender condolences to you and your family.
I often think about you and [name] when I [walk by your house, am at work, getting up in the morning, etc]. I say a prayer each time. Just wanted you to know I am thinking of you and cherishing [name's] memory.
The sun has set on an amazing life.
This sucks. (Or, "This succs")
When I heard about [name's] passing my heart broke for you.
We are sharing in your sadness as you remember [name].
Blessed be the God and Father of our Lord Jesus Christ, the Father of mercies and God of all comfort, who comforts us in all our affliction. II Corinthians 1:3-4 – Though it may not feel that way now! I pray that God's hand of comfort would be on you, and I want you to know that I love you and miss [name] too.
More: 101 Condolence Messages
FILL IN THE BLANK SYMPATHY CARD MESSAGES
Use this as a starter template to say something simple yet true and meaningful about the person.
[Name] was a [attribute #1] who [attribute #2]. He/she will be greatly missed.
Attribute #1
Devoted father, mother
Caring husband, wife
Wonderful person, friend, co-worker
Delightful person, friend, co-worker
Giving person, friend, co-worker
Lovely person, friend, co-worker
Thoughtful person, friend, co-worker
Amazing person, friend, co-worker
Incredible person, friend, co-worker
Infectiously joyful person, friend, co-worker
Compassionate person, friend, co-worker
Attribute #2
Had an amazing laugh
Loved everyone she met
Always took the time to ___
Always lit up the room with her smile
Loved the Lord with all his/her heart
Lived life to the fullest
Did things the right way
Was generous to all
Had such a giving spirit
Had such a patient and gentle heart
Was a true poet at heart
Could outdo anyone at the (racetrack, basketball court, all-you-can-eat-buffet)
Knew how to party
Had such an effect on my life
Meant so much to me
Could sing like an angel
Worked hard yet always had time for family and friends
Was a scholar and a gentleman
Always made everyone feel special
Baked the most amazing cookies
I was proud to know
Was a great role model
I will tell stories about to my kids
WHAT NOT TO SAY
"I know how you feel."
"I've lost a ___ too."
Every loss and every person's grief is different. Even though you may have experienced a similar situation or a similar loss, it is neither helpful nor true to say that you know how the person is feeling.
Also, while it is natural to want to empathize, it does not help the grieving person to know about your loss. Do not try to make it about yourself, so avoid making these types of comments.
What to say instead:
"I'm grieving with you." (This lets them know you are coming alongside as best as you can)
"I'm so sad." (This tells them that sadness is ok)
"I don't know what to say." (This tells them that you respect the depth of their grief)
"They were so young."
The grieving person does not need to be reminded of this. Avoid it.
"Everything happens for a reason."
"It was God's will."
While there is a sense in which this is true, a sympathy card right after the death of a loved one is not the time to start a theological or philosophical discussion. The reality is that the mourner cannot comprehend any good reason why their loved one should be taken away from them.
Unless you have a very strong relationship with the grieving person and share their faith and values, we would advise that you avoid saying anything like it.
What to say instead:
"I don't presume to know God's purpose, but I do know that you can cast your cares upon him, because he cares for you."
"I have no idea why God has allowed this, but I do know that we have a Savior who is acquainted with our griefs and sorrows."
Or simply avoid it – again, a sympathy card is not the greatest avenue for deep theological issues
Avoid saying this to a non-Christian or someone who is not a member of your religion
"It was their time to go."
On the one hand, it was indeed their time to go. But that is simply stating the obvious, and unhelpfully so.
What is more, the grieving person is typically struggling with accepting that very thing. They don't think it was the right time to lose someone so close. Even if it was a long time in coming (for instance, after a long battle with cancer), it still doesn't feel like the right time.
There are so many ways that this statement is received poorly, and so few ways that it is helpful, that you should simply not say it.
"Call me if you need anything."
Ugh. They will hear this many times. It's just something people say. You might mean it, but very few grieving people will ever pick up the phone and call someone else to ask for help cleaning the kitchen or mowing the lawn or running errands.
On top of this, the grieving person often does not even know what they need. They are just trying to get through each day. They are not going to call any of the twenty well-intentioned people who offered to help.
Rather than a generic offer, be specific in how you plan to help. Then jump in and do it.
What to say instead:
"Here is a gift certificate to a place that does both dine in and delivery. I'd love to pick you up and take you to dinner sometime, but I would also love it if you could instead use this to order delivery on a day you just need to stay in."
"Jim and I want to help, so we are going to come mow your lawn on Mondays throughout the summer."
"Can I come over sometime and help you _____? Only when you're ready, but I really want to you know that I would love to help."
"I'm going to go grocery shopping on Thursday, I'll text you that morning for your list and I will be happy to pick it up for you."
Just be sure to include something to the effect of "no pressure," and "if that works for you," or "if you want." And truly mean both the offer to help and the opt-out. Sometimes people get overwhelmed with all the help, so be gracious if your offer is overlooked, unanswered, or not needed. The grieving person does not need more guilt from you on top of everything else.
Nothing
Avoid saying nothing. While it may be easy to look around and think that so many other people are saying more helpful and profound things, the reality is that you never know what small gesture or kind word will be remembered.
Perhaps they expect sympathy from all their closest family members, and when you reach out it affects them in a special way. Or maybe they notice that you don't call, text, or send a card, and wonder why. It is always good to reach out with a kind word and a gesture of love and support.
Nancy Guthrie is well-acquainted with grief, and the author of a marvelous book entitled What Grieving People Wish You Knew. We'll let her take it from here. This is from the transcript of a video interview about her process of writing the book:
…grief is a very lonely experience. You know, even if all your friends are there for you in the best way possible — your spouse is there for you, all of those things — the essence of grief is a deep, pervasive loneliness. And it means so much for people around us to overcome the awkwardness — and maybe even the desire and fears that I'll say the wrong thing — to say something.

Honestly, the most painful thing is when you've had a loss and someone around you—because of the awkwardness — never acknowledges it. That's what hurts the most. Because what it says to you is that person you love who died doesn't even really merit a mention. And that's devastating.

I think another thing that keeps us from saying something to someone who has lost someone is that we think to ourselves something like, "Well, lots of other people are saying something to that person, and so they won't even notice if I never acknowledged it."

But here's the truth. When you've gone through the loss of a loved one, it's almost as if there is a barrier put up between you and every person in your world. And it's not until that person acknowledges your loss that that barrier comes down. And it doesn't have to be anything brilliant.

…Sometimes it can even be wordless. I can think of times when I was going through grief when someone just came next to me and squeezed my hand or gave me even a knowing look, with that sense of, "I know what's going on, and I'm sad and I'm in a sense speechless."
Sappy sentimental phrases
"God must have needed her in heaven more than we needed her here on earth."
"Now he's looking down on us from above."
"Now she's an angel in heaven."
We do not know any of these things. For Christians, we know that to be absent from the body is to be present with the Lord, but the Scriptures nowhere say any of the above phrases or anything like them.
Sappy sentimentality trivializes the loss while trying to put a happy sheen on things. Aside from being untrue (which makes them unhelpful), such trite sentiments are corny and thoughtless. Avoid them.
Anything that begins with "at least…"
"At least you are young enough to marry again…." Nope. The grieving spouse doesn't want a new spouse. They want their spouse.
"At least you can still have more children." "At least you still have your other children." Sure, maybe they have or can have more children… although maybe conceiving was very, very difficult and unlikely to happen again. But even if they have more children, they cannot have that child. No child can replace another, love does not work that way.
"At least he isn't suffering anymore." Yes, but now he is gone.
"At least she lived a long life." Yes, but they would rather have it be just a bit longer.
Anything that begins with "at least…" is usually an effort to look on the bright side or put a positive spin on things. But death is hard, and there is no cheap, cheery solution. Avoid it.
"We didn't make it to the funeral because…"
Do not give an excuse. To someone who has just lost someone so important, any reason to miss the funeral will seem trivial.
What to say instead:
"We're so sorry we couldn't make it to the funeral."
"I'm sad that I couldn't make it to the funeral. I will text you to arrange a time that works for you to come over and express my condolences."
"I'm so sorry I couldn't be at the funeral. I am bringing dinner for you on Tuesday if that works for you, and I would love to see you even for just a few moments."
"I'm so sorry I couldn't be at the funeral. I'd like to come and visit [name's] grave sometime soon. Would you like to go together?"
Related: Words of Comfort After Loss
FINAL THOUGHTS
Remember, the very fact that you are writing a sympathy card means a lot to the grieving person. They may never show it, they may not find time or energy to respond in the midst of this difficult time, but they will appreciate the gesture and remember that you acknowledged their loss.
Keep it short; write by hand. You don't need to write a book, or even a paragraph. But do hand-write something that expresses, in more or less your own words, that you care for them in their time of need.
If you offer help, remember to be specific. Follow through on your offer. If they don't take you up on it, renew the offer in a few days, weeks, or months.
Do not get offended. Let them ignore your card or refuse your offer of help. Whatever they do or do not do, the last thing you should do as a caring friend is add more turmoil by getting upset.
Better late than never. Even six months later is all right, especially because by then most other people's attentions will have moved on, and the grieving person will (likely) be feeling alone in their grief. Even if you do send a sympathy card right away, consider sending another one six or eight months down the road (or especially on the death anniversary) to remind them that you are still thinking of them and grieving with them.
Consider sending a sympathy gift. Sometimes you want to express more. So include a gift along with your card. Here are 29 thoughtful and creative sympathy gift ideas for someone who is grieving.
PIN IT