Men are, according to the stereotype, difficult to shop for. Throw in the unpredictably raw emotions of grief, and you may discover that sympathy gifts for men are really difficult to find.
But it shouldn't be that way.
If you have a friend or family member who is grieving the loss of a loved one, and maybe even going through a pretty rough patch with it, giving him a sympathy gift is one of the best ways to show him that you care. And you shouldn't have to spend too much time (or an arm and a leg) finding the perfect one.
In this list we've gathered the 10 best sympathy gifts for men. No matter their personality type, from a memorial tumbler for the more practical type of guy to a remembrance journal for the more sentimental, we have a little something for everyone.
Let's take a look together.
10 Best Sympathy Gifts for Men
Our website is supported by our users. We sometimes earn a commission when you click through the affiliate links on our website. Learn more here.
1. Personalized Memorial Tumbler
It can be therapeutic for someone in mourning to receive a sympathy gift that also serves as a practical item that they can use every day.
Take this memorial tumbler, for instance. This high-quality Polar Camel tumbler (comparable to the popular YETI brand) is made of stainless steel, comes double-walled and is also vacuum-sealed for optimum performance.
Best yet, at Northwest Gifts you can get it personalized with a name, dates, and any other text you'd like to add. Choose from seven different colors and multiple sizes, customized in any way you like.
2. Personalized Bottle Opener Sympathy Gift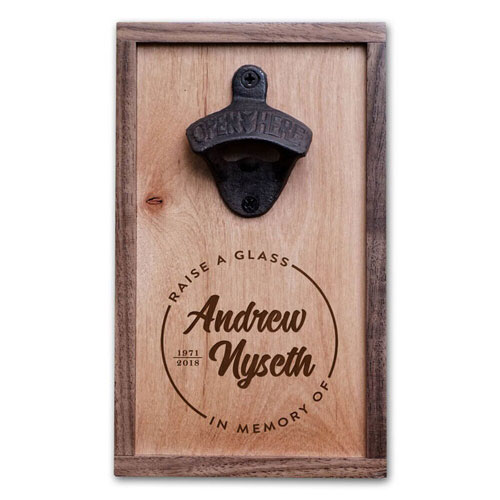 For a wonderful sympathy gift that is also practical, choose this personalized bottle opener from Urns Northwest.
With the name of his loved one laser-etched into the wood, every time your friend uses it to pop the top on a cold one, he can "raise a glass" in their memory.
This bottle opener is hand crafted in Oregon using beautiful walnut and maple wood. The opener itself is durable cast iron. Your order will include a screw for easy wall-mounting.
3. Custom Engraved Memorial Bird Feeder
Does he like to spend time in the great outdoors? Whether he's an avid bird watcher or simply likes to relax on the back porch after a long day, a personalized cedar wood bird feeder will show him that you're thinking of him during this difficult time.
This memorial bird feeder comes personalized with the name of his loved one on the front acrylic panel, as well as any other text you'd like to add. It measures 10 1/2″ tall and you have the option of including a sympathy note.
4. Personalized Wood Memorial Photo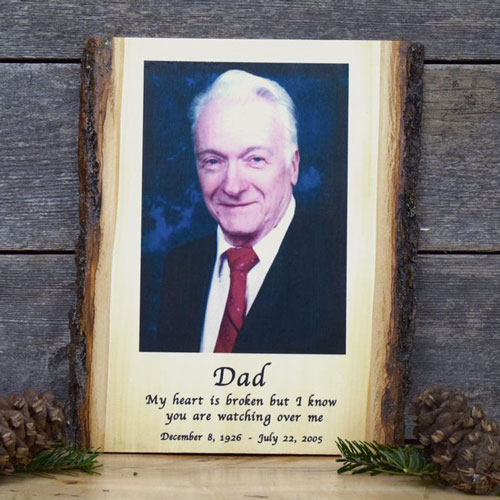 This memorial photo gift is unique in that the shop prints it on a slab of rustic wood. Using a special "no rub" technique, PNWMemories will print your photo and any text in either color or sepia ink.
Simply upload the photo you want on the wood, specify the name and any other text you'd like featured, and the shop will take care of the rest.
No matter where he chooses to place their memorial photo, your loved one is sure to treasure this unique sympathy gift forever.
5. Restorative Memorial Tree Planted in Their Name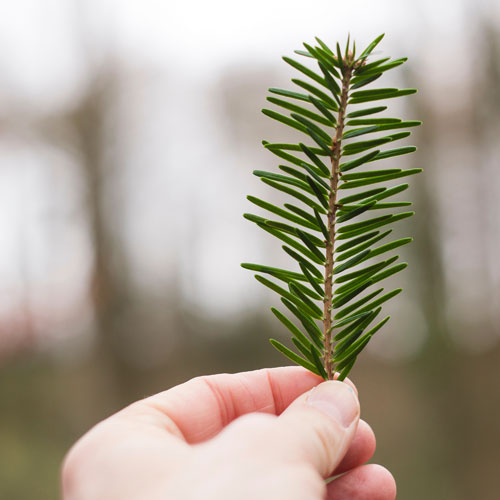 Planting a tree is a very popular (and environmentally-friendly) way to memorialize a loved one. If your loved one is caught up in their grief right now, and you want to remind him that life goes on, this may be just the thing he needs.
With your gift, Trees for a Change will plant a tree (or a grove of trees) in a National Forest area in need of restoration. They'll send the recipient a card or certificate and include information about how to find the tree online. On their website, the recipient will find maps, photos of the trees being planted, information about the forest area, and more.
All this in honor of his loved one. It's a truly thoughtful and meaningful sympathy gift for him.
6. Personalized Remembrance Journal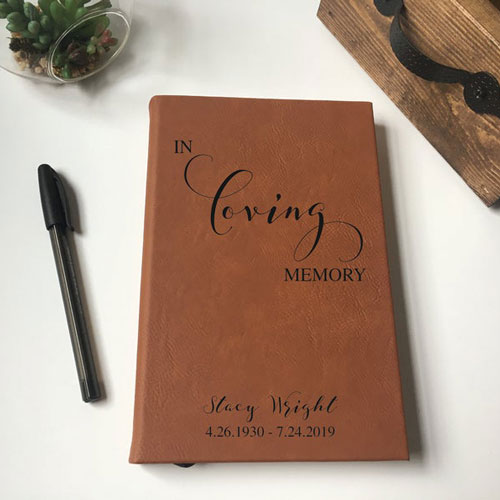 When you're feeling down, writing about your feelings is beneficial because it helps to get sad or negative thoughts out of your heart and onto paper.
So if your grieving friend or loved one likes to write, consider giving him this personalized faux leather remembrance journal. The faux leather "In Loving Memory" journal includes customization of his loved one's name, along with dates of birth and death. Choose from several different colors.
7. Men's Sympathy Gift Basket
When choosing sympathy gifts for men, it can help to think outside the box. Think gift baskets, for instance. Because even the most resilient of men can use a little pick-me-up when grieving over the loss of a loved one.
This Men's Strength Sympathy Basket will show him that you're thinking of him while also offering a bit of manly self-care. This gift basket includes a self-help book on grieving, an unscented botanical moisturizer, a pair of super-soft socks, caramel bites, and more.
8. Memorial Garden Stone
Here's a great sympathy gift idea for the guy that enjoys being outside. Every time he heads out to do some work in the garden, he'll see this memorial garden stone shining in the sunlight and will remember sweet memories he has of his loved one.
The 10″ garden stone is made of quality resin and features the saying, "When someone you love becomes a memory, the memory becomes a treasure."
It includes an optional keyhole for easy fence or wall mounting.
9. Floral Heart Personalized Memorial Plaque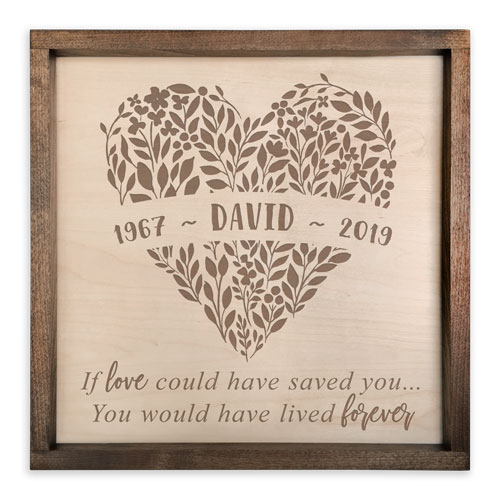 "If love could have saved you, you would have lived forever." That's the beautiful quote featured on this stunning memorial plaque sympathy gift from Northwest Gifts.
Made in Oregon, the plaque is handcrafted of stained alder wood and birch ply. It also comes personalized with his loved one's name and years of birth and death, carefully laser-etched inside a pretty floral heart. Choose between two different plaque sizes. You can customize or change the quote upon request.
10. Morse Code Memorial Bracelet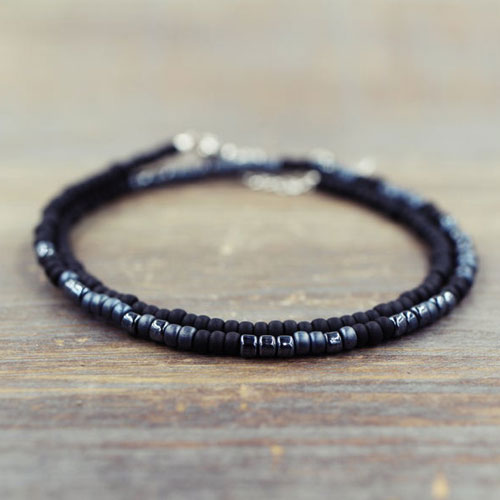 Bracelets can serve as subtle yet meaningful sympathy gifts. Especially when they carry a "hidden" message in Morse code!
This beaded wrap bracelet reads "Until We Meet Again" in Morse code. It's made of black seed beads and comes with a lobster-style clasp. Included with your gift is an informational card explaining the meaning, so your loved one will know exactly just how special and unique this gift from you is.
More Meaningful Sympathy Gift Ideas for Men
Helen Keller once said, "The best and most beautiful things cannot be seen or even touched, but felt in the heart."
Sometimes the very best sympathy gifts can't even be bought. If you're looking for a sympathy gift for men that is just as thoughtful as those presented above, but not necessarily one that you have to purchase, take a look at some of these great ideas:
Cook. Make him a delicious and nutritious meal. When grieving, eating can be hard to do and even easier to forget about. Cook or bake his favorite dish to help him out, or go the extra mile and create him an entire meal.
Meals. Start a meal train on his behalf. Get friends and family in on it…everyone picks a day of the week or month to provide him a meal.
DIY. Into sewing or crafting? Create for him something that he could really use and that would provide him some comfort at the same time. Think blankets, socks, PJ's, beanies, a house robe. Maybe even a teddy bear or memory bear like this one.
Donations. Make a charity donation in his name or in memory of his departed loved one.
Memory book. Create a photo album or scrapbook featuring pictures of all the good times with his loved one.
Portrait. Paint him a picture of his loved one. (Or have one commissioned from a professional artist like Mary Ann.)
Curated gift basket. Create your own gift basket for him filled with things you know he'd love.
Music. Create a playlist of encouraging songs to uplift him when he needs it the most.
It's the thought that counts, after all!
Finding the Perfect Sympathy Gift
This brings us to the end of our list of the 10 best sympathy gifts for men. If you found the perfect gift to give him off our list, we're glad – that was the goal!
But in the case that your gift search continues, check out all the other great gift ideas available over at Northwest Gifts. We have many items tailored especially to men, and most of them are 100% customizable.
Do you have any other great sympathy gift ideas for guys? Share them with us in a comment below.
Pin It