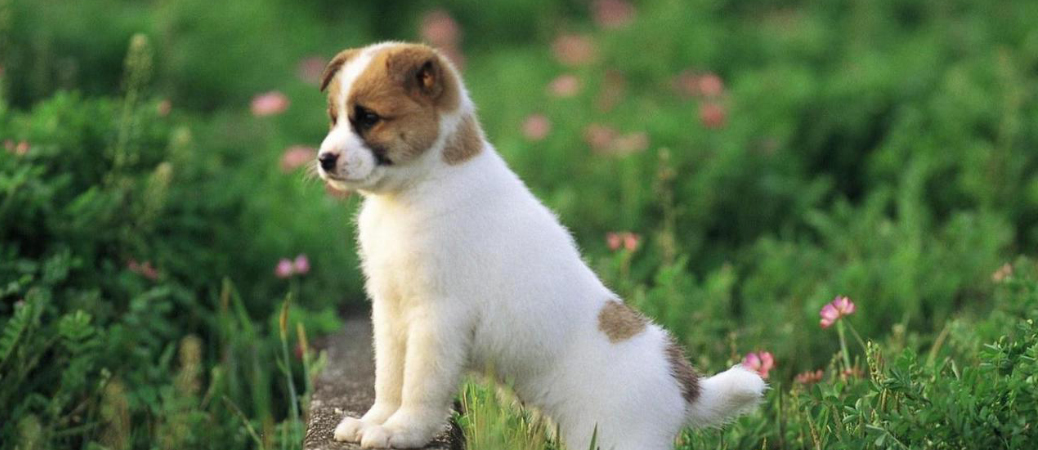 Last Updated on
If someone you know has had a beloved pet pass away, a thoughtful and personalized pet memorial gift can show that special touch of sympathy and friendship. At the same time, a heartfelt sympathy gift gives the pet's owner a keepsake memento to help them treasure the memories of their pet forever. Here are 12 heartwarming pet memorial gift ideas.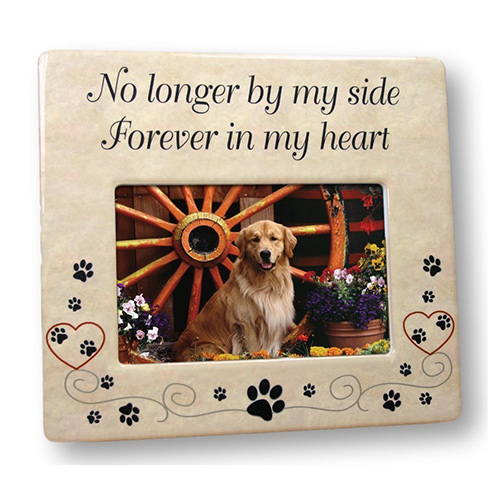 This attractive pet memorial frame holds a 4″ x 6″ photo and features a paw print with the saying "No longer by my side, forever in my heart." There are also many other frame memorial gift ideas such as custom laser engraved wood photo frames or a pet memorial photo frame with clay paw imprint kit.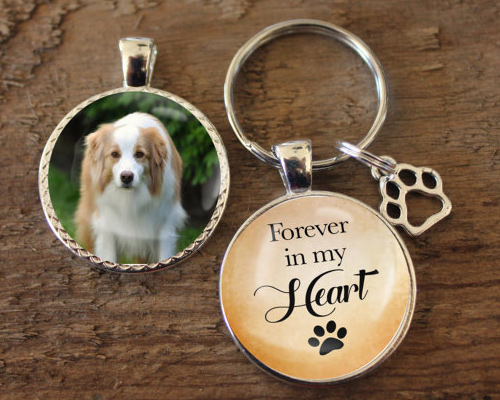 This pet photo keychain is one option of many pet sympathy keychains available, including a personalized dog bone keychain with cremation urn, adorable "Wait for me at the rainbow bridge" paw print keychains, and many more.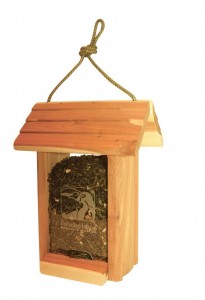 This personalized bird feeder is made from real solid cedar wood, and features and acrylic panel on the front and back so you can keep an eye on the seed level. The clear panels can be custom engraved with the pet's name, dates, photo, or any other memorial inscription you would like, such as a poem. Available from Northwest Gifts.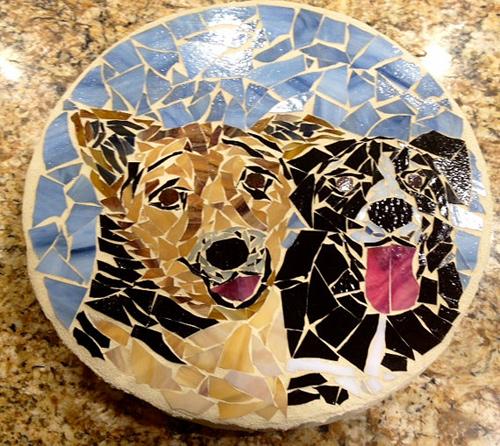 Give a handmade mosaic memorial stone with the pet's image in mosaic style. Each custom mosaic stone is made of solid concrete and art glass, measuring 12 inches in diameter by 2 inches thick and weighs just over 20 pounds when completed. The final product is sealed with a premium 20 year outdoor grout sealer. A beautiful, unique, and long-lasting pet memorial gift idea.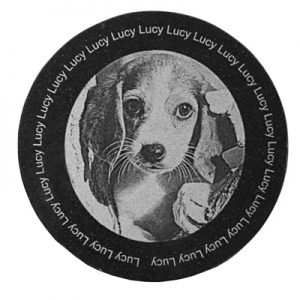 This 6″ round granite photo plaque engraves a beautiful white color, revealing a stunning contrast for a photo pet memorial. Optional display stand.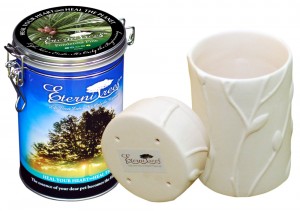 A beloved pet can leave a living legacy with an Eternitrees Memorial Tree Pet Urn.  Each scattering urn comes in a keepsake tin, and the urn itself is biodegradable and contains the seeds for a tree of your choice and a unique mixture which aids in the release of nutrients from the pet's remains to help the tree grow tall and healthy as a living memorial. Tree choices include staples such as Oak, Redwood, Birch, and Cherry, as well as exotics including Jacaranda, Mexican Fan Palm, Eastern Red Bud, Gingo Biloba, and more.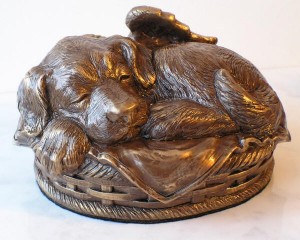 This pet memorial urn is a good choice for a keepsake because it doesn't look like your standard wooden or marble urn. The cast bronze shape of a sleeping puppy (or kitty) with angel wings is a precious keepsake even if it is never used as a cremation urn. The collar tag can be engraved with the pet's name for a personalized memorial gift.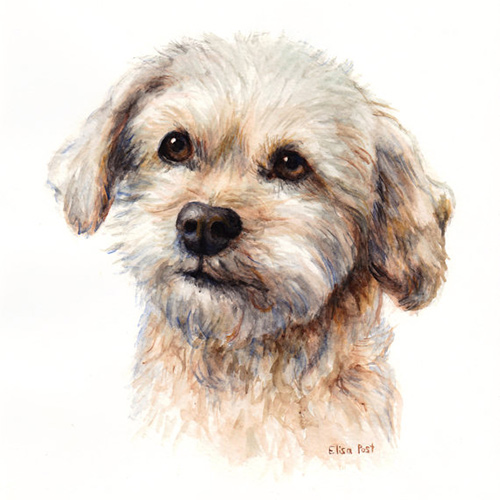 A digitally reproduced painting of your pet's image from your favorite photo, created using a combination of photo editing and painting software. The actual brush strokes are made by hand by the artist on a graphics tablet with a stylus. This combination of technology and artistry creates an accurate portrait of your pet, yet with the look and feel of a work of art. Available from Fine Art by Elisa on Etsy.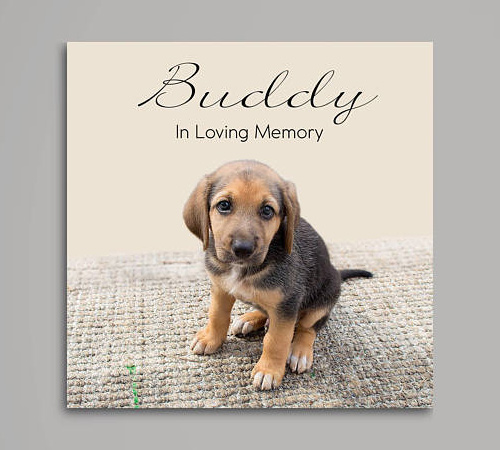 These simple and elegant canvases include your pet's photo, name, and dates along with your choice of one of several memorial poems. Available here in a wide selection of canvas sizes.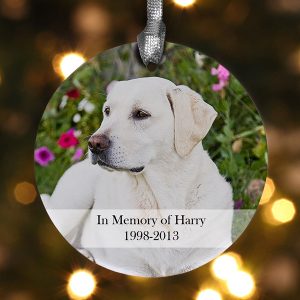 A very affordable pet memorial gift for around the holiday season. This Pet Memorial Christmas Ornament is printed with your pet's photo, name, and dates. A heartwarming way to remember a beloved pet at Christmastime.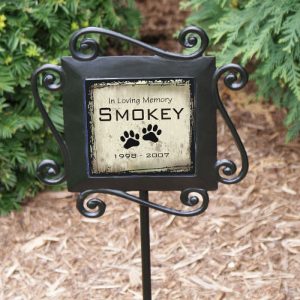 This attractive personalized pet memorial garden stake is a unique way to mark any special tree, rosebush or beautiful garden with the memory of a beloved pet. Designed from wrought iron and a customized ceramic tile insert.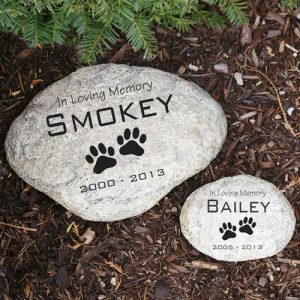 Finally we have the ever popular pet memorial stone. A classic sympathy gift to remember the loss of a beloved pet, these garden stones are custom engraved with an "In Loving Memory" inscription and cute paw prints.

Share it:

What are some ways you have remembered a beloved pet?
(Visited 7,230 times, 7 visits today)