Last Updated on September 13, 2016
Introducing the Eternity Heart Cremation Necklace Collection. These elegant and meaningful memorial jewelry pieces were designed and crafted with your beloved in mind, to honor their memory in a special way. Each pendant is handcrafted from quality materials and finished with your choice of 18k gold or genuine rhodium.

ETERNITY HEART CREMATION NECKLACE FEATURES
The Eternity Heart is among the highest quality fashion jewelry in the world. It is carefully crafted from beginning to end and finished with either 18-Karat "yellow" gold or "silver" genuine rhodium electroplate to ensure a durable, lasting finish.
This unique cremation jewelry necklace showcases a double heart, presenting a pendant that is both balanced in look and meaningful in purpose. The inner heart features a small chamber that holds a very small amount of remains (or "ashes"), and is designed for simplicity of use and permanent closure.
Available in 18K Gold finish, or genuine Rhodium finish.
INNOVATIVE FILLING & SEALING KIT
Also included with each Eternity Heart Cremation Necklace is a matching 18″ snake chain along with an innovative filling and sealing kit.
Here are some of the features of the patented sealing technology appreciated by funeral directors and others who place the cremated remains in the inner heart pendant:
The fill kit contains a "fine cremated remains pipette" to easily extract fine ashes to fit into the Eternity Heart Necklace
A 10 mg fine cremated remains scoop is included, which accurately measures the exact amount of remains for the inner heart chamber
No glue is required to seal the chamber, so there will never be damage to the jewelry from glue application errors. This means that anyone can fill the pentand! The micro screw has a patented dry coat self-activating sealing technology which permanently seals the chamber within six hours. Funeral directors like the dry coated sealing technology that provides efficient, "no hassle" filling
Your Eternity Heart Jewelry is ready for use immediately after sealing
FILLING INSTRUCTIONS SAMPLE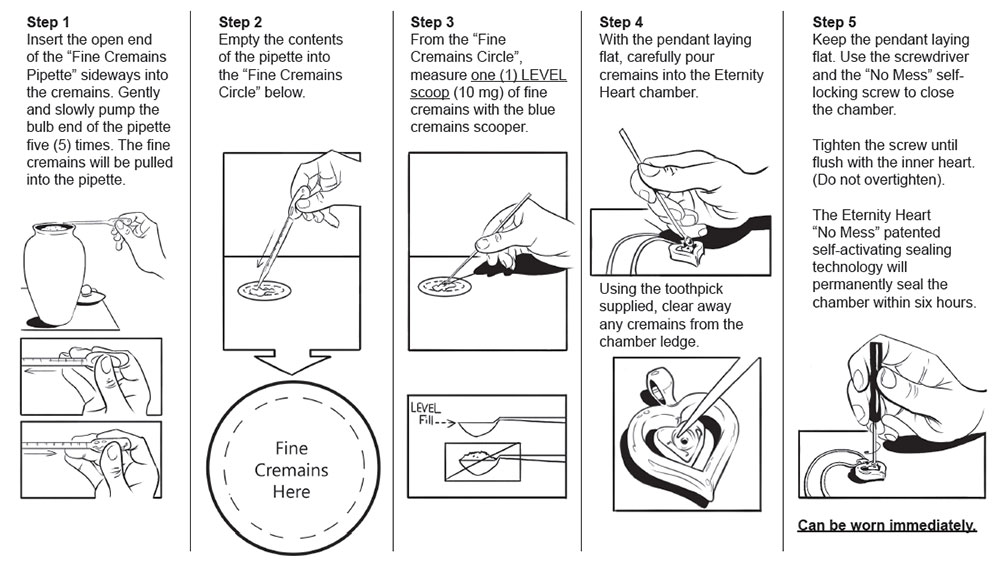 (click for full-size image)
ETERNITY HEART CARE & CLEANING
Keep your Eternity Heart Cremation Necklace looking its best by following these few simple guidelines. The Eternity Heart 18-Karat "yellow" gold and "silver" genuine rhodium finishes are extremely resistant to wear and tarnish, and will keep their shine with very minimal maintenance.
Clean the pendant with a soft, warm, damp cotton cloth. Never immerse the pendant or necklace in any liquid.
Avoid exposing the Eternity Heart Necklace to chlorine, salt water, pools, spas, perfumes or cosmetics, and excessive sweat. In other words, take off before bathing, swimming, or excercise.
Do not use silver polish, "polishing cloths" or jewelry cleaner on the plated Eternity Heart as these products may damage the finish.