Last Updated on January 21, 2021
In this article, we're going to introduce you to Memorial Tree Urns, a beautiful way to plant a tree from a loved one's remains or "ashes."
When a loved one passes, it's natural to want a unique way to cherish your beloved one's memory, life, and personality.
With our Memorial Tree Urns, we have a simple, beautiful, and life-celebrating way for you to create a lasting memorial to your loved one while caring for the environment around you.
Let's learn how.
What is a Memorial Tree Urn?
A memorial tree urn is a biodegradable cremation urn for ashes made with fertilizer and a living tree seed.
The urn (with the seed and your loved one's ashes) is planted in the ground and will incorporate the cremated remains into the growth of the tree. In a very real way, your loved one's remains will become a part of the plant, which will grow to become a true "living memorial."
Growing a Memorial Tree
Our growing selection currently offers 15 tree choices to grow as a living keepsake. Each of these memorial urns contains an unique mix which aids in the release of beneficial plant nutrients, which are found in cremated ashes.
By themselves, ashes are harmful to plants' health and well-being. However, by planting one of our Memorial Tree Urns with your loved one's cremated ashes, you cultivate a mixture that nourishes and sustains your tree as it grows.
Memorial Tree Urns
The urn will arrive inside a gorgeous keepsake tin, decorated with images from the tree which will soon be growing out in nature. Inside is the actual burial urn. The urn contains all the elements necessary to grow your memorial tree. Of course we also include a set of helpful instructions so you'll know exactly what to do.
Additionally, this is one of the simplest products on the market to use. To fill, just remove the lid, insert remains, replace the lid, and you're ready to go. (That's the gist of it; see the slightly more detailed instructions below.)
The urn planter portion holds a maximum of 35 cubic inches of ashes. This is usually only a small portion of the total remains. (For comparison, the industry standard size urn for an adult is 200 cubic inches.)
An average person's cremated remains will fit into about 5-7 of these urns, but can be further divided. The average pet will fit in 1 urn, where a large breed dog will need 2.
These tree planter urns were designed to allow your loved one or pet to thrive as a living memorial while still giving you the option of placing some the cremated remains in a cemetery or other place of disposition.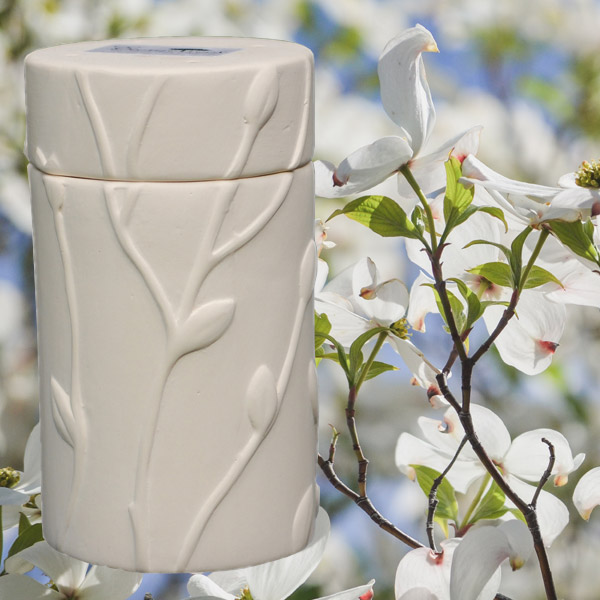 Types of Memorial Trees
In addition to the Dogwood shown above and our popular "Personal Choice," which allows you to provide any of your own choice of seeds, we have many other tree types.
These include Blue Spruce, Flowering Cherry, Ponderosa Pine, Oak, Coral, Ginkgo Biloba, Japanese White Birch, and more.
Our memorial tree urns are 100% biodegradable and eco-friendly. This provides you with a natural and sustainable way to create a living memorial to your loved one. See each product page for specifics about planting regions.
Available at Urns Northwest, here are the 15 variations we offer:
Blue Spruce
Dogwood
Eastern Red Bud
Flowering Cherry
Ginkgo Biloba
Jacaranda
Japanese Maple
Mexican Fan Palm
Oak
Palo Verde
Ponderosa Pine Tree
Quaking Aspen
Sugar Maple
Tulip Poplar
Personal Choice (Choose your own seeds)
See more details and order here.
How to Plant A Memorial Tree Urn
Here are the instructions for planting your memorial tree urn. You can download these instructions here: How to Plant a Memorial Tree Cremation Urn
Before you plant
We recommend you use the internet to find out the ideals for site, sun exposure, soil type and watering needs for the kind of memorial tree you have chosen. Search "best conditions to grow [insert tree name here]"
Take shrink wrap off and open the urn. There are two basic components of your memorial tree cremation urn: A) The lower vessel for cremated remains. B) The cap, which contains nutrients and growth medium.
Preparation for planting is very simple.

First, if included, follow the soaking instructions on the seed packet.
Second, open the small paper bag made from natural wood pulp and place the bag in the lower vessel.
Third, fill the bag with no more than 1-1/4 cup of ashes, leaving enough room to fold it over & get the cap on.
Note: If you do not wish to do this, any reputable funeral home or crematory will do it for you.
Planting the urn
Place the cap (or lid) onto the lower vessel in preparation for planting. No need to glue.
Select your area of planting carefully. Keep in mind the type of tree you have selected and the size it and its roots will reach at maturity. Dig a hole approximately 6-7" deep.
Place the urn upright into the hole with the lower vessel portion touching the bottom and the upper capsule nearest the surface.
Replace the soil over the memorial tree urn. You should have no more than 1" of soil over the top of the urn. Water and use a light mulch to protect from excessive cold or heat.
With the special growth medium, nature will take its course and you will soon have a beautiful memorial tree sprouting up.
How long after a loved one's passing can their ashes be used to grow a tree?
You can use the remains anytime to grow the tree. "Ashes" never expire. Having been through the cremation process, their composition is stable.
So you can plant the tree a few days after the cremation, or twenty years later. It will work either way.
Once the ashes are placed into the urn, how soon does it need to be planted?
The urns don't expire either, but if you order one that comes with a seed then the seeds generally last for a season or so.
So essentially the only thing that would "expire" in the whole process is the tree seed. And you can always purchase your own seeds, so that doesn't need to hold you back.
You can purchase many tree seeds locally or online for just a few dollars. Additionally, local seeds have the advantage of being already suited to your environment.
So you can get the Personal Choice, put the ashes into the urn, and then wait as long as you like. When you're ready to plant, purchase some local tree seeds or even a sapling and then plant it.
Where to Plant a Memorial Tree
First, let's talk about where to plant the specific type of tree. This will depend on that tree seed's ideal planting zone. You'll have to do a little old-fashioned gardening research here, but trust us, it's easy.
You can look through the tree types we have available by your state. In that post, we go through each state's planting zones and what tree seeds you can plant there.
Second, the specific location. Where you plant the tree is completely up to you (within the law, of course). You can arrange an area in private property, or perhaps get clearance from a state park or national forest or other public lands. Depends on if you want it out in the wild, or at a relative's home, or any other specific or special area.
Ideally, you'll want a location with lots of sun and water, away from high traffic or potential developments. This should be a location easy to access so that you can visit anytime. Most families plant the tree in their backyard.
Some types of tree and other plants (use the Personal Choice urn) are amenable to planting in a planter. That usually takes special care, but we've found most people don't mind – your loved one is worth it!
Pin It