Where can I find an artist to draw a memorial portrait?
When a loved one dies and is buried, there remains a gaping, aching hole in your life. After the funeral is over, once the flowers have dried and the baked casserole leftovers have all been consumed, visiting relatives trickle away and life (for everyone else) returns to normal. But not for you.
Grief will continue in many forms. One expression of grief is a desire to memorialize the decedent, to honor their memory in a way that captures a sense of their personality, vitality, life, and passion. This can be done in many different ways:
Beautiful and meaningful cremation urn
Scholarship fund or charity in their memory
Pillow made from their favorite shirt
Memorial photo album
Custom engraved plaque
… and so on. (Check out 100 Inspirational Memorial Ideas)
There are myriads of options from which to choose. But perhaps one of the most artistic and meaningful is to commission a memorial painting in their honor. Let's take a look at how to find a talented and qualified artist to memorialize your loved one in this special way.
Our website is supported by our users. We sometimes earn a commission when you click through the affiliate links on our website. Learn more here.
Where Can I Find an Artist to Draw a Memorial Portrait?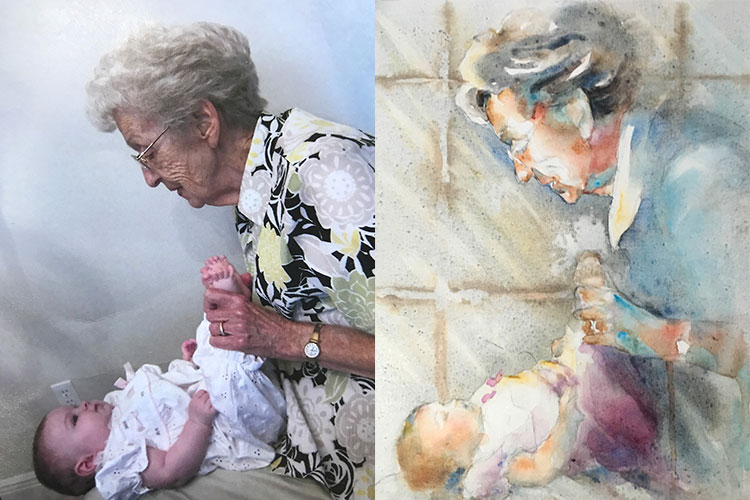 Most portrait artists who accept commissions will paint a memorial portrait in honor of someone who has died. And many memorial portrait artists will accept commissions for those who are still living, so it typically works both ways.
Since most memorial portraits are painted after the person's death, you will need to find an artist who accepts commissioned work based on photographs. If you are planning ahead and getting a memorial painting done while you or the loved one is still living, you may be able to find a local artist for in-person sittings. However, whether you find the artist locally or online, most will want photographs of some sort to inform their art when the subject is not present.
As with anything, you can have a decent memorial portrait done fairly well at a low cost, or you can commission a professional to create an heirloom with genuine artistry. Let's dive in.
1. Google Search for Local Artists
Ideal for: Supporting the local art scene while working with someone you can meet face to face
Expect to spend: $500-$2,500
To find a local artist for your memorial portrait, Google is still the best. Simply run a couple of searches for "portrait artists in my area" or "portrait painters in [town, state]" and you should pull up several of the best and most popular artists in your area.
As always, scour their sites, find their social media profiles, and scroll though their online portfolio to make sure their style suits you. Then contact them expressing your interest in commissioning a portrait.
2. Ask for Recommendations
Ideal for: Finding an authentic, trusted artist with a personal touch
Expect to spend: $500-$5,000
If your heart is set on a painted portrait, you don't want the mere re-creation of a photo onto a canvas. That's the method of many of the digital artists and quite a few of the sketch artists you'll find on Etsy or Instagram, and some people are content with that.
But you're looking for art. The ideal is to capture the essence of a person, or the essence of a special moment as captured in a beloved photograph. The flush of a youthful smile rather than the debilitating progress of Alzheimer's, cancer, or age.
I think that the best way to find the right artist is to ask around.
Text your closest friends and relatives
Post your question on Facebook
Ask your decorator or interior designer
Contact anyone you know that is involved in the art world, even by association:

Vineyards and wineries
Antique dealers
Sculptors and photographers
Wedding and event coordinators
Bands, musicians, and other types of artists

Contact local art galleries and ask for their recommendations
Search the internet and see what comes up
That last one is probably how you found this article. So next, I'll give you my personal recommendation for a wonderful artist who does lovely memorial portraits.
RECOMMENDED ARTIST SPOTLIGHT: Mary Ann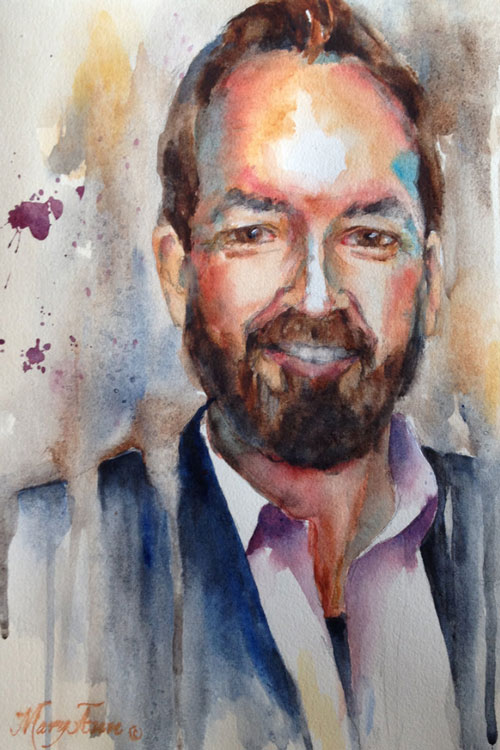 I know Mary Ann Simmons personally, and her artwork is truly exquisite. As you can see above, her impressionistic style uses watercolors that celebrate the joy and messiness of life. If you asked me for a recommendation, Mary Ann would be my first choice.
3. Artist Showcase Sites
Ideal for: Finding a professional artist
Expect to spend: $1,000+
Professional artists have many ways to get their art "out there" and seen by the public. Social media (Instagram, Facebook, etc) is one avenue, but it's so easy for serious artists to get lost in the glut of content. Most artists are involved in local galleries and events, but how do you find someone who isn't necessarily a household name, but also not your run-of-the-mill Sunday afternoon painter selling prints on Etsy or postcards at the local gas station?
Fortunately there are many showcase websites that provide an online gallery or marketplace that allow artists to connect with art consumers. While each platform varies, most have some level of curation, even if it is simply a voting mechanism with "hearts" or "likes". These are the places to look for serious artists whose works are still being discovered.
4. Etsy Search
Ideal for: Creating simple, trendy, affordable art
Expect to spend: $50-$300
Etsy is one of the internet's largest marketplaces, with a twist – everything is either vintage/antique or handmade/personalized. You can find many talented artists on the site, some who are just starting out and others who are established with dozens or even hundreds of monthly commissions.
To find a great artist to create your memorial portrait, try a couple of searches to narrow down the artist, style, and medium. Start with these:
Watch out for:
Digital art. There are many graphics artists on Etsy with custom portrait listings for as little as $10. These are created digitally by rendering the photo you send in, stylizing it as a watercolor or pencil sketch, then printed. These are not original portraits; however, as a fast and cheap way to create something attractive you can display in time for the funeral, this can be a very good option.
Poor reviews, few examples. The advantage of the Etsy marketplace is that it comes with reviews, both of the seller and the product. Artists who are just launching their "shops" may have only a few reviews, but you should be able to still see a wide showcase of their portfolio. If they have poor reviews or very few examples of their work, you may want to steer clear or message them for more information.
ETSY ARTIST SPOTLIGHT: Gifted Gold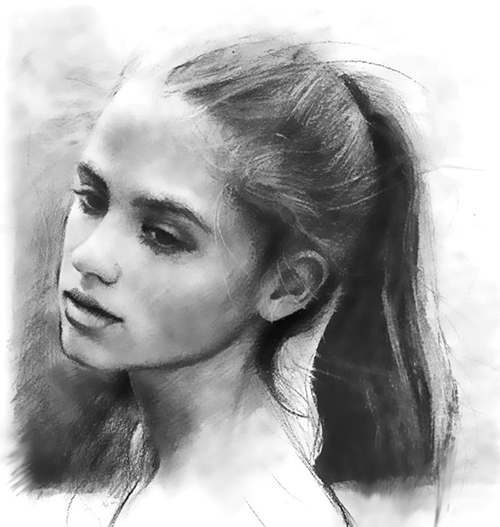 Despite what the "Gifted Gold" shop name may suggest, Rachel Stewart is a very good artist who can create elegant pencil sketches at a highly affordable price.
5. Instagram Search
Ideal for: Finding a niche style or unsung artist
Expect to spend: $200-$1,500
Instagram is one of the most popular social media sites in the world. As a visual medium focused on images, it's the ideal platform to find amazing artists.
Many now-famous artists have been discovered on Instagram over the past few years. Perhaps you can spot someone before they become famous, or maybe you already follow a talented artist who willing to take commissions. Reach out and see what happens!
Searches are done via hashtags. Search for:
Watch out for:
Anything and everything. Instagram is filled with artists of every stripe and talent level. It's also filled with just about every other type of person in the world. Your searches will pull up legit artists, hobbyists, kids, and lots and lots of tattoos.
No website. Unless you happen to know the artist personally, you want to make sure that any artist you are paying has some real qualifications, even if it is just images from their portfolio. They should have a website, or at least an online gallery on a portfolio site. Do a little background digging before you initiate contact, and even then you should feel free to ask about their training, qualifications, where their art is seen or sold, and so on.
Digital art. Not to say that digital art is any less an art form; it's just different. Many, many artists on Instagram create digital artwork. While you won't get that gorgeous hand-painted canvas original, you can find some pretty talented digital artists who create breathtaking work. Just know what you're in for ahead of time.
INSTAGRAM ARTIST SPOTLIGHT: Ludwin Schouten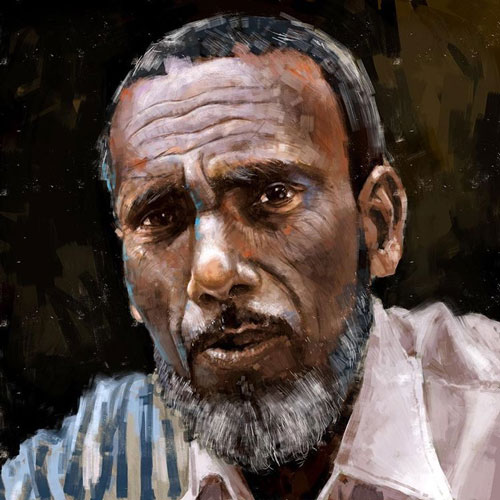 Ludwin Schouten's Instagram feed is beautifully emotive. Filled with digital portraits created using ProCreate, his work has a timeless grace with splashes of modern colors and lighting.
---
Finding the right artist to paint your loved one's memorial portrait will take a little time, a little digging, and a little communication, but this should get you pointed in the right direction.