Last Updated on October 24, 2016
Clive James, renowned Australian journalist and essayist, published this poem entitled "Japanese Maple" a few days ago in the New Yorker. A whistful meditation on a tree planted in the backyard garden by his daughter, the poignance of the poem is intensified knowing that the author is in the final stages of terminal cancer.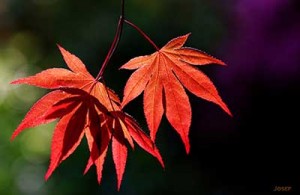 The poem artfully contrasts the steady decay of the body towards death – "fading out," "breath growing short," "drain of energy" – and the beauty of life that remains and continues on. The trials inherent in life, symbolized in the poem by rain, darkness, and the coming of winter, take on new significance in looking at the Japanese Maple tree. When rain falls, sweet beauty results and glistening illuminates the air. When dusk descends, the tree appears ever more lavish. When autumn comes, its leaves turn to flame, shining so brightly at the last.
Here is Japanese Maple, a poem by Clive James.
Your death, near now, is of an easy sort.
So slow a fading out brings no real pain.
Breath growing short
Is just uncomfortable. You feel the drain
Of energy, but thought and sight remain:

Enhanced, in fact. When did you ever see
So much sweet beauty as when fine rain falls
On that small tree
And saturates your brick back garden walls,
So many Amber Rooms and mirror halls?

Ever more lavish as the dusk descends
This glistening illuminates the air.
It never ends.
Whenever the rain comes it will be there,
Beyond my time, but now I take my share.

My daughter's choice, the maple tree is new.
Come autumn and its leaves will turn to flame.
What I must do
Is live to see that. That will end the game
For me, though life continues all the same:

Filling the double doors to bathe my eyes,
A final flood of colors will live on
As my mind dies,
Burned by my vision of a world that shone
So brightly at the last, and then was gone.
The life cycle in the natural world is an important theme in literature that contemplates life and death. Mark Meynell points out how James' poem echos a common theme of the biblical Psalms, particularly from Psalm 130:
3 As a father has compassion on his children,
so the Lord has compassion on those who fear him;
14 for he knows how we are formed,
he remembers that we are dust.
15 The life of mortals is like grass,
they flourish like a flower of the field;
16 the wind blows over it and it is gone,
and its place remembers it no more.
17 But from everlasting to everlasting
the Lord's love is with those who fear him,
and his righteousness with their children's children.

Psalm 130:13-17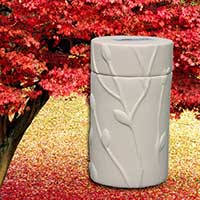 It seems that we, as finite beings, tend to make and instinctively recognize a connection between life, death, and the natural world around us. Perhaps this is because grass, trees, and flowers are such an everyday presence no matter where we are.
At Urns Northwest we have experienced this in the popularity of our memorial tree urns, which use a loved one's ashes in the planting and growth of a memorial tree. One tree that our customers tend to favor for these "living memorials" is the Japanese Maple, no doubt for the very reasons observed and so elegantly described by Clive James in what Goerge Szirtes calls his "valedictory farewell."