Last Updated on August 30, 2019
We've recently found out that millennials are ruining just about everything. From golf to manners and even relationships, millennials are blamed for killing all sorts of traditions, trends, and trades. As a millennial myself, I say we should embrace the reality of our wake of devastation and take it all the way to the grave. Literally.
Here, then, is The Millennial's Guide to Killing Funerals.
Please note that this post contains affiliate links, which means that if you purchase something you see on our site we may receive a commission at no cost to you. See our full disclosure here for more details.
The Millennial's Guide to Killing Funerals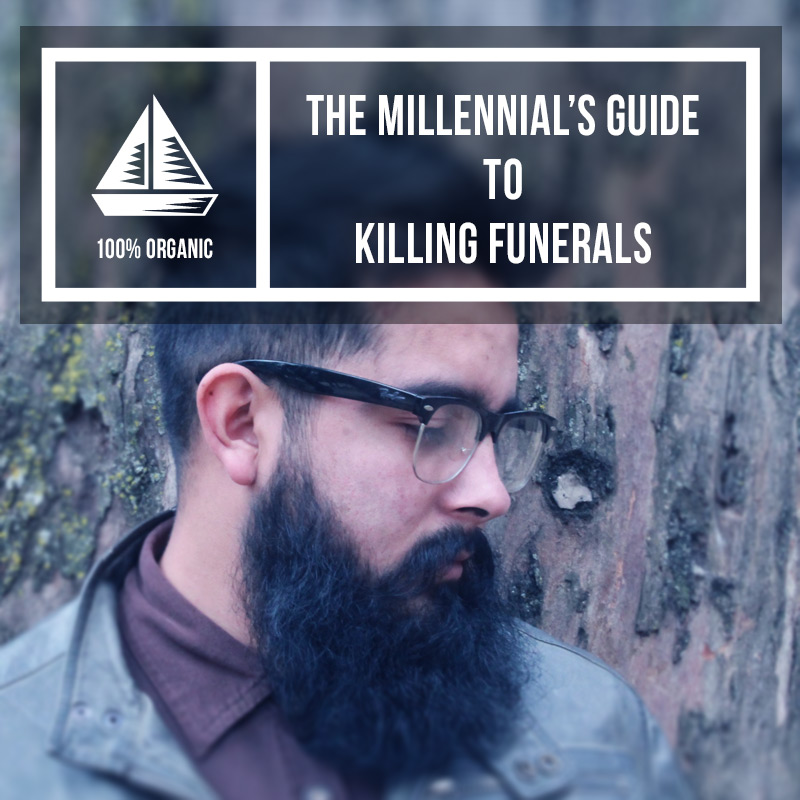 A. ARRANGE IN ADVANCE
The funeral industry feeds off your lack of preparation. Last minute purchases are usually the worst choice and simultaneously the most expensive you can make. Kill this by planning your funeral ahead of time, getting some burial insurance, making your own coffin from a bookshelf, or choosing your cremation urn ahead of time.
Make a will. Write down your final wishes for how you'd like to be remembered at your funeral. Or call it a life celebration. Or throw a BYOB party. Whatever.
B. BE BENEVOLENT
As millennials, we love the idea of giving back. (We may not always be able to afford to, but that's another story.) We value companies and products that exist for good causes, we celebrate those who serve others with their time and skills, and we try to be conscientious about where our money goes and what it supports. So what if there was a way to kill the funeral by "giving back"? Glad you asked!
Turns out, there are lots of ways. Here are just a few ideas to get you started:
Choose a funeral home or other provider who gives back to the community
Plan a DIY home funeral (see below) and give what you would have spent to charity
Provide in your will a reasonable cost limit for your funeral, and give the rest to worthy causes
Ask for donations to be made in the deceased's name to a worthy cause
Ask for attendees to volunteer for one day at a charitable organization
Start a community memorial garden – donate land if you have it
Set up a scholarship fund for someone instead of flowers
Have people plant trees instead of flowers or gifts
Give out eco-friendly seed packets as funeral favors
Have your ashes be used to grow a tree
C. CELEBRATE COMMUNITY
Community is a big deal to us millennials. The community of which you are a part will come together at your funeral; what will they be doing? What will they say, do, value, celebrate about you? How will they mourn, grieve, and remember you? And what will it all mean?
If you don't think these things through ahead of time, the current status quo will reign and the funeral industry will win. Sure, people will get together and talk about you and comfort the family, but don't you want something more? Throw a party. Have a buffet reception at the recovery center that helped you through a rough time, or have a tree-planting day where your ashes spread instead of a burial service. Go old school and have a memorial service at church filled with hymns and traditional Scripture readings, then a happy potluck afterwards celebrating your entrance into glory (that's my goal). Have a house built in your memory by friends and family.
Inspiration: 34 Unique Memorial Service Ideas
The secret to having a successful funeral that truly celebrates community is this: live it out ahead of time. Get involved at the recovery center or with Habitat for Humanity now. Throw a party or go plant trees now. Worship God, invest in the community, serve others, volunteer your time, make friends, share meals and drinks together now. Want to kill the dreary funeral? Live life to the fullest today, and do it together with and for those in your community.
D. DIY DEATH
One way to take funerals back is to do it yourself. There's lots of opportunities to do various aspects of the funeral or memorial at home. This is a good trend because it often saves you money, but more importantly when you (or your family members) are involved in the funeral it is a much-needed and often tangible way to work through grief. You can take on one or two small projects, or you can get the whole family involved and have a complete home funeral (see point H, below).
Here are a few DIY funeral and memorial ideas:
Have the memorial service at church, a family member's home, or a park
Have a potluck reception
Send funeral invites via social media or email
Grow your own flowers, or ask a gardening enthusiast in your family
Scatter or keep cremated remains instead of burying them
E. EXPECT TO EXPIRE
Part of the whole funeral industry's mystical hold on funerals is that everyone is afraid to think about their own mortality. You can kill this easily by opening your mind, reading and researching options, and talking with others about death. Talk to your parents, children, and/or spouse. Talk to other millennials. Think about how you want to be remembered, and then take the effort to make your final arrangement plans.
Here are some additional resources and ideas:
F. FORGET FORMALDEHYDE
The modern embalming process using formaldehyde is an archaic practice that is not necessary and needs to go. Formaldehyde is not only expensive and terrible for the environment, it is also linked to cancer. Basically don't use it. Go with direct cremation, have the burial fairly soon, ask about refrigeration or keeping the body on dry ice.
Here are the the millennial's options for embalming alternatives that avoid formaldehyde.
G. GO GREEN
One of the great hallmarks of a millennial is concern for the environment. This is showing up in the way that the funeral industry is changing. Embalming is changing (see above), DIY and home funerals are on the rise (see above and below), and there are tons of handy green burila products and options available. Keep going green!
Some green funeral resources:
H. HOME FUNERAL FTW
Home funerals are what everyone did before the funeral industry came to power. Best way for a millennial to kill the modern funeral? Go back to the olden ways of ye olden days.
A home funeral, also sometimes known as a family-directed funeral or home-based funeral, means that the family (and/or friends) actually do the work of after-death care. The body is prepared and laid out at home, family visits and says their goodbyes at home, and sometimes even a service is held at home. Often home funerals happen when a death is expected, and the person wants to be at home for their passing.
With a home funeral, in many states you are free to not use a funeral provider at all. You can work directly with the cemetery or crematorium to transport the bury or cremate the body. Home funerals are a lot of work, but the emotional release and the financial savings have made this a very up-and-coming option for final arrangements.
I. INVENT A NEW WAY TO FUNERAL
Lastly – and we're ending our Millennial's A to Z Guide to Killing Funerals on "I" because 1) it's our favorite word and 2) millennials never finish anything – the best way to kill the funeral is to invent your own new way to funeral.*
*For instance, maybe we can change funeral from a noun to a verb.
What does this mean? It could mean anything. Maybe you're the science type who comes up with a new, eco-friendly burial product. Maybe you invent a new tradition, or redress an old tradition in new clothes. Maybe you become a mortician or funeral director, and improve the industry from within. Maybe you learn the wisdom of an older generation of undertakers, and use their knowledge, wisdom, and experience to carry you on in to the next big wave of funeral practices.
Only time will tell.
Hipster cat asks you to please share this article on your favorite social media site.