Last Updated on November 26, 2019
Movies about death, dying, and grief can be a helpful recourse for dealing with your own loss, or learning about the grief experienced by others. They can provide a way to become more informed about the human experience, to raise questions about the purpose of life, to contemplate the afterlife, or to become more empathetic.
Our website is supported by our users. We sometimes earn a commission when you click through the affiliate links on our website. Learn more here.
Death & The Movies
Films can be used to broaden your vision of life and death, address deep-seated fears, find comfort in a shared experience, or simply learn about a topic many people find difficult to talk about. The stories told by these movies help us empathize, externalize grief, and process through related experiences.
For these reasons and more, we've compiled a massive list of movies about death and related issues. You'll find documentaries and dramas; short films and animated features; dramas and comedies. Whatever your reasons for being here, you'll be sure to find something of interest in this comprehensive list.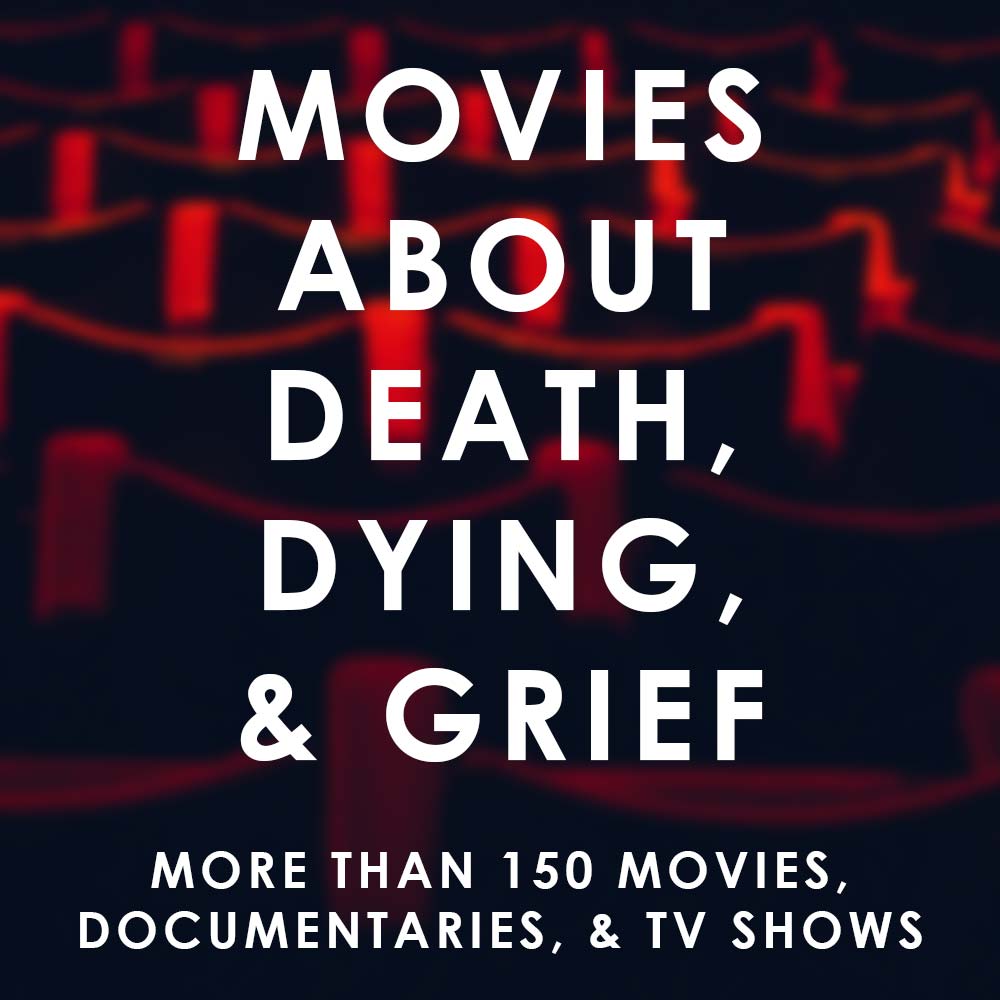 These films are organized by several categories, so you may find a few that are mentioned in both the "Movies by Genre" and "Movies by Topic" sections.
Movies About Death, Dying, & Grief
Here's the overall layout:
Part 1: Movies by Genre

Feature Films: Drama
Feature Films: Comedy
Feature Films: Family-Friendly
Feature Films: Classics
Documentaries

Part 2: Movies by Topic

Movies About Death
Movies About Dying
Movies About the Afterlife
Movies About Grief
Movies About Cancer & Illness
Movies About Suicide
Movies About the Funeral Industry

Bonus: TV Shows
We've included everything from light comedy to stark and depressing art films, animated classics to indie and foreign selections. Under each section, we feature an "Editor's Pick," which will be on the milder side (no horrific or agonizing content, and generally appropriate for a wider range of ages and temperaments). We also tried to make this one of the best movies you probably haven't already seen, as something that will provide a fresh or unique take on death, grief, and life.
Part 1: Movies by Genre
FEATURE FILMS: DRAMA
Editor's Pick: Tender Mercies. Robert Duvall won his first, and to date only, Academy Award for his performance as country-western singer Mac Sledge. Tender Mercies is the understated tale of a broken-down, middle-aged country singer as he gets a new wife, reaches out to his long-lost daughter, and tries to put his troubled life back together.
MORE DRAMA FILMS
FEATURE FILMS: COMEDY
Editor's Pick: Waking Ned Devine. This little jewel is set in a small town in Ireland, complete with beautiful scenery. When an elderly man learns that he has the winning lottery ticket, he promply suffers a heart attack and dies of shock. Soon the townspeople learn of his fate and the reason for it, and together scheme to claim the prize in memory of the deceased Ned Devine.
MORE COMEDIES
FEATURE FILMS: FAMILY-FRIENDLY
Editor's Pick: Song of the Sea. A beautifully animated, heartwarming, and atmospheric fantasy film that connects with children and adults on many levels. Weaving in Celtic folklore and fantasy, the film follows Ben, a young Irish boy, and his little sister Saoirse, a girl who can turn into a seal, as they go on an adventure to free the fairies and save the spirit world.
MORE FAMILY-FRIENDLY FILMS
FEATURE FILMS: CLASSICS
Editor's Pick: Here Comes Mr. Jordan. Robert Montgomery stars as a headline boxer whose airplane crashes on the way to his next fight. A "heavenly messenger," new on the job, snatches Joe's spirit prematurely from his body. Before the matter can be rectified, Joe's body is cremated and the celestial Mr. Jordan grants him the use of the body of wealthy Bruce Farnsworth, who's just been murdered by his wife. Joe tries to remake Farnsworth's unworthy life in his own clean-cut image, but then falls in love; and what about that murderous wife?
MORE CLASSIC FILMS
DOCUMENTARIES
Editor's Pick: Gates of Heaven. The first documentary from Errol Morris, this great film studies the eccentricities of pet owners and how they respond to the relocation of the local pet cemetery. But it does so in such a way as to cause self-reflection: as we, the viewers, react to the hopes and beliefs of these animal lovers regarding their departed pets, we begin to question our own assumptions about life, death, and the afterlife.
MORE DOCUMENTARIES
Part 2: Movies by Topic
MOVIES ABOUT DEATH
Editor's Pick: Bright Star. A quiet, contemplative romantic biopic of the famous poet John Keats. Directed with a deft touch by the marvelous Jane Campion.
MORE FILMS ABOUT DEATH
MOVIES ABOUT DYING
Editor's Pick: Ikiru (To Live). Directed by legendary filmmaker Akira Kurosawa, Ikiru is a compassionate film that affirms life through an exploration of death. Kanji Watanabe (played by Takashi Shimura) is an aging bureaucrat with stomach cancer who is impelled to find meaning in his final days. Presented in a radically conceived two-part structure and shot with a perceptive, humanistic clarity of vision, Ikiru is a multifaceted look at what it means to be alive.
MORE FILMS ABOUT DYING
MOVIES ABOUT THE AFTERLIFE
Editor's Pick: Heaven Can Wait. Some of the films in the list below take a serious look at what happens after we die. This one, most decidedly, does not. Heaven Can Wait (our favorite is the 1943 version directed by Ernst Luitsch) follows Henry Van Cleve after his death as he presents himself at the gates of Hell, only to find he is closely vetted on his qualifications for entry. Heartwarming and humorous.
MORE FILMS ABOUT THE AFTERLIFE
MOVIES ABOUT GRIEF
Editor's Pick: Shadowlands. Anthony Hopkins stars in this emotionally moving romantic drama based upon the real-life romance between the British writer C.S. Lewis and a divorced American poet named Joy Gresham. But when Joy is diagnosed with cancer, Lewis's Christian faith is put to the test–he cannot fathom why their happiness together would be so drastically challenged. Together, they find a way to accept and honor the time they have shared together, and under the sensitive direction of Richard Attenborough, Shadowlands arrives at a conclusion that is both heartbreaking and uplifting at the same time.
MORE FILMS ABOUT GRIEF
MOVIES ABOUT CANCER & ILLNESS
Editor's Pick: Lorenzo's Oil. For Augusto and Michaela Odone (Nick Nolte and Susan Sarandon), the news that their five-year-old son, Lorenzo, has a rare terminal disease is sobering, to learn there is no known cure is devastating. Despite the prognosis, the Odones embark on an extraordinary mission of love, consulting and sometimes colliding with the world's top doctors and scientists in the quest to save their son. Based on a true story.
MORE FILMS ABOUT CANCER & ILLNESS
MOVIES ABOUT SUICIDE
Editor's Pick: The Bridge. The Golden Gate Bridge is often the place where suicides occur. This documentary crew spent a year filming The Bridge, and the result is a moving examination of the lives of those who chose to end their own lives.
MORE FILMS ABOUT SUICIDE
MOVIES ABOUT THE FUNERAL INDUSTRY
Editor's Pick: Bernie. In the tiny, rural town of Carthage, TX, assistant funeral director Bernie Tiede (Jack Black) was one of the town's most beloved residents. He taught Sunday school, sang in the church choir and was always willing to lend a helping hand. Everyone loved and appreciated Bernie, so it came as no surprise when he befriended Marjorie Nugent, an affluent widow. Based on a true story and told in quasi-documentary style with interviews from people who actually knew Bernie, this is a dry and somewhat morbid comedy/"mockumentary" filled with understated dark humor.
MORE FILMS ABOUT THE FUNERAL INDUSTRY
TV Shows About Death, Dying, & Grief
Here are some excellent television shows that prominently feature grief, death, and dying as themes.
Sharing is caring!