A roundup of new wooden urns at Urns Northwest:
New Maple Wood Urns with Engraved Scene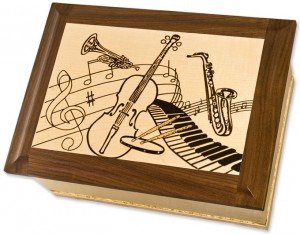 These wood cremation urns feature finely engraved scenes in a walnut frame on the top of the urn. The white maple, when engraved, results in a stunningly contrasted design against the light grain of the natural hardwood urn box. These wooden urns can also be built with a hinged lid and a 3/4″ deep memory chest area on the top of the urn, perfect for letters, photos, jewelry, or other small memorabilia items.
Scenes in this series include the above pictured Wood Urn with Music Scene, as well as:
We've expanded our companion urn selection to include several of our standard urns that can now be made in the companion or double urn size, usually holding about 400 cubic inches of cremains to accomodate the remains of two individuals.
New Dimensional Inlay Wood Urns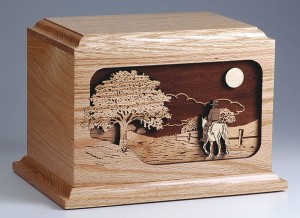 New to our Dimensional Inlay Series of wood urns are two twists on the classic Road Home scene. Pictured above is our Horse Scene Road Home Urn, in oak, featuring a cowboy on his horse for that final ride home, and below is the same scene with a motorcyclist, pictured in walnut. The entire series of wood urns can be made in your choice of oak or walnut hardwoods.