Last Updated on December 2, 2021
Is it better to have a sympathy gift delivered, or give it in person?
Sometimes, the best way to show your sympathy and support is to send a bereavement gift. There are many reasons for doing so. Perhaps you live in another town or state, or were traveling at the time of the funeral.
Or maybe – as we've all become painfully aware of – there is a pandemic raging and the best way to express your love is to send something, rather than showing up in person.
When you need the sympathy gift delivered, you'll want to order a quality gift from a reputable supplier. Here are five truly thoughtful gifts to send to those grieving the loss of a loved one.
Sympathy Gifts Delivered: 5 Best Gifts to Send to Those Who Grieve
Our website is supported by our users. We sometimes earn a commission when you click through the affiliate links on our website. Learn more here.
1. Sympathy Flowers from ProFlowers
This beautifully designed bouquet will convey your heartfelt feelings. Let your bereaved friends and family know you are thinking of them.
The soft color of pink means admiration, love, grace, and elegance. The white flowers tell of innocence and youth.
Flowers brighten a dark time and will lift the spirits of anyone that receives them. These bouquets from ProFlowers (an FTD company), are arranged and delivered by a local qualified florist, so you know they'll be beautiful.
Learn more about the etiquette for sending flowers, plus what type to choose, where to send, and so on in our Funeral Flower Guide.
2. Personalized Memorial Bird Feeder from Northwest Gifts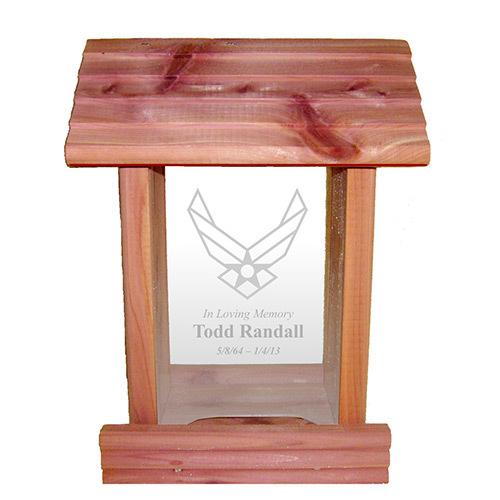 This is a beautiful way to memorialize your loved one, especially if they were a bird lover! You can add names and dates to the acrylic window of the feeder.
You will enjoy seeing nature thrive outside your window. Reminding you of your loved one every time you glance at this personalized bird feeder.
Related: 10 Things to Take to a Grieving Family
3. Healing Care Package from Here For You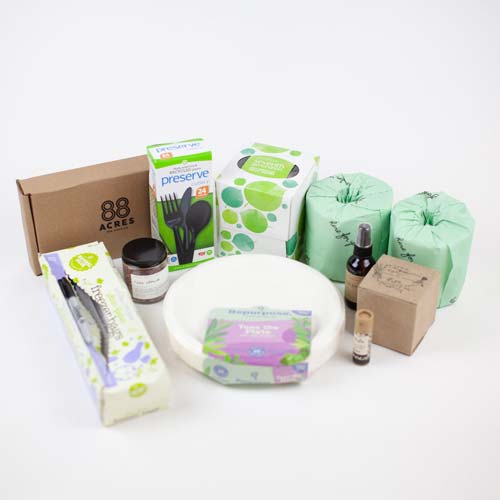 Compassion Packages are a fantastic way to care for a friend or family member! Choose from household essentials to self-care packages and everything in between.
These boxes are created and curated by Here for You, a company devoted to providing helpful care-packages for a bereaved family or individual. A charming way to say you are keeping them in your thoughts!
If you want to learn more before ordering, see our review & unboxing here.
4. "Raise a Glass" Memorial Bottle Opener from Urns Northwest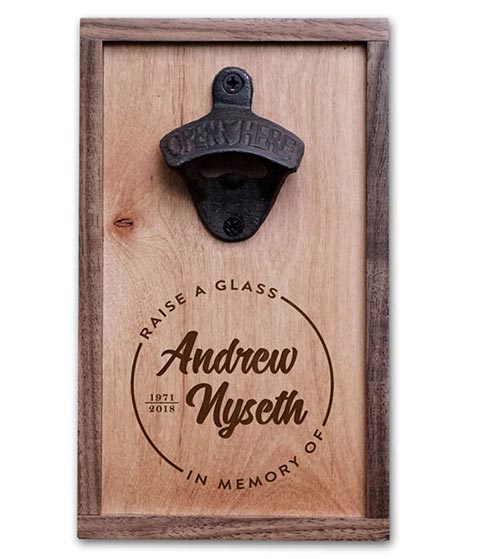 Proudly made in the US, our personalized bottle opener is made from solid contrasting woods. The loved one's name and dates will be laser etched on this memorial.
Every time the recipient opens a bottle, they will be raising a toast to their loved one! This is a meaningful gift that you can send directly to your grieving friend or family member.
5. Very Big Hugs Blanket from Etsy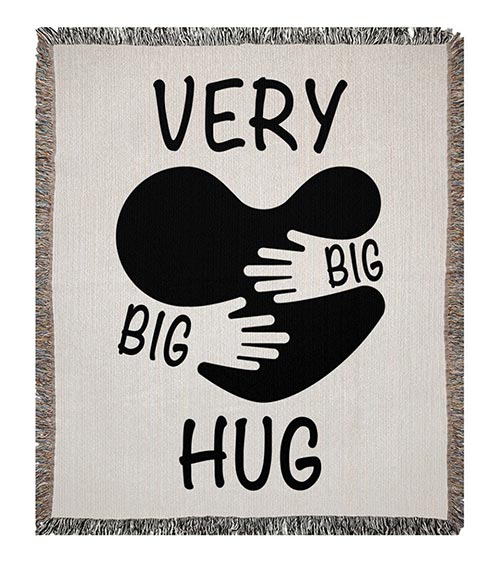 This 100% cotton Hug in a Blanket is the perfect way to show your love! Handmade by Tent & Bungalow on Etsy, this will be a package anyone would appreciate opening.
Send a warm and heartfelt hug to that special person! Is there a nicer way to let someone know you are thinking of them?
More: 29 Sympathy Gift Ideas for Someone Who Is Grieving
Etiquette for Sending a Sympathy Gift
Have you ever had to send anyone a sympathy gift? Many people have questions about the appropriate etiquette of sending gifts, like what to say in a gift note, and what to do if you knew the family but not the decedent, or you knew the decedent but not the family.
Below you will find some great etiquette tips to follow.
When should you send a sympathy gift to the family of the decedent?
The best time to send this gift would be as soon as possible after the funeral. But truly, anytime is appropriate.
I like to send something a few weeks out. That lets the family know that you are thinking of them even after things are settling down. That will mean a lot to the family.
Usually, within two weeks of the funeral, all gifts and cards have been sent out. If you've missed that time frame, you should still send your gift! It will be all the more meaningful because by that time most other people have "moved on," while the mourner is only beginning to adjust to life without their loved one.
Be aware of religious customs.
For example, you wouldn't send flowers to a Jewish family; it is not their custom. But charitable donations are acceptable. You may come by their home and pay your respects.
For Asian funerals, white or yellow mums are appreciated. White mums are a symbol of grief. Christians appreciate a card with a comforting Scripture verse, while those of other faiths or "none" would probably prefer a Celebration of Life quote.
Do a little research and use your judgment. Apply common sense to common courtesy and you'll be fine.
Be careful sending food.
You should be aware of dietary restrictions, allergies, and religious customs.
At a Buddhist funeral, it would not be appropriate to send food. This would be considered poor funeral etiquette. Some Buddhist families may consider a gift of vegetarian food appropriate, though. It is always best to check first.
I can't be there, now what?
This is the best time to send flowers, a fruit basket, or a nice plant! You will still be showing your love and support by providing a thoughtful gift.
Donate to a favorite charity in the deceased's name.
Be there for the family after the funeral.
Can I send more than one sympathy gift?
I personally love this idea: Send a card or gift on the anniversary of the first month, the third month, the sixth month, and one year. (Tip: Put reminders in your phone's calendar.)
This is a fantastic way to let the family know that you are still thinking of their loved one.
Remember, the grieving process takes time. A lot of gifts are sent in the first two weeks. It will mean so much to the family to receive mementos during the first year following the death.
Is it appropriate to send a gift if I don't know the family?
Yes, it is. It will mean so very much to the family to know how their loved one affected your life. Write a little note to let the family know "how you knew" their loved one. "It was so wonderful working with Jonathon for the last few years. He brightened my day and will be greatly missed."
The family will often collect and save all the stories, photos, and condolence notes to put into a scrapbook or memory jar. On that note, a scrapbook or memory jar plus a couple of hand-written memories of their loved one would be a meaningful gift.
Is it acceptable to send a gift if I don't know the deceased?
Yes, it is. Helping a friend through this hard time will let them know they are supported. It will feel good for the family to know that you are thinking of them at this time.
I don't want to send a gift, what can I do?
This is a common question. Give of your time! Offer to help clean house, do laundry, make meals, mow the lawn or even babysit. During this stressful time, sometimes this is the best gift—just a little extra time for themselves. Help is always welcome!
What to Say in a Sympathy Gift Note
It's not always easy to come up with the right words to express your sympathy. You are not alone in this. Below, you will find a list of heartfelt lines.
Our thoughts go out to you.
Thinking of you at this difficult time.
Holding you close in my thoughts and prayers.
Please accept our warmest condolences.
We are so saddened to hear of your loss.
I am going to miss your mom too.
We hope you feel enveloped by our love.
It was a pleasure working with Bob. We will miss him.
Wishing you moments of peace and comfort at this difficult time.
May you find comfort in your memories.
We love you.
Our hearts go out to you.
Sometimes you just want a few short words to get your meaning across. A prayer of sympathy and support can work well here. You want the family to know they are loved and thought about.
Read more: 101 Condolence Messages for Your Sympathy Gift
Pin It