Here's a gift that is perfect for the funeral director or undertaker: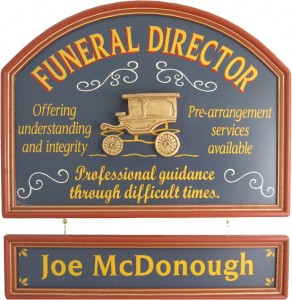 This old-fashioned hanging wall wood plaque includes a customized nameboard and a 3-dimensional hand cast and hand painted relief of an antique hearse. Gorgeous custom office or home wall decor for a personalized gift.
Sign reads:
FUNERAL DIRECTOR
Offering understanding and integrity
Pre-arrangement services available
Professional guidance through difficult times.
Available here from Northwest Gifts.