Last Updated on October 24, 2016
Firstly, we want to show off a little on just how beautiful this cherry wood urn is. Made in the USA from solid premium cherry wood, carved with finesse into a sculpture art pattern which wraps the piece, and finished with a rich cherry stain, this is one of our most popular memorials.
With such expert craftsmanship, solid cherry wood materials, deep laser etching of the decorative art carving which completely surrounds the urn, you can see why so many of our customers love this memorial urn. Here are a few quotes from reviewers:
"The cherry wood urn for my mother's ashes arrived today. It is absolutely beautiful, and my family is very pleased with the engraving. The size is perfect, too."
"Beautiful woodcraft for a special purpose – thank you."
"The urn arrived and it is beautiful. It is all I hoped it would be."
"The finish and workmanship was lovely! Thank you from this satisfied customer."
"We recieved our Urn on Friday and I was not sure how it would look based on a photo; I could not be happier, it is beautiful."
"I just wanted to say how happy I was with the cherry memory chest I ordered recently. It's really beautiful – more beautiful than the pictures can even do justice. Thank you."
The photos above showcase the detail and elegance of this urn, and the reviews verify what you see with your own eyes. You won't be able to fully appreciate the beauty of this cherry wood urn until you hold it in your hands, but we do have the next best thing. The video below will give you a sense of the size, shape, and design:
CHERRY WOOD URN, FOUR WAYS
Now that you have a pretty good sense of this gorgeous wooden memorial, here are the four ways we make this beautiful cherry wood urn.
1. STANDARD SIZE CREMATION URN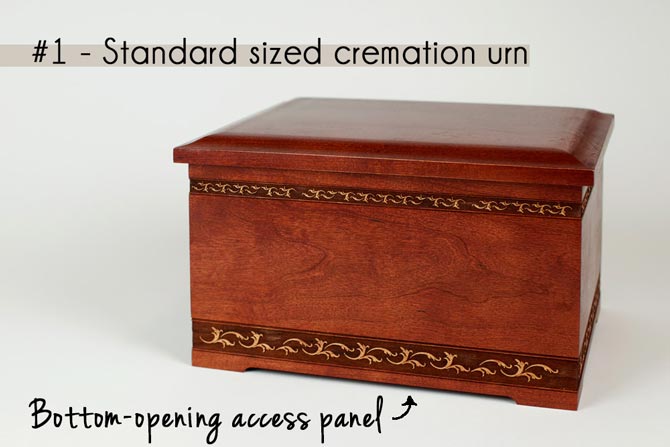 The standard sized version of our Cherry Wood Urn with Sculpture Art Carving is what you saw in the video and photographs above. This is a 200 cubic inch memorial urn designed to hold the remains of an average adult. The interior is accessed just like nearly all of our wood urns, by removing the bottom-opening panel that attaches with standard screws. (See a video demonstration.)
We can personalize this (and all the other variations as well) by laser engraving an inscription of name, dates, or quotes on the front or top of the urn.
2. COMPANION SIZED CREMATION URN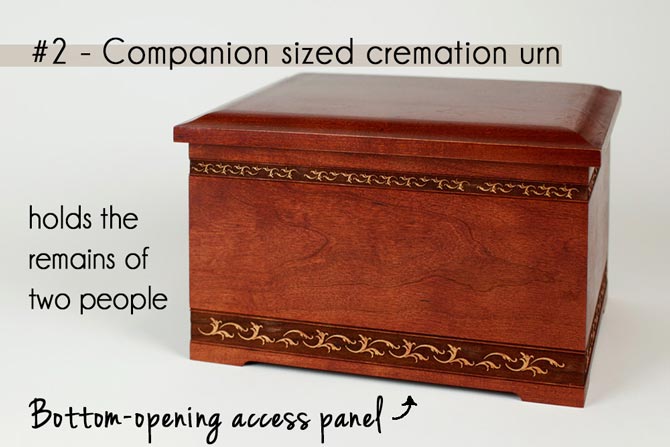 The Cherry Wood Companion Urn is nearly identical to the standard sized. The one difference is that it is just a little taller, providing more space on the inside. This allows it to hold up to 400 cubic inches of cremated remains, which is the industry standard for urns designed for two people.
3. MEMORY CHEST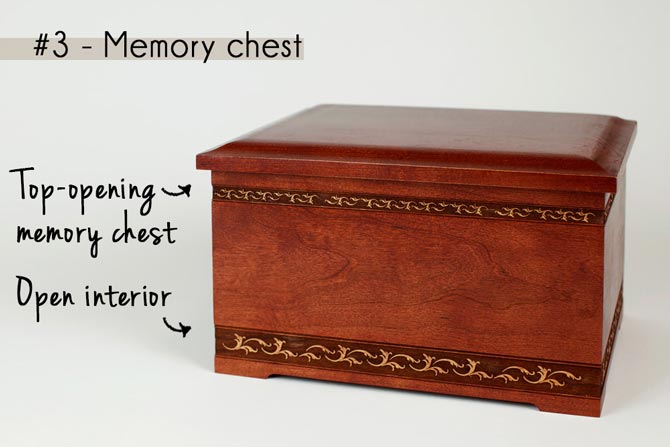 This one is technically not a cremation urn. The lid opens from the top by hinges, making it a rather spacious memory chest or keepsake box. You can store letters, photos, trinkets, small books or journals, and more inside this Cherry Wood Memory Chest.
Since it does not latch, lock, or seal shut, we do not recommend this verison being used as a cremation urn. However, many of our clients have used this as a scattering urn (since the top opens so easily) which is then saved and used as a memory keepsake box. It's up to you how you choose to use it.
4. MEMORY CHEST & URN COMBO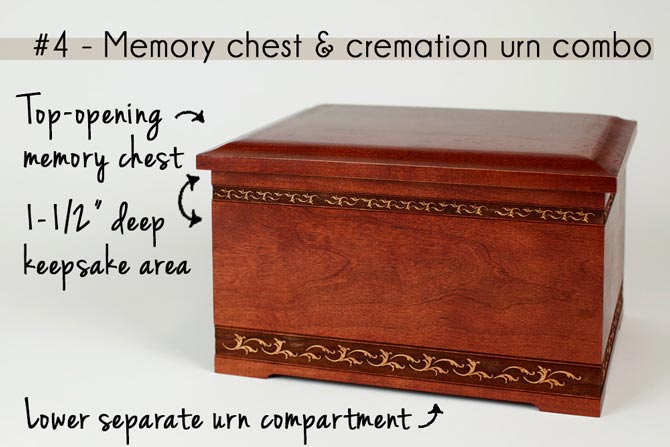 This is our most unique edition of this cherry wood urn. The Cherry Wood Memory Chest & Urn Combo is the perfect combination of keepsake box and cremation urn. The top is a hinged lid, which opens to reveal a smaller (1-1/2″ deep) memory chest area for keepsakes and memorabilia. The lower compartment is the urn, which is accessed by removing the four standard screws that attache the bottom panel. So it's the best of both worlds.
Here is an older video with a little more detail: