People don't always know what they want to do with their loved one's ashes after cremation. You'll receive the cremated remains from the funeral home in a simple plastic box… but then what?
Sure, sometimes it's clear – maybe you've already purchased a cemetery plot for burial, or they expressed a wish for their ashes to be scattered in a field.
But what if your loved one didn't say? What if they were a creative soul – a true original – and you know that they've always had that yearning to be free, to experience the world, to live a life of expressive beauty?
Our website is supported by our users. We sometimes earn a commission when you click through the affiliate links on our website. See our privacy policy & disclosures for more information.
68 Best Cremation Ashes Ideas
What one person decides to do with their own or their loved one's ashes may seem strange to another, but in the end, it is a personal thing.
You may find some of the options below odd, and that's ok. You might also find the perfect "final resting place" idea for yourself or your loved one – you won't know until you read it all!
So here is the list of our favorite things to do with cremated remains.
Scattering
Scattering of ashes is often the first thing people tend to think of in regards to what to do with cremated remains. It is one of the most popular ways to say a final goodbye to a loved one.
We've written about all the methods and options for scattering ashes here. That's your go-to resource for practical tips and the things to be aware of when choosing a place to scatter remains.
Let's take a look at some of the more creative ideas.
1. Scattering at Sea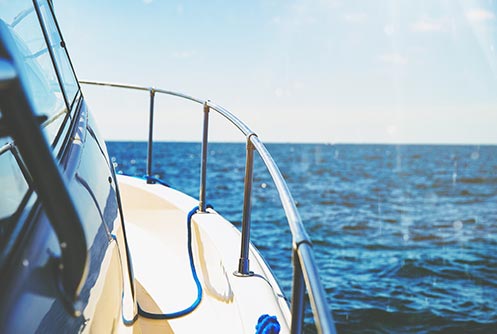 Scattering at sea involves scattering cremated remains of a person in the ocean. U.S. federal law requires that this takes place at least three nautical miles from shore – approximately 3.45 miles.
Related: Ocean Scattering Cremation Urns
2. Scattering by Trenching
Trenching ashes is a way to mix cremated remains with sand or earth. Trenching is especially beneficial for a beach burial, or in a garden.
Dig a small, shallow trench and pour cremated remains in the trench
Each person is welcome to make their own trench
Cover the cremains with dirt or sand
3. Scattered from an Airplane
This is an inspiring way to scatter your ashes over a larger area. There are many pilots like these guys who will have your remains scattered from far above, straight from their airplane.
They travel all over the world for their work, from Maui to the Mediterranean. You may also be able to charter a local pilot to do scatter ashes by plane.
4. Blasted in Fireworks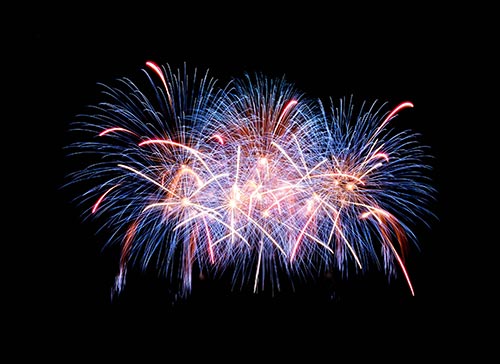 Heavenly Stars Fireworks can turn your cremated remains into an amazing light show for all to see.
Their unique service provides fireworks shows lasting from 2 to 7 minutes, depending on your choice of service. Their fireworks displays are modified to hold and scatter the remains while lighting up the night sky.
5. Soaring Up to the Heavens in Helium Balloons
Eternal Ascent can have your remains placed inside a large helium balloon that floats up into the atmosphere.
The balloon travels to a height of 5 miles, where at the temperature of -40 below zero, where the balloon crystallizes and bursts, scattering the ashes to the four winds.
This would be an amazing way to end a memorial service!
Cremation Urns
A cremation urn is simply a container to hold the ashes. Fortunately, there are a lot of creative options when it comes to urns for ashes. Here are a few of our favorites.
6. Sculpture Art Memorial Candle Urn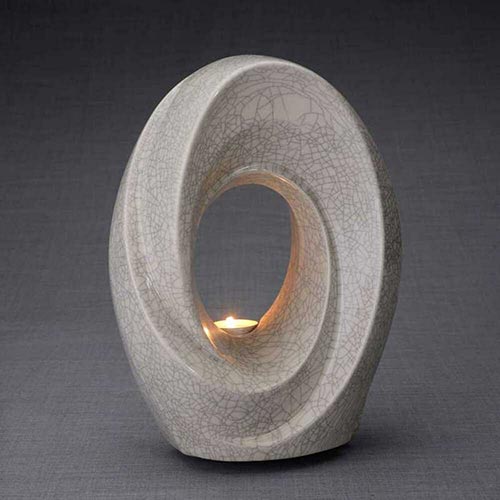 The Craquelure finish adds texture to the soft, smooth lines of this gorgeous ceramic urn. A beautiful piece of art to keep your loved one's cremains, available in standard or keepsake size.
7. Floating Memorial Shelf Cremation Urn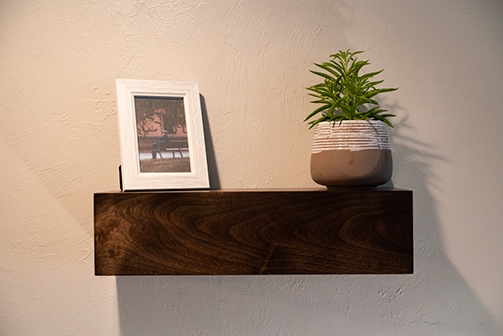 A unique way to store your loved one's cremated remains.
The shelf allows you to set up a memorial in your home without it being a traditional urn. You can display a favorite photograph, memorial candles, or other memorabilia in honor of your loved one. The shelf can go in almost any room of your home.
Choose from maple, walnut, mahogany, or alder with walnut stain.
8. Gorgeous Glass Art Urns for Ashes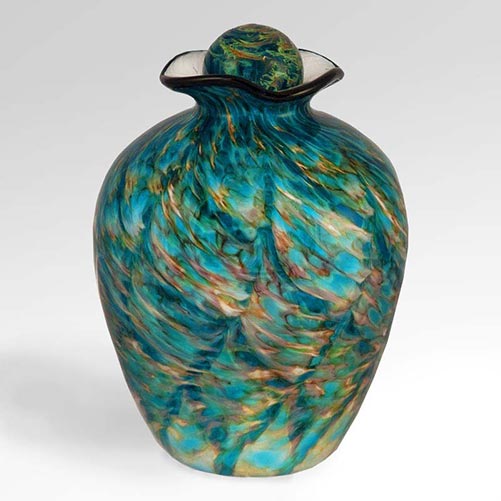 Our glass urn collection is extraordinary. They are one-of-a-kind handblown urns; each one will be unique.
Each urn is a both a treasure and a wonderful way to honor your loved one.
9. Wall Mounted Memorial Plaque Urns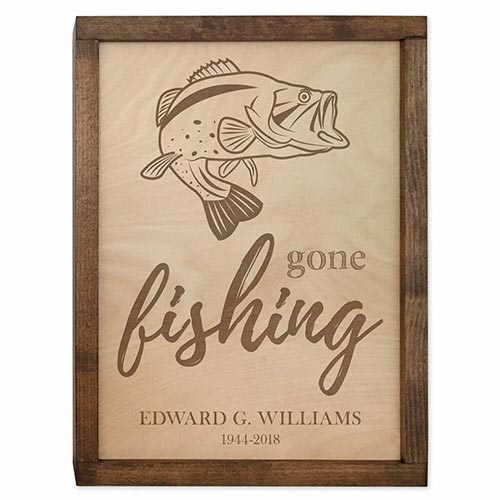 These wall-mounted urns are an unparalleled way to keep your beloved's cremains safe. The wall-mounted urn holds cremated remains discreetly and securely.
You can choose from several designs; all urns include personalized laser engraving and arrive ready to hang.
Burial
Burial is another popular option for what to do with ashes. See here for guidance on how to bury an urn.
There are some advantages to choosing burial. For instance, urn burial sites are usually significantly cheaper than casket burial sites.
10. Burial at the Cemetery
You have several options if you choose to bury cremains at the cemetery.
Cremated remains can be buried at the foot of a casket
Bury cremains in an urn plot
Bury cremated remains in an urn garden
Use an urn vault to bury the cremation urn
More: How to Bury an Urn
11. Eco-Friendly Burial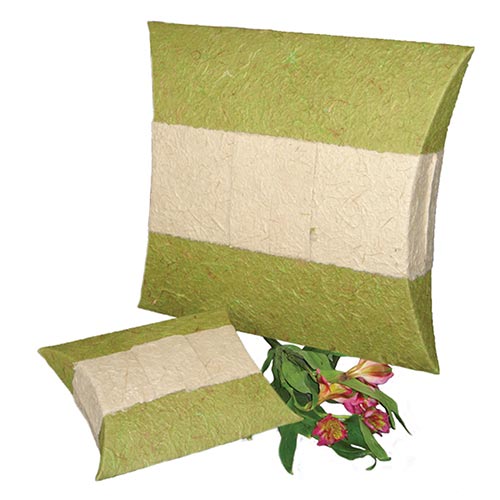 Using a biodegradable urn is an eco-friendly way to bury the cremated remains of your loved one.
Many of these urns are made of plant fibers and recycled paper with other natural materials like flower petals and leaves. Wood and bamboo are also used in biodegradable urns. Depending on what the urn is made of, it can take between one and twenty years to decompose.
12. Backyard Burial
No state or federal laws prohibit the burial of cremated human remains on privately owned property. You can bury cremated remains in an urn or without an urn.
Related: How to (Legally) Bury a Body in Your Backyard
Columbarium Niche
A columbarium is similar to a mausoleum, except that where a mausoleum is for casketed remains, a columbarium is for cremated remains. They are both sacred buildings used to house the remains of loved ones.
If you don't have a stable place to house an urn and want family and friends to have the freedom to view it, a columbarium might be a great choice.
13. Enclosed in a Niche
Cremation niches are made in various ways. Most niches are made of marble or granite. Some cremation niches have a glass front, which allows visitors to view the urn and memorial items displayed with it.
An enclosed niche is an above-ground burial space to hold cremated remains. It is sealed, and you are unable to see into the niche. You'll need a cremation urn (like this one, see also below) that can fit into the dimensions of your niche.
Depending on the size of your niche, you may also be able to include keepsake items.
14. Niche with a Glass Door
A glass-front niche allows you to see the urn and any memorabilia that is placed into the niche.
You can place pictures, dried flowers, jewelry, or small trinkets along with the urn.
15. Urn Designed for Niches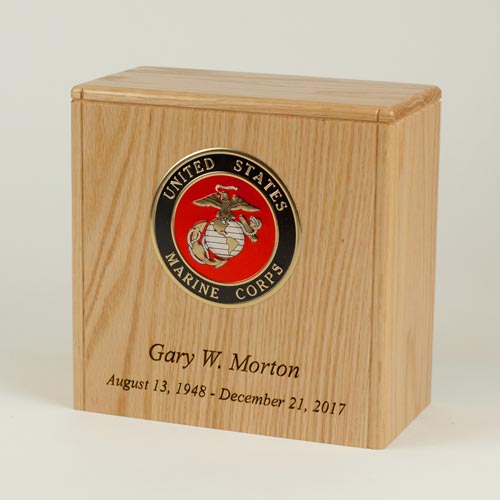 Our beautiful premium wood cremation urn is designed to fit into most niches. It was created with the requirements of Arlington National Cemetery in mind.
Two of our niche urns resting side by side will fit into nearly all common niche sizes. This makes it ideal for couples who have chosen a niche to be "together, forever."
Available with or without the military service emblem. For veterans, choose from the 4 medallions: Army, Air Force, Navy, and Marine Corps.
More Things to Do With Ashes
So those were creative alternatives to the traditional disposition methods (scattering, burial, urn, and niche). Now we'll get into even more ideas for cremation ashes, getting weirder and more unusual as we progress.
16. Keep at Home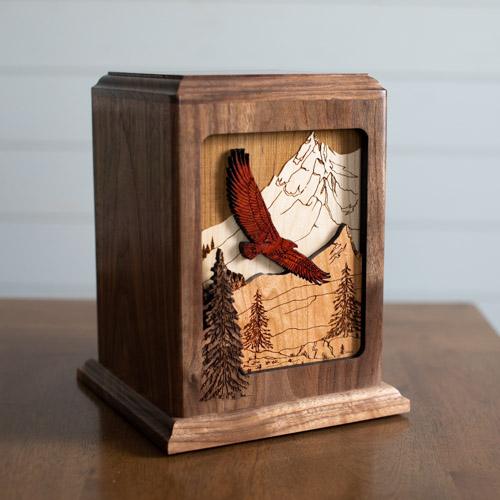 There are many ways to keep the remains at home. The most popular is to display the remains at home in a gorgeous heirloom cremation urn.
Urns Northwest is a great resource for finding such premium-quality urns. If you're new to this idea, you might want to start by reading The 5 Minute Guide to Choosing a Cremation Urn.
You can also store the remains in a simple coffee can, up in your closet, buried or scattered in the yard, or just about anywhere else.
17. Discreetly Displayed in an Urn That Doesn't Look Like an Urn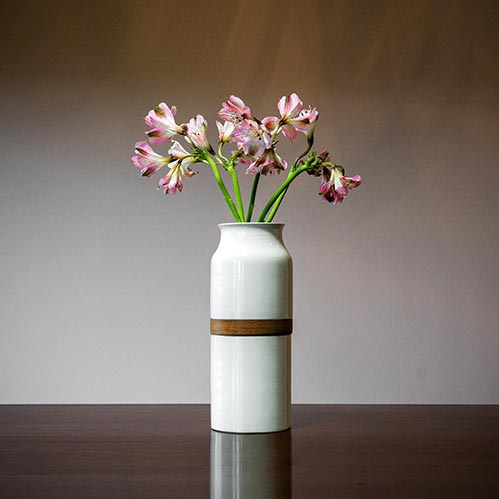 Yes, there are many ways to hide the ashes in plain sight. Like this flower vase urn – it really is a vase, but the bottom section is a cremation urn that holds the ashes.
Here are 25 urns that don't look like urns.
18. Plant Ashes to Grow a Tree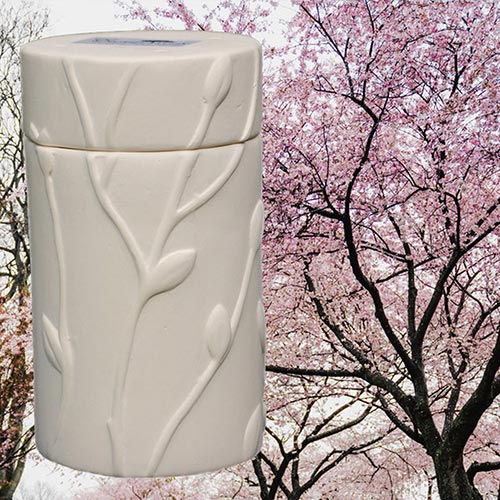 Whatever your motivation, the Memorial Tree Urn is a beautiful idea that combines burial and scattering with new life. Many people love the idea of creating a "living memorial."
Here's how it works: You place the cremated ashes into the urn, which is then "planted" in the ground to aid in the growth of a beautiful tree seed (included with the urn).
Knowing that the remains of your loved one are being used to nourish the young sapling as it grows into a majestic oak, willow, cherry, or one of the other 15+ trees that are available here will bring you great peace.
19. Launch into Space
Have your ashes launched into space! Celestis offers several packages for journeying into the final frontier. From a trip into orbit and back to earth to a more adventurous journey into deep space.
For the person who was never able to live that childhood dream of space travel, this could be just the ticket – even though a one-way ticket 😉
20. Viking Sendoff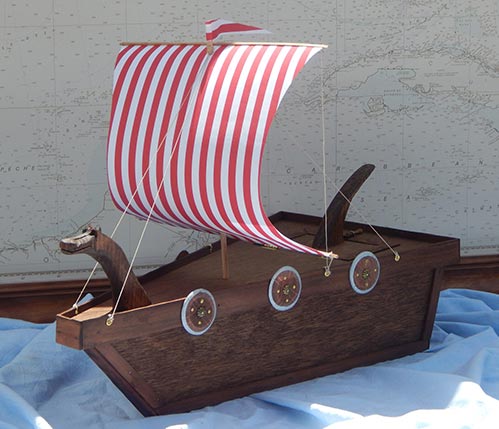 Let your loved one have a Viking sendoff with this rare Viking ship urn.
Hand-made from biodegradable materials, with a hand-carved dragon head and tail, this urn makes the perfect send-off—a great way to scatter cremated remains at sea.
21. Turn into a Coral Reef
Eternal Reef is helping rebuild coral reefs by creating cement structures that the coral can latch to and grow on.
The process involves inserting your remains into the cement mix before it is poured into the form on which the coral grows on.
Keepsakes Made From Ashes
You can put cremated remains into a keepsake (that's called a keepsake urn). You can also make a keepsake from cremated ashes.
We have a larger list of keepsakes made from remains here. In the meantime, here are a few of the unique ideas that incorporate the remains into the memorial itself.
22. Cremation Ashes in Glass Keepsake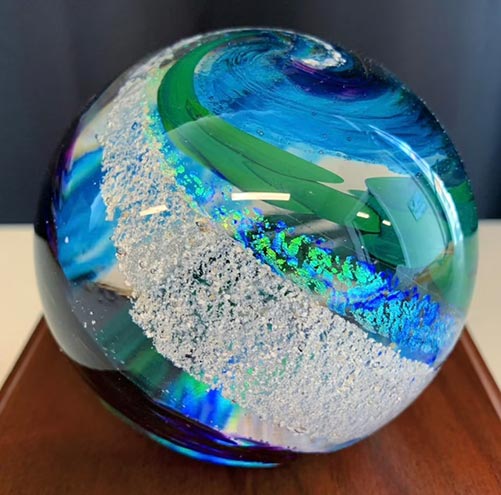 The hand-made glass orb is one of a kind. It only takes a half teaspoon of your loved one's cremains to make this original globe.
A great keepsake to place beside an urn or even your beloved's picture.
23. Cremation Hour Glass Urn
Though when filled with remains this hourglass probably won't be a reliable timepiece, it will still make for a beautiful mantlepiece and is a creative way to display your loved one's ashes.
Related: Keeping Cremated Remains at Home
24. Turn Ashes into Cremation Diamonds
Eterneva offers the service of having a lock of hair, or some of the cremated remains of a loved one turned into certified memorial diamonds.
They offer several different colors, carat sizes, and gem cuts, which you can put on display or set into a piece of jewelry. Find out more here.
25. Cremation Ash Galaxy Ring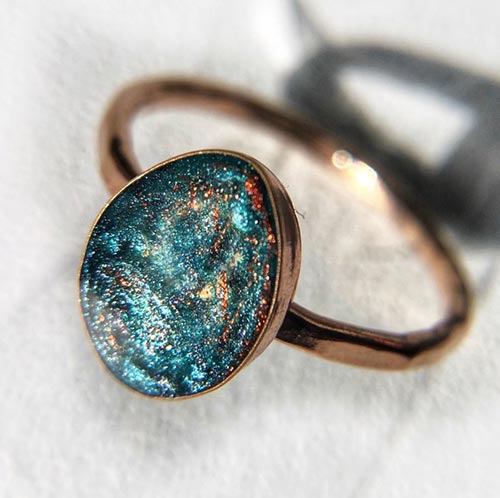 Cremation jewelry is a wonderful way to honor your loved one. The hand-made rose gold ring is a piece of jewelry that will be passed down from generation to generation.
Related: The 50 Most Beautiful Cremation Jewelry Memorials
26. Memorial Painting with Ashes
Commission an artist to mix ashes with paint as they create a beautiful memorial portrait of your loved one.
I suppose you could have this done locally (though it may be difficult to find someone who will work with this unique medium) or even do it yourself. Here are some artists who create paintings using cremated remains.
27. In a Teddy Bear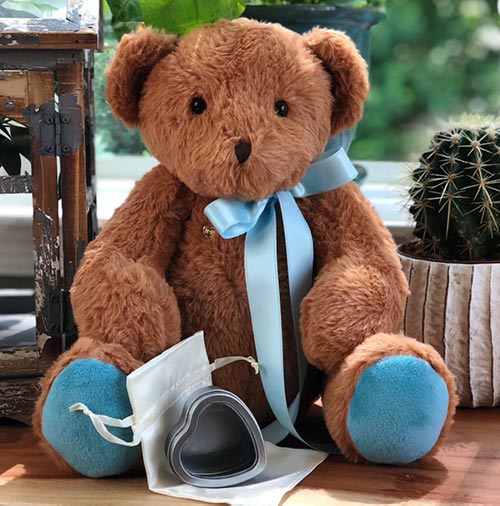 The Huggable Teddy Bear Urn can provide you with a more snuggly urn. These bears will hold a portion of your loved one's remains, allowing for a sentimental and meaningful memorial.
Some people find it strange; others find it very comforting—a surprisingly popular option.
28. As a Pencil
This artist had the idea to put your remains into the lead of a set of pencils.
The design is for a set of 240 specially-filled pencils that come in a case with a custom inscription on each pencil.
29. Blown Glass Spiral Flame Keepsake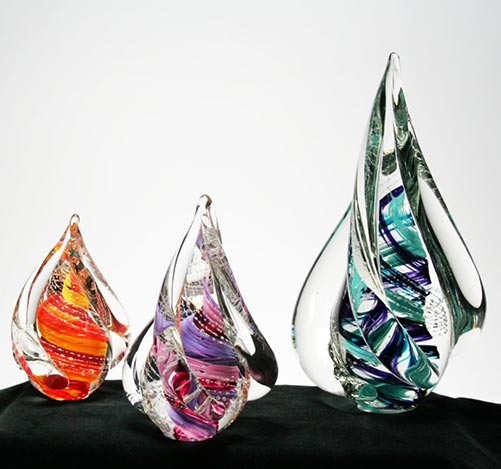 Have a unique piece of art created from your loved one's cremated remains. Artist Kevin Fulton will have the ashes incorporated into the glass of a beautiful and colorful cremation keepsake.
30. Glass Heart Ashes Keepsake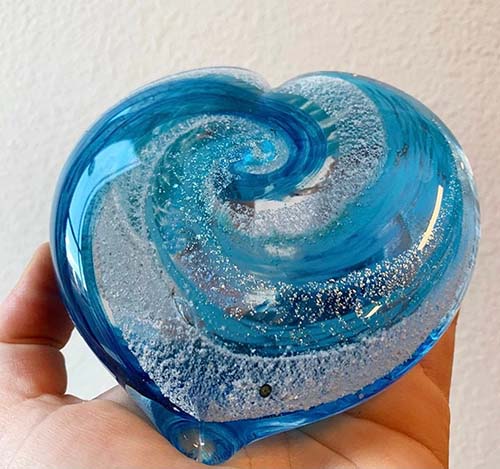 A cremated remains keepsake in the shape of a heart is a breathtaking piece of art. With a variety of colors and sizes to choose from, you will be able to find the perfect one for you.
Perfect to set on any coffee table, dresser, or desktop.
31. Put into a Vinyl Record
This plucky UK-based shop will have your ashes pressed into a set of vinyl records.
You pick the artwork and the music, or you can have a spoken-word recording to leave a final message to your loved ones, with that vintage popping and hissing of vinyl goodness.
Related: 100 Beautiful Celebration of Life Ideas
Cremation Jewelry
You can have a portion of the remains encased in a piece of memorial jewelry. This includes rings, necklaces, bracelets, and even special beads.
Cremation jewelry allows you to carry the memory of your loved one around with you wherever you go, keeping them "close to your heart." There are many options, including sterling silver, 14k gold, stainless steel, and much more.
32. Cremation Pendant with Your Loved One's Handwriting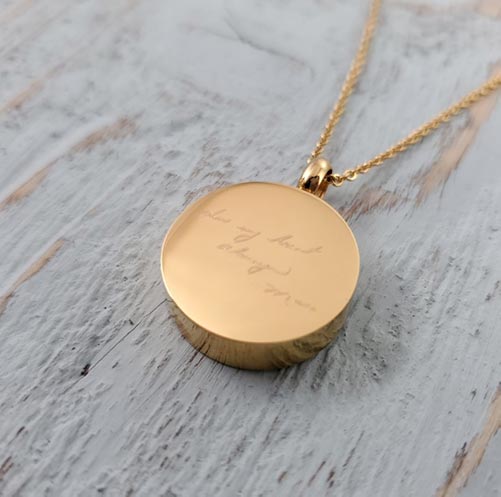 Keep the memory of a loved one forever. Now you can have their handwriting engraved on a keepsake necklace.
This gold-toned stainless steel pendant is the best way to keep your loved one close to your heart.
33. Crescent Moon Memorial Urn Necklace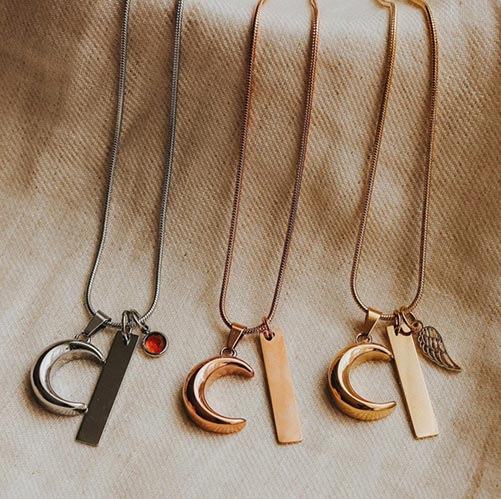 A hand-made stainless steel piece of jewelry will last for a lifetime. A beautiful crescent moon with a personalized charm is a wonderful way to honor your loved one.
As with most memorial jewelry, this necklace can also hold your fur baby's cremated remains.
34. Cremation Necklace with Essential Oil Diffuser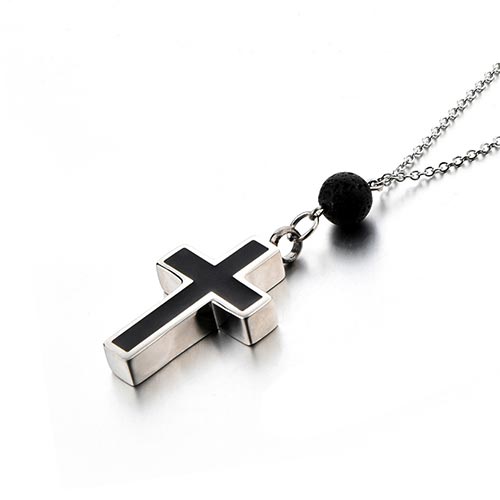 Our fashionable Christian cross is an elegant way to keep your loved one with you.
The round lava rock bead is a porous stone, ideal for use with essential oils. You can apply one or two drops of your favorite essential oil onto the lava rock diffusion bead.
The cross holds a small amount of cremated remains inside the pendant.
35. Oval Cremation Ring with Fingerprint Engraving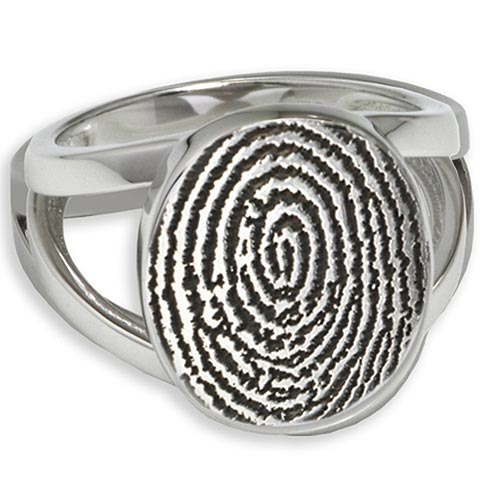 Your new ring has the actual fingerprint of your loved one. It is laser etched onto the ring with excellent detail.
This classic sterling silver ring will last for generations—an exquisite way to keep your beloved near to you always.
36. Dainty Cremation Ring
A delicate and classy ring to keep your loved one's cremated remains with you. This custom-made ring will honor the memory of your loved one for years. It's a sweet way to honor a beloved pet too.
37. Cremation Bracelet for Him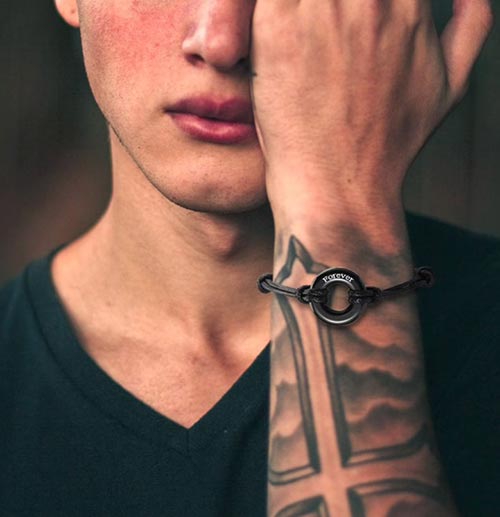 You can choose from two different colors, silver or black, for the primary color of your bracelet.
Honor your loved one or your sweet fur baby with this bracelet that is crafted from stainless steel. It is designed to appeal to men, and is made to last for years and years.
38. Cremation Bracelet for Her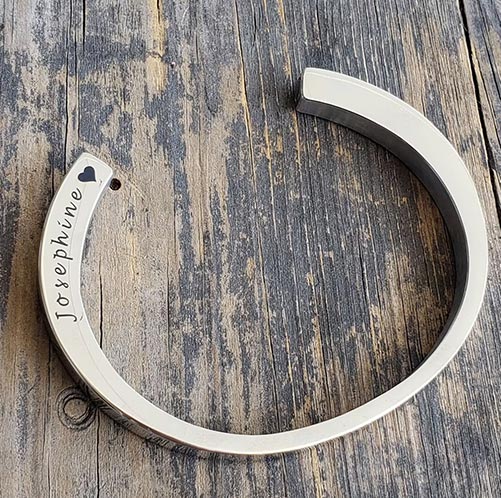 A beautiful hand-made stainless steel bracelet is made into an urn to hold a small amount of ashes. Have your loved one's name and dates engraved on your bracelet.
Keep their memory alive and honored every time you wear your beautiful piece of jewelry.
39. Cremation Beads
Here's a popular contemporary jewelry trend: Beautiful glass beads infused with your loved one's cremated remains. These can fit on a necklace or a charm bracelet, anklet, and more.
Each bead is hand-made, so no two will ever be the same. Unique, just like your loved one.
40. Victorian Mourning Jewelry
Victorian mourning jewelry was used as a tribute to remind the wearer about their love for the person they lost. With prevalent diseases such as scarlet fever and cholera, death was always close.
To Victorian-era people, mourning was more about memories than suffering; and their jewelry reflected those feelings.
Learn more: How to Honor Your Loved One with Victorian Mourning Jewelry
More Weird Things to Do with Ashes
Let's talk about some truly niche ideas.
41. Tattoo Ink
We came across several articles about this practice. Have a portion of the remains mixed with the tattoo ink before it is applied to your body. Reportedly there aren't any health concerns.
But you may want to run it by some professional tattoo artists first. Here are some memorial tattoo ideas.
42. Pen Ink & Journal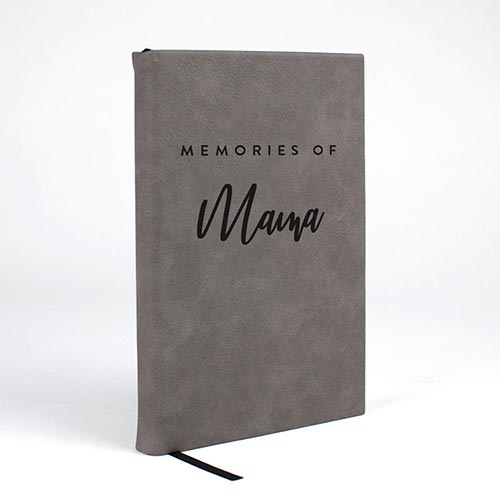 Mix some of the ashes into pen ink and write a memorial tribute to your loved one. All you need is:
Journaling is a great way to help process your grief. Here is an inspiring collection of grief journal prompts.
43. Stained Glass
There isn't much that can compare to the enduring beauty of stained glass. This shop will have your ashes mixed into a stained glass window.
Have a unique piece commissioned and displayed on the wall or in a prominent window in your home.
44. Put Into Bullets
For the hunter or gun enthusiast, there's no more meaningful sendoff than your family gathered together for a day of target practice to celebrate your memory.
Let's face it – You know who you are. This is how you want to be remembered, isn't it?
Your body may be gone, but you don't have to miss next year's hunting trip. Holy Smoke can have your remains put into shotgun, rifle, or pistol ammo.
Related: 20 Best Hunting Urns (Elk, Deer, Bear, & More)
45. Scattering While Skydiving or Parasailing
Did you know you can scatter your loved one's cremated remains while you are skydiving or parasailing?
With skydiving, you will open your parachute and descend while scattering the cremated remains on the way.
While parasailing, you will need to follow the "three nautical miles off of the coastline" rule.
46. Scattering from a Hot Air Balloon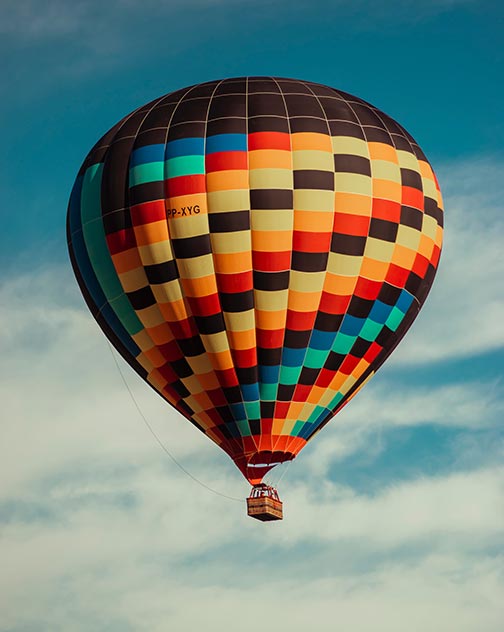 Many private and commercial companies provide this service. Aerial scattering is a dignified way to say a final farewell to your loved one.
You can release the cremated remains yourself or let the hot air balloon crew release them for you.
47. Made into a Creepy 3D Printed Bust
For me, this was the oddest of them all. Have your likeness formed into a 3-dimensional bust urn.
This urn will not only hold your remains, but it will also keep a watchful eye on everybody in the room.
48. Sent Out to Sea in this Biodegradable Turtle Urn
The Biodegradable Paper Turtle Water Burial Urn is an environmentally friendly way to say a final goodbye to your loved one. The scattering urn is constructed from recycled paper using non-toxic glue.
The biodegradable urn is an ideal memorial to one who loved the water, turtles, and the ocean.
49. In Wine
When Tool frontman Maynard James Keenan's mother passed away in 2003, he wanted to help her travel the world.
She had been paralyzed since 1975, so Keenan came up with an original plan to scatter her ashes across his vineyard, Caduceus Cellars, and name a wine in her honor.
With every bottle shipped out, he says, "she gets to travel the world now."
Related: How to [Safely] Travel with Cremated Remains
50. In a Frisbee
The creator of the Frisbee, Walter Morrison, had requested that his remains be mixed into a batch of genuine Frisbees distributed amongst his close friends and relatives.
So, if you can figure out how to do that, I guess that's an option! The main idea is that you can incorporate ashes into many sorts of materials, so if there is a product you can make, think about using that.
51. In a Pringles Can
While we are on the subject of last wishes for innovators, the creator of the Pringles can have his ashes interred… in a Pringles can.
His family decided to use the Original Flavor.
52. Glass Paperweight
We've posted several other options for infusing your cremated remains in glass. Paperweights seem like they could be a fun idea, though it does make one wonder how many of these end up in garage sales. Eeek.
53. Ask Keith Richards
Keith has been quite open about his years of wild living as a salty old rock'n roller and guitarist to the famed Rolling Stones.
He told the British music magazine NME in April of '07 that he snorted a line of his father's ashes through his nose… a statement that his manager later discounted as a joke.
But who knows?
More Beautiful & Unique Cremation Urns
There is endless inspiration for things to do with ashes involving cremation urns. Here are some more great ideas.
54. Soaring Eagle Wood Inlay Urn for Ashes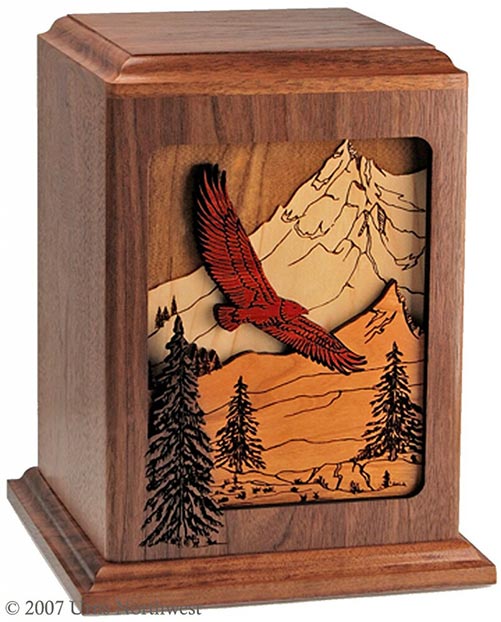 Our Soaring Eagle urn is a great way to honor your loved one who was a nature lover. The eagle is flying over forested mountains in splendor.
Choose from oak or walnut. Suitable to engrave on the sides or top. A simply beautiful urn that makes a touching tribute
55. Minimalist Jar Pet Urn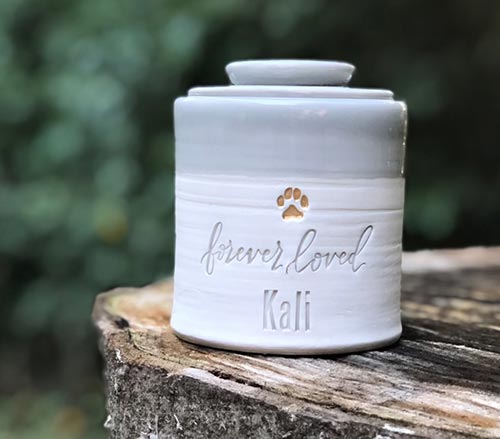 A custom cremation urn to honor your beloved pet. It is hand-made from pottery and will hold up to 5 cubic inches; this equals 5 pounds of pre-cremation body weight, so it is ideal for a small keepsake portion of ashes.
Learn more about urn sizes and the amount of cremated remains here.
56. Shell Ocean Scattering Urn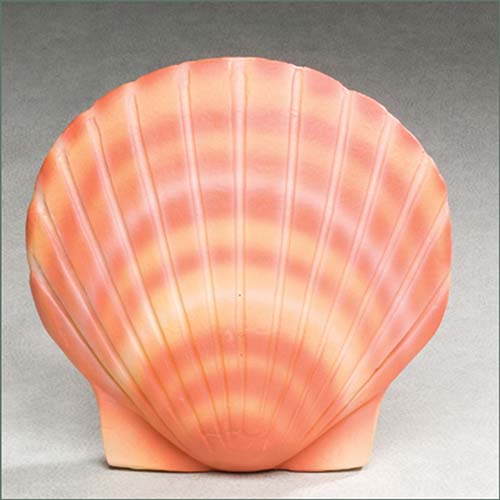 The Biodegradable Shell Ocean Scattering Urn is hand-crafted from eco-friendly materials. It is specifically designed for water scattering.
Place the urn in water, and it will dissolve quickly – gently releasing your loved one's cremains into the sea. It's the perfect goodbye for anyone who loves the ocean.
57. Wings of Hope Butterfly Urn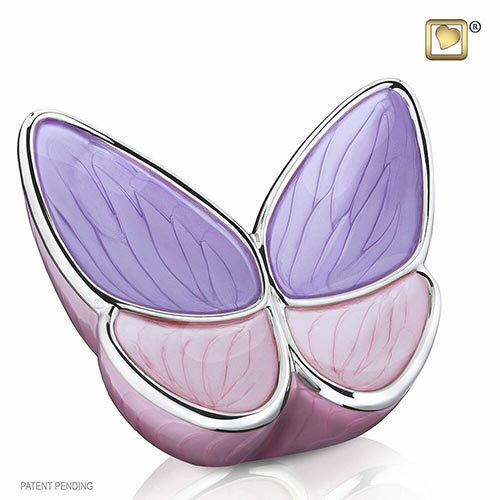 The butterfly represents transformation and new life, a very touching way to symbolize the passing of a loved one. This gorgeous urn captures that idea brilliantly.
You can choose from a full-size adult urn to a bracelet bead. Any of them will keep your loved one's cremated remains safe and sound for years to come.
58. Wood Urns Made from Whiskey Barrels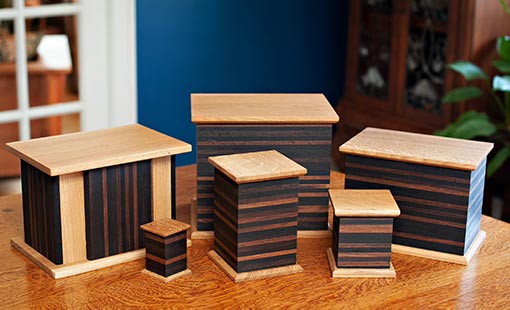 One-of-a-kind urns made from wine and whiskey barrels. You can choose from numerous styles and sizes to keep your loved one's cremated remains safe.
A thoughtful tribute to your wine or whiskey connoisseur. The reclaimed wood is colored by the grapes and grain they helped to flavor.
An urn that deserves to be displayed in a place of honor.
59. Engraved Photo Urn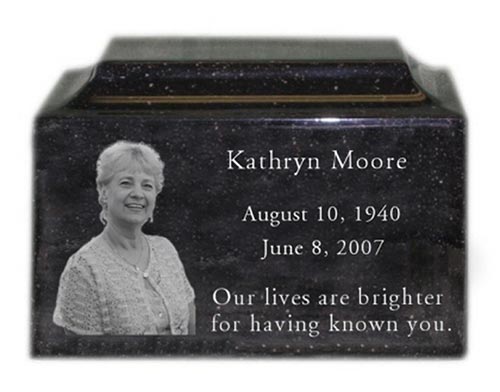 A highly personalized laser engraved urn is made from the best quality polished black cultured granite. You can have a photo and engraving of your choice on the front of the urn.
Black granite is dignified and classy – just like your loved one! This urn will fit into any décor. You can also bury it, place it in a niche or mausoleum.
60. Hand Turned Wood Urns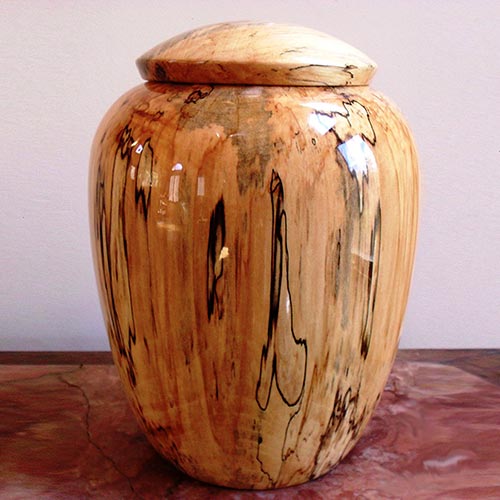 Our hand-turned wood urns are simply stunning. Each maple wood urn is unique and crafted from a single piece of wood from start to finish by a skilled artist.
Display this urn proudly in any room of your home. It urn comes in three sizes: keepsake (small), standard, and companion (for two people).
61. Rock Urn for the Garden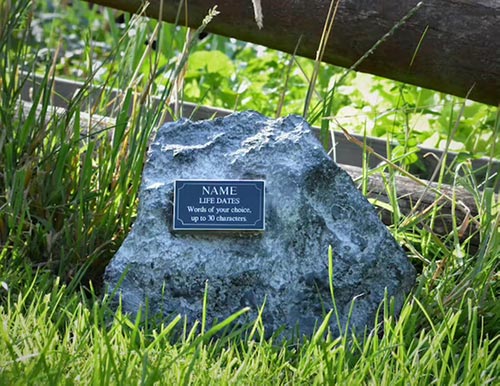 These handcrafted rock and resin urns are designed to be displayed in a yard or garden. The urns are crafted to look like granite rock with a black and grey finish.
Your loved one's cremated remains are kept securely inside, safe from the environment forever.
62. Raku Ceramic Dragonfly Urn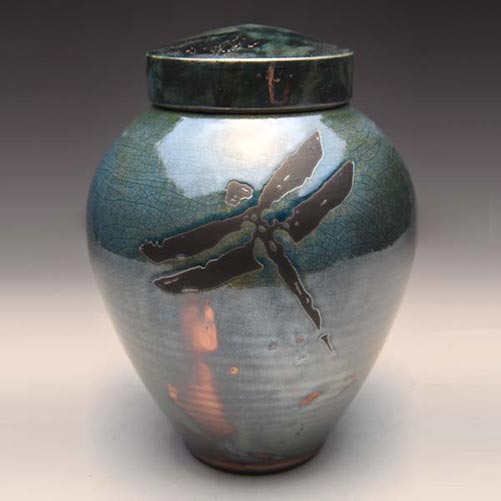 Simple yet elegant, our Raku Dragonfly Urn is a gorgeous way to keep your loved one's cremains protected.
Place some favorite photos and mementos with the urn, and you can make a wonderful display, making the raku urn the centerpiece.
63. Hummingbird Wood Inlay Art Urn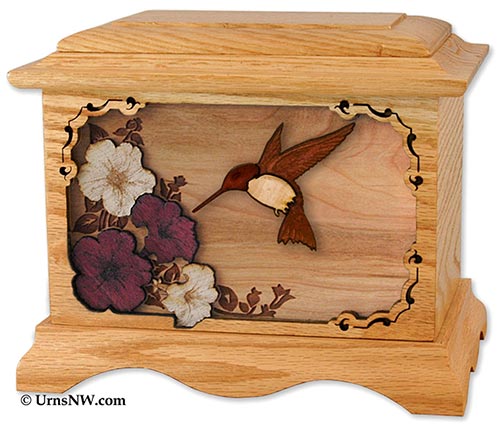 The Ambassador Hummingbird Cremation Urn is perfect for the bird lover. The wood-carved scene is laser cut and etched using naturally colored hardwoods.
The hummingbird urn is made with your choice of solid oak, dark walnut, mahogany, or white maple. You can add your loved one's name and dates. This urn is perfect for placing in a niche, burying, or display at home.
64. Carved Wooden Pillar Urn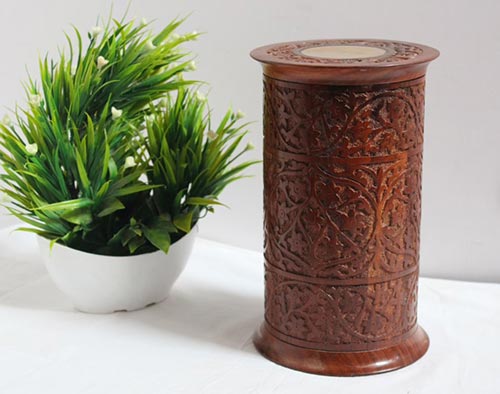 Each urn is hand-carved from Indian Rosewood. The brass plate on top is ideal for your loved one's name and dates.
You can proudly display this urn in almost any décor or any room in your home. Because each urn is hand-carved, no two will be alike – the urn will be as individual as your loved one.
65. Motorcycle Engine Bust Urn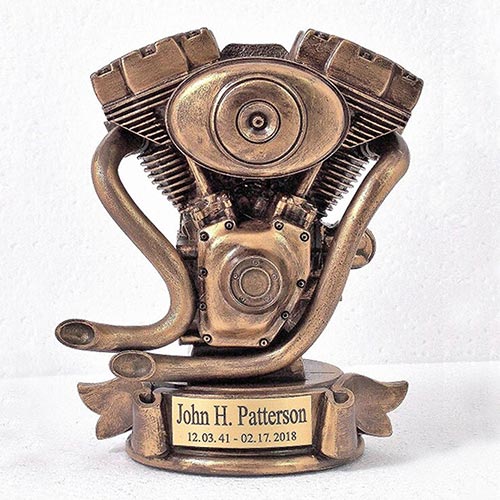 The keepsake motorcycle engine is a must-have for any motorcycle lover. Have your beloved's name and dates engraved on the brass plaque.
Display your keepsake at home or at the office. This is a sweet way to memorialize your loved one. As bikers will say, "Don't fear dying, fear not living… Let's ride!"
66. Sunset Dock Metal Urn
The Sunset Dock urn is designed to provide a final resting place for your loved one, and also serve as a beautiful work of art.
Each urn is constructed of100% brass, and hand engraved for detail. A touching tribute to a beloved soul.
67. Personalized Memory Box Urn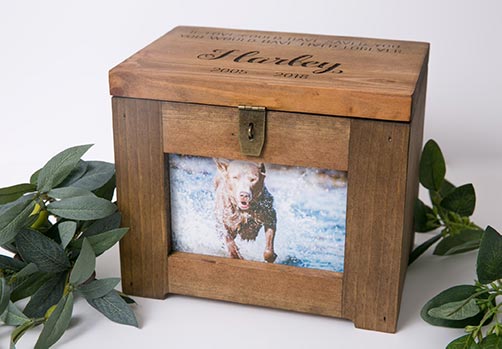 Each urn is hand-crafted from your choice of wood: pine, walnut, mahogany, cherry, or cedar. Hand-rubbed with mineral oil for a beautiful finish.
It's not easy to lose a beloved pet but each memory box can hold cremated remains and keepsakes. The top of the lid is engraved with a name, a special quote or short poem, and years of life.
68. Love Heart Memorial Plaque Urn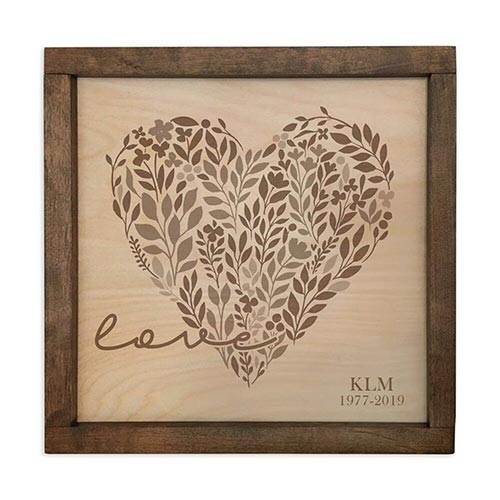 The wooden urn and memorial plaque presents a truly tender way to honor your loved one's memory.
Our memorial plaque urns allow you to create a decorative display that discreetly honors your loved one in a meaningful way – few would guess that the plaque also serves as a cremation urn.
Your loved one's cremains are kept securely in this 170 cubic inch urn.
Is it bad to keep human ashes in the home?
No, it is not bad. It is an honor to keep someone's cremated remains at home.
What do you do if you don't want the ashes?
You can bury, scatter, or give them to another family member.
What can you do with leftover human ashes?
Having leftover cremated ashes is rare, but it can happen. This could be because you divided the remains among family members, or perhaps this was a rare occasion where the ashes didn't fit into the urn. Whatever the cause, what do you do when you have a small amount of the ashes left?
You can get a small keepsake-sized cremation urn to hold the remains, which you can then keep or bury. Consider scattering the ashes at a meaningful location, ideally on your own private property. Use one of the creative ideas above, one of which will be that perfect way to honor your beloved's memory.
What are the laws about scattering ashes? Can we scatter anywhere?
Cremated remains can be scattered at both private and public beaches and oceans. But, please remember, state laws may vary regarding scattering. In the case of scattering cremains over water, federal law may take precedence over state law.
It is best to ensure all local, state, and federal laws before you scatter your loved one's cremated remains.
How do you dispose of a used cremation urn?
If the used urn is something you don't need or want, don't feel obligated to keep it.
You can respectfully wrap the urn in a cloth, place it into a plastic bag, tape it up, and respectfully place it in the trash.
Related: 25 Weird Questions That People Always Ask About Cremation
Raise a Glass in Memory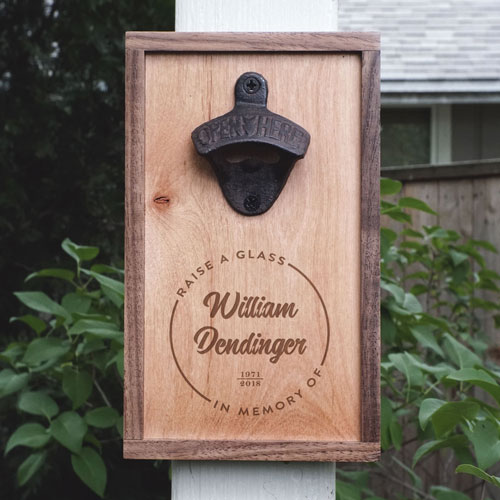 Ok, so this isn't an urn, but everyone loves it as a memorial tribute to a loved one. Send it as a sympathy gift or to remind you that every time you open a beer, you can raise your glass in memory of your dearest departed.
Made in the USA and includes personalization. Get yours here.
With all of these wonderful ideas for cremated remains, you are sure to find the perfect urn or idea to suit your needs.
Read next: 35 Ways to Remember a Loved One Who Has Died.