Today we're going to take a look at the best memorial websites where you can create an online memorial for your loved one – for free.
Memorial websites are very helpful because they provide a space for everything relating to your loved one's memorial. You can post the obituary, funeral information, and photos. With some sites, you can even accept donations, create a timeline of your loved one's life, and allow others to comment with stories, memories, and condolences.
While you can always share your own tributes and the funeral announcement and more on your social media pages, memorial websites allow you to keep everything in one space that is dedicated to your loved one.
Here are the best ways to do this for free.
10 Best Free Memorial Websites
Our website is supported by our users. We sometimes earn a commission when you click through the affiliate links on our website. See our privacy policy & disclosures for more information.
1. Ever Loved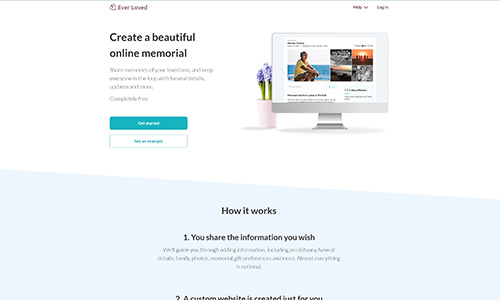 Ever Loved is our favorite free memorial website platform. It looks great, has all the features you need (including free fundraising), and is extremely easy to use.
Features:
Create a full tribute site with multiple pages, for free
Photo gallery
Space to post the obituary
Life timeline
Post details for funeral events
List multiple events with RSVP options
Set up a memorial fundraiser in lieu of flowers
Visitors can:
RSVP to one or more services/events
Express condolences
Share memories, stories, photos, and videos
Subscribe to updates
Print obituary
Send flowers
Contribute to funeral costs or support a meaningful cause
Simply put, Ever Loved is far superior to the other options on this list, and is our #1 choice for free online memorial websites.
2. Murial
Murial offers a sleek, elegant, and minimalist design that keeps the focus on remembering your loved one by telling their story.
Free features:
Customizable theme colors
Upload up to 5 photos
Memorial wall
Privacy controls to share publicly or privately
Lasts forever
Visitors can:
Post on memorial wall to share stories and tributes
Comment on other tributes
Easily "like" and share via social media
3. Forever Missed
Forever Missed is simple and easy to use. The basic plan, which is free, comes with the basic features you need from a memorial website. Optional upgrades provide more features like unlimited photos and videos and additional admins.
Free features:
Choice of several themes
Photo gallery of up to 5 photos
Share memories
Post obituary
Choose whether all visitors or only you can post
Visitors can:
Light virtual candles
Post comments
Share memories
4. GatheringUs
The focus of GatheringUs is event coordination. They'll help you put together an amazing virtual funeral service. That's their premium service, but their free offering is great too: An attractive, easy-to-use memorial page for your loved one.
Free features:
Post obituary

Email invites
Raise funds for the family or a nonprofit charity
Share event updates
Visitors can:
Share photos and videos
Post memories and tributes
Donate "in lieu of flowers"
5. InMemori
InMemori offers an attractive, modern look with easy-to-use features.
Free features:
No advertisements
Secure access links that cannot be found on search engines
Create a physical memory book from online tributes
Visitors can:
Share memories and stories
Donate flowers to a cause
6. Keeper
Keeper provides the platform for you to create a free online memorial to honor a loved one. Create a free memorial site in four easy steps, which makes the process super simple.
Free features:
Up to five images
Guestbook for friends & family to post tribute
Geotags for cemetery locations
Map out their family tree
Option to keep it private or make it public
Customizable themes
Memorial donations
7. We Remember
We Remember is the memorial website platform from Ancestry.com. The options are limited, but that makes it all the more simple, and keeps the focus on memorializing your loved one.
Free features:
Visitors can share memories, photos, and videos
Scrapbook-style online memory book
Connects with Find a Grave via widget
Easily remove and block offensive content
Lasts forever unless deleted by moderator
Public and private viewability options
8. Cake
Cake is a website that has tons of funeral resources, and now they offer a free memorial page for your loved one.
Free features:
Simple, easy platform for those that don't want anything complicated
Add donation options
Visitors can keep in loop about the funeral and other event details
Provides a place to share condolences, stories, and photos
9. My Farewelling
My Farewelling is a newer entry, with simple and elegant features and multiple themes from which to choose. However, their free sites are only free for a few days, then you'll need to upgrade to continue using it (and gain access to more features).
Free features:
Drag and drop photo gallery
Friends can post photos and tributes
Ability to download photos that others have shared
Donate to a charity of your choice
Virtual event links
Free for a short period of time (up to a week)
10. Never Gone
Never Gone has a bit of an older look, but they offer all the options with a promise to remain 100% forever free.
Free features:
Unlimited content uploads (photos & videos)
Add music from their large library
Mark memorial as "Honorary" for military, police, and firefighters
Create a "book of their life" that features different chapters in their life
Share service details
Visitors can:
Sign guest book
Add themselves as family or friend
Subscribe to updates
Post tributes and share memories
How to Create a Free Online Memorial
1. Memorialize their social media profiles
You can "Memorialize" many social media accounts, for instance a person's Facebook profile.
Take the platform they used most and follow the platform's instructions on how to memorialize the account. Once that is done, depending on the original account settings, friends and family may be able to post goodbye messages and tributes to their wall.
2. Create a memorial website
We've listed some of the best options above. Choose one, follow the instructions, and you'll be up and running in no time.
For each of the free memorial websites above, the process is very simple. Create an account, fill out some personal information, then add the details you want to share about your loved one's life, legacy, and funeral information.
The exception would be a website builder like Wix, Weebly, or Wordpress.com. These are also very easy to use, but will take a little more work to set it up yourself specifically for a memorial. However, the advantage of that option is that it is far more customizable than the other platforms while still remaining free.
3. Create a new social media tribute profile
If your loved one wasn't on social media, or you don't have access to their account, you can easily create a new account in their honor.
Use the new tribute profile to post information about their funeral, collect and share photos and memories, and much more.
Online Obituaries: Post & Search
There are many ways to publish the obituary online. Most options come at a cost, but there are ways to do it for free.
You can post the obituary on social media and on any memorial website that you set up at zero cost.
Most funeral homes include obituaries in their funeral packages, and have access to large online databases or at the very least publish the obituary on their own website. So if you are paying for a funeral home's services, check to see if the obituary is included.
If you've published the obituary in a newspaper, in many cases you can link the obituary to the large online database, Legacy.com. This will allow your loved one's obituary to be seen and accessed by the world.
At the same time, if you want to make sure that the obituary appears when someone searches for it online, a newspaper and Legacy.com is probably the best choice. Many of the free online websites and funeral home sites will show up on search engines as well, so that when people Google your loved one's name + "obituary" they should be able to find it.
To make sure others see the obituary in the future, we do not recommend a social media post alone. The visibility of any social media post will depend on privacy settings, which may change over time. Choosing the right free memorial website is probably the best way to maintain the obituary's viewability at a very low cost.
Read next: 100 Inspirational Celebration of Life Ideas
Pin It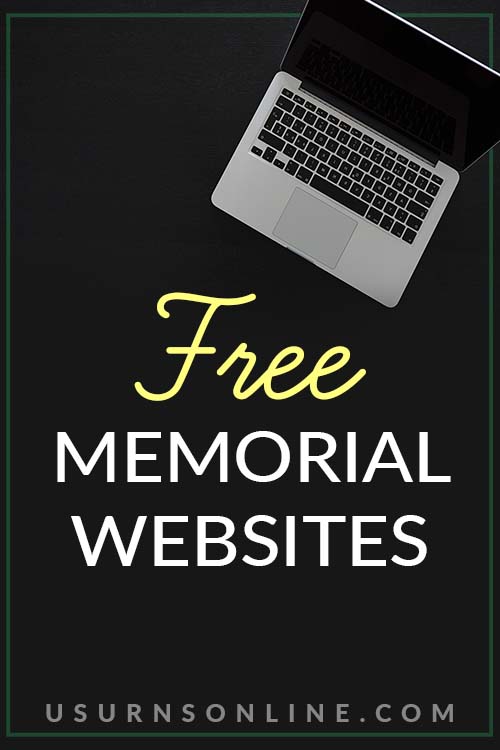 Daniel has been working in the funeral industry since 2010, speaking directly to grieving families as they made funeral arrangements.
He began researching and publishing funeral articles on this website as part of his role as product and marketing manager at Urns Northwest.
Having written hundreds of articles and growing the site to multiple millions of views per year, Daniel continues to write while providing editorial oversight for US Urns Online's content team.