Urns for human ashes are designed to hold the cremated remains of an individual adult.
But it's more than a cremation box that holds a plastic bag of ashes… It's a memorial, a tribute, a final resting place; it's a beautiful way to celebrate the memory of a beloved family member.
There are so many options out there, so we're here to help you find the right cremation urn for your loved one.
Our website is supported by our users. We sometimes earn a commission when you click through the affiliate links on our website. See our privacy policy & disclosures for more information.
24 Beautiful Urns for Human Ashes
The first question you need to address is choosing the right size of urn.
The standard adult size cremation urn is 200 cubic inches, and will hold the ashes of a person who weighed up to about 200 lbs or so. A simple rule of thumb is that one pound of body weight will equal about one cubic inch of cremated remains.
All of the cremation keepsakes below are considered standard adult urns for human ashes, meaning they have a capacity of about 200 cubic inches and will hold the remains of the average adult.
Some are also available in smaller keepsake sizes and/or larger "companion" sizes for two people. To learn more about urn sizes, see the end of this list.
More information about urn sizes and capacities here: What Size Urn Should I Get?
So here are 24 beautiful cremation urns for humans.
Lighthouse Cremation Urn with Wood Inlay Art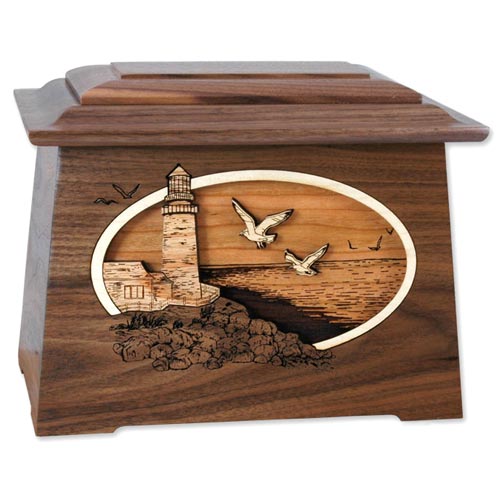 This wooden urn is made in a small Oregon woodshop, intricately crafted with wood inlays in natural colors and engraved for detail.
The scene, framed by a swirling maple wood oval, depicts an iconic waterfront image of a lighthouse overlooking the rocky shoals. Gulls swoop in the foreground and the background.
Using cherry, alder, and maple woods, this beautiful urn honors someone who loved the sea. Available in a walnut wood urn box, as shown, as well as maple, oak, or mahogany. It's the best urn for lighthouse lovers.
Handcrafted Dragonfly Ceramic Urn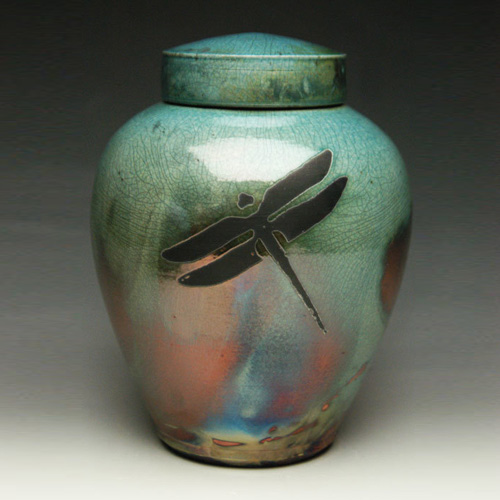 This beautifully handcrafted ceramic urn is thrown and fired in the traditional Raku style, which creates the metallic swirls of copper, blue, and even silver surrounding the earthy aqua colored surface.
Many designs and themes are available, but the Dragonfly you see here has proven to be one of the most popular.
In addition to the standard adult size pictured here, this cremation urn for humans also comes in smaller sizes as well as a double companion urn size.
Designer Cherry Urn with Sculpture Art Carving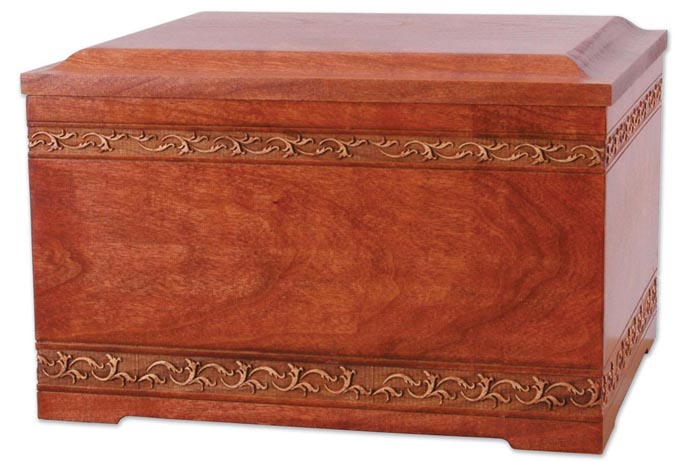 The Cherry Wood Urn with Sculpture Art Carving presents refined simplicity and premium woodworking. A beautifully crafted cherry wood box with a rich cherry stain, this urn is accented with a gorgeous laser carved design which wraps the entire piece.
This design is available four ways:
Hand Blown Glass Urns for Ashes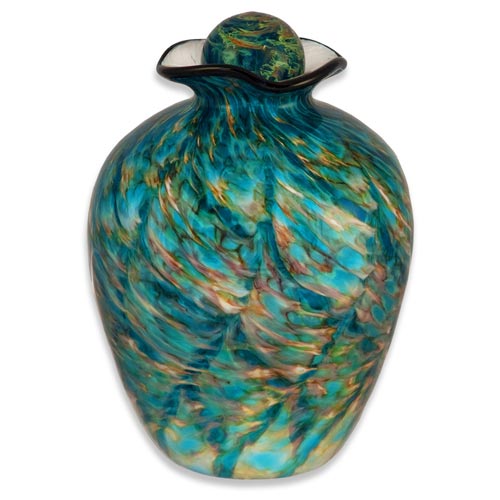 What could be more elegant, timeless, and sophisticated than a stunning hand-blown glass cremation urn? These glass urns are individually crafted and blown by artisans in Oregon.
Each piece is made to order and, though it will be very similar to the product photo, it will have unique patterns and swirls of color that will honor your loved one in a special way. If you're looking for pretty urns to honor your loved one, these are the premier choice.
Wood Turned Maple Urn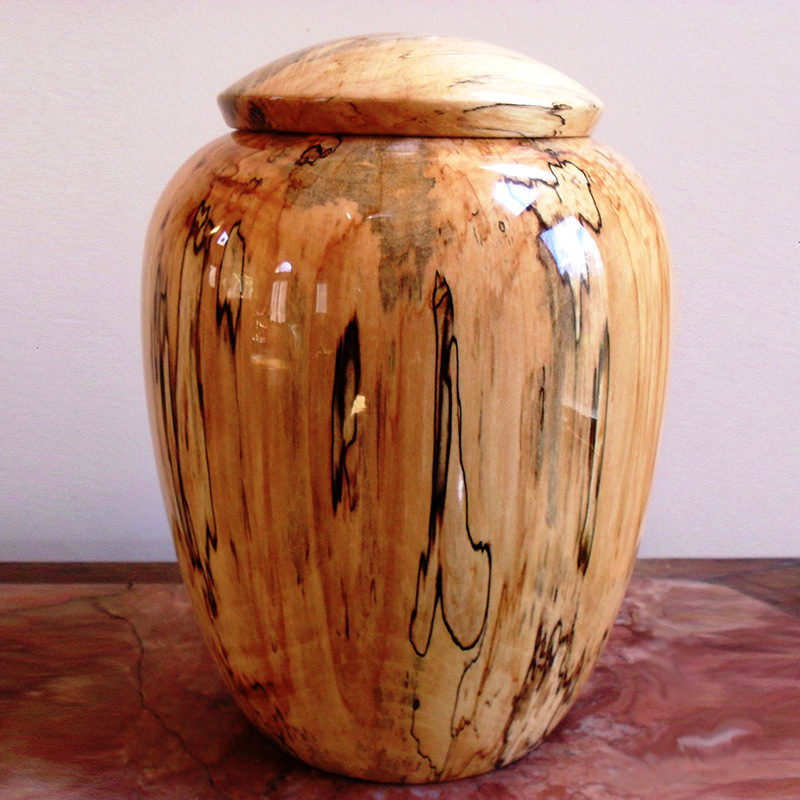 Individually crafted and hand turned by an artisan in the Carolinas, our Hand Turned Cremation Urns present a traditional design that has become a customer favorite in our collection of wood urns.
Proving to be very popular in the maple (as pictured above, also available in cherry wood), the Pure Hand Turned Wood Cremation Urn is the ideal combination showcasing the beauty of nature alongside skilled woodcraft.
This item is also made in Companion Urn size in both maple and cherry.
Personalized Wall Mounted Cremation Urn Plaques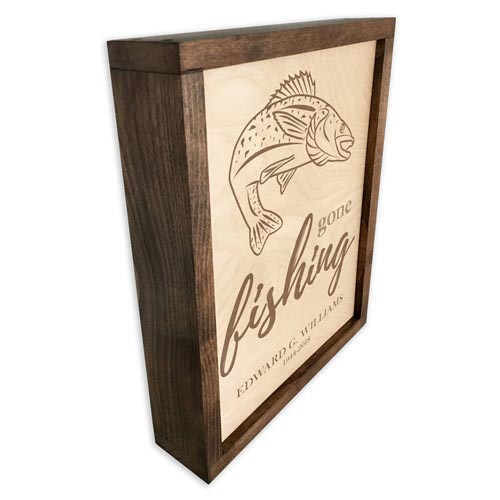 An Urns Northwest Original, these wall-mounted cremation urn plaques are handcrafted in the Pacific Northwest and personalized to order. Framed with a 3″ depth, these sturdy and beautiful urns hold the ashes of your loved one between the front and back panels.
You can display the urn on your wall as a memorial plaque, and no one need know it is actually a cremation urn – unless you tell them.
Many urn styles, sizes, and personalization options are available to celebrate the life and legacy of your loved one. We make these in standard adult (shown above) as well as a companion urn size.
Related: The 21 Best Fishing Urns for Ashes
Deer Cremation Urn with Wood Inlay Art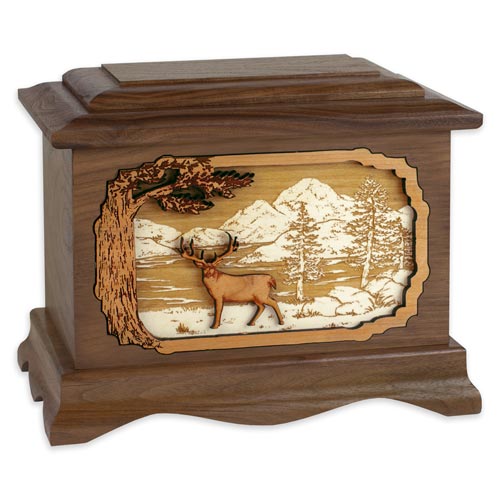 Here is another stunning wood inlay art cremation urn. This one, the Deer Wood Cremation Urn, is shown in walnut wood, with a 3-dimensional inlay scene framed in natural cherry over a background of maple.
The background is laser etched with a mountain, forest, and lake scene. In the foreground a noble buck pauses beneath the overhanging branches of a tree.
Related: 35 Weird Questions People Always Ask About Cremation
Cultured Granite Urn with Engraved Photo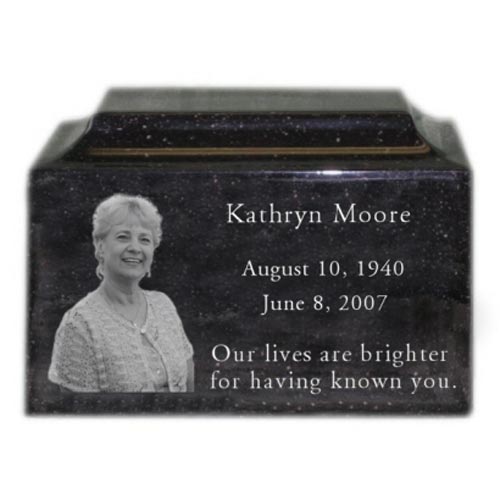 The cultured black granite cremation urn has a noble and timeless feel, and engraves in a beautifully contrasting white. The photo etching process will tenderly depict your loved one along with an inscription of their name, dates, and more.
Angel Memorial Stoneware Cremation Urn
This unique urn is made from resin stoneware in the style of the ancient Roman architecture and features a beautiful mourning angel. The inscription on the front of the urn reads, "It broke our hearts to lose you, but you did not go alone. For part of us went with you on the day God called you home."
Bicycle Road Home Wooden Cremation Urn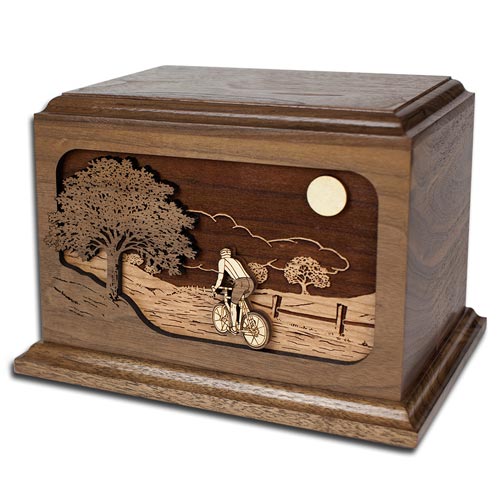 This bicycle cremation urn is the perfect tribute to a passionate cyclist. Made in the USA from solid walnut (shown) or oak wood. The bucolic country lane is a lovely setting for the cycling enthusiast's final ride.
Hand Turned Walnut Wood "Tranquility" Urn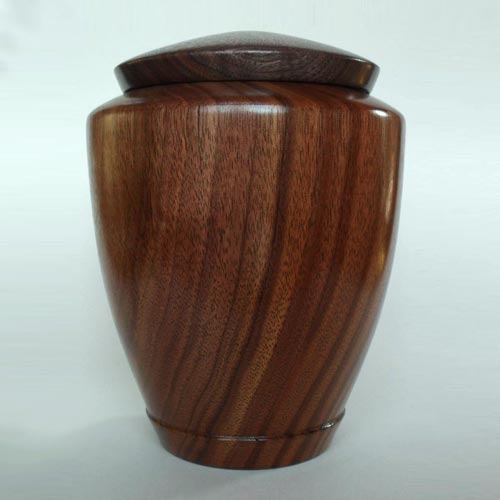 The Tranquility Urn is handcrafted from a solid block of walnut wood. The artist finds and salvages each piece from naturally fallen trees. This means that no trees were cut down to produce these memorials.
He then shapes and carves the block until it is hollowed out. Finally, the artist turns the urn on a lathe to finish it with incredible sophistication and beauty.
Boston II Wood Urn for Cremation Ashes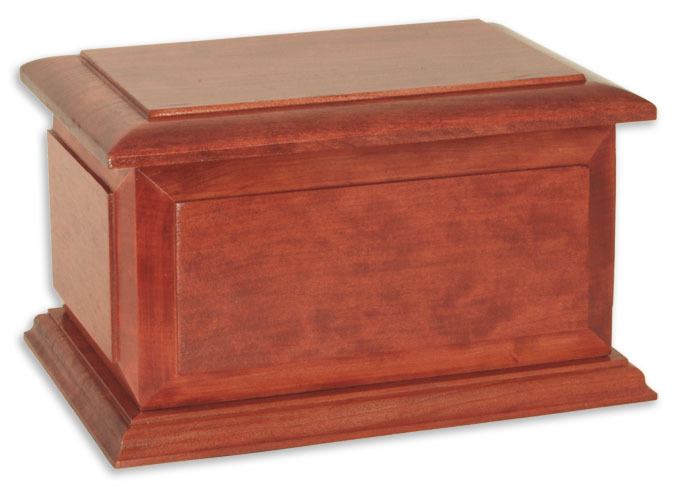 The Boston II Wood Cremation Urn is the epitome of a "classic" urn for ashes. The woodworked design is reminiscent of classical architecture from antiquity. This urn has proven history of approval with the many families who have selected this urn over the years. It is a top seller in both standard adult and companion urn sizes.
Wood options include Cherry, Walnut, Oak, and Mahogany.
Passages Ceramic Candlelight Cremation Urn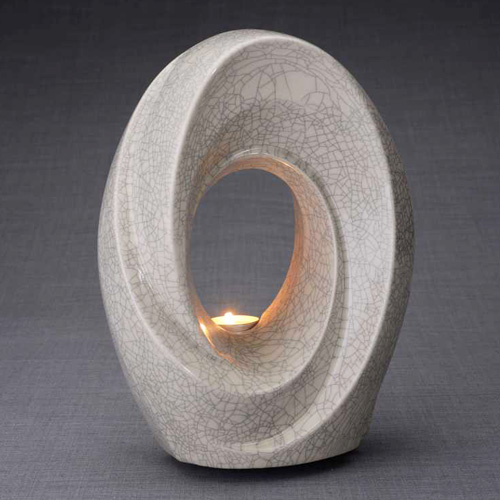 Contemporary sculpture art and memorial functionality meet together in perfect harmony with the Passages Ceramic Candlelight Urn.
The hollow interior of this beautiful urn holds up to 195 cubic inches of remains, yet the piece functions perfectly as a memorial candle and art piece that celebrates the life and beauty of your beloved. Shown here in "Craquelure" finish, this urn comes in your choice of six finishes.
Related: Best Tealight Cremation Urns
Wooden Military Cremation Urn with Inscription
This solid wood military cremation urn is made in the USA from your choice of genuine wood. Choose cherry (as shown), maple, mahogany, rosewood, or walnut. The urn also comes with the military service emblem representing your loved one's branch. You can personalize the urn with a custom laser engraved inscription carved into the surface of the wood urn.
Rustic Cabin 3D Inlay Cremation Urn
This is a memorial that belongs on a spacious fireplace mantle. Handcrafted in Oregon from real wood, the inlay art scene is made from several pieces of wood (maple, rosewood, alder, and more) to create a peaceful scene of a lakeside log cabin surrounded by nature's wonders. Available here.
Mother of Pearl Brass Cremation Urn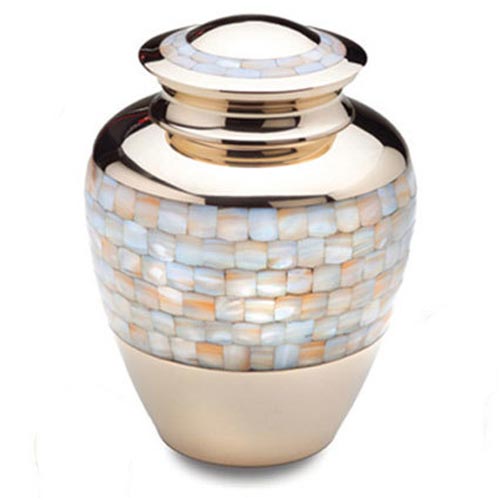 The Mother of Pearl Brass Cremation Urn features an inlay of tiny pieces of Mother of Pearl, which are cut and placed by hand, one at a time, with perfect alignment. The urn is cast using solid brass, and the exterior is protected by premium GlossCoat technology.
Biodegradable Journey Earthurn Eco-Friendly Water Burial Urn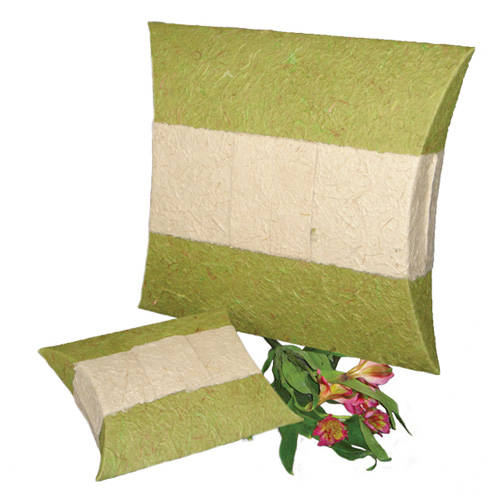 These eco-friendly and unique biodegradable urns for human ashes are designed to simplify a water disposition – a burial at sea of the cremated remains.
The Journey Earthurn is made by hand using biodegradable paper fabricated from the bark of mulberry trees. When placed into the water, it will float for a few minutes and then gradually sink. As water penetrates the urn, it will biodegrade and slowly release your loved one's remains into the ocean.
Aromatic Cedar Urn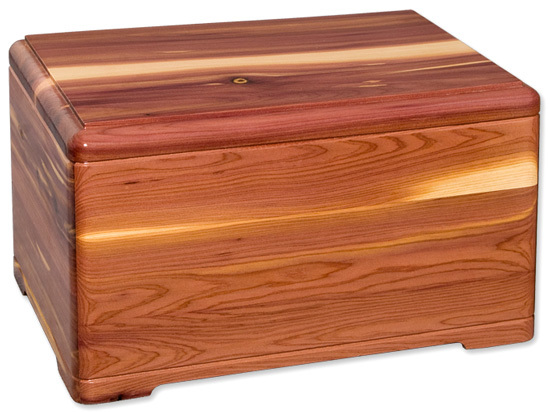 The Cedar Wood Cremation Urn is made in the USA with aromatic Eastern Tennessee cedar.
The rich textures and patterns of the wood grain, the elegance and classic simplicity of the box shape, and the subtle yet enduring aroma of cedar wood make this memorial urn a premium choice.
Metal Cremation Urn with Beach Breeze Scene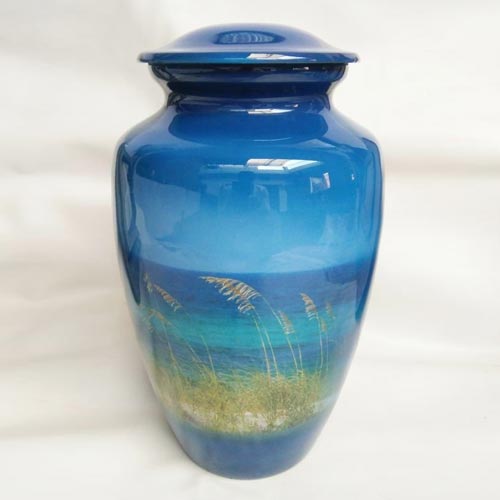 The manufacturer coats this elegant metal urn with a breezy beach image. The photo looks into the glorious waters of the Gulf of Mexico, with a original photo taken along the Florida Panhandle. It's the perfect urn for the one who treasured beach time with friends and family.
Rustic Copper & Oak Urn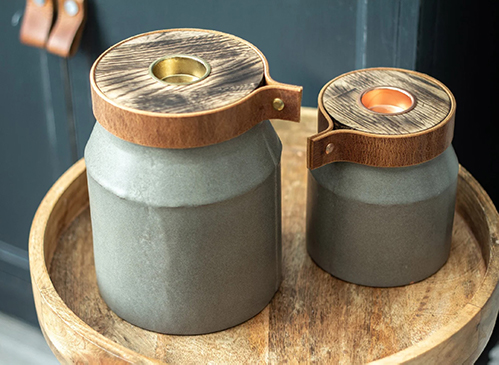 These urns are so unique and stunning. A wonderfully modern alternative to the standard urn, each piece is meticulously crafted from grey stoneware, hand burned oak, vintage leather, and a one-of-a-kind glazed finish.
Perfect to compliment a modern or industrial interior, the oaken lid is also fitted to accommodate a tea light. You can have the leather strap custom engraved, as well! These are just too pretty for words.
Hawaiian Koa Wood Cremation Urn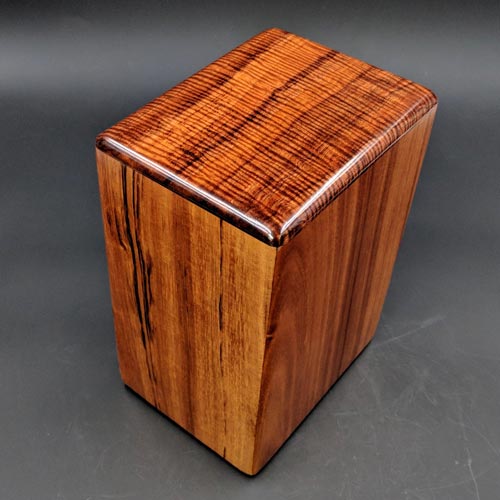 This stunning handcrafted cremation urn is made in Hawaii from native Koa wood. The wood, according to the manufacturer,
…was collected from Koa trees that were blown over during high winds on the slopes of Mauna Kea on the Big Island of Hawaii. Koa wood is endemic to the Hawaiian Islands and does not grow in large harvest-able groves anywhere in the world. Koa is the second most prolific endemic tree growing in the State of Hawaii and even though it is in short supply and very expensive it is not on the Endangered Species List. Harvesting of Koa trees is now limited to trees that have been knocked down by natural causes and subject to government regulations. Thousands of Koa seedlings are planted yearly now to supplement natural propagation of the species.
Simple, affordable, and elegant, these are ideal cremation containers for humans.
Mediterranean Blue Urn in Brass
This affordable cremation urn is simple, classy, bright, and above all, blue. Handmade from enameled brass and polished until it shines, the urn includes an elegant velvet bag to store and protect your memorial urn.
Crystal Keepsake Urns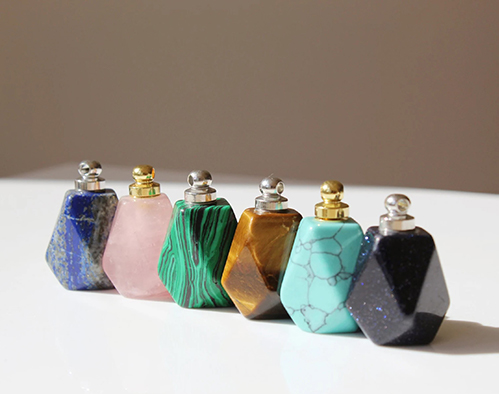 Choose from one of eighteen gorgeous, natural gemstones for these small, keepsake urns. You can keep them with you, place them in a memorial terrarium, add it to a necklace… there are so many meaningful options with these.
Get one just for yourself, or maybe buy one for each of the close family members. They will be cherished.
Cardinal Inlay Urn for Ashes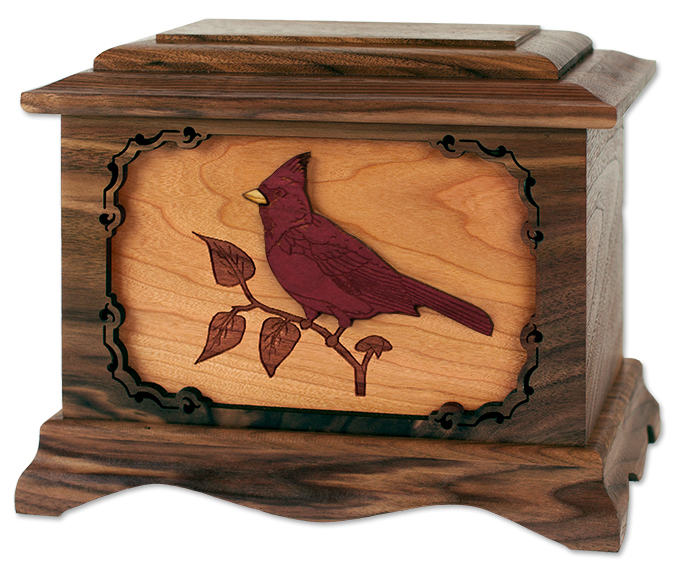 The Rosewood cardinal bird rests on a laser etched leafy branch, standing out from the background of natural cherry wood. Shown in Walnut, but also available in Oak, Maple, or Mahogany, the Cardinal Dimensional Inlay Art Urn is a newer addition to our longstanding line of 3-dimensional inlay art urns.
Also available in a simpler maple wood box with a traditional inlay. This second style (available here) is also very popular, narrowly missing this list.
American Flag and Eagle Wood Cremation Urn
The American Flag and Eagle Wood Cremation Urn presents a stunning solid wood memorial with a 3-dimensional applique made of resin. The applique features a background of the red, white, and blue American flag, with a bald eagle sweeping across the foreground. Includes custom engraving on name plate as well.
Patterned Mango Wood Urn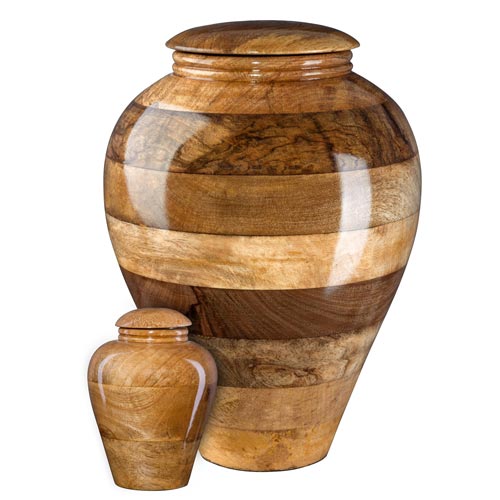 Made with rings of mango wood turned on a lathe and polished smooth to the touch, this elegant wooden cremation urn is a fitting tribute to someone special.
Simple & Affordable Rosewood Urn with Carvings
This is a highly affordable wooden urn. Due to the small size, many customers purchase it as a pet urn but it also comes in a "standard" size for use as a cremation urn for human remains.
While the quality of this import cannot compare to our wood urns for ashes made in the USA, the price is simply too low to ignore. A lovely choice if you are on a budget.
Maple Wood Cremation Urn with Engraved Photo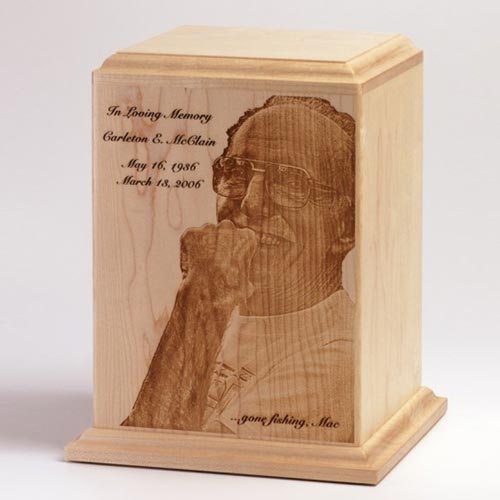 We make and personalize this gorgeous maple wood urn right here in the USA . The urn for ashes includes laser engraving of your loved one's picture on the front of the piece. A true heirloom, this solid wood memorial will endure while keeping the memory of your loved one alive in a very special way.
Sailing Home Wooden Inlay Urn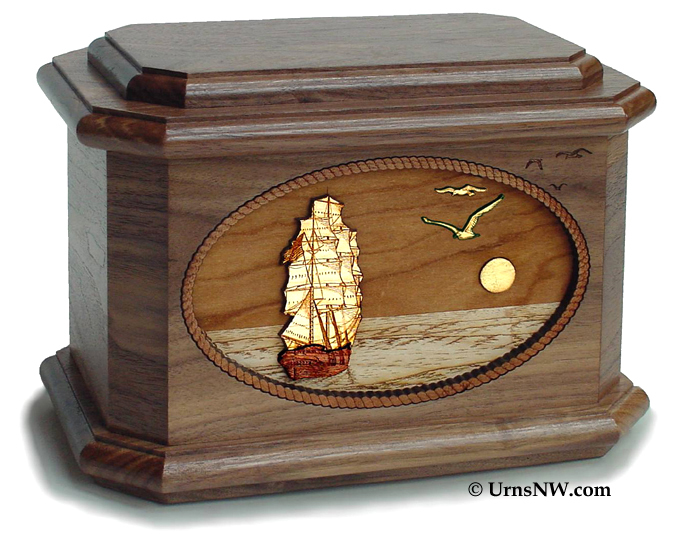 Sailing off into the sunset on an old-fashioned ship with sails unfurled, this is the perfect image to close out our list of enduringly classic wood memorial urns. The Sailing Ship Dimensional Inlay Art Urn is available in this elegant "Octagon" shape.
As with most of our 3D urns, we can make this one in Walnut wood (shown), Oak, Mahogany, or Maple.
We also offer a variation in "portrait" style orientation, a taller wooden urn which features a larger sailing ship inlay. Available here.
Materials for Cremation Urns
As you can see, urn for human ashes are made in a wide variety of materials.
The most popular are:
Other Sizes and Types of Urns for Cremation Ashes
Bigger Cremation Urns
You can find some large urns for ashes for adults with an above-average capacity. There are also many styles of companion urns. These urns hold 400 cubic inches, designed to hold the cremation ashes of two people (e.g. a husband and wife).
Smaller Cremation Urns
Smaller urns for ashes are either called "keepsakes," "pet urns," or "child urns."
The last two are fairly self-explanatory; pet urns are often designed with a smaller capacity to hold the remains of a dog (often 10-75 lbs, and thus the urn is typically 10-75 cubic inches) or a cat (8-20 lbs, 8-20 cubic inches). Child urns are for the sad need to hold the smaller amount of remains from a young person. Child urns can be found in a wide range of sizes but typically under 100 cubic inches.
The first term, "keepsakes," needs a little more explanation. When you see the word "keepsake," think of it as a funeral industry code word, inside baseball. It simply means that the urn is designed to hold a small amount of ashes, a "keepsake" portion of the total amount of remains.
So a keepsake urn can be a tiny necklace pendant that holds a pinch of ashes or a small box or vase that has room for a cup or handful of remains. The term "keepsake" is fairly consistently used throughout the industry. Bear that in mind as you shop around for cremation urns for a human: keepsake = small or partial.
Cremation Urns for Humans
Urns for human remains, then, come in three basic sizes.
Standard sized cremation urns are simply called "cremation urns," "funeral urns," or even just "urns." Somewhere in the product description you'll probably find something that says it is a standard adult urn, and/or that it has a capacity of about 200 cubic inches. Sometimes you'll find urns with 180 cubic inches all the way up to 250 cubic inches, but it will typically be around 200.
Double sized cremation urns will be called "companion urns" or "double urns." These are around 400 cubic inches and will be described as an urn that holds the remains of two people.
Small sized urns will usually be called "keepsake urns." Depending on the design or theme, you may find the exact same urn listed as a pet urn, a keepsake urn (for a partial amount of an adult human's remains), or a child urn. The actual capacity can vary widely depending on the shape, size, style, and design of the urn, but any small urns that are significantly less than 200 cubic inches will be described with one of those terms: small, pet, child, keepsake, mini, etc.
Where to Find Unique Urns for Human Ashes
An urn is not a product that you buy every day. So where do you go to find the perfect memorial for your loved one?
Urns Northwest. Gorgeous products with a focus on quality, originality, and personal customer service. I have worked for Urns Northwest for more than a decade, and can proudly testify that these are some of the best urns on the market, crafted and sold with integrity and we will always put the effort in to make sure it's delivered on time.
Funeral home. Your local funeral home will have a selection of urns onsite, and can order just about anything you might want. If you are looking for a traditional urn, they will probably have what you want. Often, their pricing is competitive with online retailers, but not always.
Online marketplaces. These include:
Amazon (ideal for inexpensive imported metal cremation urns)
Etsy (ideal for a commissioned, handmade urn)
Facebook Marketplace (to find local artists)
Read Next: 8 Things You Need to Know About Cremation Urns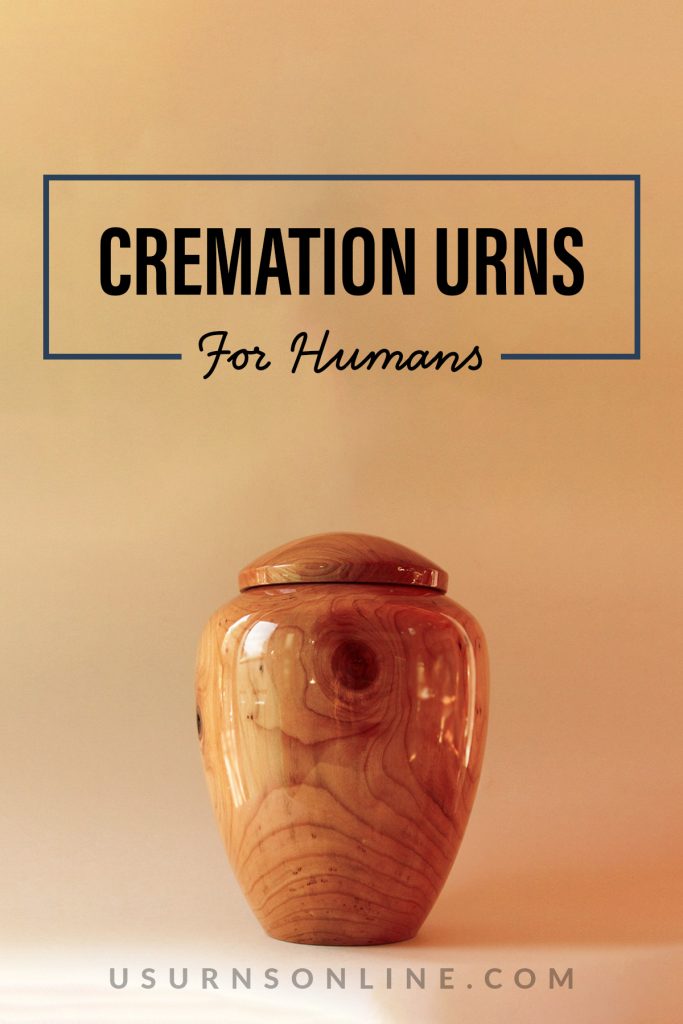 Daniel has been working in the funeral industry since 2010, speaking directly to grieving families as they made funeral arrangements.
He began researching and publishing funeral articles on this website as part of his role as product and marketing manager at Urns Northwest.
Having written hundreds of articles and growing the site to multiple millions of views per year, Daniel continues to write while providing editorial oversight for US Urns Online's content team.