The Autumn Leaves Walnut Wood Cremation Urn presents a lovely, earthy, homespun memorial to your loved one. This beautiful cremation urn is made in the USA from premium solid walnut wood and boasts a dark walnut stain and elegant "Autumn Leaves" carvings on the top of the piece.
Take a nice, close look at this walnut wood urn in the video below.
This urn is available here.
As with most wooden urns, the bottom opens to reveal the interior where the cremated remains are placed. This keeps the remains secured and tamper-free. Urn opening instructions and videos are available here.
We can laser engrave a personalized inscription into the wood surface. With the Autumn Leaves design, a traditional brief 3-line inscription of "In Loving Memory" plus name and dates looks exceptional on the top of the urn between the leafy frame. Carved into the wood, this type of inscription is superior to a name plate because it is permanently etched into the urn itself, ensuring that the remains will forever be properly identified.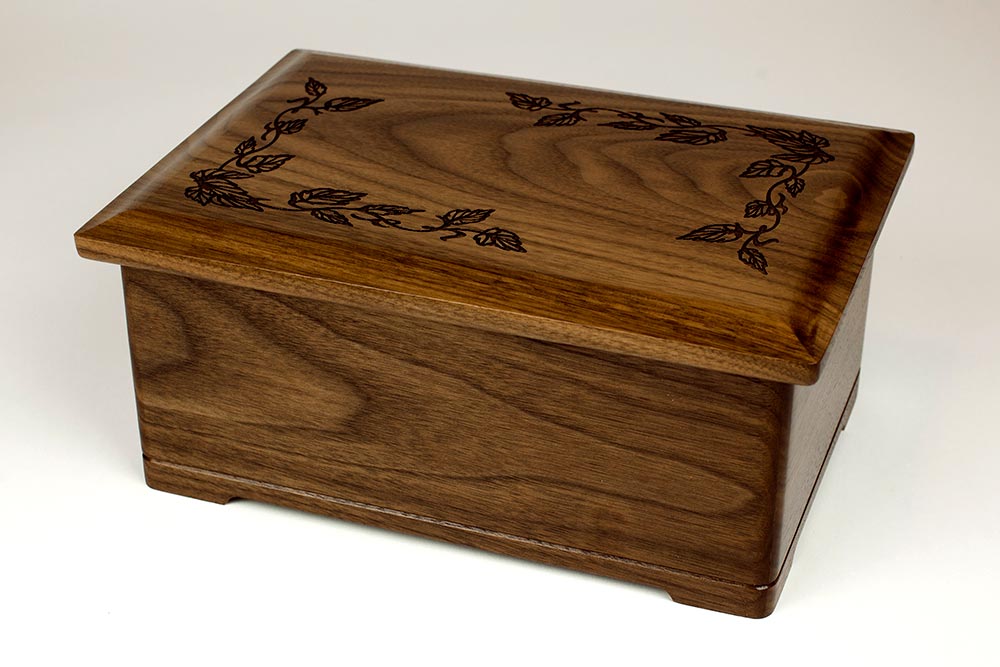 This urn is available here.
The rich chocolate and espresso tones of the walnut woodgrain a revealed in the expert craftsmanship of this urn. Small details like the beveled top with overhanging edge, a simple decorative line wrapping the bottom of the piece, and cutouts that turn the corners of the memorial into "feet" add sophisticated touches and enhance the natural beauty of the wood product.
Here are some additional details on the Autumn Leaves Walnut Wood Cremation Urn:
Crafted to order in an Oregon woodshop within 1-3 business days
Made with real, genuine Walnut wood, also available in Cherry
Exterior urn dimensions: 11-3/4″ wide, 8″ deep, and 5-1/8″ tall
Interior capacity: 210 cubic inches
We're sure that you will treasure this memorial urn for its elegance, craftsmanship, and natural beauty.