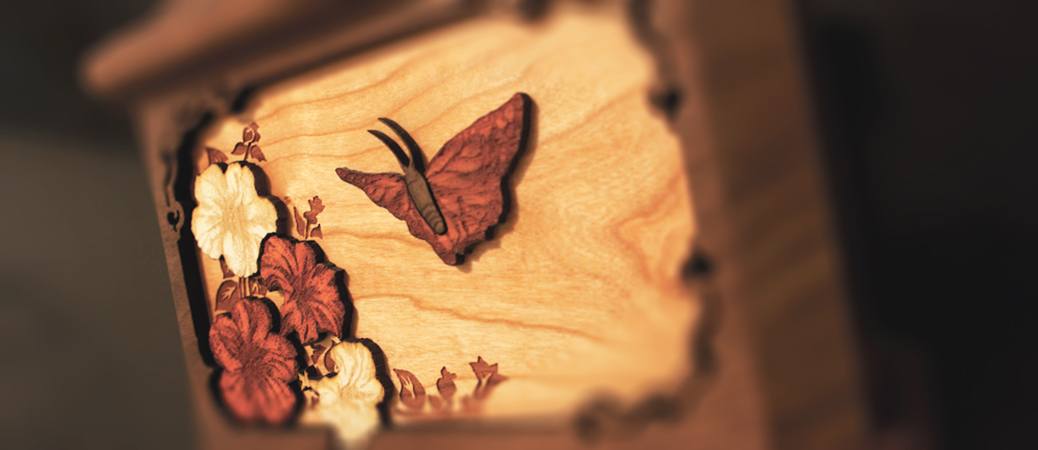 Last Updated on October 24, 2016
Here's a detailed look at one of our finest wooden cremation urns. This 3-dimensional woodcut art urn features our popular Butterfly & Flower scene. Built in the USA using the finest premium hardwoods, these wooden cremation urns are made in your choice of Oak, Maple, or Walnut.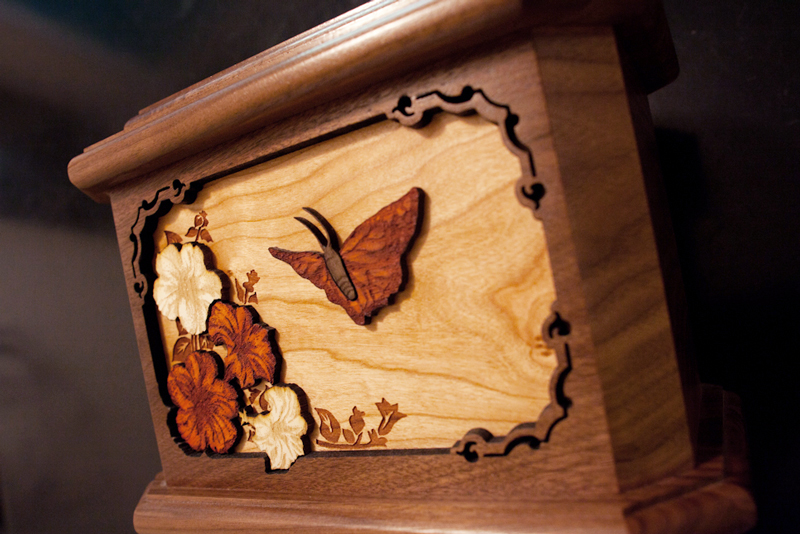 This urn is shown in Walnut, cut in 3/4″ thickness for a solid urn box which will last for ages. The box itself has been built in the "Octagon" shape. This isn't a true octagon, but it does have eight sides. Check out the lines and detailed edges on this beautiful piece: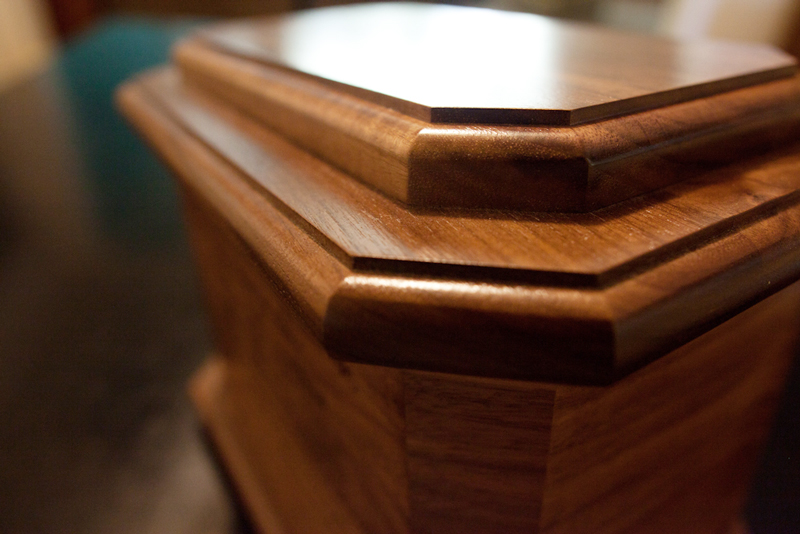 The front of the urn is carved out with stylish accents and features an inlay panel which is constructed separately and inserted into the urn during final production. The way these are built means that we can take just about any scene (Lighthouse, Dolphins, Hummingbirds, Deer, etc) and build it into just about any of our wooden urn box shapes (Octagon, Astoria, Hampton, etc… see here for more info about our shapes and styles).
The woodcut art scene is made from several different types of wood, laser engraved for detail and assembled in a 3-dimensional jigsaw puzzle style. As you can see below, the back panel uses cherry wood engraved with background floral details – stems, leaves, and additional flowers. The foreground features four flowers made from white maple and rosewood along with the rosewood and walnut butterfly.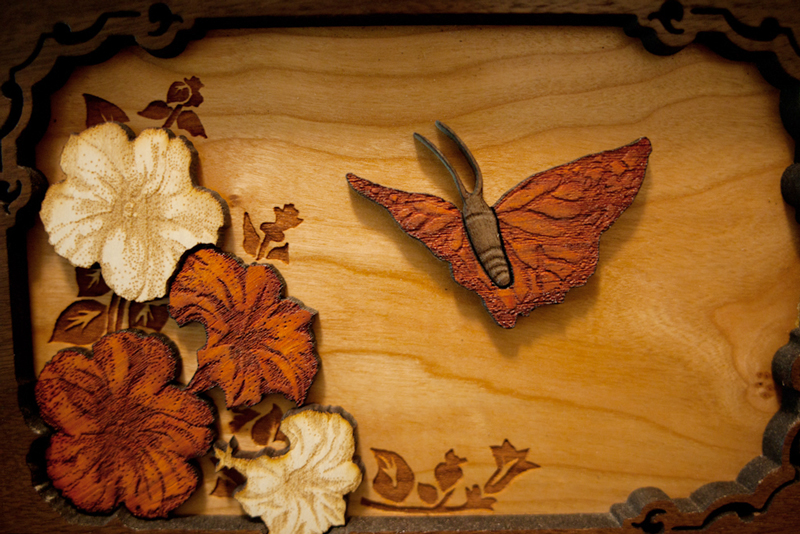 Each inlay piece is set apart from the background by the thickness of the wood and the careful construction. See how the lowest maple flower is set into the border of the scene, giving it a feel of overflowing and abundant beauty:
The flowers are individually engraved for stunning, lifelike detail: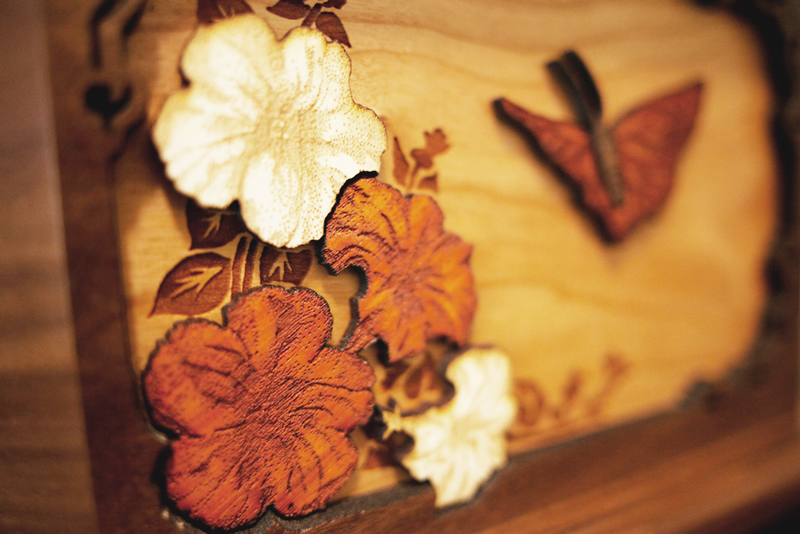 We can also laser engrave the top or back of the urn with an inscription of your choice. This one had a personal message etched into the back of the urn which ended with these famous lines:
As silent thought, a secret tear,
keeps your memory ever dear.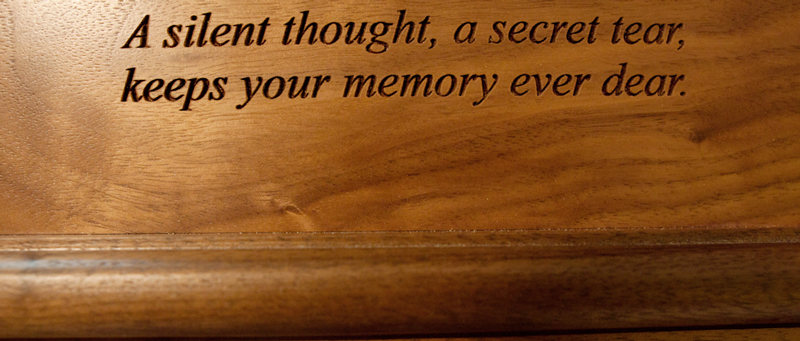 The detail and alluring artistry that is evident in each one of our wooden cremation urns speaks volumes of the care taken in the design and craftsmanship of our woodcut art series. While much of the production is done by state-of-the-art laser engraving and woodcutting machines, the assembling, finishing, and overall production is done at the hands of premier wood craftsmen in an Oregon woodshop. You can shop our entire line of 3-dimensional art wooden cremation urns here. These are just one series of our wooden cremation urns collection.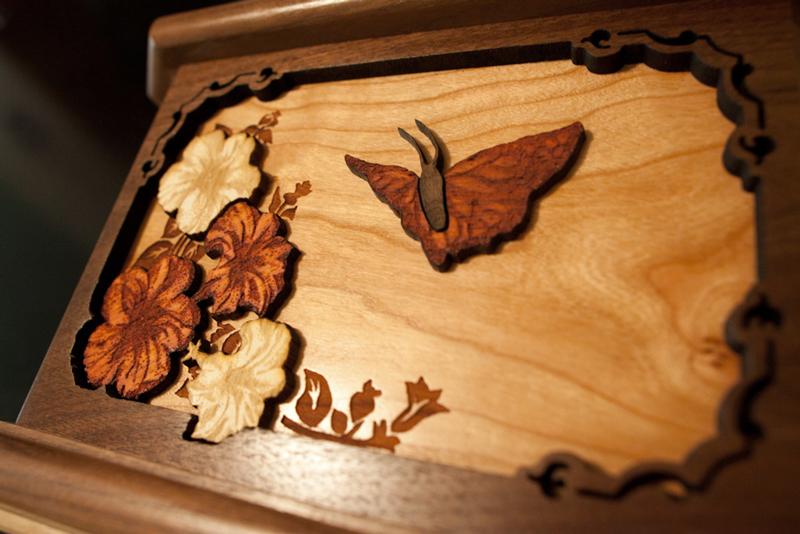 (Visited 1,462 times, 3 visits today)