Cremation urns for couples are designed to hold the ashes of two people. Also known as "companion urns," these containers hold an industry-standard capacity of about 400 cubic inches.
Alternatively, you can get two standard adult size urns that match or complement each other to create an urn set.
Let's learn what you need to know about cremation urns for couples.
Our website is supported by our users. We sometimes earn a commission when you click through the affiliate links on our website. See our privacy policy & disclosures for more information.
Cremation Urns for Couples: Size & Capacity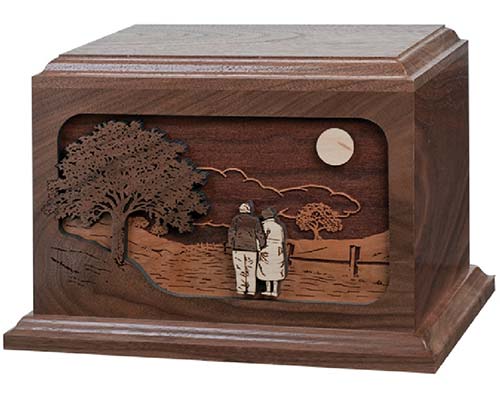 The most important question for a companion urn is this: Will our ashes fit? That is a question of the urn's capacity.
Another similar question involves the actual physical dimensions of the urn itself. That is a question of the urn's size.
Capacity
TL;DR – Capacity refers to the amount of ashes an urn can hold. Companion urns typically hold 400 cubic inches of remains. This is roughly equal to 400 lbs of the couple's combined body weight prior to cremation.
The typical companion urn holds up to 400 cubic inches of cremated remains, or "ashes." This is double the industry standard of 200 cubic inches for a single adult urn, and it is why we sometimes call them double urns or urns for two people.
Here is a simple way to calculate the capacity you will need. Simply take each person's weight in pounds (or, better yet, their "healthy body weight," see here for a chart) and that will be the amount of space you will need in cubic inches.
To put it simply, 1 lbs of body weight equals (roughly) 1 cubic inch of cremated remains.
Thus, a 200 lbs person will require a 200 cubic inch cremation urn. And a couple with a combined weight of, say, 335 lbs will require an urn with a capacity of 335 cubic inches.
This is a great rule of thumb because, typically, the actual amount of remains is a little less than that. For instance, at 200 lbs individual's remains will often come out to perhaps 185 cubic inches. You get the idea.
Size
TL;DR – Size refers to the outside physical dimensions of the urn. This is important if you are placing the urn in a niche or burial vault. Dimensions can vary quite a bit depending on the design of the urn. The size or outside dimensions is different from the capacity and will not necessarily tell you the amount of ashes the urn will hold.
Now we come to the physical size of the urns. Cremation urns for couples come in all types of shapes, materials, and designs. This means that the actual outside dimensions of the urn will vary considerably.
This is important because you are sometimes limited on the space an urn can occupy. Columbarium niches, burial vaults, cemetery regulations, or even your home's fireplace mantle could limit the size of your urn. Or it could simply be a matter of personal preference.
For instance, if you want a simple rectangular marble or wood urn, you'll be looking at something with relatively minimal dimensions, with the longest dimension going side-to-side. This cherry wood urn features decorative engravings and is one of our most popular companion urns. The outside measurements 11.25″ wide by 9.25″ long and 8″ tall, and it holds 400 cubic inches of remains. Give or take a few inches, that is pretty typical of most wood and stone urns for couples.
A traditional vase-shaped urn will be taller and more narrow, while a one-of-a-kind commissioned sculpture or 3D printed urn will be a lot larger in order to get the 400 cubic inch capacity. Each style or design will have its own outside dimensions depending on the exterior decorative accents.
We also have unique wall-mounted plaque urns that effectively "disguises" the urn functionality, since it appears to be a memorial plaque. These measure 20″ x 16″ (and 3″ deep, the remains go between the front and back panels) in the companion urn size or you can also get a set of two matching plaque urns that measure 16″ x 12″ each.
So you can find cremation urns for couples in a wide range of sizes. The important thing is to make sure that the remains will fit (they almost always do, except in unusual circumstances) and that the urn itself will fit where you want it to go.
Cremation Urns for Couples: Materials
You can find a companion urn in just about any material or design you can imagine. The only restraining factors are your preferences and your budget.
However, realistically most people tend to prefer the more established materials. Let's take a look at some beautiful options.
Wood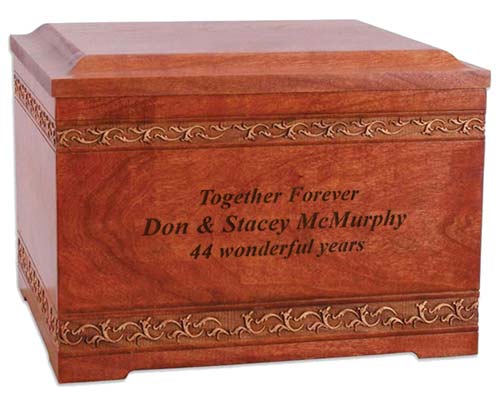 There are thousands of wood cremation urns for couples. Wood is a popular choice because it has a warmer, more natural look and feel as opposed to cold metal or marble.
You can get wooden companion urns that are cheaply made and imported for relatively low prices. I don't recommend that option; for you and your spouse's (or your parents') final resting place, it's worth it to pay a little more and get something of high quality made in the USA.
We have every design and theme imaginable available in wood. From simple, plain boxes to ornate 3-dimensional inlay art scenes, from hand-turned vase-style urns to wall-mounted plaques, there are many options from which to choose.
Stone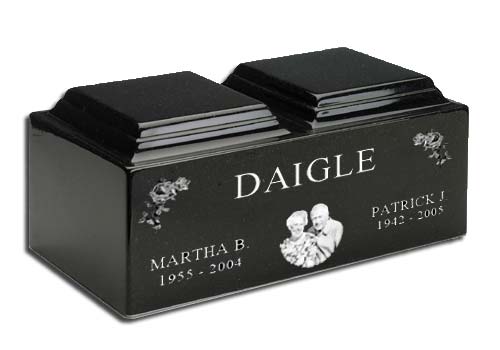 Cultured marble, granite, and onyx urns are surprisingly affordable. They look beautiful engraved with an inscription, and can even feature laser etched or full-color sublimated photographs.
"Cultured" means man-made, as opposed to an actual slab of granite or marble. It's the same material as countertops; very durable and at a much lower cost. There are very few solid marble or other stone urns on the market.
Plus, stone urns can be buried without the need for an additional burial vault. When you bury a wood, metal, or ceramic urn, most cemeteries require a vault that will protect the urn and prevent the ground from caving in at a later date. Stone urns are durable and will not biodegrade over time, and thus serve as their own burial vault. They are sometimes even called "vaults" for this very reason.
Shop stone urns here. Many of those are available in the larger companion urn size for two people.
Ceramic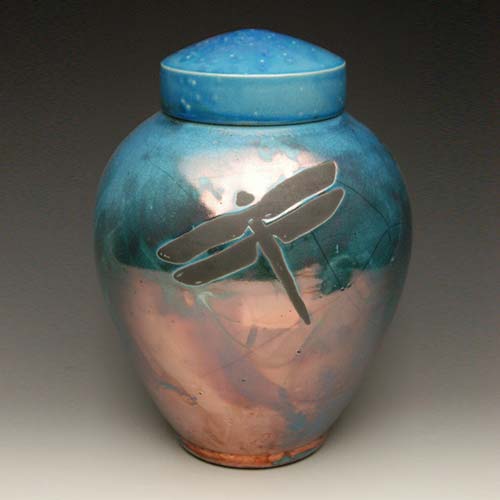 Ceramic is much more fragile, yet it can be stunningly artistic. The material represents grace, beauty, and earthy simplicity rooted in the ancient craft of pottery. Designs can vary in color, finish, decoration, and much more.
Many people choose ceramic precisely because of the material's delicacy. Like a butterfly, dragonfly, or flower, these urns must be handled gently and put on display. Ceramic urns are ideal for a niche with a glass window, display at home, or for a stunning presentation at the funeral service.
Most often, ceramic urns are vase-shaped vessels that open from the top. The lids either rest on top of the urn neck or (rarely) feature a threaded lid. To secure the lid after placing the remains inside, simply add a bead of silicone caulk. You can put the remains directly into the urn or place a plastic bag inside (like a liner) and then fill it.
We have many ceramic cremation urns for couples that are handcrafted to order at the hands of a talented artisan right here in the USA. We can size the urn to fit your niche, if necessary, upon request. See our entire collection of ceramic urns here. You can get matching pairs, and many are available in companion sizes.
Metal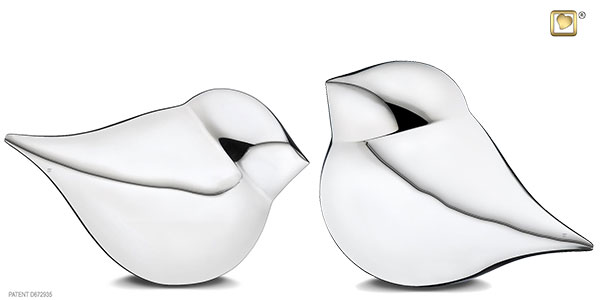 Metal urns are stately, timeless, and pristine. Most metal urns on the market today are the vase-shaped style with various decorative designs and themes ranging from simple to ornate. Nearly all of this style are standard sized. This means that you would want to get two matching urns to create a set for a couple's remains.
Many metal urns are designed as pairs, like the Soul Bird urns pictured above. These are two slightly different urns to represent the unity, similarities, and differences in a couple's relationship.
However, there are a few companion-sized metal urns available. The Classic Laurel Pewter Companion Urn is perhaps the most traditional-looking option. Our American Beauty Companion Urn is a popular choice for those looking for a high-end design. And this elegant urn is one of the few vase-shaped urns that will hold the remains of two people (360 cubic inches, just under the industry-standard 400 cubic inches for a companion urn).
Biodegradable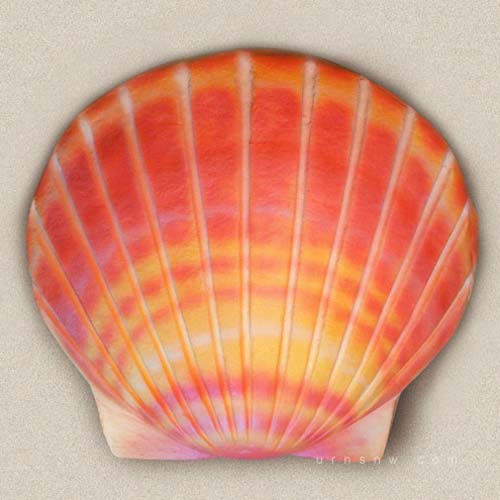 More and more, couples are thinking about the environmental impact of their death. Many people opt for cremation and have their ashes scattered as a way to take up less land space. Some couples choose to have their ashes scattered on land or in the ocean, which others simply like the idea of being "free." Still others plan to have their remains buried, and desire to do so in an eco-friendly way.
Whatever your reasons are for choosing a biodegradable urn, there are plenty of great options for couples.
We have a gorgeous Biodegradable Shell Companion Urn (pictured above) that comes in your choice of three colors. It holds 400 cubic inches of remains and is designed specifically for fuss-free water burial in the ocean. With the ashes inside the urn, you place it in the water where it will float for a few brief minutes. As water fills the urn, it will sink slowly to the ocean floor. There it will biodegrade and release the ashes into the ocean currents over the next few days and weeks.
There are also many options for matching sets of biodegradable urns. We have plenty of adult-sized urns designed for water burial, scattering via pouring, or eco-friendly ground burial. You can use these to scatter or bury a portion of the couple's remains in a single urn, or get two matching urns.
Learn more about scattering ashes here.
Cremation Urns for Couples: Designs & Themes
Companion urns and individual urn sets come in so many designs and themes that it is impossible to list them all. You can engrave almost anything on an urn with a flat surface. Most wood, stone, and metal urns come in box-like shapes ideal for laser engraving.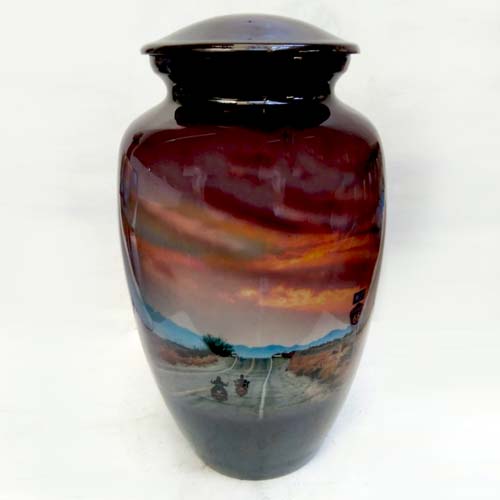 Some urns are printed or painted with colorful artwork, photographs, or other designs. This company does affordable adult urns featuring pictures of motorcycles (above), lighthouses, ocean beaches, birds, and much more.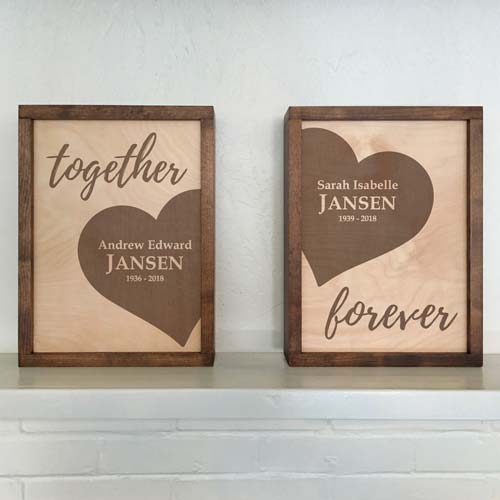 We have our Pacific Crest Plaque Urn Series, which you mount on the wall as a memorial plaque but it also holds the remains between the front and back panels. You can choose just about any theme imaginable. Designs include heartwarming quotes, bicycles, cowboy boots, dragonflies, hearts, sailing, and much more, plus you can customize your own.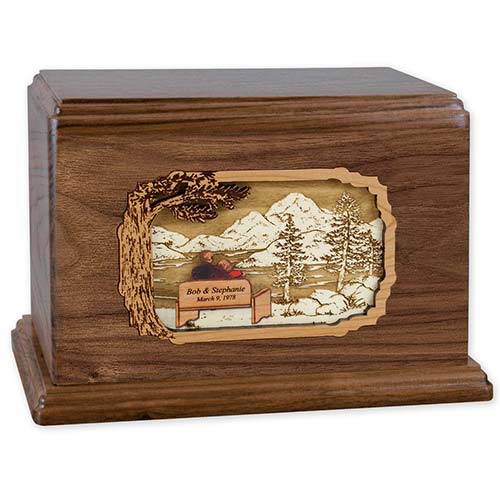 We also offer a broad selection of 3-dimensional wood inlay art scenes. These urns are available in standard and companion sizes and include dozens of natural and outdoorsy themes like fishing, nature paths, mountains, soaring eagles, deer, lighthouses, ocean beaches, and much more.
The Soulmates design, pictured above, is a popular urn for couples. The inlay scene features a timeless mountain lake scene, with two people sitting on the bench in the foreground. It includes the couple's names and wedding date engraved on the back of the bench, and optional laser engraved inscriptions on the top if you choose to do so.
More Themes
Here are some popular themes for companion urns:
Lighthouses
Beach scenes
Crosses
Love birds / doves
Cabin in the woods
Couple walking hand in hand
Entwined hearts
Double wedding rings
Dolphins
Roses / flowers
Fishing
Farming
Horses
Military
Howling wolves
Sailing
You can find all of these and more in our companion urns collection at Urns Northwest.