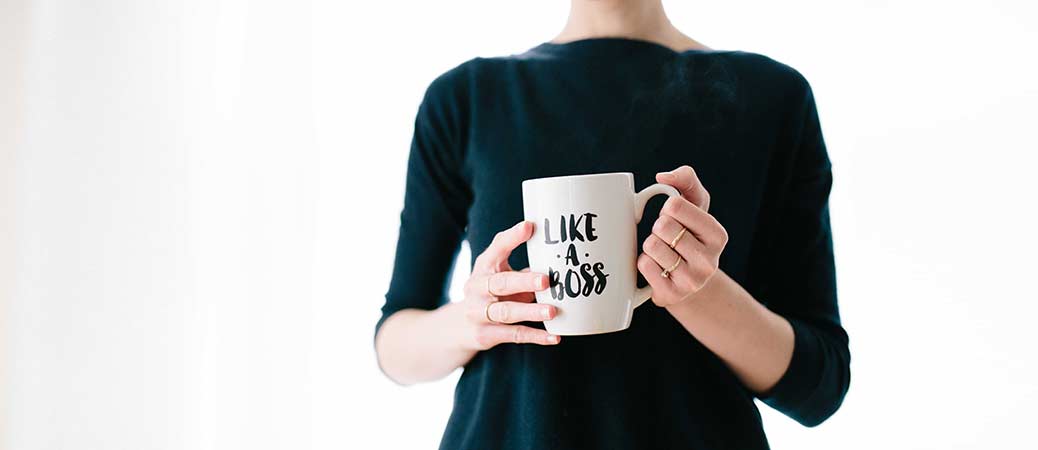 Last Updated on
Funeral directors are classy. Well-dressed, professional, caring, compassionate, all while being almost continuously on-call. These are the best of the best. The funeral professional you know and love – a.k.a. mortician, funeral director, undertaker, call them what you will – deserves a gift to match.
Here are our favorite classy gift ideas for funeral directors.
21 Classy Funeral Director Gift Ideas
1. Personalized Vintage Funeral Director Office Plaque
A truly classy gift, this personalized funeral director plaque combines vintage mortuary style with modern personalized sensibilities. Made in the USA from solid wood, professionally silkscreened to personalize the hanging name plank (you can get more planks and hang as many as you like from the sign), this is the ultimate classy gift idea for the funeral director in your life.
2. Last Responder Funeral Director T-Shirt
The contemporary funeral director is truly the last responder. Here is a premium t-shirt that honors a the vocation and calling to be a "last responder."
Browse more creative funeral director t-shirts here
3. Authentic American White Oak Whiskey Aging Barrel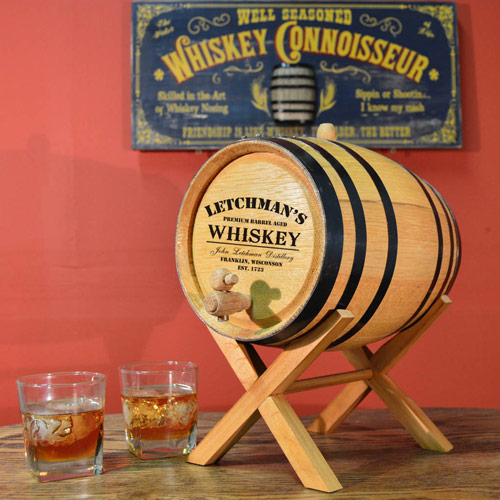 There's nothing like a good ol' fashioned home aged whiskey. And there's nothing for a funeral director like an enjoyably distracting hobby, one that doesn't take too much time and results in a fine liquor when finished.
Oh, and that "Well Seasoned Whiskey Connoisseur" sign hanging in the background? You can get it personalized here.
4. Old-Fashioned City Morgue Plaque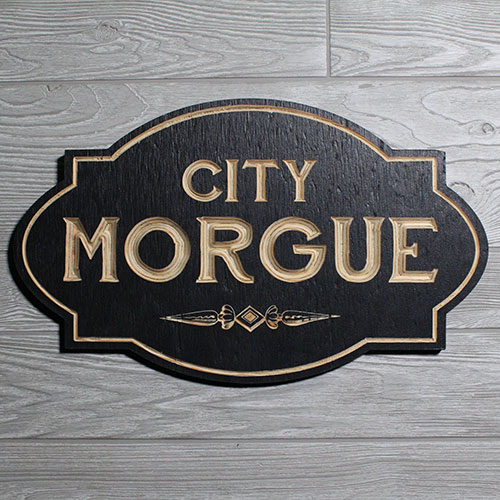 Pine wood carved plaque that says "City Morgue." This is a classy gift idea for a funeral director's office, exhuding old-world charm and elegance with a hint of Dickensian intrigue.
5. Creative Neckties
Funeral directors are professionals, and their attire reflects the dignity of their vocation. An elegant and traditional necktie, like one of these, can be the perfect classy-yet-affordable gift idea. Yet there is room for something creative, like the yellow legal pad necktie pictured above (which is also available in white) from Etsy creative Cyberoptix. Other designs include patterns of tiny koi fish, t-rex, scissors, and more, plus completely niche themes like the Enigma machine, beehives, the Black Plague, bicycle chains, seratonin & dopamine, and plenty more.
A creative and uniquely patterned tie is a great way to combine a mortician's niche interests with the standard formal dress required at most funeral homes.
6. Framed Moth Art
Alex's Butterflies offers framed art featured real butterflies and moths. Beautiful, scientific, decorative, and ever so slightly macabre, this is one of the most classy gift ideas for the funeral director in your life.
7. Vintage Mourning Jewelry
Mourning jewelry was popular in the Victorian era. Those who lost a loved one would commission a cameo or encase a lock of hair into a ring or necklace. There are many actual vintage mourning jewelry pieces you can get as a wearable historical artifact for the funeral director in your life. Or you can get a new piece custom made, like the ring pictured above.
Whether you find a classy antique mourning jewelry necklace or create a new personalized one, this is really a creative gift idea for the funeral professional. They can wear it in honor of a beloved friend or family member, to show eternal and undying love for a spouse, or as a continuation of the funeral rites of old.
8. Foot & Calf Massager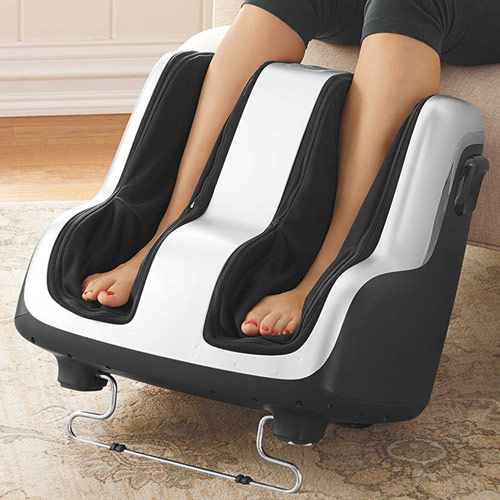 It's no secret that funeral directors are on their feet all day, every day. The way to treat them right is with this well-reviewed, best-selling foot, ankle, and calf massager. It "completely surrounds the feet and calves to deliver a fluid, highly effect massage that emulates the expert hands and techniques of highly trained massage therapists." Sounds sublime, right? Whoever receives this gift with use it and love it for years to come.
At a slightly lower price point, you could also get this Belmint Shiatsu Foot Massager. It's just for the feet, but Oh does it do such a great job! Deep tissue massage, rotating nodes, and just the right amount of heat.
Lastly, we have the non-electric wooden Dual Flow Foot Massager. It's earthy and lo-fi, plus it comes in at under $20 for a budget-friendly funeral director gift.
9. Books, Coffee & Cemeteries T-Shirt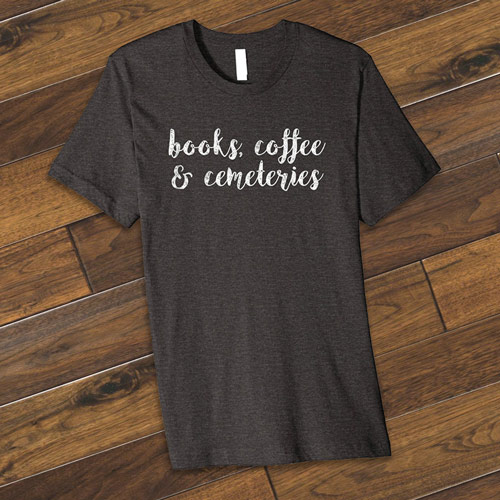 A fun casual gift for the mortuary professional with a bent towards whimsical wanderlust. Comes in mens, womens, and youth sizes in several different colors.
10. Personalized Wooden Keepsake Box
An elegant keepsake box with a personalized touch. This wood memento box is made in the USA from premium walnut wood, features a glass top and hinged lid, and includes custom laser engraving on the name plate. The top can hold 5×7 photo or card, or can be left empty so that the contents inside are on display.
11. Premium Wine, Craft Beer, or Spirits
Some funeral directors love wine. Others prefer whiskey, bourbon, or brandy; still others are into the craft beer scene. Whatever their preference is, get them some of "the good stuff."
You can even add a special touch like the personalized wine gift box & accessories set, pictured above. There are many creative and classy home bar-themed accessories to go along with your bottled gift. Choose wisely!
12. Six Feet Under: The Complete Series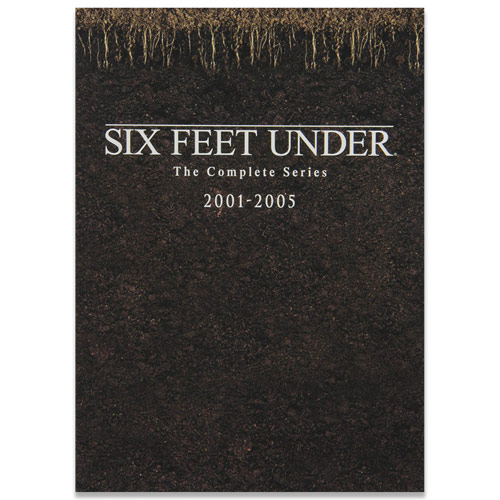 This contemporary classic TV series from HBO ran from 2001-2005. The show follows the Fisher family as they run a modern day funeral home in Los Angeles. Beloved by viewers for its lifelike drama combined with unusual setting, the show is critically acclaimed and regularly appears on "greatest TV shows" lists. The perfect binge-worthy gift for a funeral director.
13. A Lovely Perfume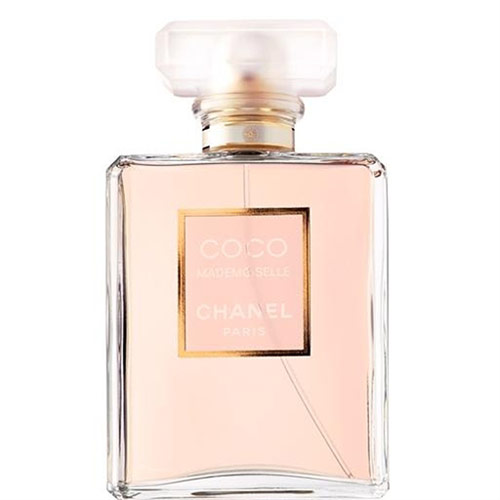 Find out the funeral director's favorite perfume or cologne and suprise them with a bottle as your gift. Chanel's Coco Mademoiselle is a classic choice. Browse more best-selling perfume ideas here.
14. Custom Engraved YETI Tumbler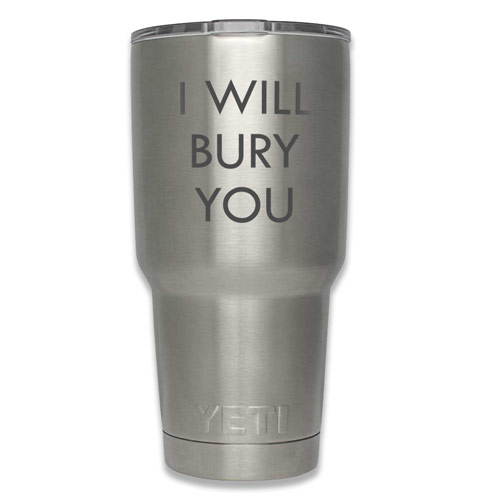 Tumblers are increasingly popular because of their design, functionality, and virtually unlimited personalization options. The double-walled vacuum sealed construction means that drinks stay hot (or cold) for longer than ever before. As any busy mortuary professional will tell you, that's a must for a beverage container.
There are a variety of sizes and designs available. You can personalize it with their name, business logo, or just about anything else. That includes any macabre funeral humor you might like… such as the "I will bury you" design shown above. After all, for a funeral director, it's true!
You can also get this "I will bury you" design on a t-shirt here.
15. The World's Most Comfortable Dress Shirt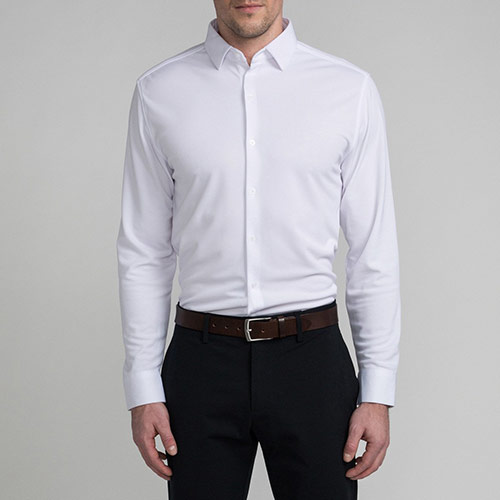 Working in a funeral home means that there are no casual dress days. Comfort is imperative. So the Apollo 3 Dress Shirt from the Ministry of Supply just might be the most used and appreciated gift they ever receive. Made from "phase change materials" that were originally designed for NASA space suits, the fabric is designed to keep you cool when things warm up and keep you warm when things cool down.
17. UGG Slippers
Speaking of comfy…. The UGG Women's Dakota Moccasin is the ultimate treat for the feet. For men, here's the sublime Ascot version.
18. Portable Cell Phone Charger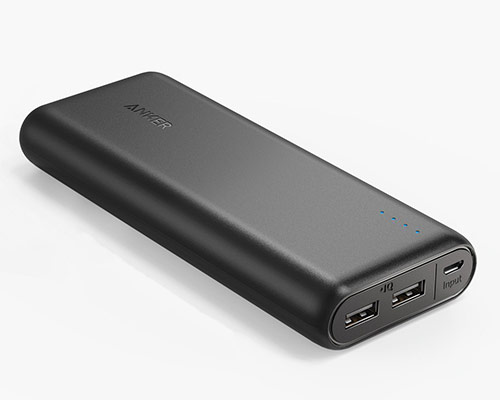 A portable cell phone charger is a must-have for every funeral director. Heck, even if they already have one they won't mind a backup. One for the car, one for the purse, etc. A premium stocking stuffer for under $50, they will definitely put this to good use.
19. Coffee Gifts & Accessories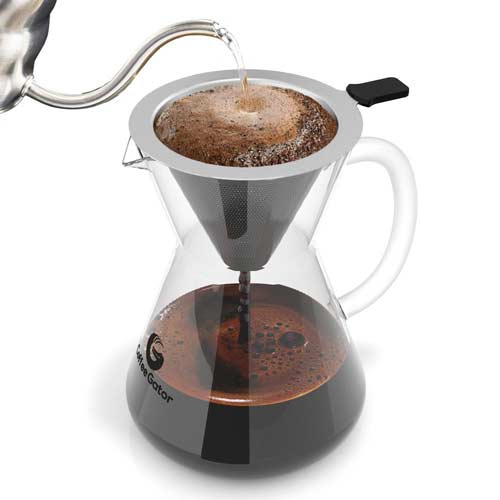 Whether she's just starting out as a mortuary science major or ending a long career as a seasoned veteran, funeral directors need their coffee. Glass pourovers are increasingly popular, as they make stellar "craft brewed" coffee. You can also go with a single serve pod coffee maker, or do something else fun like a coffee subscription for a local roaster, a vintage personalized coffee house sign, or a customized coffee mug just for them.
20. Gift Basket
We'll round out this list of gift ideas for funeral directors with two classics that will never steer you wrong. First up: Gift baskets. You can make your own, or choose a theme ranging from movie nights to bath bombs.  There are vegan options, wine, candy, baked goodies, coffee, tea, beer, meat, and oh so much more.
21. Gift Cards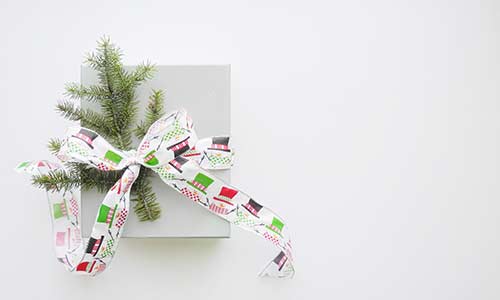 Lastly, no funeral director would thumb their nose at a gift card. Whether it's to a popular chain restaurant, a local favorite, coffee, or a big box retailer, gift cards are enduringly popular for any and all occasions. Appropriate for Christmas, birthdays, and also as an appreciative "Thank-You" gift. Add a card with a handwritten note and you'll have the perfectly classy funeral director gift.
Pin it: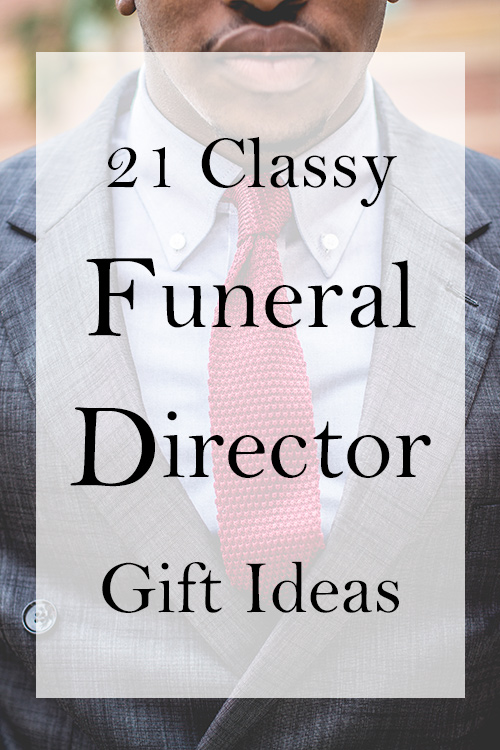 More Inspiration:
(Visited 3,782 times, 1 visits today)